Video Upscaling Software | How to Upscale Videos from 480p, 720p to 1080p, 4K, Even 8K
"What is the best video upscaling software? Is there any video upscaling tool recommended?" - James Corey
Upscaling videos from low-resolution to high-resolution has become essential for creating high-quality videos for digital platforms. To do so, you need video upscaling software that can help you increase the resolution of your videos and make them look more professional. With the right video upscaling software like AVCLabs Video Enhancer AI, you can easily upscale videos from 480p, 720p to 1080p, 4K, and even 8K resolutions. In this guide, we will discuss some of the best video upscaling software available, their features, and how to use them to upscale your videos. With the right video upscaling software, you can ensure that your videos look sharp, vibrant, and professional. So, let's get started!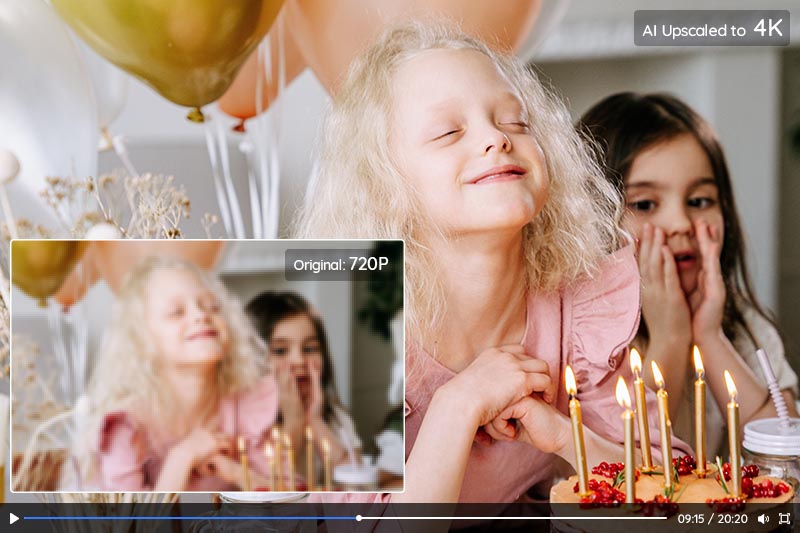 ---
Part 1: What is Video Upscaling Software
Video upscaling software works in two ways. First, it allows users to increase the video resolution. You can upscale the video from any resolution to the higher one, including 4K, or even 8K. Second, the video upscaling software also enables users to downscale any resolution to a lower one, which can be extremely useful when you have a large video file and you want to reduce its file size. Unlike video editing software, video upscaling software does not add any special effects to the video. It just increases the resolution of the video so that it looks like a high-quality video.
---
Part 2: Best Video Upscaling Software to Upscale Videos to 1080p, 4K, and Even 8K
Part one provided us with an in-depth look at what video upscaling software is, now let's explore and uncover the 3 best AI video upscaling software on the market, guaranteed to make any low-resolution footage look stunning and state of the art!
1. AVCLabs Video Enhancer AI
AVCLabs Video Enhancer AI is one of the best AI video upscaling software available that allows you to upscale videos from 480p, 720p to 4K, even up to 8k. This revolutionary software uses deep learning models to take blurry, low-resolution homemade videos or old films and automatically transform them into beautiful 4K, even 8k masterpieces. The powerful detail-preserving upscaling tool will bring out every cherished moment while intelligently removing noise and blur, no advanced editing skills are needed! With regular updates using Deep Learning models for optimal results every time.
Key Features of AVCLabs Video Enhancer AI
Upscale video from SD to HD, HD to 4K, or 8K
Use Multi-frame enhancement to improve the visual quality
Sharpen blurry faces and enhance facial details
Remove noise and grain from your noisy footage
Colorize B&W videos to bring them to life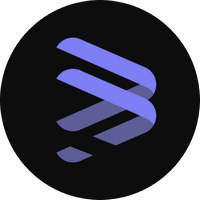 Pros:
With an intuitive interface and affordable price, provide the perfect balance of accessibility and convenience for all users.
Seamlessly integrate a wide range of video formats, from inputs to outputs, along with powerful AI models for optimal performance.
The video upscaling process can be paused and resumed again.
Upscale videos from SD, HD to 4K, and 8K in batch.
An incorporated feature designed specifically for improving facial details in videos.
Fully compatible with Windows PC and Mac.
Cons:
Gain exclusive access to upscaled videos under the trial version, protected with an identifying watermark.
Steps to Upscale Videos from 480p, 720p to 1080p, 4K, Even 8K via AVCLabs Video Enhancer AI
Step 1: Download and Run AVCLabs Video Enhancer AI
Firstly, you need to get AVCLabs Video Enhancer AI from the provided link and then initiate it after it has been successfully installed on your Windows PC or Mac computer. Click the "Browse" button or drag and drop low-res videos to this video upscailing software.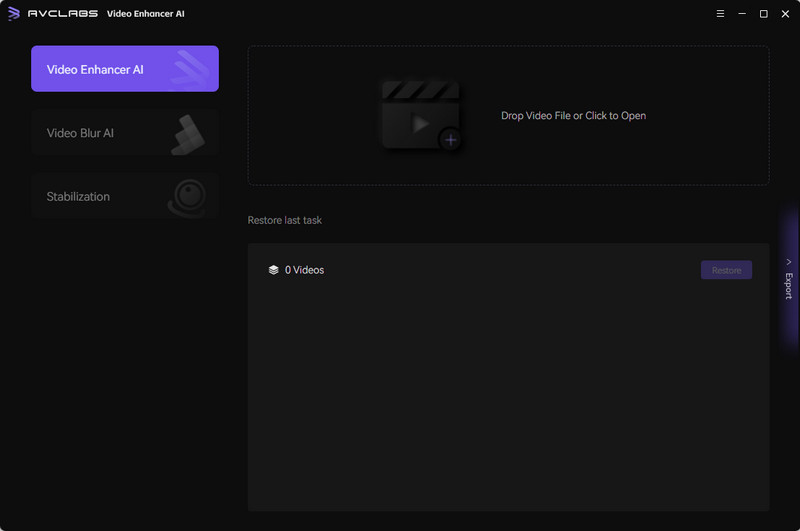 Step 2: Select AI Feature and Set Output Parameters
Once uploaded videos, you can apply the suitable AI features according to your needs. For example, to upscale videos to higher resolution, just enable the AI Enhancement featuer in the Feature List section, and set the output resolution under Video- Output part.
In addition, you can also decide on the output format, and destination in the Output Settings part, as well as brightness, contrast and saturation under the Video Settings.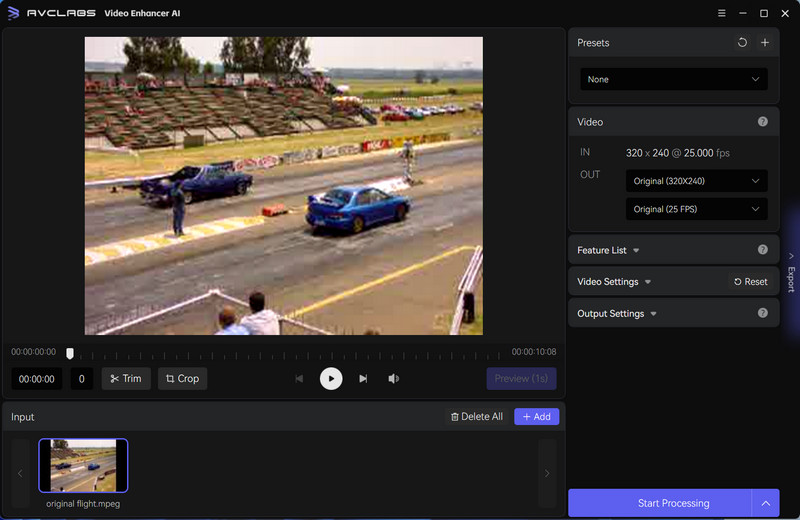 Step 3: Start Upscaling Video Resolution
Once you have everything set up, simply press the Start Processing button to improve the quality of the video. Once the upgrade is complete, you can access the improved, high-quality videos by pressing the Open Output Video button.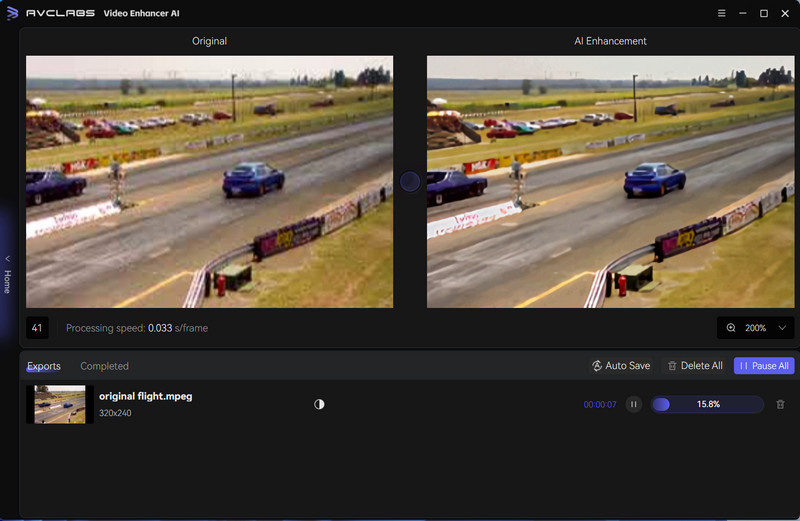 Video Tutorial: Learn How to Upscale Video Resolution to 4K with One Click
---
2. Topaz Video Enhance AI
Topaz Video Enhancer AI is another great AI-based video upscaler that is comparable to AVCLabs Video Enhancer AI. Topaz Video Enhancer AI is the perfect choice for anyone looking to take their low-res videos to stunning 8K UHD resolution without sacrificing true detail and consistency. With its intuitive interface and comprehensive set of built-in video enhancement tools, this powerful video upscaling program can transform any substandard clip into an ultra-HD masterpiece with a maximum of 600% lossless upscaling!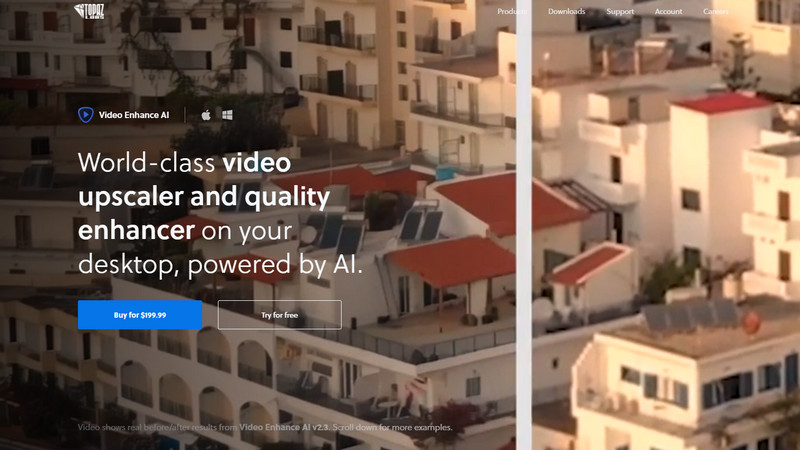 Features of Topz Video Enhance AI:
Upscale SD videos to HD and HD to 4K or 8K resolution.
Get rid of noise and grittiness while bringing back real detail in the video.
Employ deep learning to turn interlaced videos into progressive ones while maintaining image definition.
Restore aged videos without introducing visual flaws.
Pros:
Offer a 30-day free trial.
Batch processing is supported.
Available on both Windows PC and Mac.
Enhance the video's resolution and clarity without sacrificing its quality.
Cons:
Offer a single payment membership option.
It is not always successful in recognizing human faces.
3. DVDFab Video Enhancer AI
DVDFab Video Enhancer AI is the go-to choice for those looking to upgrade their videos or movies with ease. It has a straightforward and user-friendly interface and provides a broad range of utilities to make video upscaling a breeze. It utilizes AI learning and sophisticated algorithms to improve the quality of videos. This upscaling software can automatically enhance videos or movies with a low resolution of 480p (SD) to 1080p (Full HD), and from 1080p to 4K, with no need to configure settings.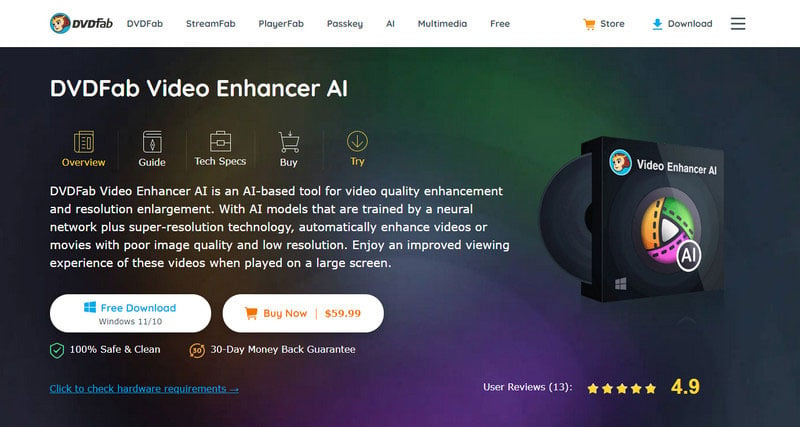 Features of DVDFab Video Enhancer AI:
Improve the clarity of outdated videos.
Convert low-definition videos to 4K quality.
Enlarge the video by 200% without any deterioration in its quality.
Pros:
Easy to use.
Offer a free trial to increase video quality free.
Cons:
For Windows only.
Limited upscaling options.
---
Part 3: How to Choose the Right Video Upscaling Software
If you're looking for video upscaling software, there are certain things you may need to consider. These include the resolution it can upscale your videos to, the format it supports, and its price. Some video upscaling software can upscale videos to 4K or even 8K. However, not all of them can upscale videos to such a high resolution. Thus it's important to check the resolution limits of the software you're considering before you buy it. Video upscaling software also supports different video file formats. So, make sure the format supported by the software you choose matches the format of the video you need to upscale. If you're using video files that are on external storage, you'll also want to make sure the software can access those files. Some video upscaling software is also available as a plug-in for your video editing software. This is a convenient option, but it can be more expensive than standalone software.
---
Part 4: Tips for Getting the Best Results When Upscaling Videos
When you upscale your videos, you're increasing the resolution of your video. This means you'll want to follow a few guidelines to get the best results.
First, make sure your video has the correct aspect ratio. You should also make sure your video is properly aligned and cropped. Once you've followed these guidelines, you can upscale your video to get a high-quality output. Keep in mind that you can only upscale your video so much. If you upscale your video too much, you will notice that it looks strange. That's because it's difficult to upscale a video and get it to look like a high-quality video after that.
---
Conclusion
Thanks for reading and we hope you found our review of video upscaling software packages helpful in finding the best video upscaling software to ensure your video files look their best. With video upscaling software, you can easily and quickly upscale video files from 480p or 720p to 1080p, 4K, and even 8K with amazing results. Give video upscaling a try today! You won't regret it.
---
Related Articles