[Ultimate Guide] How to Remove Blur from Video
"Can we remove blur from videos? Is there an app to clear up blurry videos?"
Are you tired of watching your videos and seeing nothing but a blurry mess? Are you ready to remove blur from videos and get the crisp, clear image you deserve? If that's the case, then you're in need of the ultimate guide to removing video blur with ease, even if you already have the best computer for video editing. Whether you are brand new to video editing or a seasoned veteran, this guide will give you the tools you need to get the job done right. So, if you are ready to have the perfect video every time, then keep reading to learn how to remove blur from videos on iPhone, Android, Mac, Windows PC, or online for free!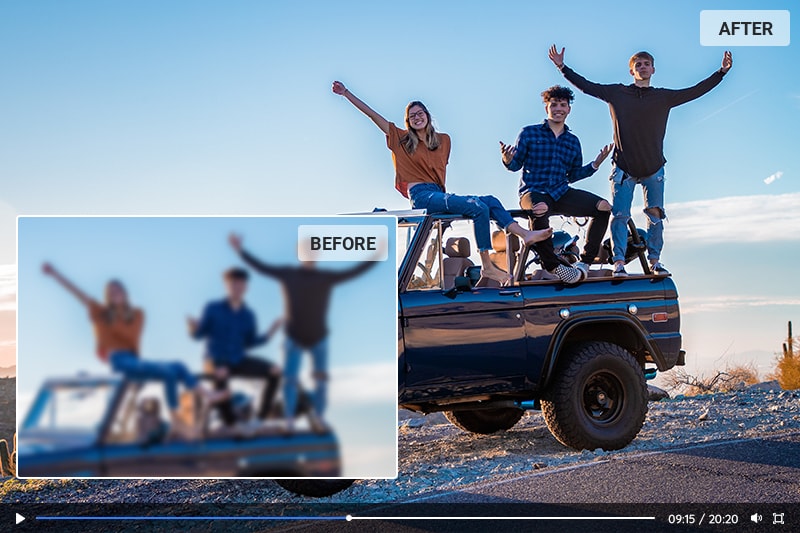 ---
Part 1: How to Remove Blur from Videos on Mac/PC via AI
If you are looking for a program that can quickly and easily remove blur from videos, AVCLabs Video Enhancer AI is the software for you! AVCLabs Video Enhancer AI is one of the most advanced video enhancement software on the market. With features like Super Resolution, Detail Restoration, and Real-Time Blur Removal, this program can make your videos look like they were shot with a professional camera! The Super Resolution feature allows you to upscale low-resolution videos, giving you crystal clear, high-quality results. While Detail Restoration brings the details back in videos that have been compressed. Finally, Real-Time Blur Removal lets you remove blur from videos in real-time, getting rid of those blurry spots in just a few seconds. Not only can it remove blur, but it can also sharpen and improve the overall quality of your video. Not only that, but it can do all of this with one click!
Key Features of AVCLabs Video Enhancer AI
AI Upscale video to HD, 4K and even 8K
Enhance video quality with multi-frame
Remove noise to make the video clearer
Recover and enhance facial details with AI
Colorize B&W videos to bring them to life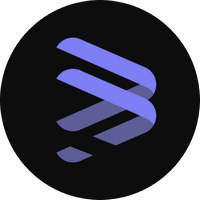 Steps to Remove Blur from Videos with AI
Step 1: Download and Install AVCLabs Video Enhancer AI
Please download and install the AVCLabs Video Enhancer AI program on your Windows PC and Mac computer according to your need.
Tips: High-end dedicated graphics cards (NVIDIA GTX 1050 Ti and upper) are recommended strongly for GPU acceleration when processing videos with high efficiency and saving time. To know more about the system requirement, please click on the Tech Spec page to know more about the system and hardware requirements of AVCLabs Video Enhancer AI.
Step 2: Open the Program and Import the Source Blurry Video
After the installation is completed, just run AVCLabs Video Enhancer AI and you will see the intuitive interface shown below.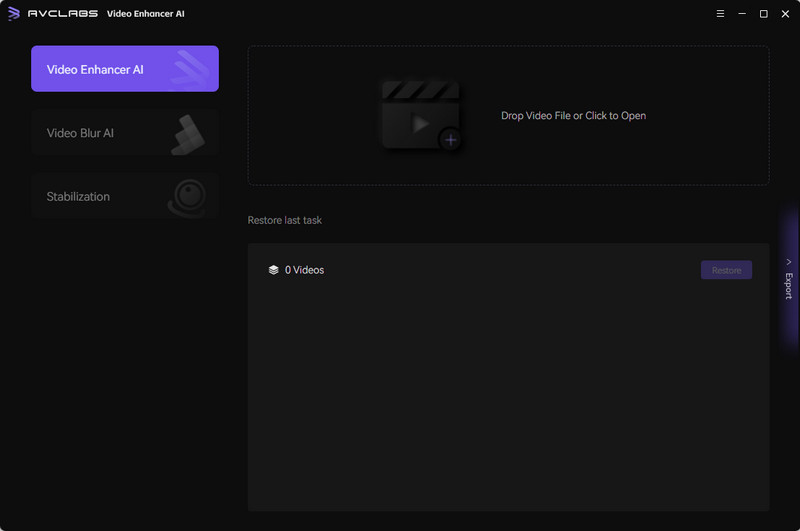 You can drag and drop one or multiple blurry videos to the program. Also, you can click on the Browse button to import the source videos to the video unblurring program.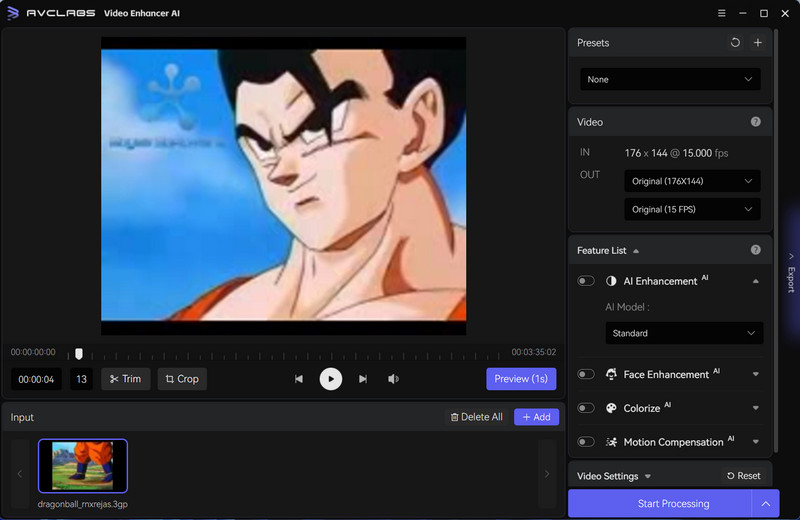 Step 3: Select Targeted AI Features
After adding the video files to AVCLabs Video Enhancer AI, you could find various setting options on the right panel, then select the corresponding AI features in a targeted manner. There are four different AI features that can meet most of your demands. You can improve video quality with more than one feature at the same time, for example, upscale videos to 4k and colorize them.
Note: Video resolution affects video size, higher resolutions are not always a better choice, so you can consider your end deliverable when choosing a resolution.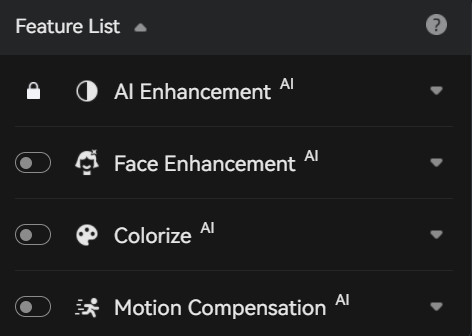 Alternatively, you can also select from the Presets section. It offers seven pre-configured options that you can use directly.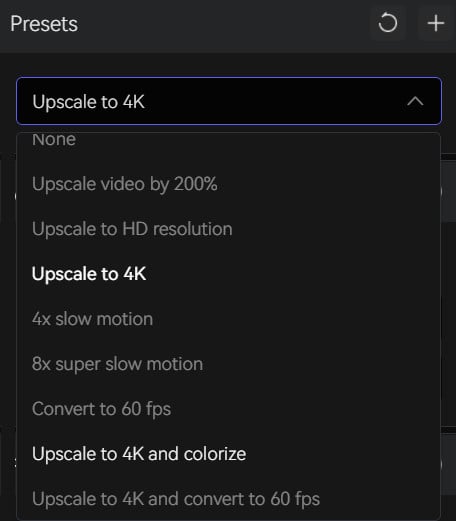 Step 4: Configure Settings
Output Settings: you can set the output video format(MKV, MP4, AVI, MOV, WEBM), the encoder (H.264, H.265, VP9 Good, VP9 Best, AV1), the bitrate, audio settings, as well as the output path as you wish.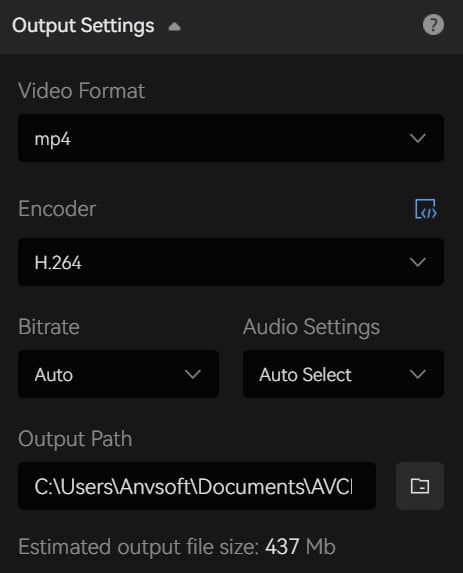 Video Settings: If you need more hands-on control, you can manually adjust the brightness, saturation, and contrast of your videos to enhance the visual quality under Video Settings. Or you can also check the box of cropping to fill the frame and deinterlacing.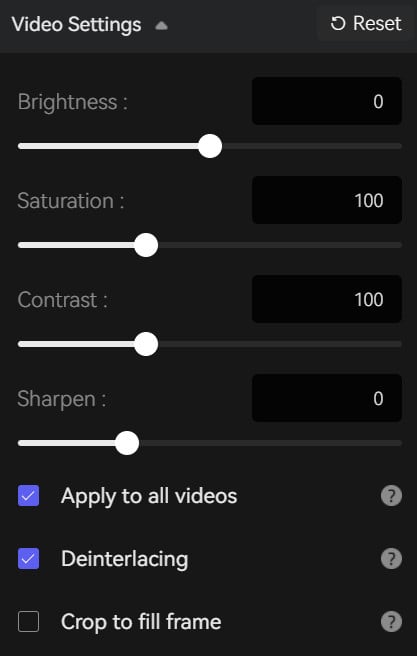 Step 5: Start Removing Blur from Videos with AI
After all the settings are set up, simply click on the Start Processing button. The program will start to sharpen and remove blur from videos. On the processing interface, you can preview the original and processed unblurred video, progress bar, processing time and the use of GPU.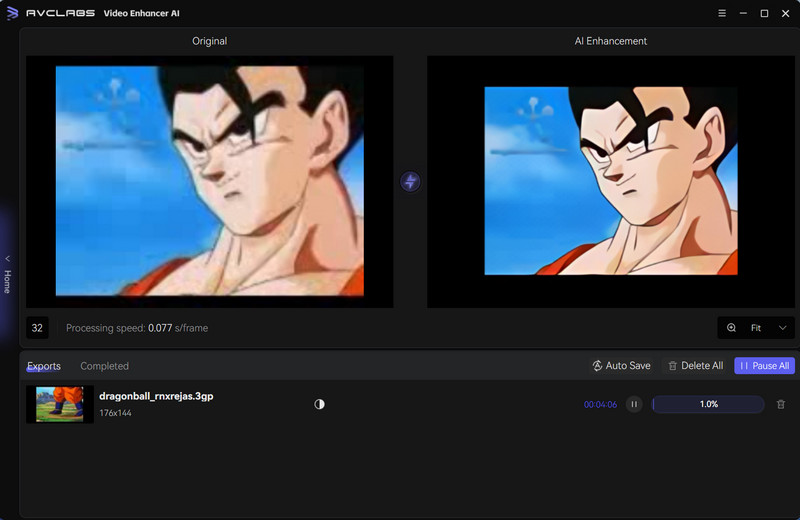 Once the video deblurring progress is completed, you can check the output of unblurred videos by clicking on the Open Folder option. With this AI-based video unblurring tool, you can get blurry videos fixed automatically while upscaling the video resolution.
---
Video Tutorial: How to Remove Blur from Your Videos?
---
Part 2: How to Remove Blur from Videos Online for Free
There are a variety of tools online that you can use to remove blur from videos online for free. Here we would like to share you a great video unblurring online tool named Clideo video clearer to help you sharpen blurry videos online.
Steps to Fix Blurry Videos Online for Free
1.Firstly, open the Clideo Video Clearer online tool on the web browser and upload your video file that needs to be deblurred.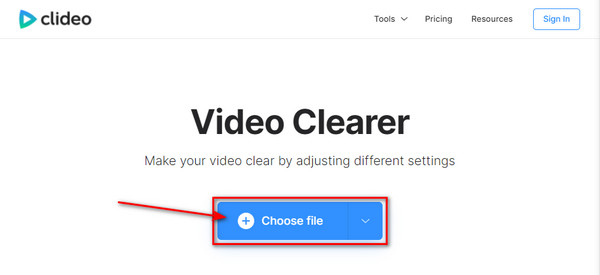 2. Once the video is uploaded, you need to use the setting to adjust the brightness, saturation, and contrast of your blur video.
3. Select the output format once you are done editing.
4. Preview your final video and click on the download option to save the unblurred video on your computer.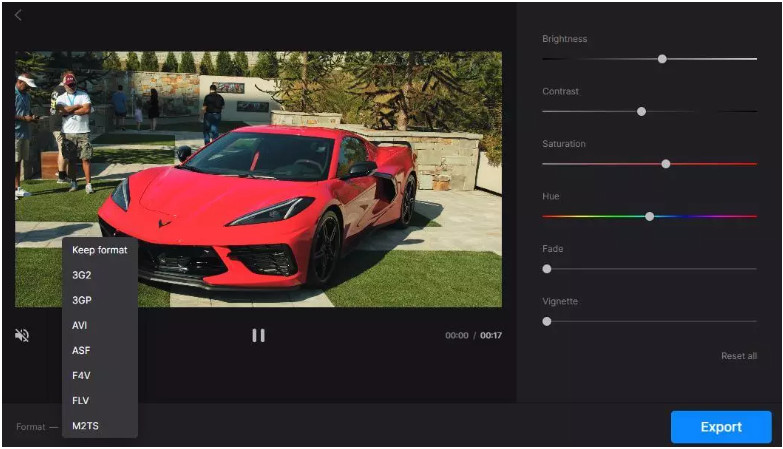 ---
Part 3: How to Remove Blur from Videos on Android or iPhone
Apart from removing blur from videos on Windows PC and free online services, there are also video unblurring apps available that can remove blur from a video on your iPhone and Android. PowerDirector is such an excellent tool to improve a video's quality, including blur removal on Android and iOS devices.
Steps to Unblur Videos on Android and iPhone
1. Download PowerDirector on Google Play Store, then install it on your smartphone. After installation, open the app, then create a project name. Also, select an aspect ratio for your project.
2. Import the file, then click the Edit icon. After clicking the edit icon, a toolbar will appear at the bottom corner of the screen. Click the Stabilizer option to correct the blurry areas from your videos.
3. Once the blur area is clear, click export or save the output directly on your gallery. You can also share and upload it on your active social media accounts.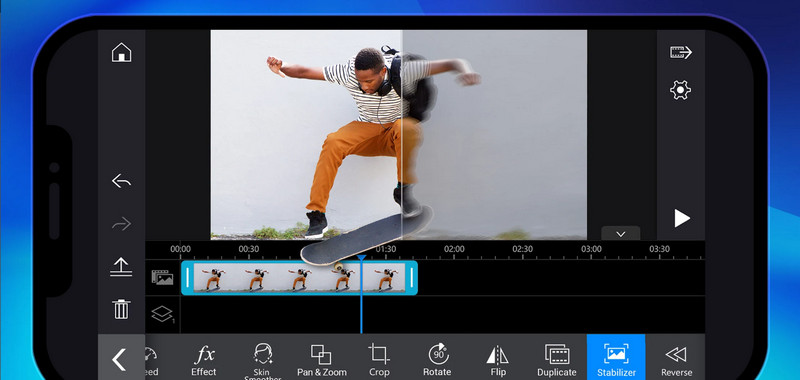 ---
Bottom Line
We hope you enjoyed this guide to removing blur from videos. Now that you know the different ways to remove blur from videos, you are ready to take control of your content and make your videos look their best!
---
Related Articles