Top 4 Video Upscalers Online Free: How to Upscale Videos from SD to HD, 4K or 8K Online for Free
What is the best online video upscaler free? How to make my video better quality free?
Video upscaling is the process of converting SD to HD video or a higher resolution, such as 4K or 8K. As technology advances, there are more and more devices that can output higher resolutions than ever before. This means that even videos created at low resolutions can be upscaled for viewing on these newer devices.
While there are software programs and online services that claim to upscale videos and improve their quality, the results are often not satisfactory, and the quality of the video may actually decrease. If you are looking for a way to quickly and easily upgrade your existing videos without shelling out money for expensive software and get a good result as well. Then you are in the right place. This blog post will go through top 4 video upscalers online free available today and discuss their features, pros, and cons so you can decide which one is right for you.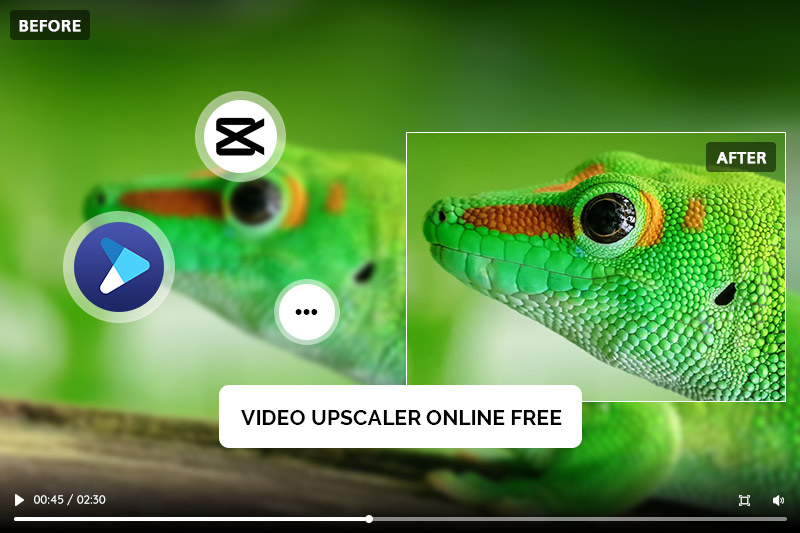 ---
Part 1: What is a Video Upscaler and How does it Work?
The video upscaler is a tool that increases the resolution of a video, setting it apart from other video editing software. It is used to convert low-resolution videos to higher resolutions such as HD, 4K, or 8K. Video upscalers use algorithms to upscale the video by adding pixels to the original video frames, resulting in a higher resolution output.
Video upscalers work by analyzing the video frame by frame, detecting edges, and then adding pixels to the image. This process is called interpolation, and it helps to smooth out the edges and increase the detail in the video. Some video upscalers also use machine learning algorithms to enhance the image and produce a more realistic output.
---
Part 2: Top 4 Video Upscalers Online Free
1. Aimages
Aimages is an online video upscaler and enhancer. Its advanced AI-powered technology provides an effortless in-cloud video restoration service that can drastically improve the quality of any low-resolution footage. With its smart upscaling AI algorithm, Aimages can quickly turn SD footage into HD, while also removing noise and restoring lost details.
After logging in, you will get 1.5 free credits. This online video upscaler has 10 AI filters available for now to meet your kinds of needs and provides some advanced settings. You can select up to 2 filters at the same time when processing a video. The number of credits required varies depending on the length of the video and the filters selected. In general, the integration cost of applying a single filter to a 6-second video ranges from 0.28 to 2.88, which means you can only process 1-3 short videos for free.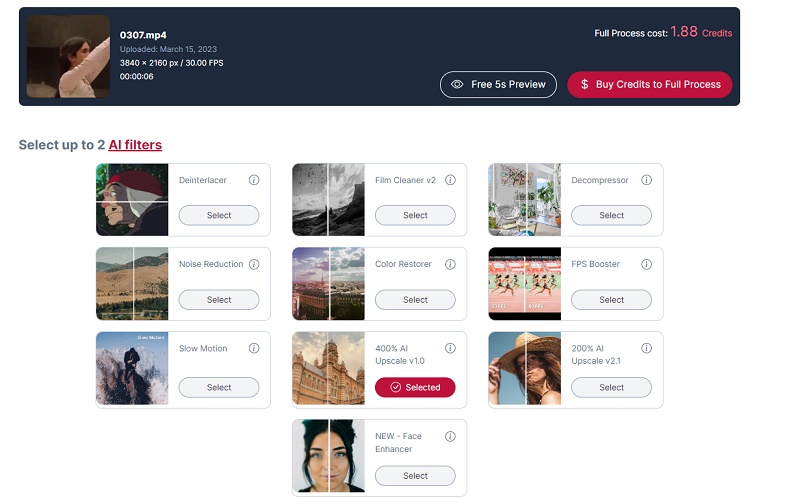 Pros:
Aimages.ai is easy to use, and the user interface is intuitive.
There is a wide range of filters to meet different needs, and more are being added all the time.
Each filter's application guidelines are explained, along with the best types of videos to use them on.
Online AI video upscaling with GPU-accelerated cloud servers.
Cons:
Upscaling long videos costs a lot of credits, especially when applying the 400% AI Upscale filter.
There are only 1.5 free credits available, which can only be used to upscale a video within 5 seconds for free.
The pricing structure can be confusing, and users may not know how many credits they need to purchase to enhance their videos.
It currently supports resolution in uploaded videos up to 3.7 megapixels.
---
2. Cutout.Pro
Cutout.Pro is an online video upscaler that helps with video upscaling, deinterlacing, motion interpolation, and shake stabilization. It converts low-quality video to 4k, 60fps, and more. It supports uploading videos in MP4, WEBM, MOV, and GIF formats with a 2 GB maximum file size and 4k maximum video resolution. The best feature of this video upscaler online is that it is easy to use and will start processing directly after uploading. But on the other hand, it couldn't meet your different needs like Aimages.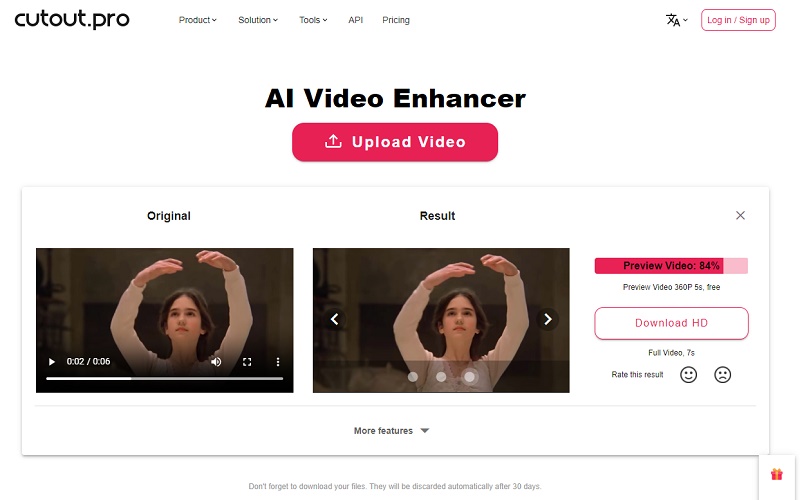 Pros:
It is easy to use.
The interface is ad-free.
Cons:
The processing speed is too slow.
It supports MP4 as an output format only.
There are no advanced settings like codec, encoding quality, upscaling scale, etc.
The final result processed by the free version is not that good, and you need to purchase a subscription to download HD videos.
---
3. Pixop
Pixop is an online video upscaling service that uses deep learning to enhance the quality of videos. It is designed to upscale low-resolution videos to high-definition (HD) or even 4K resolution. Pixop uses a proprietary deep learning algorithm to analyze each frame of a video and predict the missing pixels, resulting in sharper and more detailed images. The service also includes noise reduction and color correction tools to further enhance the video quality. Unlike other popular video upscalers, Pixop doesn't require a subscription, and you can pay only for what you use. And one unique part is that there is a quality analysis for the uploaded video, which can help you verify what you need to fix and enhance quickly and directly.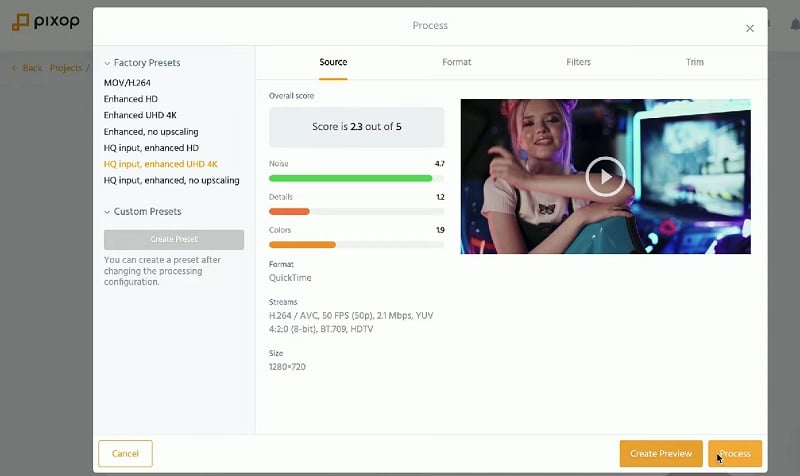 Pros:
It supports batch processing.
It is browser-based and videos are processed on the cloud, so you don't need powerful hardware.
It's compatible with all operating systems: Windows, macOS, Linux, iOS, Android, Chrome OS, etc.
Cons:
The cost can be quite high for users who need to upscale a large number of videos.
The operation steps are relatively more complex than other free online video upscalers introduced in this post and the different settings may make beginners confusing.
---
4. Neural.love
Neural.love provides a set of AI tools to enhance videos, images, and audio, restore portraits and make AI avatars as well as generate AI art. Focusing on upscaling videos, you will not only receive the best possible enhanced video: in 4K, 60 fps, and more, but you also will not be limited by slow processing on your local machine. You can literally upscale several videos simultaneously.
Neural.love uses AI to intelligently upscale videos, making them look up to four times sharper than they would if they were simply rendered at their original resolution. This can be especially useful for videos viewed on large displays such as televisions or monitors. Unlike Pixop, Neural.love focuses on upscaling videos to 60 frames per second (fps) while maintaining the original resolution. This allows for smoother and more fluid motion in videos.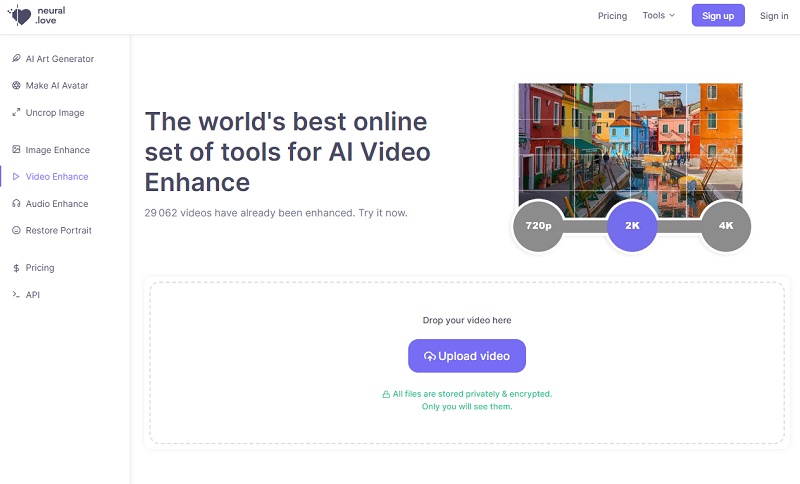 Pros:
It can upscale multiple videos online simultaneously.
Neural.love can produce high-quality videos with smoother motion.
The service is relatively affordable compared to other video upscaling options.
Cons:
It only upscales videos to 60 fps, so users looking for higher resolutions will need to look elsewhere.
---
Part 3: What you Should Note When Choosing an Online Free Video Upscaler
If you search for video upscaler online free on Google, you will see some tools such as Flixier, Clideo Video Enhancer, and Veed.io in addition to the four upscalers recommended in this article. While one thing to note is that such tools are essentially video editors. They can improve the quality of a video by enhancing its brightness, contrast, color balance, sharpness, and other visual aspects, but they will not increase the resolution of a video by adding more pixels to it or reduce the noise, artifacts, and distortions in the video like a video upscaler.
---
Part 4: Best Desktop Video Enhancer and Video Upscaler to Upscale Videos from SD to HD, 4K or 8K
AVCLabs Video Enhancer AI is a professional AI-based software designed to improve the quality of whatever types of videos. It is not only a video enhancer, which enables you to adjust the brightness, saturation, and contrast, but also a video upscaler that can automatically upscale the low-res videos to HD, 4K, or even 8K without making the image stretched and pixelated using deep learning algorithms. AVCLabs Video Enhancer AI is available for Windows and MacOS devices, so anyone with a laptop or desktop computer can take advantage of this powerful tool.
Key Features of AVCLabs Video Enhancer AI
AI Upscale video to HD, 4K and even 8K
Enhance video quality with multi-frame
Remove noise to make the video clearer
Recover and enhance facial details with AI
Colorize B&W videos to bring them to life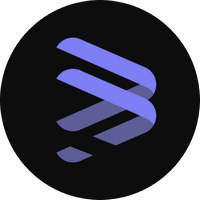 How to Upscale Videos with AVCLabs Video Enhancer AI for Free
Step 1: Download AVCLabs Video Enhancer AI and Upload Low-res Videos
Download and install AVCLabs Video Enhancer AI from the provided link, then launch it.
Note: Before upscaling videos with AVCLabs Video Enhancer AI, it is important to make sure that your computer configuration meets all system and hardware requirements for an optimal viewing and processing experience. Taking a few moments to check these requirements now can save you from experiencing any unexpected issues later on.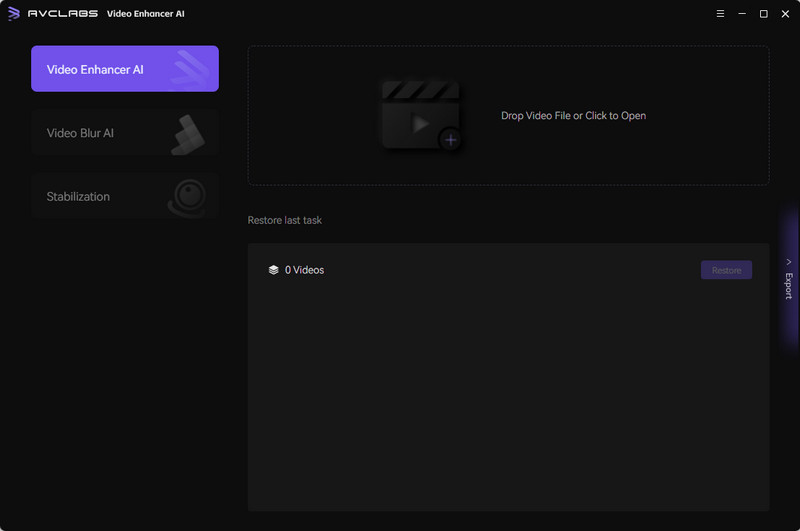 Just click the "Browse" button or drag and drop your videos that need to be upscaled. You can process up to 3 videos for free with its trial version.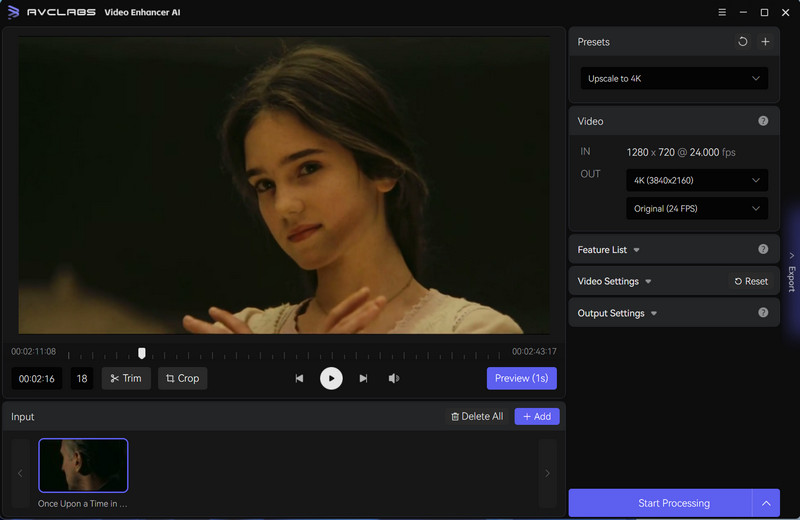 Step 2: Select AI Upscaler Model
To upscale videos to higher resolution, you should choose AI Upscaler under the Feature List.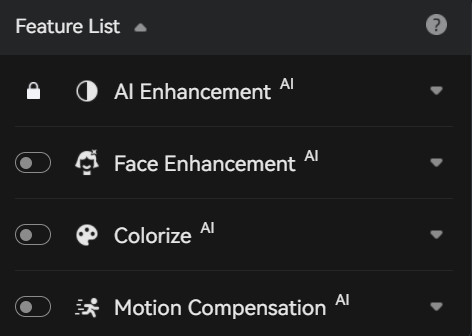 After selecting the AI feature, you can change the upscale model. But before that, please make sure to check what type of hardware acceleration (if any) is available on your device before changing upscaling models. This will ensure that any changes made don't exceed what your device can handle. Additional hardware acceleration may be required for maximum performance.If you need to recover or enhance facial details in the video, just enable the Face Refinement option.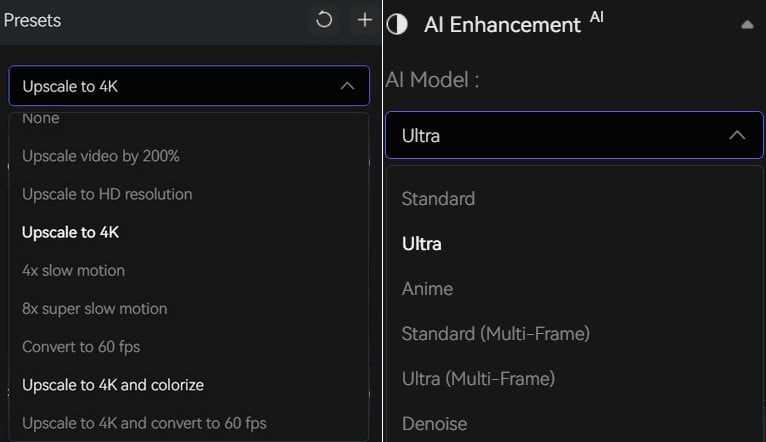 Step 3: Configure Video and Output Settings
Video settings: under the video settings, you can adjust the brightness, saturation, and contrast of the video to improve the video effect, or crop the video to fill the frame and deinterlace to reduce horizontal lines in the video.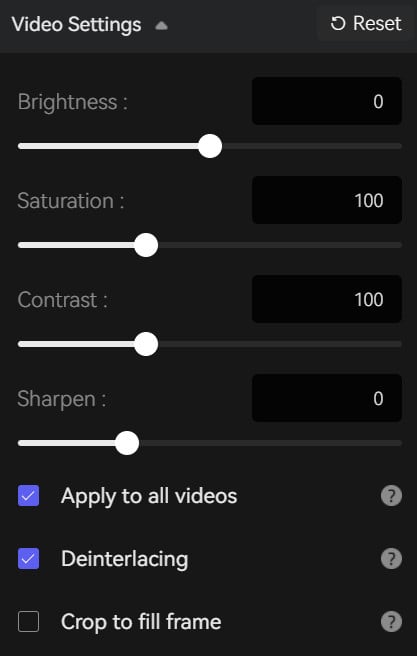 Output settings: Output settings are divided into three parts, the output size, output format and output path. Select any output video format you would like. You can also specify the output path wherever you want the video to be saved. And choose the upscaled resolution.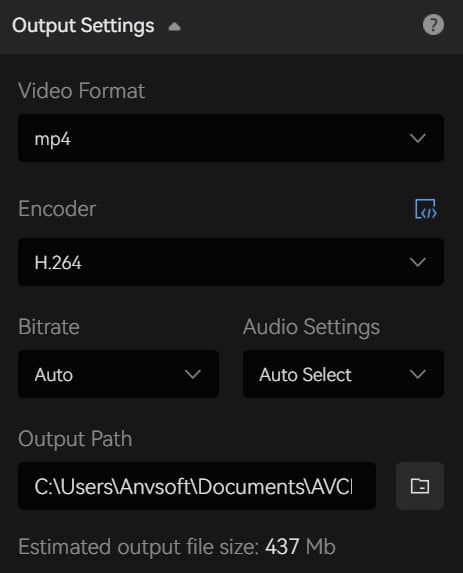 Step 4: Preview and Start Upscaling the Video
Once you have configured the settings, click the Play button to preview 30 frames of the upscaled video. This is a great way to make sure that the video quality has been increased and everything looks as expected before you begin the processing process. Finally, you can click the Start Processing button to upscale the video to any resolution you selected.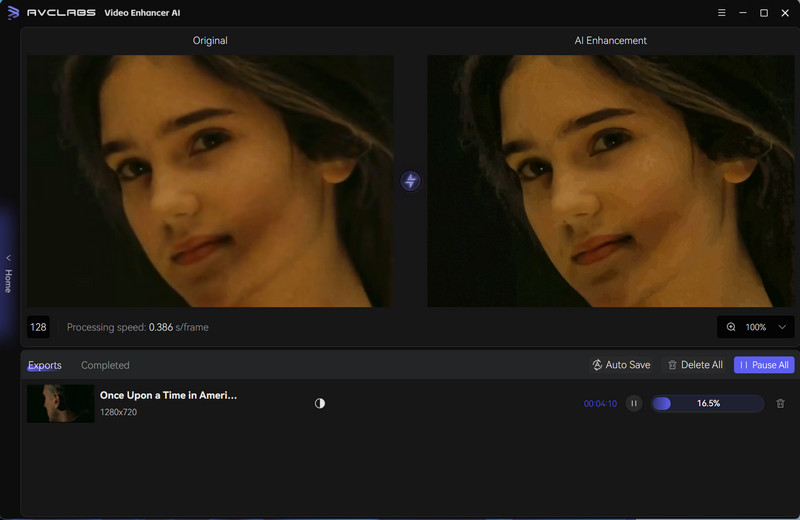 ---
Conclusion:
Overall, these are the top 4 video upscalers online free available. Each of them has its own unique features, pros, and cons, and the best one for you will depend on your specific needs and requirements. Online video upscalers are convenient to access, but there are always some limitations for the video size, etc. If you are looking for an unlimited way to upscale videos to HD or even UHD, then AVCLabs Video Enhancer AI is worth trying.
---
Related Articles