AI Upscaling Video: Upscale Videos to 4K, Even 8K With AI in Simple Way
"Is there any AI upscaling tool for videos? I'm working on an amateur project, and for part of my project, I'll be using some old, really, really low-res film. I've used some free online tools to upscale low-res photos before, to great success. How about AI upscaling video?"
How to upscale the old and low-res video or film? To solve such a problem, we discuss the following solutions of AI upscaling videos in this article.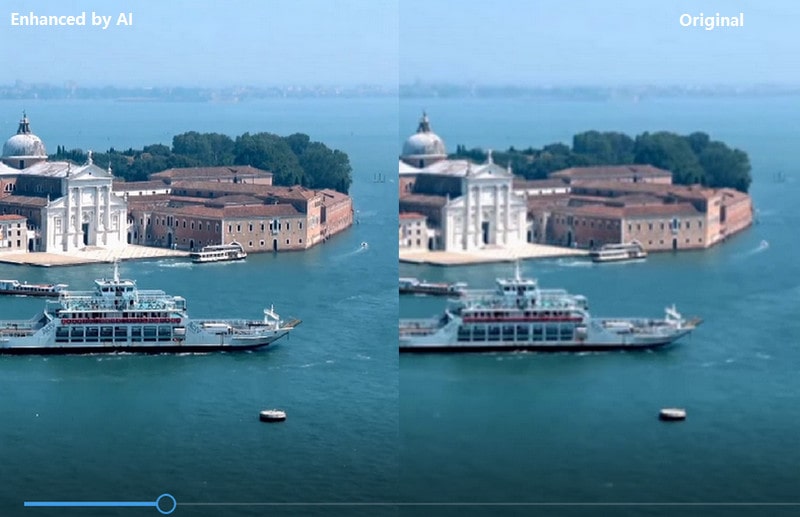 ---
Part 1: How Does AI Upscale A Movie/Video?
This handy development in TV picture processing is able to take the content of a lower resolution than your TV's own panel and optimize it to look better, sharper, and more detailed. It may sound a lot like regular old upscaling – the 'AI' part just means the upscaling happens with a greater awareness of context. That's because Al upscaling involves creating new pixels of image information to add detail where there wasn't any before, filling in the gaps to recreate a higher-resolution image, all the while using machine learning to improve the result.
Artificial Intelligence uses a network of simulated neurons (neural network) to augment the ability of a computer to perform tasks that rigid classical programming cannot easily achieve such as perception, interpretation, and prediction.
In the case of upscaling images or video (sometimes referred to as super-resolution), the algorithm is essentially tasked with creating extra pixel data to fill in the missing gaps between the known pixel values. Classical approaches to upscaling is called interpolation, which often simply fills in the missing pixels with color values that split the difference between their nearest neighboring pixels.
Of course, a human would be capable of perceiving the objects in the image, and having prior knowledge of the characteristics of these objects, be capable of predicting what the missing pixel values could be.
This is where artificial intelligence comes into play. Having been trained on a large volume of image sets containing high and low-resolution pairs, it becomes capable of generalizing the process of upscaling similar images. And the following tools are all embedded with AI.
---
Part 2: 7 Best AI Video Upscaler to Upscale Videos to 4K, 8K
Here are 7 AI video upscaling tools to helps users to upscale videos to 4K, up to 8K. Let's check them out.
2.1 AVCLabs Video Enhancer AI
Video enhancers tools can optimize the brightness, saturation, and contrast of videos to get a better result. And now the AI technology on video enhancing bring great progress. The AVCLabs Video Enhancer AI is the one you can not miss. It enables users to automatically upscale low-resolution and blurry homemade videos or old films from 480p, 720p to 4K, even up to 8k in a smart way.
Key Features of AVCLabs Video Enhancer AI
AI Upscale video to HD, 4K and even 8K
Enhance video quality with multi-frame
Remove noise to make the video clearer
Recover and enhance facial details with AI
Colorize B&W videos to bring them to life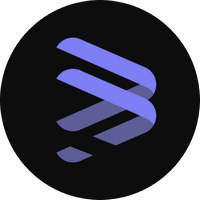 Steps to upscale the videos' quality and resolution:
Step 1: Download and install AVCLabs Video Enhancer AI
First, please click the above button to download the AVCLabs Video Enhancer AI program on your computer. The file size is a little large so it needs a few minutes to download the file. Please be patient. And high-end dedicated graphics cards (NVIDIA GTX 1050 Ti and upper) are recommended strongly for GPU acceleration when processing the videos in high efficiency and saving time.
Please click here for more system requirements of AVCLabs Video Enhancer AI.
Step 2: Launch the Program and Import Videos
After installing, launch Video Enhancer AI and you will see the main interface like below.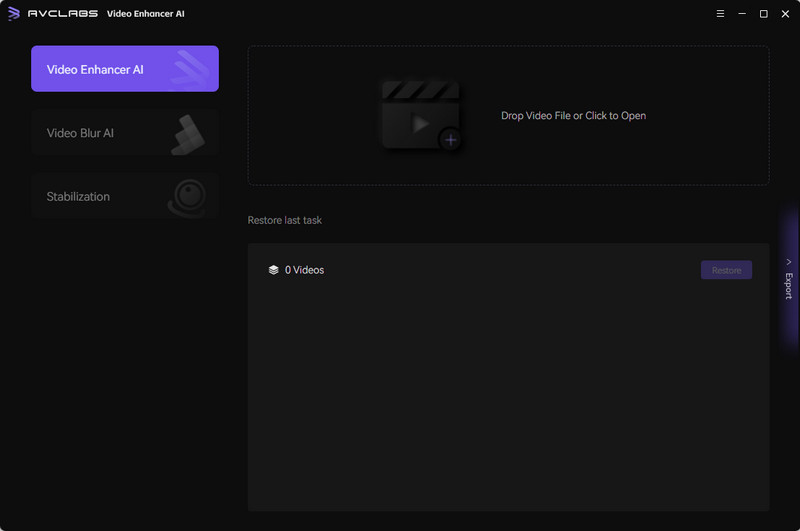 You can click on the Browse button to add videos to the program. Surly you can also drag and drop the video file to the square area to open the video in the program directly.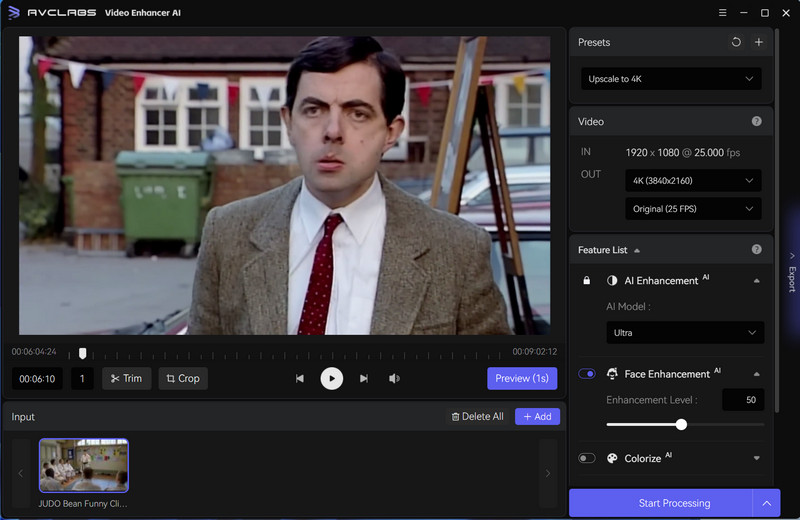 Step 3: Choose An AI Model and the Resolution
After loading the video files, you could view the options to upscale and enhance your video quality on the main window like the below image.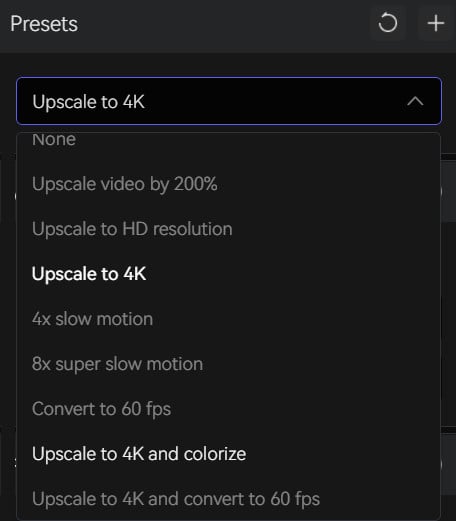 What's more, you can turn on the AI Enhancement feature and set the output frame rate and output size with a range from 200% upscaled, SD to 4K and 8K in the Video section.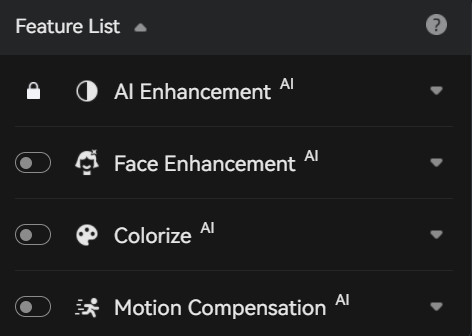 Step 4: Configure Output and Video Settings
Video Settings: manually adjust the brightness, saturation, and contrast of your videos to enhance the visual quality. Or you can also crop to fill the frame and deinterlace.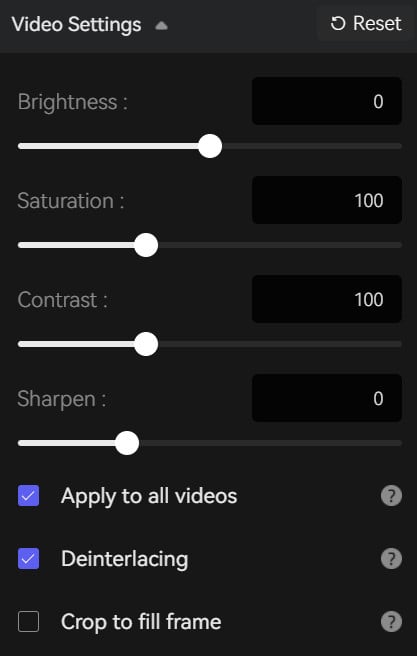 Output Settings: set the output video format(MKV, MP4, AVI, MOV, WEBM), the encoder (H.264, H.265, VP9 Good, VP9 Best, AV1), the bitrate, audio settings, as well as the output path.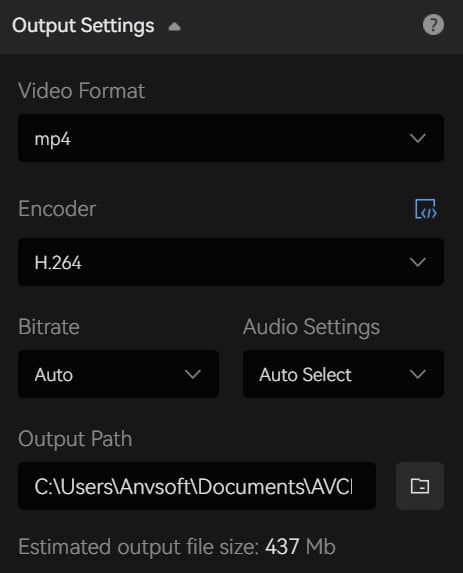 Step 5: Upscale the Video Quality and Resolution with AI
After the simple settings, click Start Processing. The program will start to enhance the quality of movies. On the processing interface, you can see the original and processed video in a comparing-view. You also can see the progress bar, processing time, etc.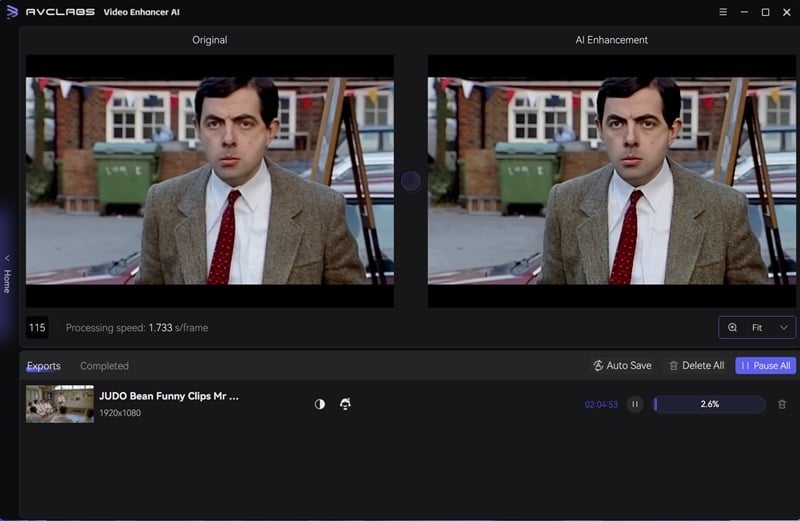 After the processing is completed, you can click "Open Folder" to check the enhanced video. With this AI-based video enhancer, you can get better video quality and bring you a satisfactory result. And all the enhanced work is done by AI automatically so you are not required any skill.
After the processing is completed, you can click "Open Folder" to check the enhanced video. With this AI-based video enhancer, you can get better video quality and bring you a satisfactory result. And all the enhanced work is done by AI automatically so you are not required any skill.
---
Video Tutorial: How to Upscale Video to 8K with AI
---
Cons:
The processing speed is longer but the effect is excellent. Just one-click operation, not other flexible options.
---
2.2 Topaz Gigapixel AI
This is a commercial super sampler that uses artificial intelligence and is made by Topaz Labs. It costs $100, but comes with a 30-day free trial. Produces good results with little fuss. Easy to install, but also requires a CUDA-enabled Nvidia graphics card.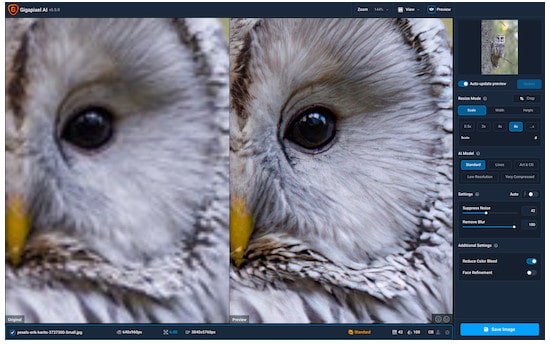 Key Features of Topaz Gigapixel AI
Upscale low-quality video 400%
Support SD to 4K
HD to 8K cropped
Cons:
The options are flexible and a little complex. Users need time to learn to use the tool. The enhanced result is not as better as the AVCLabs Video Enhancer AI (multi-frame mode).
---
2.3 Video2X
Video2X is a free and open-source AI video upscaling tool. It is based on Waifu2X, Anime4K, SRMD and RealSR written in Python 3. It only supports Windows operating system too. The max resolution is 4K. Export movie in MP4, MKV formats. It provides so many options so it is suitable for advanced users.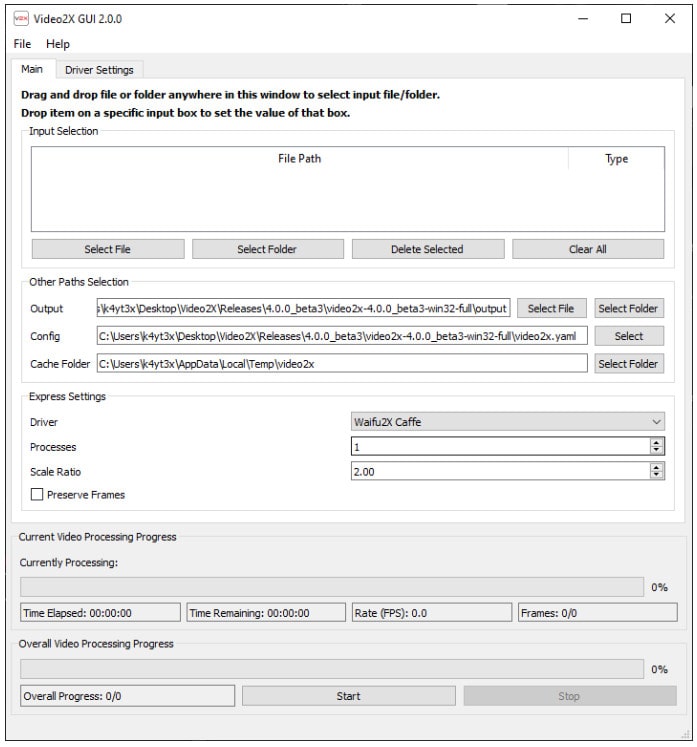 Key Features of Video2X
Free
A video/GIF/image upscaling software
Upscale videos, GIFs and images, restoring details from low-resolution inputs
Accept GIF input to video output and video input to GIF output
Cons:
In order to use Video2X, you must have Python 3 installed
Very complicated for beginners
---
2.4 Waifu2x Extension GUI
Waifu2x Extension GUI is a free and open-source ai upscaling software for video, picture, and gif. Its upscaling is accomplished with the use of deep convolutional neural networks and the most modern algorithms and AI engines available today, such as Waifu2x, Real-ESRGAN, Anime4K.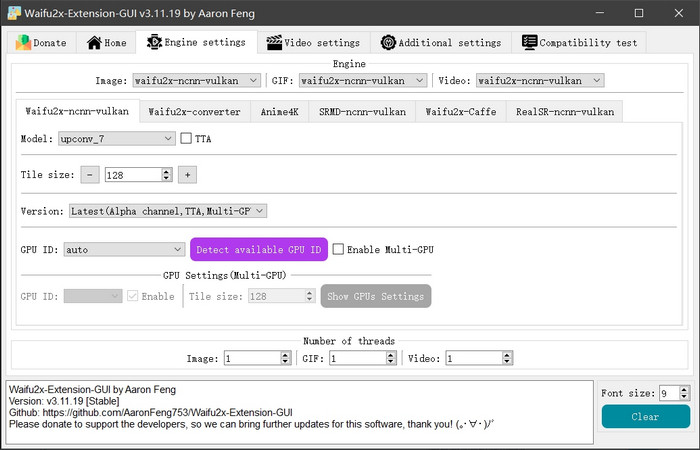 Features of Waifu2x Extension GUI
Totally free
AI FPS analyzing and boosting
Stable in AI video upscaling
Multi-thread and GPU support
Good result
Cons:
Not friendly to new users. The interface is complex and you need time to learn how to use
---
2.5 DVDFab Enlarger AI
DVDFab Enlarger AI makes use of the open-source framework TensorFlow, which is powered by Google, and artificial intelligence (AI) technology for machine learning to upconvert SD (480p) movies to a maximum resolution of 4K with the enhanced video quality.
Because DVDFab is capable of ripping both Blu-ray and DVD discs, you may make use of its artificial intelligence engine to upscale and improve the visual quality of your Blu-ray or DVD discs. Blu-ray discs can have their regular 1080P source converted to 4K MP4 or MKV format for playback. When it comes to DVDs, you may go as high as 1080P.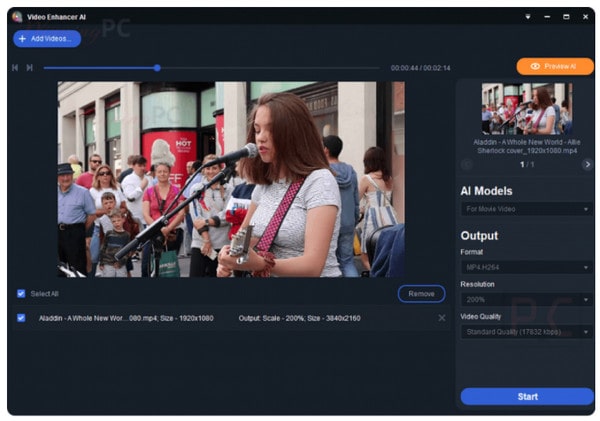 Features of DVDFab Enlarger AI
Upscale Old Videos Quality and Resolution
Enlarge Video by 300% with AI Powered
Enhance Clarity exponentially
AI Upscaling of Video Image Great Details, Present True Colors
Cons:
Only available for Windows users
The result is no better than Topaz or AVCLabs Enhancer AI
---
2.6 Pixop
Pixop provides an online video upscaling service that is AI and ML-based and offers a variety of features, like super-resolution, restoration, deep restoration, denoising, etc. Due to its up-to-date AI engine and machine learning technology, it is extremely efficient and delivers the very great results.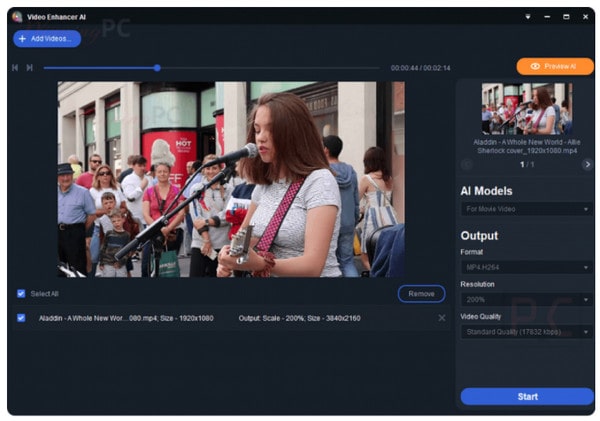 Features of Pixop
No expensive hardware or plugins
Encrypted and secure
Fast and intuitive
Better video at affordable rates
Cons:
Need to sign up for an account
The online process requires a stable connection and needs to upload and download the video
Expensive if you have a long video or more options selected or many videos to upscale
---
2.7 Neural.love
Neural.love is another online service that is AI-powered to upscale your videos to 4K, boost FPS to 60 with additional frames, and create slow motion. It is also good at enhancing details in faces.
Features of Neural.love
Upscale to 4K video online with great results
Easy to use
Support face refinement
Enable to colorize old video
Cons:
Need to sign up for an account
Expensive if you have a long video or more options selected or many videos to upscale.
---
Conclusion
AI upscaling video sounds like a kind of magic, but it's an effective technique that improves image quality and helps low-res sources look their best on high-res displays. All the above are tools for AI upscaling video. We can see these AI video upscaler can help a lot to enlarge and improve the video quality. Some of them are free, and some of them are so easy to operate. If you are a beginner to get the best upscale result without learning any skill, AVCLabs Video Enhancer AI is the suitable one. You just need to choose an AI model and click to start. It's very friendly to the new user.
---
Related Articles