Top 3 Best Online AI Video Upscaler of 2023 (Free & Paid)
As the demand for high-quality video content continues to rise, so does the need for advanced video processing tools. AI video upscaling software has emerged as a game-changer in the industry, allowing users to enhance the resolution, clarity, and overall visual appeal of their videos. In this article, we will explore the top 3 online AI video upscalers of 2023, both free and paid version, as well as an open-source option. Additionally, we will highlight an excellent desktop AI video upscaler for users who prefer offline processing.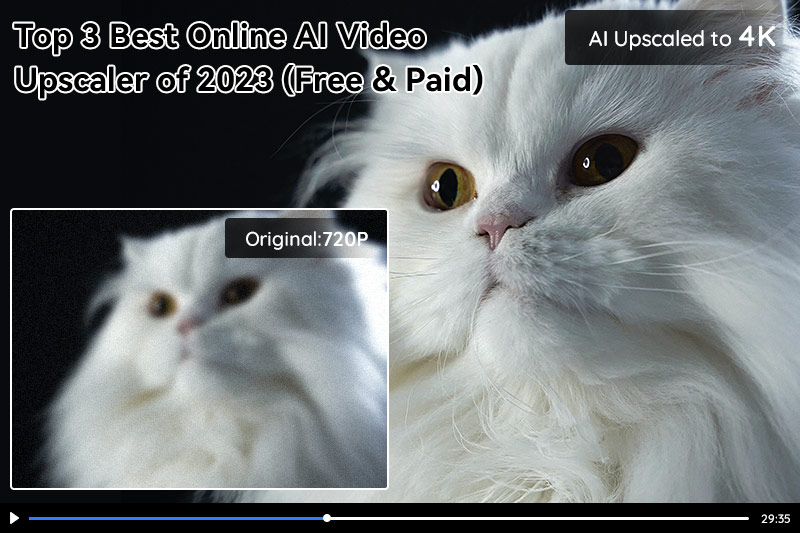 ---
Part 1: What Is AI Video Upscaling Software?
AI video upscaling software harnesses the power of artificial intelligence algorithms and deep neural networks to elevate video resolution and enhance overall quality. By extensively analyzing patterns and textures in high-resolution videos, these software solutions intelligently fill in missing details, enhance sharpness, and improve visual fidelity. Using sophisticated machine learning techniques, AI video upscaling software can accurately reproduce intricate details, resulting in sharper and more realistic frames. This technology proves invaluable for content creators and video editors who aim to transform low-resolution videos into visually stunning and high-quality content. It is particularly beneficial for tasks such as restoring old footage, enhancing web videos, and preparing videos for large displays, offering an exceptional solution to enhance video resolution and visual appeal.
With the ability to analyze and understand complex visual features, AI video upscaling software has the capacity to optimize video content across various industries and applications. By leveraging deep neural networks, these software solutions excel at extracting relevant patterns and information from input video frames, enabling precise and effective upscaling while minimizing artifacts. This transformative technology empowers content creators to enhance the visual quality of their videos, providing a significant boost to the overall viewing experience. Whether it's improving the clarity of archival footage or enhancing the visual impact of web videos, AI video upscaling software plays a vital role in elevating video resolution and delivering exceptional content quality.
---
Part 2: Top AI Online Video Upscaler & Open-source AI upscaler
With a solid understanding of how AI video upscaling software harnesses artificial intelligence algorithms and deep neural networks to enhance video quality, let's now explore the top three online AI video upscalers and Open-source AI upscaler that can take your videos to the next level.
1. Pixop (Price: Pay as you go start for as little as $10!)
Pixop is a revolutionary cloud-based video remastering and upscaling service that harnesses the power of AI technology. With Pixop's advanced AI video upscaling capabilities, videos can be seamlessly transformed from SD to UHD 8K, providing superior resolution. In addition to upscaling, Pixop leverages machine learning for AI-based denoising, deinterlacing, deep restoration, and other advanced filters, ensuring a significant enhancement in video quality.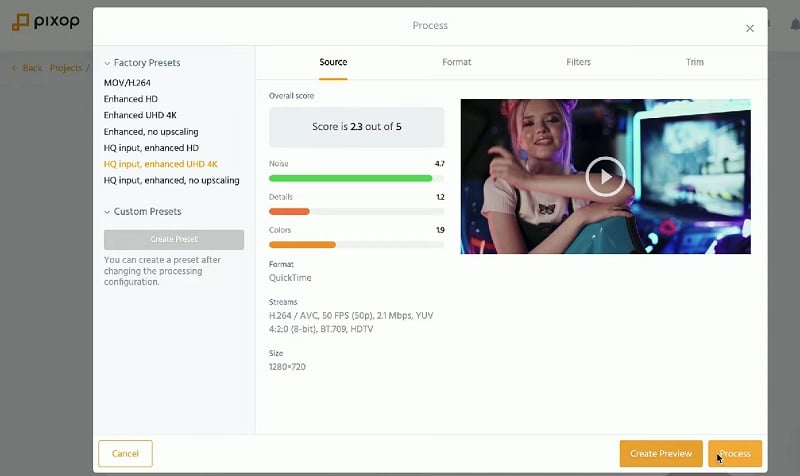 Pros:
Simple interface for upscaling videos
Best for Businesses
Powerful AI Filters
Cons:
A bit laggy and slow when upscaling videos
Processing long videos can be expensive (a desktop-based platform may be a better option in that case)
---
2. Neural.love (Price: Free trail, 300 credits per month, Pay as you go)
Neural.love is another online AI tool that offers a comprehensive range of content creation and enhancement services. Utilizing advanced neural networks and machine learning algorithms, Neural.love excels at restoring and enhancing digital media from any era, delivering outstanding results. Whether it's image and video upsampling, sharpening, colorization, enhancement, video frame rate conversion, or even generating AI avatars and art, Neural.love covers it all.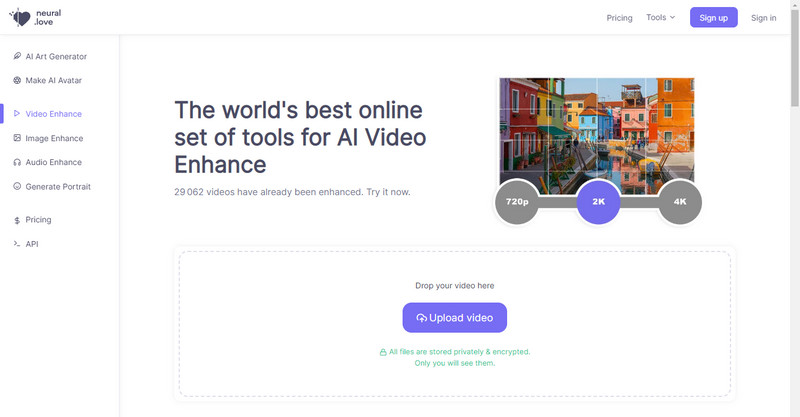 Pros:
Cloud-based and doesn't need any installation
The interface is simple and easy to operate
Free trial available
Cons:
The free plan only offers 5 credits and cannot complete a single video enhancement
---
3. Video2X (Price: Completely free and open source)
Video2X is a free and open-source AI upscaler that uses advanced algorithms to enhance videos, GIFs, and images. With Video2X, you can increase resolution, frame rate, and sharpness, transforming low-resolution videos into stunning 4K or higher quality. While the process may be slow, Video2X produces realistic results without pixelation or artifacts. It's a valuable tool for content enhancement and is perfect for high-resolution screens.
Pros:
Using it without spending a penny
Use advanced algorithms to upscale old low-res videos to 4K
Cons:
Complicated for beginners
Processing video is slow
---
Part 3: Top Desktop AI Video Upscaler
Now that we have explored the top choices for AI online and open-source video upscalers, let's shift our focus to another exceptional option for enhancing video quality: AVCLabs Video Enhancer AI. This desktop AI video upscaler provides powerful features for users on both Windows and Mac operating systems.
AVCLabs Video Enhancer AI, the game-changing software that utilizes advanced artificial intelligence algorithms to enhance and upscale videos with unprecedented quality. With its remarkable upscaling performance, AVCLabs Video Enhancer AI can transform low-resolution or standard-definition footage into stunning high-resolution masterpieces while preserving the integrity of the original content.
Not only does it do a great job at upscaling video, but it also enhances everything else, such as denoising, colorizing black and white video, and restoring extremely blurry faces. The software's intuitive interface makes it suitable for all levels of users, from amateur videographers to professional filmmakers.
Key Features of AVCLabs Video Enhancer AI
AI Upscale video to HD, 4K and even 8K
Enhance video quality with multi-frame
Remove noise to make the video clearer
Recover and enhance facial details with AI
Colorize B&W videos to bring them to life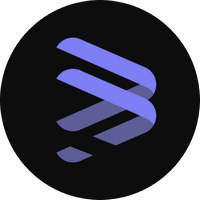 How to Upscale Video with AVCLabs Video Enhancer AI
Warm tips: remember to check whether your computer configuration meets the check these requirements for an optimal processing experience.
Its intuitive interface makes it easy for even beginners to get started quickly. Here is the detailed tutorial.
Step 1: Install AVCLabs Video Enhancer AI and Import Videos
Download and install AVCLabs Video Enhancer AI following the instruction, then launch it. Click the "Browse" button or drag and drop videos to import them.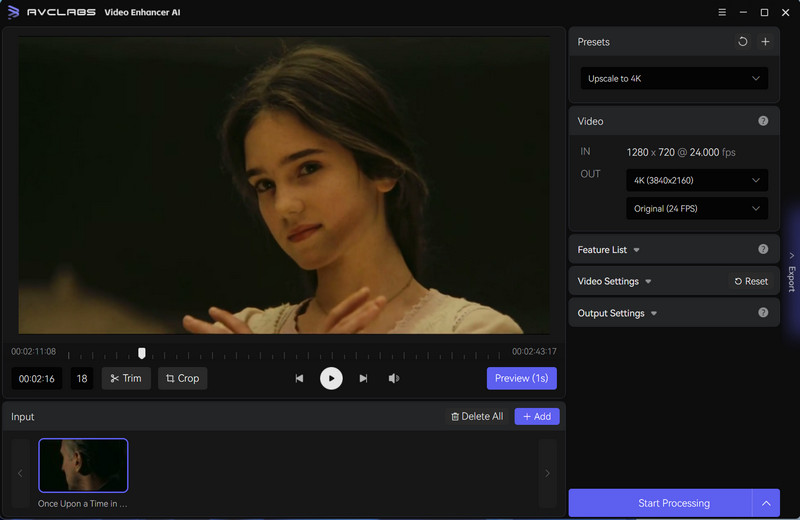 Step 2: Select AI Features
The easiest way to Upscale a video is to select from the presets section. It offers seven pre-configured options such as "Upscale to 4K", "Upscale to HD resolution" that you can use directly.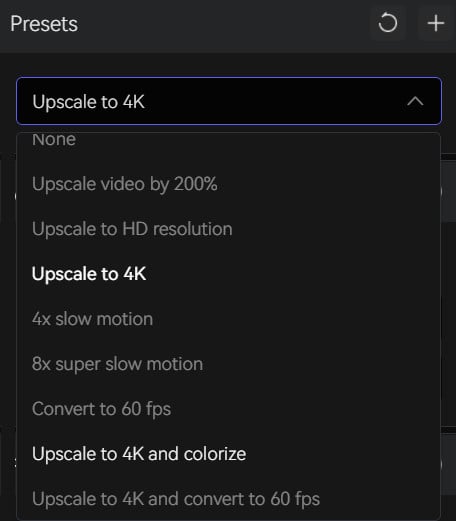 Step 3: Output Settings
In the Output Settings part, you can set the output video format(MKV, MP4, AVI, MOV, WEBM), the encoder (H.264, H.265, VP9 Good, VP9 Best, AV1), the bitrate, audio settings, as well as the output path.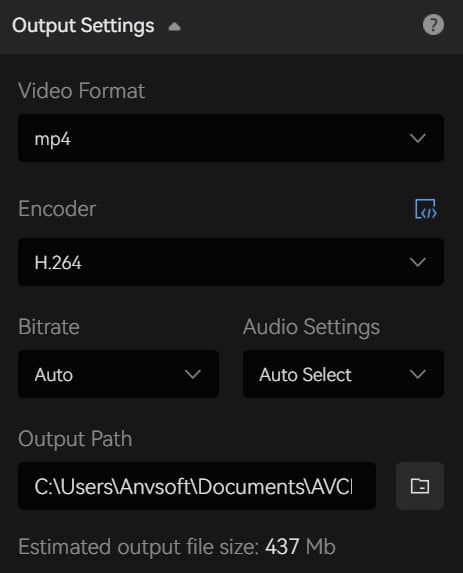 Step 4: Start Upscaling Video Quality
Once all the settings are complete, just click the Start Processing button to upscale the video.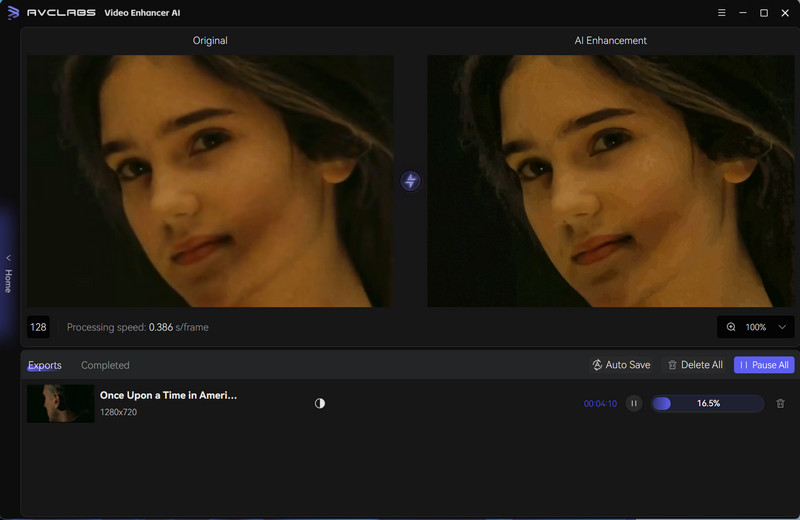 ---
Video Tutorial: How to Upscale Video Quality with AVCLabs Video Enhancer AI
---
Conclusion:
In conclusion, AI video upscaling software has revolutionized the industry, offering powerful tools to enhance video resolution and quality. Top online options like Pixop, Neural.love, and Video2X, along with the desktop solution AVCLabs Video Enhancer AI , provide users with advanced AI algorithms to transform videos into visually stunning content. These tools meet the rising demand for high-quality video experiences, benefiting content creators, video editors, and businesses alike.
---
Related Articles