3 Most Popular 4K Video Enhancers Review: How to Use a 4K Video Enhancer to Improve your Video Quality
Are you looking to enhance the quality of your 4K videos? With the introduction of ultra-high resolution video technology, 4K video has become increasingly popular. However, editing and enhancing 4K videos can prove to be a challenge due to the large file size and technical complexity involved. Fear not – this article will provide a comprehensive review of 3 top-rated 4K video enhancers AVCLabs Video Enhancer AI, Topaz Video AI, as well as DVDFab Video Enhancer AI that are designed to make improving the quality of your footage easier than ever before. Read on to learn more about how you can use these tools to take your video projects up a notch.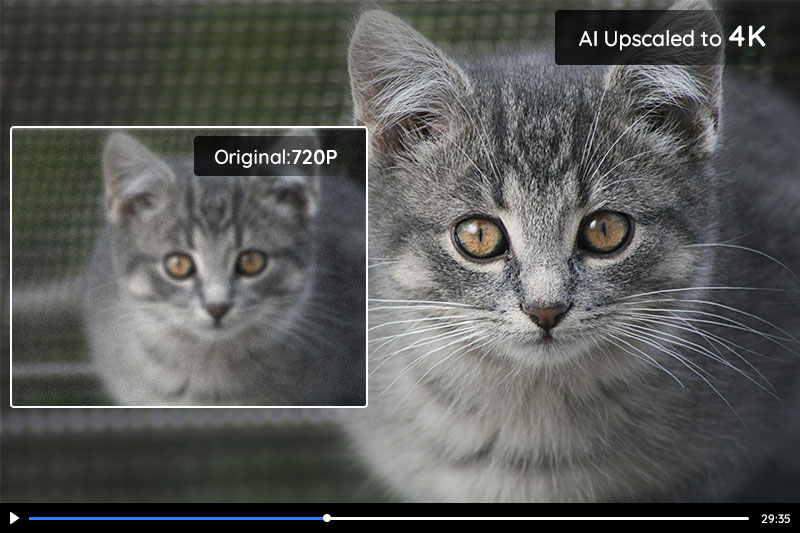 ---
Part 1: Understanding 4K Video Enhancer
4K Video Enhancer is a type of software that can enhance the quality of your videos, from increasing the resolution to improving color and contrast. It generally uses advanced algorithms and artificial intelligence to analyze each frame of your video and enhance it accordingly.
There are various enhancements that can be made using 4K Video Enhancer, such as upscaling the video resolution, reducing noise and grain, sharpening the details, adjusting the color and contrast, and stabilizing shaky footage. With 4K Video Enhancer, you can transform an ordinary video into a stunning masterpiece.
---
Part 2: Top 3 4K Video Enhancer
1. AVCLabs Video Enhancer AI
AVCLabs Video Enhancer AI is an up-and-coming 4K video enhancer, but it has managed to gain a large number of users in a short period of time. The popularity of AVCLabs Video Enhancer AI has grown significantly since its release due to its powerful functions.
The main functions of AVCLabs Video Enhancer AI include increasing the video resolution with super-resolution, for instance, upscaling videos from SD to HD, or HD to K4, and even up to 8k; recovering faces from blurry videos while enhancing the facial details; removing noise and grainy from videos, colorizing black-and-white videos, and motion compensation, etc.
One of the most important reasons for the popularity of this 4K video enhancer is that it has a very little learning curve. From its simple interface to its logical steps, anyone can quickly learn how to use it. And with advanced AI technology, it could automate video processing and achieve more natural results easily than with classical programming. So it is friendly for people who are not very computer savvy or have no experience in video editing.
Available: Windows 11/10/7 (64bit), macOS 10.15 and above using the Apple M1 Chip
Key Features of AVCLabs Video Enhancer AI
AI Upscale video to HD, 4K and even 8K
Enhance video quality with multi-frame
Remove noise to make the video clearer
Recover and enhance facial details with AI
Colorize B&W videos to bring them to life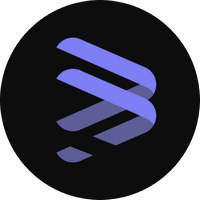 How to Enhance Videos to 4K with AVCLabs Video Enhancer AI
Warm tips: remember to check whether your computer configuration meets the check these requirements for an optimal processing experience.
Step 1: Download AVCLabs Video Enhancer AI and Upload Videos
Download and install AVCLabs Video Enhancer AI, then launch it.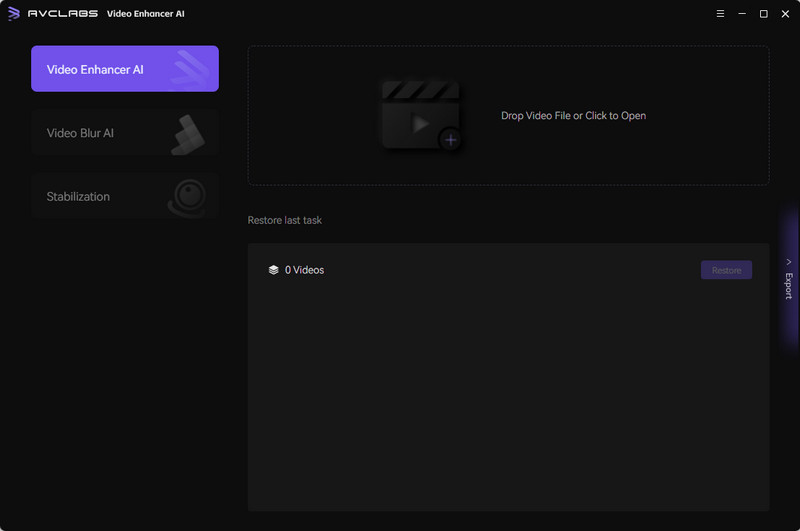 Click the "Browse" button to upload videos that need to be enhanced. Alternatively, you can just drag and drop it to the workplace.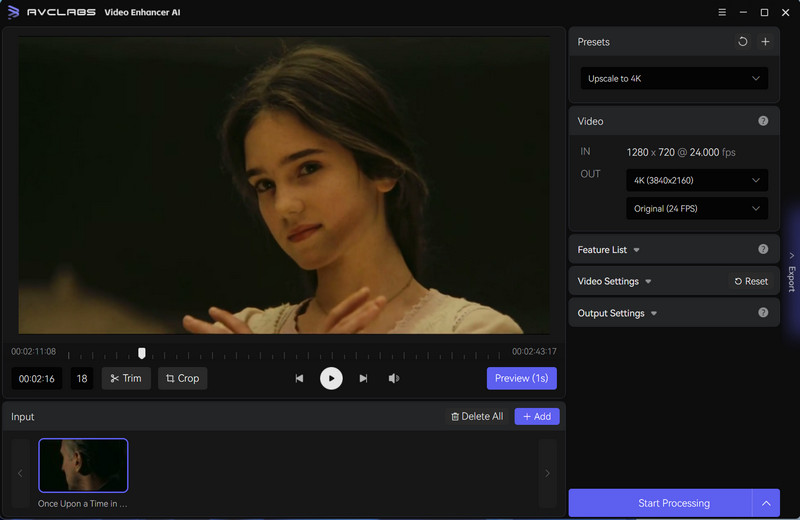 Step 2: Select AI Features
Under the Presets section, there is a list of pre-configured options that you can use right away. Once you select one, the corresponding AI features will be enabled and other parameters will be set automatically.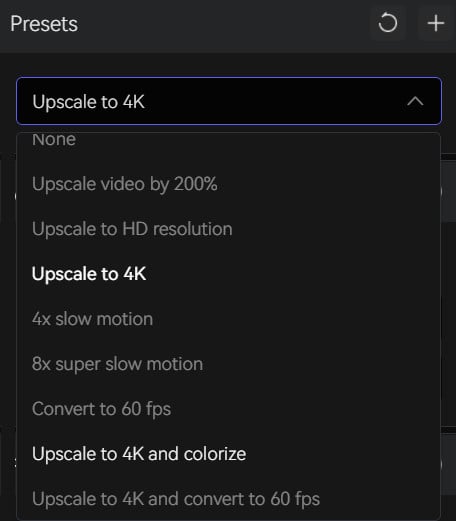 There are 4 AI features to solve different quality issues, namely, AI Enhancement, Face Enhancement, Colorize, and Motion Compensation. In addition to the presets, you can also customize them by yourself. Select one or more AI features according to your need. Just like the options in the preset, multiple functions can be overlapped.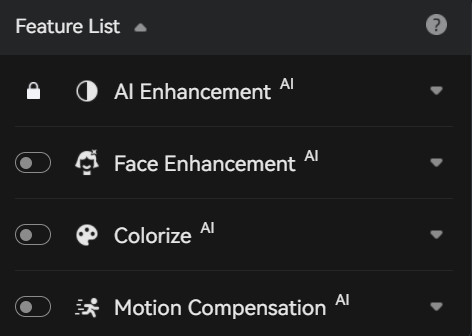 In the Video section, the IN part shows the original size and frame rate, and the OUT part is where you can set the output frame rate and output size with a range from 200% upscaled, SD to 4K and 8K.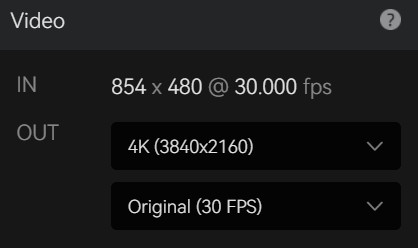 Step 3: Configure Video and Output Settings
Video Settings: In addition to the automatic video enhancement, AVCLabs also allows you to make more precise adjustments to the settings of your video. With the Video Settings, you can manually adjust factors such as brightness, saturation, and contrast. Furthermore, if you upload multiple videos at once, these settings will be applied to all of them by default - however, this option can easily be unchecked should you not wish for this to happen. In addition, there are also options like cropping to fill the frame and deinterlacing.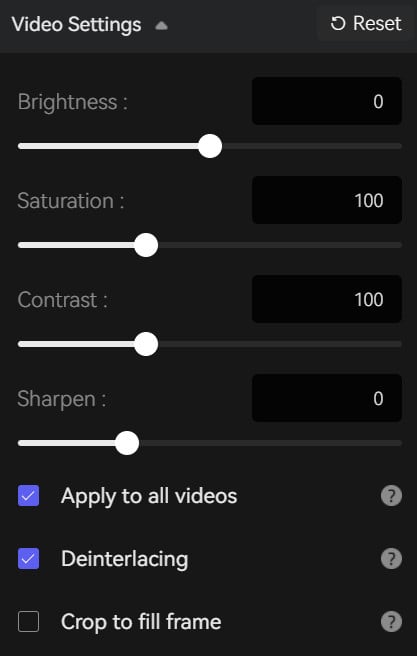 Output settings: the section where you can set the output video format(MKV, MP4, AVI, MOV, WEBM), the encoder (H.264, H.265, VP9 Good, VP9 Best, AV1), bitrate, audio settings, and output path.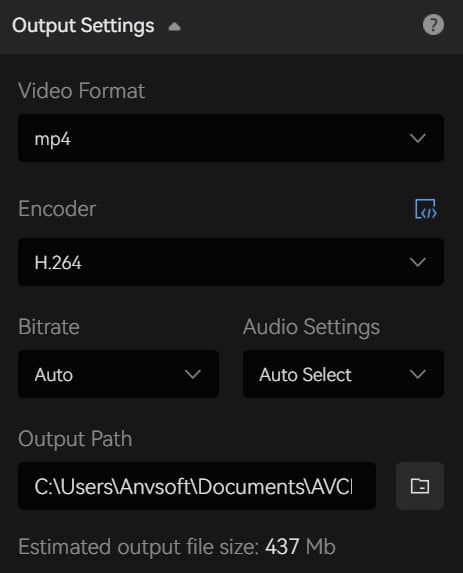 Step 4: Start Enhancing Videos to 4K
Once all the settings are complete, click the Eye button to review 30 frames to make sure the processed video is what you want. Finally, click the Start Processing button to enhance videos to 4K.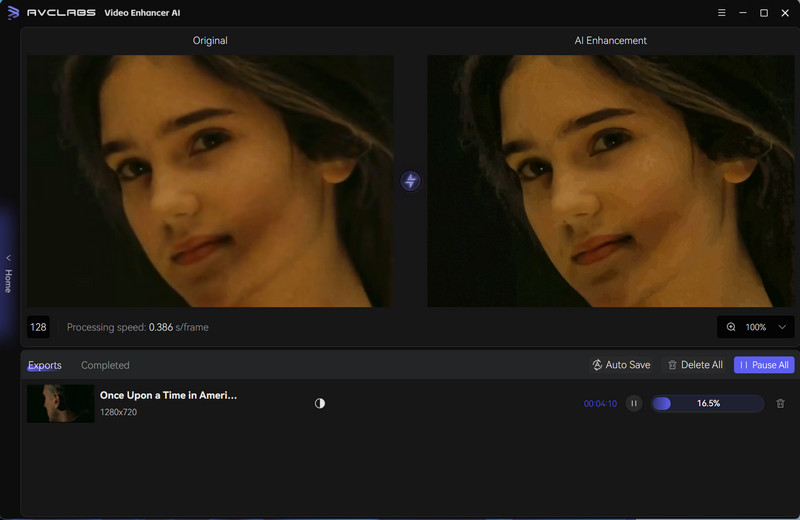 Pros:
Easy to use.
Flexible and affordable pricing plans.
Little learning curve and no editing skills are required.
Offer a free trial to test all features: Users can enhance 3 videos for free.
Powerful functions meet almost all needs for enhancing kinds of video-quality issues.
Incorporate OpenVINO acceleration to guarantee that Intel-integrated graphics and CPU-based machines can effortlessly utilize the program, thereby enhancing the processing speed and overall performance.
Cons:
Watermark on the processed videos for the free version.
System and hardware requirements for optimum performance.
---
2. Topaz Video AI
Topaz Video AI is another 4K video enhancer that uses artificial intelligence to improve the clarity and quality of your videos. It has 5 different video enhancement AI models to give optimal results for different input types and situations. They are Stabilization, Motion Deblur, Frame Interpolation, Enhancement, and Grain. With these five AI models, you can reduce camera shake, reduce motion blur from camera movement, create new frames for FPS conversion or slow motion, improve the visual quality of your videos, and add output grain for a more natural feel.
Available: Windows and Mac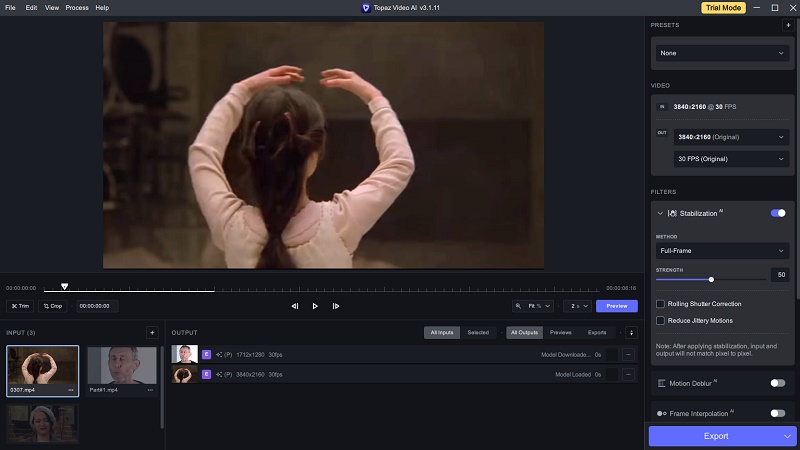 Pros:
Much improved user experience.
Offer a free trial to test all features, but also has a watermark.
Incredible AI-generated slow-motion footage from any source.
Cons:
Relatively long learning curve.
Slow motion encoding is slow.
Pricing plans are single, and it does not support monthly payment.
---
3. DVDFab Video Enhancer AI
DVDFab Video Enhancer AI is also a desktop 4K video enhancer that could enhance old videos to a better quality and upscale low-res videos up to 4K. It also has a lot of AI models like Sharpen, Denoise, etc., but the core function of all models is to enhance video quality. From this point of view, it seems a bit monotonous in function. However, what makes this 4K enhancer different from other programs is that it has a breakdown of the videos that need to be enhanced. For example, there are models For Movie Video, For Home Video recorded by modern phone or DVs, For Web video, For Anime, and RealSR, which is to enlarge the resolution and enhance the quality of CG videos, etc.
Available: Windows 10 (64-bit only)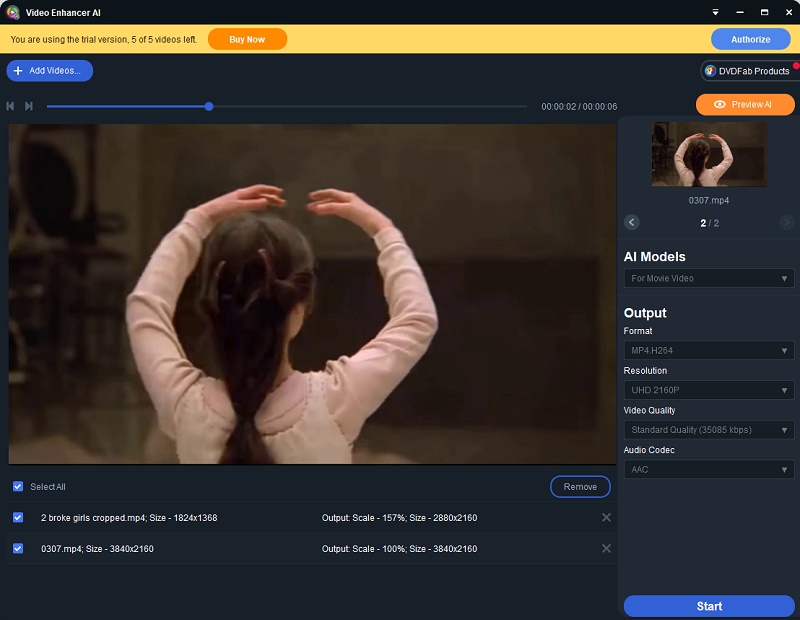 Pros:
Easy to use.
Offers 30-day free trial.
Cost-effective subscription plans.
Cons:
Relatively single functions.
Limited compatible device, only available to Windows.
---
Part 3: General Comparison of the 3 Popular 4K Video Enhancers
Functions: AVCLabs Video Enhancer AI and Topaz Video AI are richer than DVDFab Video Enhancer AI in terms of feature types. All three can enhance video, but AVCLabs and Topaz have their own unique features on top of that, such as colorization and motion compensation for AVCLabs, and Grain and Frame Interpolation for Topaz.
Usability and Performance: All three 4K enhancers handle the results pretty well. In terms of operation, AVCLabs and DVDFabs more user-friendly and intuitive. Topaz, on the other hand, will have a certain learning curve, but the new version has a much-improved interface compared to the previous version.
Price: AVCLabs and DVDFab both offer three subscription plans, namely monthly, annual, and lifetime subscriptions, while Topaz has a relatively single subscription plan with only annual and lifetime versions. The prices of AVCLabs and Topaz are similar, while DVDFab's price is the lowest, but it is not recommended to subscribe to DVDFab's monthly subscription, which is more expensive than AVCLabs but has fewer features than it.
---
Part 4: FAQs about 4K Video Enhancer
1. Can you enhance video quality?
Yes, you can enhance the video quality. There are several ways to do this, such as using a video editor to make adjustments to the color settings and resolution of the video or using artificial intelligence (AI) tools to upscale your video from its current resolution to up to 4K or even 8K. It is highly recommended to use AI-based 4K video enhancers to enhance video quality, especially for those who have no experience in video editing. AVCLabs Video Enhancer AI is such an excellent tool to help users fix different video-quality issues and upscale videos to 4K without losing quality.
2. How do I upscale a video to 4K online?
For online upscaling of videos, there are numerous free and paid AI-based video conversion services available. Some popular choices like cutout.pro, neural.love, aimages.ai, etc. All of them are online AI-based 4K video enhancers. Aimages has 10 AI filters available to meet your kinds of needs, cutout.pro is easy to use and will start upscaling videos directly after uploading, and Neural.love provides a set of AI tools to enhance videos, images, and audio. However, online 4K video enhancers usually have limitations on video size or will cost so many credits to process long videos. If you need to enhance long videos with large sizes, desktop software like AVCLabs Video Enhancer AI might be a better choice.
Click to check the detailed review of more online 4K video quality enhancers.
3. What is the best 4K video enhancer to increase video quality?
AVCLabs Video Enhancer AI is the best 4K video enhancer available to improve video quality. Its advanced artificial intelligence technology enables it to analyze each frame of the video and enhance image details, color accuracy, sharpness, contrast, brightness, and overall clarity in a way that manual editing can't achieve. It also uses unique noise reduction algorithms for better output quality with minimal artifacts. With AVCLabs Video Enhancer AI, you can make your videos look better than ever before without sacrificing any image quality or resolution.
---
Conclusion:
After understanding 4K Video Enhancer, you can make your own video editing efforts easier and faster with higher quality results for your projects. The three 4K Video Enhancers discussed were AVCLabs Video Enhancer AI, Topaz Video AI, and DVDFab Video Enhancer AI. All of them have their own pros and cons that we have mentioned, so it's up to you which one will be the best suitable for your needs. We hope this blog post provided valuable information that guides you in choosing the right 4K Video Enhancer. So what are you waiting for? Now is the time to download and try to amplify the quality of your videos!
---
Related Articles