5 Best Video Quality Improvers to Improve Video Quality
"How can I improve video quality? Is there an app to improve video quality?" - James
If you're looking for ways to improve the quality of your videos, you've come to the right place. In this blog post, we'll share 5 best video quality improvers that can help you achieve better results. Whether you're shooting videos for YouTube or for a professional project, these tips will help you get the most out of your footage. So without further ado, let's jump right in!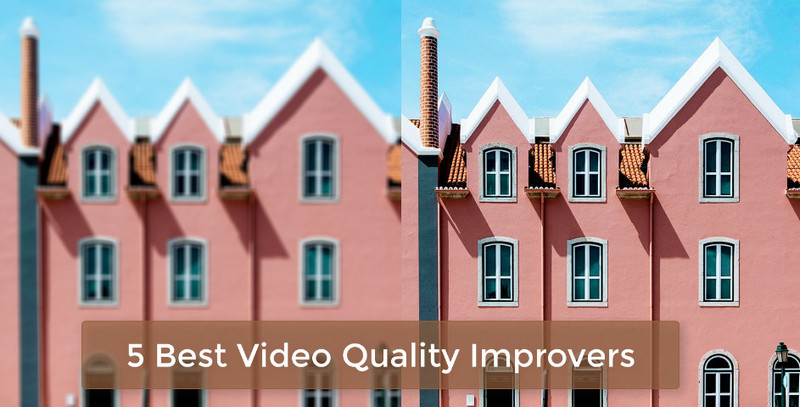 ---
Part 1: What Is Video Quality Improvement
Video quality improvement refers to the process of improving the overall video quality of production. Whether it's for videos that you've already created, or for live video productions, you can use video quality improvers to boost the quality of your visuals. Whether you're shooting a professional film or creating a quick video for social media, having high-quality visuals can make all the difference in the overall finished product. Having high-quality visuals can make your video more engaging, more eye-catching, and also easier to share. With video quality improvement, you can increase the resolution, boost the brightness/contrast, and sharpen the image to create a more high-quality and polished look. Video quality improvement isn't just about adding filters or effects to your video. This is about improving the quality of the visuals by using different tools and techniques to make your video look more professional. These tools can help you increase the brightness and contrast of your image, boost the vibrancy of your colors, and also sharpen your image clarity to make your videos more eye-catching.
---
Part 2: 5 Best Video Quality Improvers
Here we just collected a list of video quality improvers online and video quality improver software. All of the video quality-improving tools are driven by AI technology. Let's have a look at them one by one.
1. AVCLabs Video Enhancer AI
Compatibility: Windows 11/10/7 (64bit) & Mac OS 10.15 and above using Apple M1 Chip
Price: $39.95/Month, $119.95/Year, $299.90/Lifetime (Free to Update and Upgrade)
AVCLabs Video Enhancer AI is an advanced video quality-improving tool that can help you authentically and naturally enhance the overall video quality of your productions. It features AI-powered Post-Production tools and high-quality presets to help you create videos that rival Hollywood productions. Boasting advanced artificial intelligence, it enables users to unleash a whole new level of detail and sharpness into their videos in minutes - upscaling SD or HD footage all the way up to 8K resolution! Perfect for those looking to take their visual media production further without having tedious hours spent on manual editing, this powerful tool will help stabilize shaky footage and remove unwanted noise at lightning speed.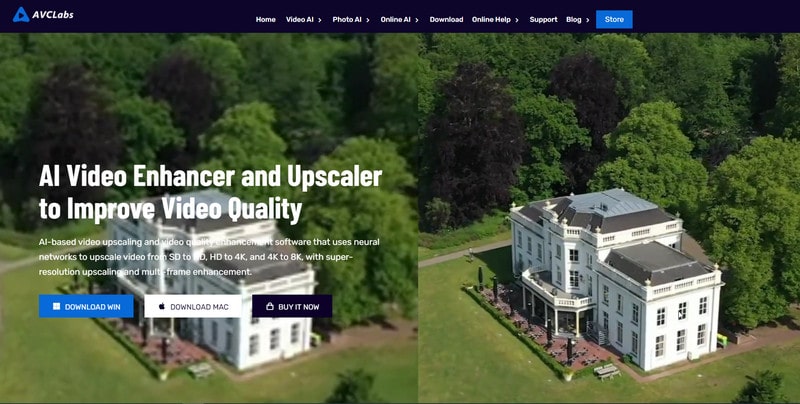 Key Features of AVCLabs Video Enhancer AI
Improve video quality using neural network
Upscale video from SD to HD, HD to 4K, or 8K
Remove noise and grain from the your noisy footage
Sharpen blurry faces and enhance facial detail
Colorize B&W videos to bring them to life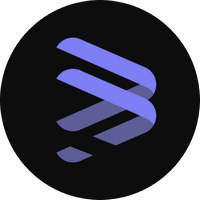 Pros:
A user-friendly interface makes it easy to get the most out of videos.
Multiple AI models for advanced quality improvements.
Various subscription plans and affordable prices.
Uses ONNX Runtime for faster processing.
Enhance facial details with a dedicated face refinement feature.
Make all your video projects look their best in batches with the revolutionary video enhancement technology.
Cons:
To make the most of your experience, a powerful computer is required.
Unlock exclusive access to 3 videos available absolutely free on the trial version.
---
2. Topaz Video Enhance AI
Compatibility: Windows 10, 11 (64 bit only) & Mac 10.14 Mojave and above
Price: $199.9 (includes an update of one year) and $99 for an upgrade license
Topaz Video Enhance AI is another advanced video quality improvement tool that uses advanced algorithms to help you improve the overall video quality. It helps you create stunning and high-quality videos. Utilizing the latest in Artificial Intelligence technology, it instantly upgrades your footage with rich color depth and clarity for up to four times higher resolution than before! It also smooths out shaky shots while boosting detail so each scene looks absolute best. It features high-quality presets as well as adjustable controls to give you full creative control over your videos.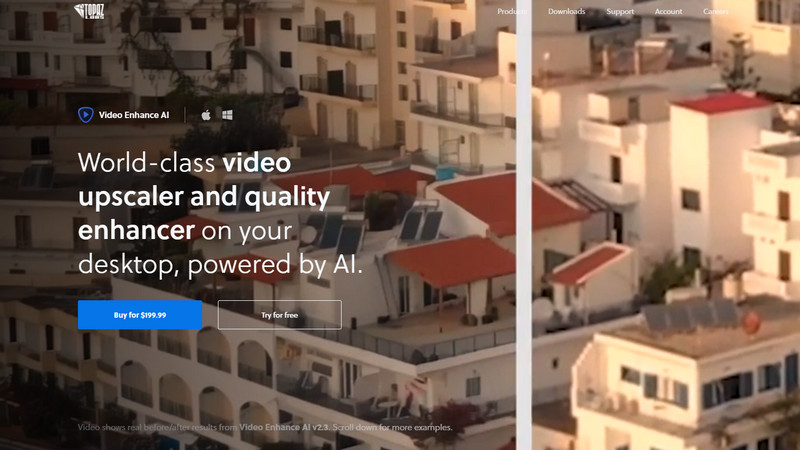 Features:
Convert SD video to HD and HD to 4k or 8k.
Remove noise and grain while restoring true detail in the video.
Naturally restore old videos without adding visual artifacts.
Use deep learning to convert interlaced videos to progressive ones while preserving image definition.
Pros:
Improve the video quality and resolution without quality loss.
Support detecting original video quality.
Cons:
Only provide a one-time subscription plan.
Identifying human faces does not work well.
2.3 DVDFab Video Enhancer AI
Compatibility: Windows 10, 11 (64-bit only)
Price: $59.99/Month, $79.99/Year, $99.90/Lifetime
DVDFab Video Enhancer AI comes with adjustable controls to give you full creative control over your video productions. It can be used for both amateur and professional film productions to help you create eye-catching and engaging visuals. No need to fiddle around with settings, creating a superior-quality video is now easier than ever. Simply import your footage and choose from the range of options, such as enlarging or denoising, for an automatic enhancement. Tech-savvy users can further refine results by manipulating optional parameters in pursuit of perfection!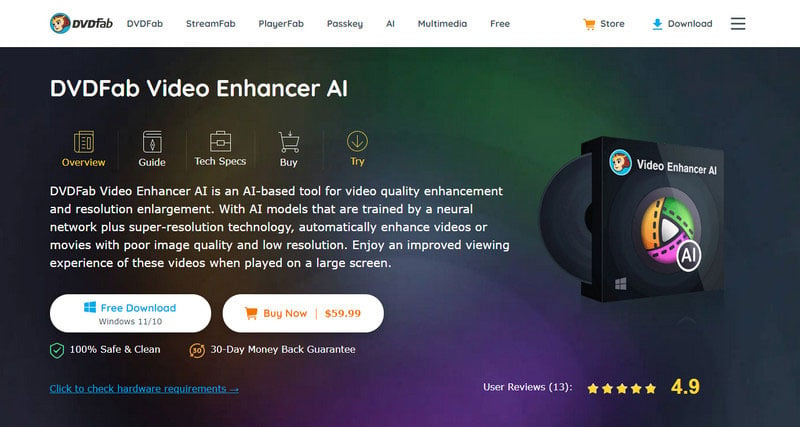 Features:
Upscale low-res videos to 4K resolution.
Enhance old videos to better quality.
Enlarge video by 200% without losing quality.
Pros:
User-friendly interface.
Enhance video quality free on a free trial.
Cons:
Exclusively available on Windows devices.
4. Neural.love
Compatibility: Online
Price: $30/300 credits per month, $57/300 credits once, no subscription needed
Neural.love is a perfect video quality improver online that uses advanced neural networks to help you boost the overall video quality online for free. It enables users to transform videos into sharp and vibrant 4K visuals without the hassle of downloading extra software! This AI-powered online video quality enhancer tool allows you to take control of your footage with options for slow motion or FPS boosts. For added realism, the enhancing facial details feature breathes life into any scene!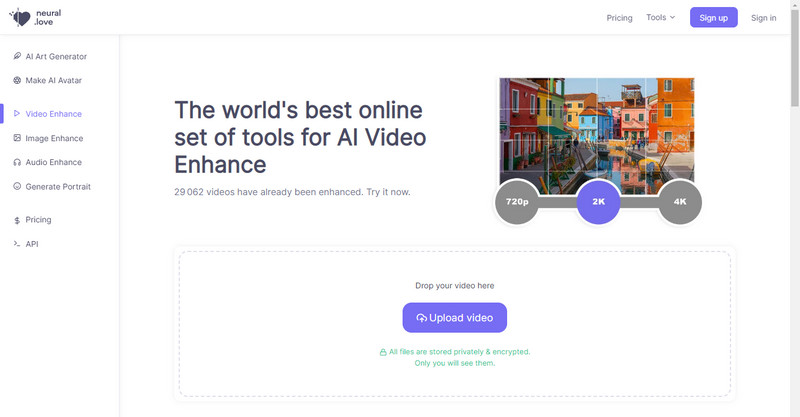 Features:
Improve video resolution to 4k with perfect detailing.
Increase the realism of your video by creating additional frames that go up to 60 FPS.
Efficiently fine-tune facial details.
Convert black and white videos to color.
Pros:
Easy to use.
It comes with a facial detail refinement feature.
Colorizing old b&w videos is supported.
Online video quality enhancer compatible with any devices and browsers.
Cons:
Long videos can be costly, presenting a budgeting challenge to anyone seeking visual content.
5. iSize
Compatibility: Online
Price: varied
iSize is another great video quality improver online based on AI technology. Make your memories last with the power of this online video enhancer app. Easily upload videos to get professional-quality output files, all without any installation or additional software! With a few clicks, you can upgrade the resolution of your videos perfect for archiving those precious moments in time.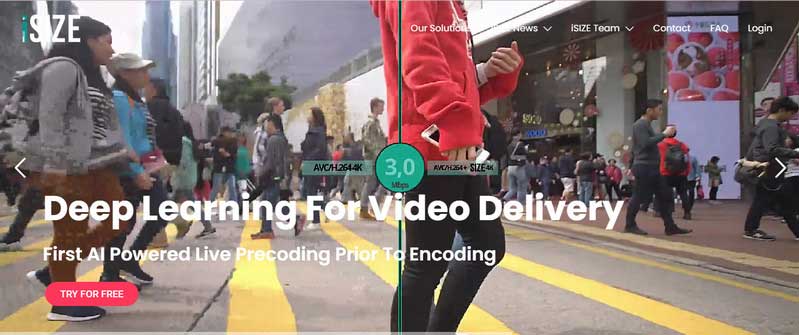 Features:
Enhance videos with superior quality.
Reduce the complexity of machine learning models.
Integrate codec with intelligent upscaling.
Machine learning and deep neural networks applied.
Pros:
Enjoy improved video quality on the go with this powerful portable device.
Cons:
Efficient bandwidth is necessary for optimal performance.
---
Part 3: Video Quality Improvers
1. What is a video quality improver?
Video quality improvers or video quality enhancers are tools that can help you adjust different settings of your video, such as brightness, contrast, saturation, hue, gamma, vignette, and more. It can also apply filters and effects to enhance the look and feel of your video. Some AI-based video quality improvers like AVCLabs Video Enhancer AI, Topaz Video Enhance AI, etc., can increase the video resolution without losing quality, fix blurry videos, colorize black and white old videos and deinterlace, etc.
2. How can I improve video quality for free?
There are so many video quality improvers available on the market. But most of the free video quality enhancer does not has an AI engine or support 4k video and can not effectively improve the video quality. It is recommended to try some AI software or online AI tools, most of them offer a free trial. For example, you can access to all features to enhance 3 videos for free with AVCLabs Video Enhancer AI without limits.
3. Can we convert low-quality video to high-quality?
Yes, you convert a low-quality clip to a high quality by using video quality enhancers like AVCLabs Video Enhancer AI with no hassle. Simply install this video quality improver, upload the low-quality videos, enable the AI Enhancement feature, then choose the output resolution you like, finally click the start processing button and you will get an HD video after the process.
---
Video Tutorial: How to Improve Blurry Videos with AI
---
Conclusion
Are you looking to take your video production to the next level? Whether you're a professional videographer or a hobbyist, having the right video quality improver can make all the difference in the end product. From sharpening image clarity to boosting color vibrancy, there are plenty of options to choose from. In this article, we just explored the 5 best video quality improvers that can help you create stunning visuals and awe-inspiring movies. With these tools, you'll be able to take your videos to the next level and produce content that will rival the best in the industry. So what are you waiting for?
---
Related Articles