Free to Upscale SD Video to HD, 4K, and 8K
"Many years ago, I visited Africa with a JVC SD camcorder and filmed a lot. Files were in .MOD format. I turned them to MP4 format. How can I upscale the old videos to HD, even 4K?"
If you have met the same problem and happen to shoot one SD video with your phone at your friend's wedding, and eagerly want to save it as a memento, surly you particularly wish to convert the whole SD video in low quality to HD video or 4K video to have one more wonderful viewing experience. If you're not sure what to do or is it possible to realize that, reading the whole text and it would give you a definite answer to the problem.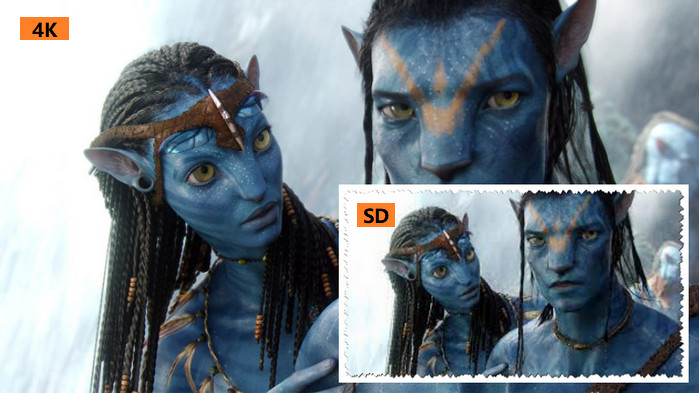 ---
Part 1: What are the differences between SD and HD, Full HD, 4K, 8K
Video quality is an important part of a viewer's live streaming experience. Blurry images, pixelated faces or objects can all detract from the message of the video. It's useful to know about video resolution — specifically around SD vs HD vs 4K vs 8K — and how it impacts the quality of a streaming video.
And the video resolution is all in the pixels. Pixels are individual units of color information. Thousands or even millions of pixels may combine to constitute a visual image. Generally speaking, the more pixels per given amount of screen real estate, the sharper and more detailed the image will appear. The number of pixels displayed on a screen is commonly expressed as resolution. Resolution is presented as (number of pixels in a row) x (number of rows). Common screen resolutions, and hence video resolutions, are 720 x 480 (SD), 1280 x 720 (HD), 1920 x 1080 (Full HD), 3480 x 2160 (4k), and 7680 x 4320 (8k). SD stands for the standard definition that the video stream is in lower resolutions like 144p, 240p and 360p. HD stands for high definition. HD refers to the high definition with a resolution of 720 or 1080 pixels and so on.
---
Part 2: Upscale SD to 4K for Free via Any Video Converter Free
So, if you want to convert SD to HD for free, Any Video Converter Free is your first choice. It allows you to effortlessly convert video files to a popular format without limitations! Supported video output formats: MP4, AVI, MKV, M4V, WMV, MPG, ASF, M2TS, 3GP, FLV, SWF, MOV, GIF, WEBM, HTML5 WEBM, HTML5 OGG, HTML5 MP4 and more. And Any Video Converter Free can help you to decode any video format to H.265 format. You can get high-quality video in a smaller size.
1. Click the following button to download and install Any Video Converter Free on your computer. Then launch the program.
2. On the main interface, select Video Converter under Single Tools section.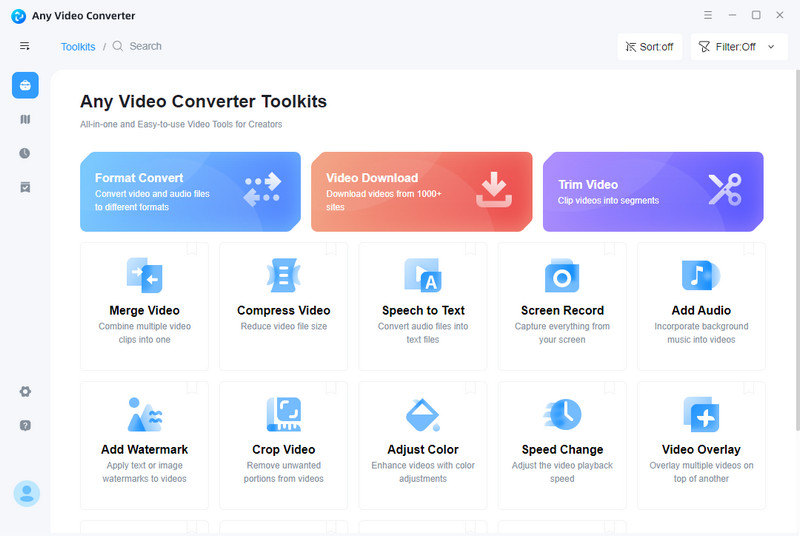 3. Click on the + Add Video or drag & drop to add video files.
4. Go to Basic Options and click the drop-download menu of video resolution, then choose 3840 x 2160 under Width & Height.
5. After all the settings are set up, click on the Start button to convert any videos to 4K.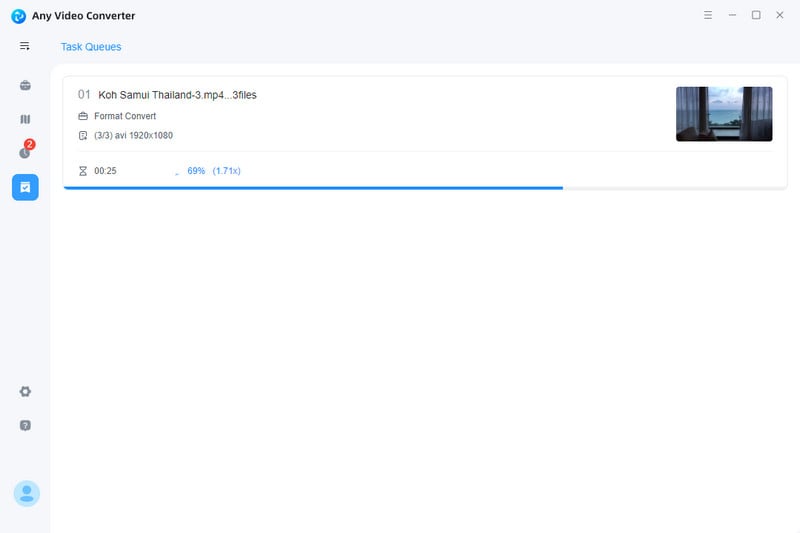 ---
Part 3: Upscale SD Video to HD, 4K and 8K for with AVCLabs Video Enhancer AI
With the emergence of artificial intelligence and machine learning in the industry, using machine learning to upscale your favorite video to full HD, 4K or 8K is easy and reliable. It can be done through the AI tools such as AVCLabs Video Enhancer AI. Applying the power of AI, it can convert the video in low-resolution, enhance its quality and create extra pixel data to output a super-resolution and high-quality video, use a neural network to improve the video quality and upscale video from SD to HD, 4K, even up to 8K automatically and intelligently. You are not required for any video editing skills.
Key Features of AVCLabs Video Enhancer AI
AI Upscale video to HD, 4K and even 8K
Enhance video quality with multi-frame
Remove noise to make the video clearer
Recover and enhance facial details with AI
Colorize B&W videos to bring them to life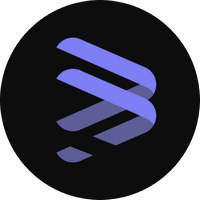 Step 1: Download and Install AVCLabs Video Enhancer AI
Before starting, please check your computer configuration and read the system requirements of AVCLabs Video Enhancer AI carefully. Then download and install the program on your computer.
Step 2: Open the low-resolution video
After launching the program, you will see the main interface of the program. Now you need to import the source file which is the bad quality video you want to enhance. You can click on Browse to add the video or simply drag and drop the video file to the middle of the interface to import it.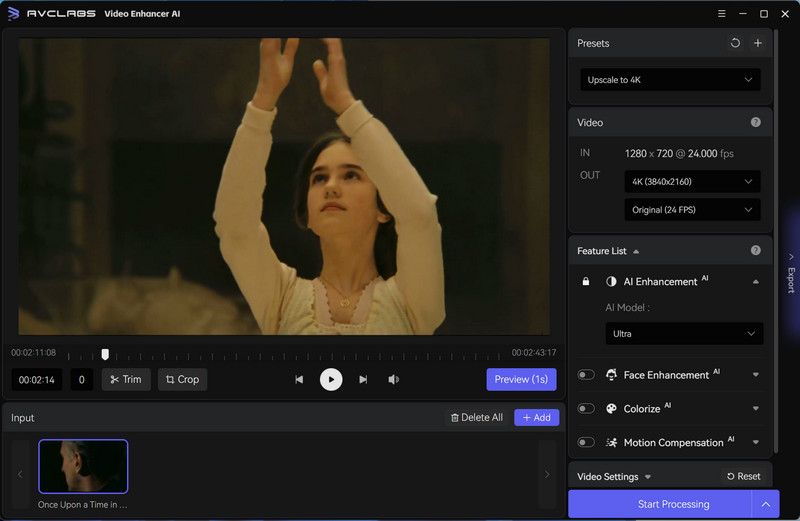 Step 3: Set the AI Model and Resolution
When you import the video, you can see some settings in the right panel. The most direct way to set 4K output resolution is to go to Presets section and select Upscale to 4K. There are 8 preset pre-configured options that you can use right away.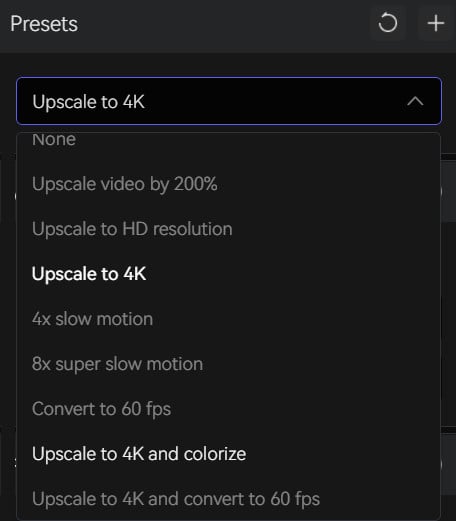 Alternatively, you are able to turn on the AI Enhancement feature and set the output frame rate and output size with a range from 200% upscaled, SD to 4K and 8K in the Video section.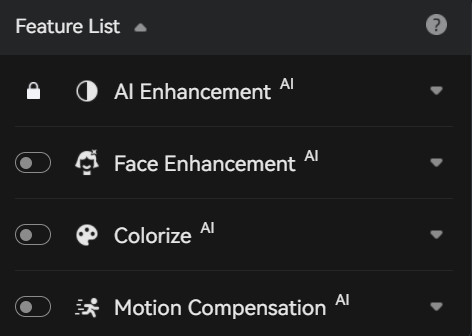 Step 4: Configure Output and Video Settings
Video Settings: here, you are allowed to manually adjust the brightness, saturation, and contrast of your videos to enhance the visual quality. Or you can also crop to fill the frame and deinterlace.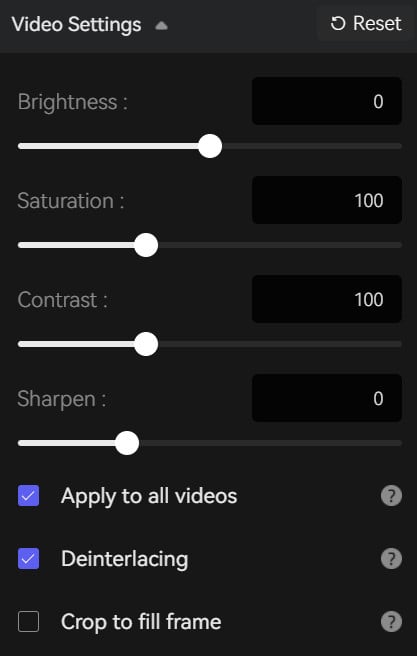 Output Settings: you can set the output video format(MKV, MP4, AVI, MOV, WEBM), the encoder (H.264, H.265, VP9 Good, VP9 Best, AV1), the bitrate, audio settings, as well as the output path.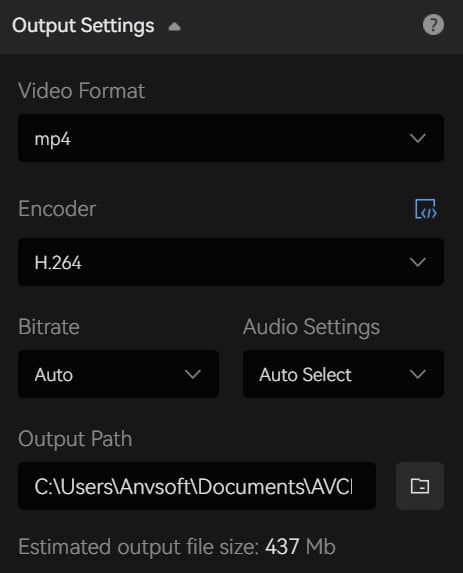 Step 5: Start Upscaling Videos to HD, 4K, 8K
When finishing all upscale settings, please click on the Start Processing button to begin enhancing your sd video. You do not need to learn any editing. AVCLabs Video Enhancer AI will do the enhancing work automatically and efficiently. The processing will be much faster if you use the GPU acceleration (NVIDIA RTX series is recommended). During the processing, you can view the original low-quality video and the enhanced one at the same time.
When it finishes processing, you can click on Open Folder to check the enhanced video.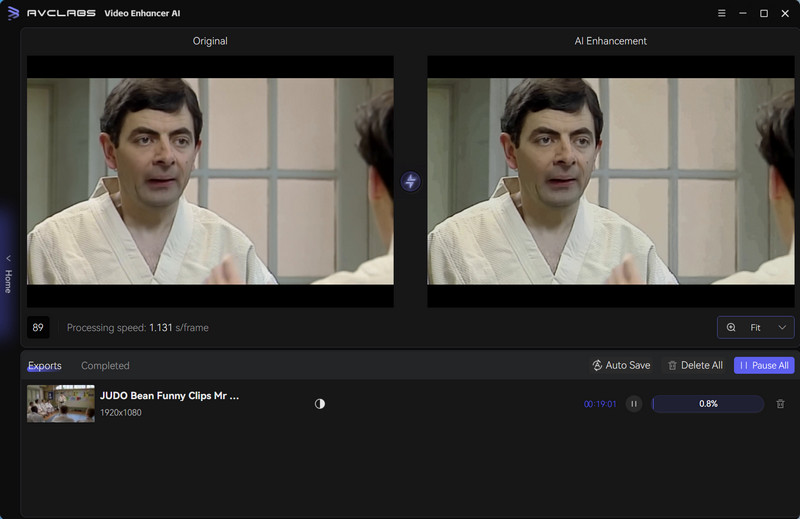 ---
Video Tutorial: Upscale Old Videos to HD,4K, Even 8K with AI
---
Conclusion
From this guide, you have learned the differences between SD and HD, Full HD, 4K and 8K, and get to know the ways to increase video resolution including using the video file format converter like Any Video Converter Free, using a video resolution converter like AVCLabs Video Enhancer AI, and using video editors like Adobe products. Above all, AI provides a new way to upscale video from SD to HD, 4K and 8K. It makes 4K Upscaling Easy and Effortless. Just download and try this AI tool to convert your SD video to high resolution for free!
---
Related Articles