Video Upscaler Online | How to Upscale Videos to 4K, Even 8K Online for Free
"How can I upscale a video online? What is the best video upscaler online?" - Robert Silva
In today's world, having high-quality video content is incredibly important. With the rise of streaming platforms, it's becoming more and more necessary for videos to be upscaled to 4K or even 8K resolution in order to look as good as possible. But, how do you go about doing that? It's not as hard as you might think! With the right tools, you can easily upscale videos online for free. In this beginner's guide, we'll walk you through the process step-by-step, so you can learn how to upscale videos from 480p, 720p, 1080p to 4K, or even 8K with ease. We'll also provide you with helpful tips and tricks to make sure your videos look their best. So, if you're ready to learn how to upscale videos online, let's get started!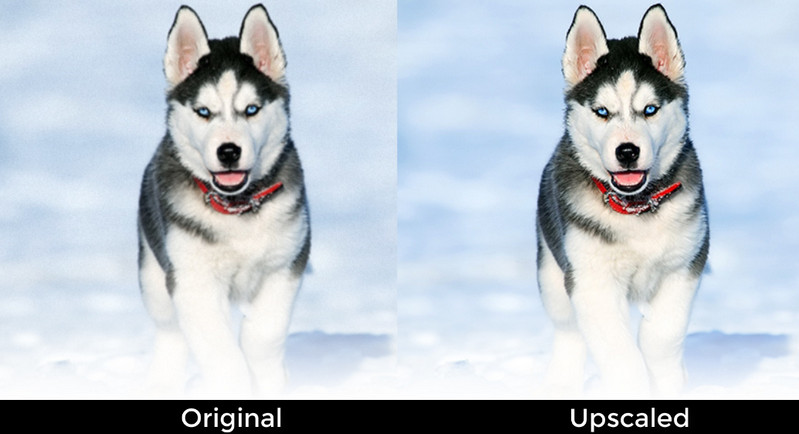 ---
Part 1: What is Video Upscaling
Video upscaling, also known as "image scalability", is the process of increasing the resolution of a video either by increasing its frame rate or by adding detail via algorithms. When you upscale a video, you're essentially making it bigger, which means you can use the same video on a larger screen without it appearing pixelated. By upscaling a video, you can drastically improve its quality for larger screens, like TVs, or for online streaming. You might be wondering, "But what if I'm not planning to stream my video online?" Well, video upscaling can also come in handy if you're viewing your video on a large screen, like a TV. So, whether you're using your video on a large screen in person or streaming it online, video upscaling will make your video look much better than it would if it weren't upscaled.
---
Part 2: Best Video Upscaler Online to Upscale Videos to 4K, Even 8k
There are a few different online tools you can use to upscale your videos and make them look better. These will let you upscale videos online for free. Let's check the list of the 3 best video upscalers online.
2.1 Pixop
Pixop is a powerful online video upscaling service, leveraging the latest AI and ML technology to provide robust features like super-resolution, restoration, deep denoising and more. Their cutting-edge engine produces stunning results with remarkable efficiency, allowing you to unlock the full potential of your videos in no time! If you want to upscale your videos to 8K, you'll need to pay for their premium service. Pixop will let you upscale any video, even if it's in a format that isn't supported by standard upscaling services.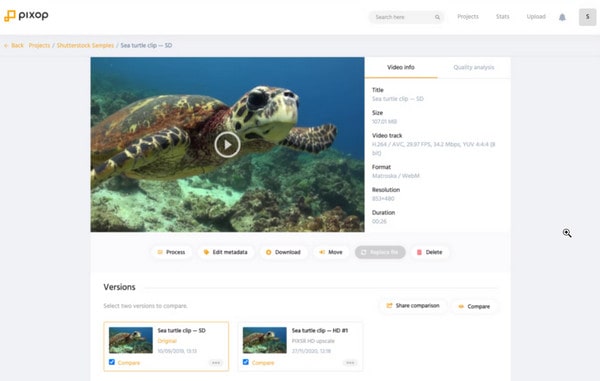 Features of Pixop:
Use artificial intelligence to upscale your videos, making them look sharper and more detailed.
Integrate with major video editing software so that you can use it in your workflow without any hassle.
An intuitive interface is designed to make the upscaling process seamless and easy for users of any skill level.
Loaded with advanced features such as batch processing and support for various file formats that allow you to take your video projects to the next level.
Pros:
Easy to use.
An online AI video upscaler with rich options
Customize output bitrate and FPS.
Cloud-based, you can access Pixop from any internet-connected device.
Cons:
Expensive if you have a long video or more options selected or many videos to upscale.
2.2 Neural.love
Neural.love is another AI-powered video upscaling tool online. Their cutting-edge upscaling technology allows users to boost resolution by 400% (up to 4k) and increase frame rate up to 60 FPS while restoring facial detail, colorizing monochrome videos, and even creating slow motion effects at rates of 10%. The great thing about this service is that it'll let you upscale videos from Instagram and even videos from YouTube. So, if you have a video on Instagram that you want to upscale or a YouTube video that you want to look better on a big screen, you can use this service.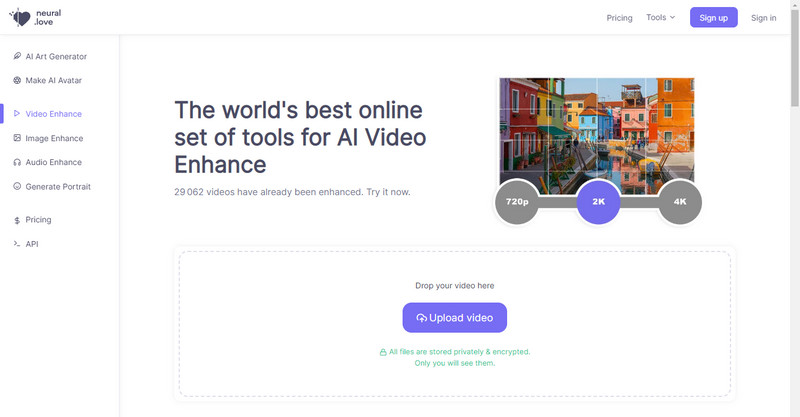 Features of Neural.love:
Maximize your video quality and detail with 4K resolution for increased realism.
Take it one step further by adding extra frames to achieve a smooth 60 FPS experience.
Fine-tuning facial details along the way.
Transform those drab black-and-white videos into vibrant color ones.
Pros:
Online 4K AI Video Upscaling with great results.
Optional face refinement.
Support colorizing old b&w videos.
Cons:
Upscaling videos can be costly for lengthy footage or when there are several clips requiring resolution enhancement.
2.3 Aimages.ai
If you're looking for a free online video upscaling tool that'll let you upscale videos to 4K or 8K, then Aimages.ai is a perfect choice. This video upscaling tool is completely free and it's actually powered by Google. So, you know you're getting great quality when you use this tool. It helps upscale videos using AI from web browsers. No installation is needed.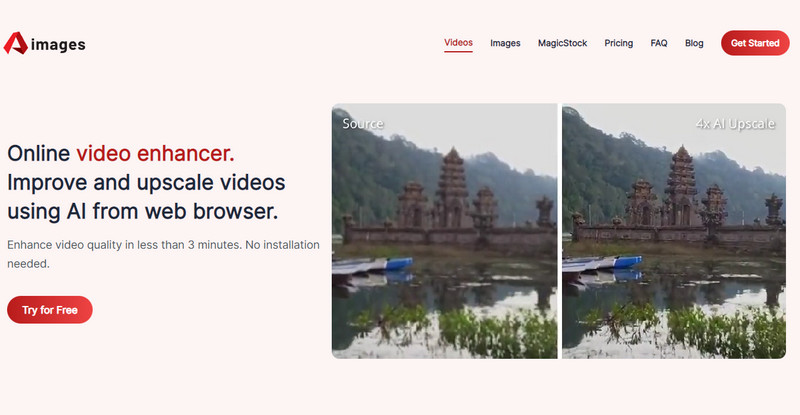 Features of Aimages.ai:
Run 100% online with GPU-accelerated cloud servers.
Process a lot of videos at once and 100 times faster than a normal computer at work.
Use the most up-to-date AI algorithms and trains with machine learning to improve video quality with no artifacts.
Support to colorize, deblur, clean, sharpen, and upscale videos.
Pros:
Online AI video upscaling.
Easy to use.
Chroma Subsampling.
Cons:
---
Bonus: Upscale Videos to 4K, 8k on Mac/PC via AVCLabs Video Enhancer AI
If you're looking for a video upscaling tool that's easy to use and doesn't take up a lot of space, AVCLabs Video Enhancer AI is the way to go. AVCLabs Video Enhancer AI is a video upscaling software that can upscale videos from 480p, 720p to 4K, even up to 8k. This video upscaling software works on Mac and PC. This upscaling software will let you control how much you want your video to be upscaled. You can select from a few different resolution settings, including 4K, and 8K.
Two of these four video quality enhancers are desktop software and two are online enhancers. In comparison, the desktop software is more recommended. Although the online tool is convenient, there are limitations on input file size, output quality, etc. As for the AVCLabs Video Enhancer AI and Topaz Video Enhance AI, actually there is no big difference between them in terms of features and output resluts, but if you are new to video enhancement, then AVCLabs Video Enhancer AI is definitely your best choice.
Key Features of AVCLabs Video Enhancer AI
Use Multi-frame enhancement to improve the visual quality
Upscale video from SD to HD, HD to 4K, or 8K
Sharpen blurry faces and enhance facial details
Remove noise and grain from your noisy footage
Colorize B&W videos to bring them to life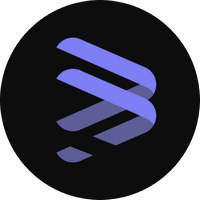 Steps to Upscale Video Resolution with AI
Step 1: Download and Install AVCLabs Video Enhancer AI
Get up and run with AVCLabs Video Enhancer AI! To unlock the full potential of this powerful tool, download and install it onto your Windows or Mac computer.
Tips: For maximum efficiency, a NVIDIA GTX 1050 Ti graphics card is recommended for smooth performance. Check out our Tech Spec page to learn more about requirements.
Step 2: Launch the Program and Add Low Quality Videos
Once the AVCLabs Video Enhancer AI is installed, it will present an intuitive user interface that makes enhancing videos easily.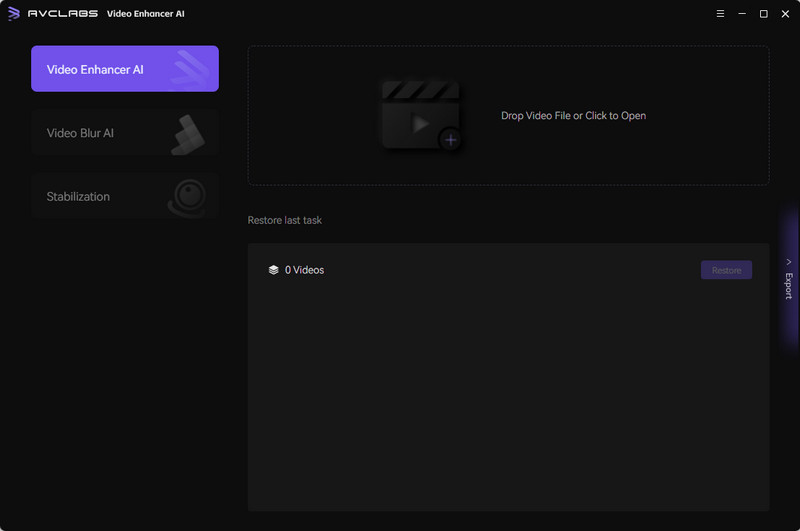 After opening AVCLabs Video Enhancer AI, users can take advantage of its intuitive interface to easily upload their low-quality videos. Simply drag and drop one or more files onto the program for an immediate improvement in visual clarity, no prior experience is necessary!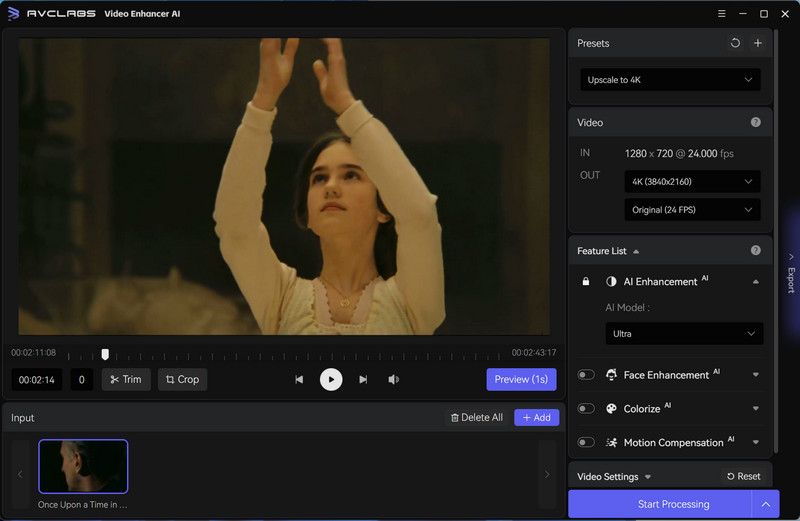 Step 3: Choose an Appropriate AI Model and the Resolution.
Now that you've uploaded your videos to AVCLabs Video Enhancer AI, the next step is to choose an appropriate AI model and resolution. Select the AI Enhancement model from the right panel to increase output size up to 8K,and choose a suitable video format, like MP4 (H.264), AVI (Uncompressed), or MOV (ProRes 422HQ). Additionally, explore Video Settings for more personalized results with adjustable options like Brightness, Saturation, and Contrast.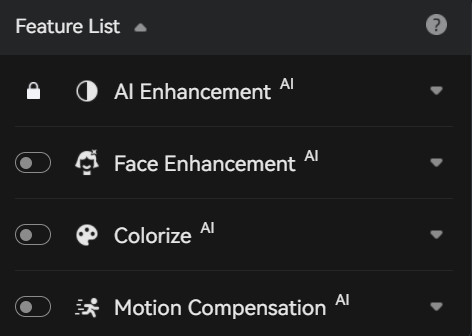 The type of model selected will have a huge impact on how successful your final output looks, so pick wisely! The resolution also plays a key role, selecting one too low could mean sacrificing quality for size, or vice versa. To change the output resolution, just go to the Video section and select the one you like in the OUT part.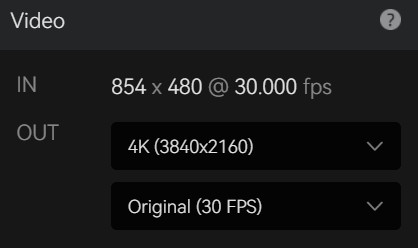 Step 4: Start Upscaling Video Resolution with AI
After you've prepared everything, simply press the Start Processing button and watch as this video upscaling software works its magic. You'll get an updated version of the original plus a progress bar so that you can monitor how much time it takes with GPU support also available if desired.
Tips: Pause the upscaling process with a single click on the Pause button and get back to it when your computer is ready, making multitasking easier than ever.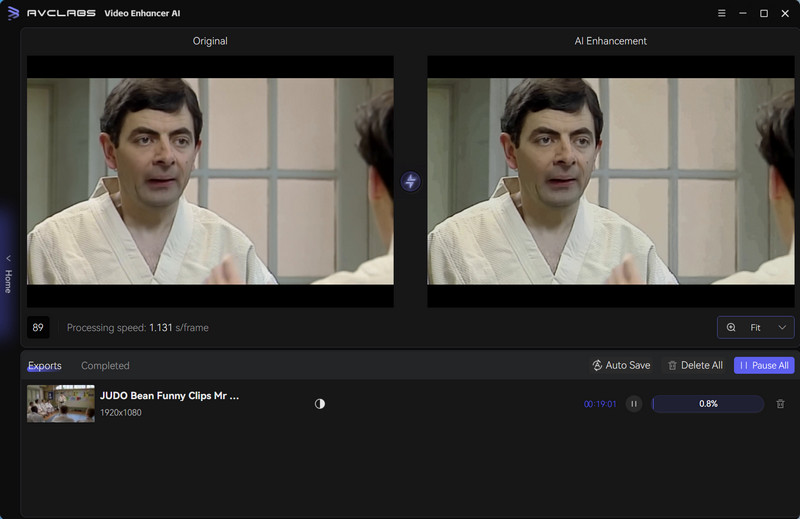 Instantly turn your low-quality videos into a cinematic masterpiece with this AI-driven video upscaling tool. After the video upscaling procedure is complete, simply press the Open Output Video button to see what magical transformations have been made!
Video Tutorial: How to Upsclae Old Videos to 4K with AI
---
Part 4: Tips for Upscaling Videos
Here are tips for upscaling videos. Let's check them out.
1. Video length: There's no set length for how long a video should be. It all depends on the platform you're uploading your video to and what you intend to do with it. But, most online video hosting websites will recommend that you keep your videos to less than two minutes long. That way, you don't bore your viewers and they're more likely to finish your video.
2. Shot selection: While you can use pretty much any camera to shoot a video, different cameras will produce different results. So, if you want your video to look as good as possible, you'll want to use a high-quality camera to shoot it. Ideally, you'll want to use a camera that shoots in 4K or higher. That way, your video will look as good as possible no matter where you decide to share it.
3. Lighting: There's no point in shooting a video on a high-quality camera if you don't have good lighting. So, make sure you're shooting in optimal lighting conditions. That way, your video will look as good as possible no matter where you decide to share it.
---
Conclusion
Now that you know what video upscaling is and what some of the best online video upscaling tools are, it's time to start upscaling your videos. You can start by uploading videos to one of the online video upscaling tools discussed above. After that, you can upload your videos to various video hosting websites and share them on social media so your followers will see your videos in the best light possible. With these tips and tricks for upscaling videos, your content will look as good as possible. So, what are you waiting for? Start upscaling your videos today to turn your content from average to exceptional in no time at all!
---
Related Articles