5 Best CapCut Alternatives for Video Editing
"Which editing app is better than CapCut?"
CapCut has gained popularity as a powerful video editing app, but if you're looking for alternatives that offer similar or even better features, you're in luck. In this article, we'll explore 5 best CapCut alternatives that can elevate your video editing game. Whether you're a professional content creator or simply enjoy editing videos for personal use, these alternatives have something to offer for everyone.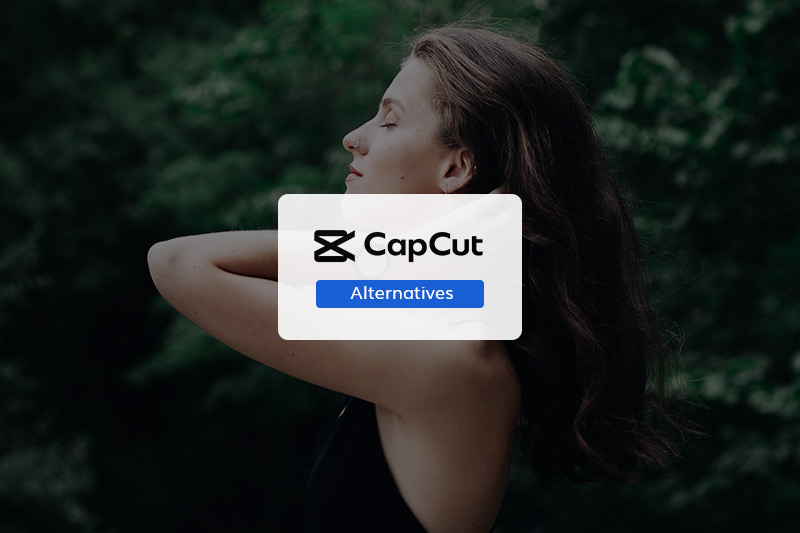 ---
Part 1: Criteria for Selecting CapCut Alternatives
Before we delve into the alternatives, it's important to understand the criteria we've used to evaluate them:
User-friendliness: We'll consider how easy each alternative is to use, especially for beginners and those with limited video editing experience.
Features and functionality: We'll assess the range of features and tools offered by each alternative, including video effects, transitions, audio editing capabilities, and more.
Platform compatibility: We'll look at which operating systems and devices each alternative supports, ensuring it aligns with your preferred editing environment.
Pros and cons: We'll provide an overview of the strengths and weaknesses of each alternative to help you make an informed choice.
---
Part 2: Top 5 CapCut Alternatives for Video Editing
Let's check out the list of top 5 CapCut alternatives:
2.1 AVCLabs Video Enhancer AI
AVCLabs Video Enhancer AI stands out as an excellent alternative to CapCut. This advanced video editing tool boasts an array of features that enable users to enhance their videos effortlessly. With a user-friendly interface and intuitive editing tools, AVCLabs Video Enhancer AI makes it easy for both beginners and professionals to create stunning videos. Additionally, its flexible pricing options and availability across multiple platforms make it accessible to a wide range of users.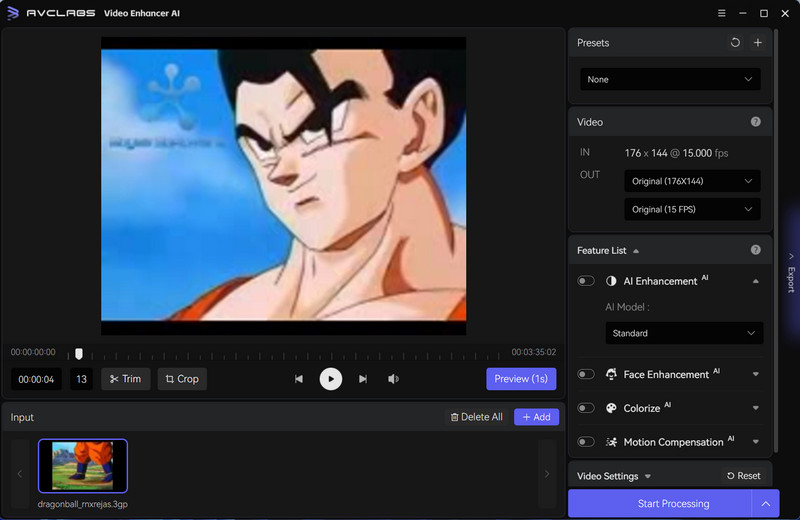 Key Features of AVCLabs Video Enhancer AI
AI Upscale video to HD, 4K and even 8K
Enhance video quality with multi-frame
Remove noise to make the video clearer
Recover and enhance facial details with AI
Colorize B&W videos to bring them to life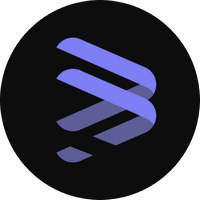 Pros:
Intuitive and user-friendly interface, making it accessible for both beginners and experienced users
Optional AI models that can automatically improve videos without the need for manual editing, making it suitable for those with limited video editing experience
Multiple input formats support: AVCLabs Video Enhancer AI supports most common video formats, including MP4, M4V, and MOV
Support batch-processing, time-saving
Platform Compatibility: It supports both Windows and macOS, providing flexibility for users on different operating systems
Cons:
The effectiveness of the enhancements largely depends on the AI algorithms
---
2.2 Adobe Premiere Rush
Adobe Premiere Rush is another top-tier video editing software that offers a seamless editing experience. With an intuitive interface and a comprehensive set of editing tools, it caters to both beginners and experienced editors.
Adobe's reputation for excellence shines through in Premiere Rush's performance and features. Moreover, the pricing options and platform availability make it a versatile choice for video editing enthusiasts.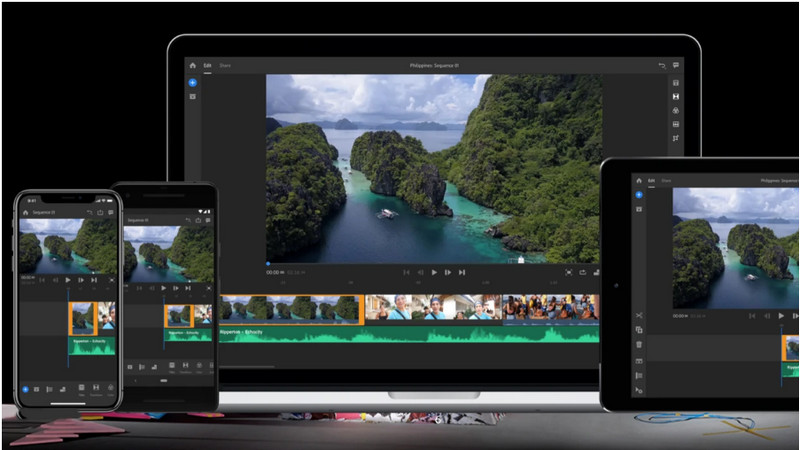 Key Features of Adobe Premiere Rush
Offer a variety of transitions and customizable titles, allowing users to add professional polish to their videos
Adjust audio settings, such as volume levels and background noise reduction, ensuring high-quality sound in videos
Enable users to enhance the visual appeal of their videos by adjusting colors, exposure, contrast, and more
Control the speed of their videos, creating slow-motion or time-lapse effects
Pros:
Easy to use: Adobe Premiere Rush is known for its user-friendly interface
Custom edits: The app offers features like custom edits, allowing users to personalize their videos according to their preferences
Mobile-first, desktop-capable: Adobe Premiere Rush is designed to be mobile-first, but it also provides the capability to edit videos on desktop platforms
Cons:
Limited video effects and templates: Some users have mentioned that Adobe Premiere Rush has a limited selection of video effects and templates
Learning curve: Like any professional video editing software, there may be a learning curve for users who are new to Adobe Premiere Rush
---
2.3 iMovie
For Apple users, iMovie is a powerful video editing tool that comes pre-installed on macOS and iOS devices. Despite its simplicity, iMovie packs a punch with its effective editing features. Its compatibility with Apple devices ensures a seamless integration with other Apple applications and services. What's more, iMovie is an affordable option that doesn't compromise on quality, making it a go-to choice for Apple enthusiasts.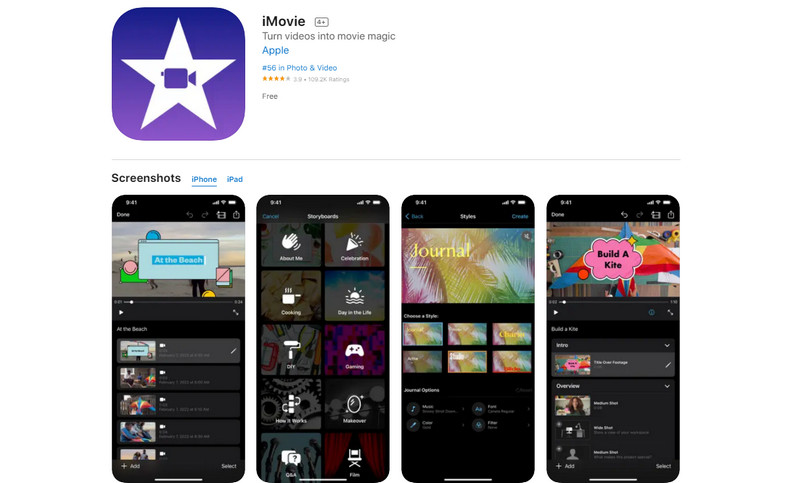 Key Features of iMovie
Work with multiple video tracks in iMovie, allowing for more complex editing and layering of footage
Offer a variety of built-in transitions and effects to enhance the visual appeal of videos, including dissolves, fades, and more
Easily edit and enhance audio in iMovie, adjusting volume levels, adding background music, and utilizing audio effects
iMovie includes a green screen feature, also known as chroma keying, which allows users to replace a solid color background with a different image or video
Pros:
User-friendly interface and intuitive controls
Integration with Apple ecosystem: iMovie seamlessly integrates with other Apple products and services
Good for simple projects: It is regarded as a great option for beginners and simple video projects
Cons:
limited advanced features
Rendering and exporting videos in iMovie can be slower compared to more advanced video editing software
---
2.4 FilmoraGo
FilmoraGo is a popular alternative that offers a range of features and functionality for video editing. Its user-friendly interface makes it easy to navigate, and the extensive editing tools provide flexibility and creativity in editing videos. What sets FilmoraGo apart is its availability on both iOS and Android platforms, allowing users to edit videos on their preferred devices. With its impressive capabilities, FilmoraGo is a reliable choice for video editing needs.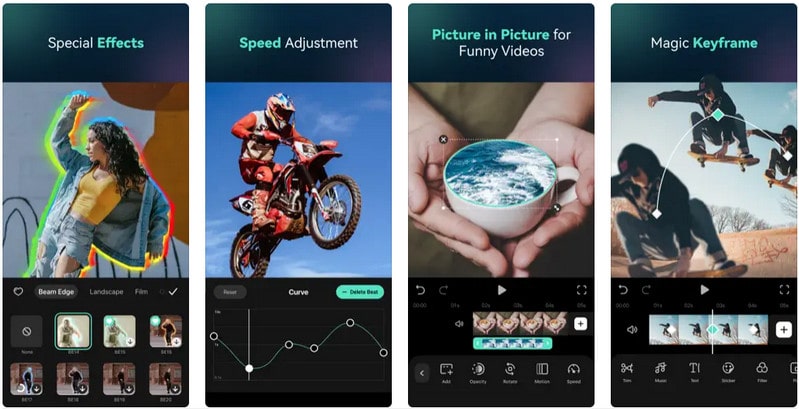 Key Features of FilmoraGo
Easily trim and split video clips within the app, allowing for precise editing and removal of unwanted sections
Offer a wide selection of filters and effects to enhance the visual style and mood of videos, including vintage, black and white, and more
Add text overlays and titles to their videos with a variety of fonts, colors, and styles, allowing for personalization and storytelling
FilmoraGo includes a range of transition effects, such as dissolve, fade, slide, and more, to create smooth and seamless transitions between clips
Pros:
Easy to use
Offer multiple professional features, including noise reduction and advanced options for video editing
The editing interface of FilmoraGo is highly praised, providing a good range of tools and options
Cons:
FilmoraGo includes lots of pay-to-use features that are built into the pro tool, which can be seen as a downside
FilmoraGo may not have some advanced features found in more professional video editing software
---
2.5 KineMaster
KineMaster caters to professionals with its advanced features, including multiple layers, chroma key, and a wide range of effects and transitions. This professional-grade video editing app empowers users to unleash their creativity and produce high-quality videos. With its robust set of features and intuitive interface, KineMaster is a top contender for those seeking a comprehensive video editing experience.
Key Features of KineMaster
Allow users to work with multiple layers of video, images, text, and effects, enabling them to create complex and dynamic video compositions
Provide precise editing tools such as trimming, slicing, and frame-by-frame control
Offer advanced audio editing capabilities, including volume adjustment, noise removal, add multiple audio tracks
Enhance their videos with a wide range of visual effects and filters, including transitions, overlays, animations, and color grading tools
Pros:
Well-designed interface that makes all tools easily accessible
Offer a range of powerful editing tools, including multiple layers, precision editing, audio editing, visual effects, and keyframe animation
Provides a variety of transitions, filters, and special effects, including 3D transitions, chroma key (green screen), blending modes, and color correction
Cons:
The free version of KineMaster adds a watermark to exported videos
---
Part 3: FAQs about CapCut Alternatives
Here are some frequently asked questions about CapCut alternatives:
Q. What is CapCut?
A. CapCut is a video editing app developed by ByteDance, the same company behind TikTok. It offers various features for editing and enhancing videos, including adding music, effects, and text.
Q. Why would someone look for alternatives to CapCut?
A. There could be several reasons why someone might seek alternatives to CapCut. It could be due to compatibility issues with their device, the need for more advanced features not available in CapCut, or personal preference for a different user interface and editing workflow.
Q. Are there free alternatives to CapCut?
A. Yes, there are free alternatives to CapCut available. Many video editing apps offer free versions with basic editing features. Some examples include Adobe Premiere Rush, iMovie (for iOS), and Kinemaster (with limited functionality in the free version).
Q. Is CapCut available on all platforms?
A. CapCut is primarily designed for mobile devices and is available for both Android and iOS. However, if you're looking for alternatives, many video editing software options are available for desktop platforms like Windows and macOS.
Q.What are the key features to consider in CapCut alternatives?
A. When evaluating CapCut alternatives, important features to consider include:
1. Ease of use and user interface
2. Range of editing tools and effects
3. Compatibility with your device's operating system
4. Export options and format support
5. Performance and stability
Q. Do any alternatives have cloud-based editing?
A. Yes, some alternatives offer cloud-based editing. Adobe Premiere Rush, for example, allows you to edit your videos on multiple devices through cloud synchronization.
Q. Are there alternatives specifically for mobile users?
A. Yes, there are several video editing apps designed exclusively for mobile users, such as Kinemaster.
Q. Can I use these alternatives for professional video editing?
A. Yes, some alternatives are used by professionals in the film and video industry. However, the choice largely depends on your specific needs and preferences.
Q. Do these alternatives have mobile and desktop versions?
A. Some video editing software offers both mobile and desktop versions, while others are exclusive to one platform. Be sure to check the availability for your preferred platform when choosing an alternative.
---
Conclusion
Overall, when selecting the best CapCut alternatives for video editing, it is important to consider your specific needs such as cost, compatibility with both Mac and PC, video output options, and more. If you are looking for an AI-based editor, there's something for everyone. AVCLabs Video Enhancer AI is a great free choice, while Adobe Premiere Rush and iMovie are ideal choices for those who want no compromise on quality. FilmoraGo can be used by those needing seamless access and portability from their phone or tablet to a desktop program. Finally, KineMaster offers a real-time collaboration tool which can come in handy if multiple people need to work together on a single project. The possibilities are endless when it comes to video editing capability with the above options so you can count on finding exactly what you're looking for!
---
Related Articles