Best Video Upscaler to Upscale Videos from SD to HD | AVCLabs Video Enhancer AI
"How do I upscale a video from SD to HD?"
Upscaling SD to HD video quality is a necessary step for anyone looking to create an impressive and professional-looking video. It can be quite tricky to do this manually, as there are so many factors involved. Thankfully, modern technology has made it much easier with the help of video upscalers. This article will be taking an in-depth look into one of the industry's leading video upscalers-AVCLabs Video Enhancer AI and how it can help you quickly and easily upscale from SD (Standard Definition) to HD (High Definition) without compromising image quality.
Keep reading if you're interested in learning how leveraging today's technology can drastically improve the quality of both personal and professional media!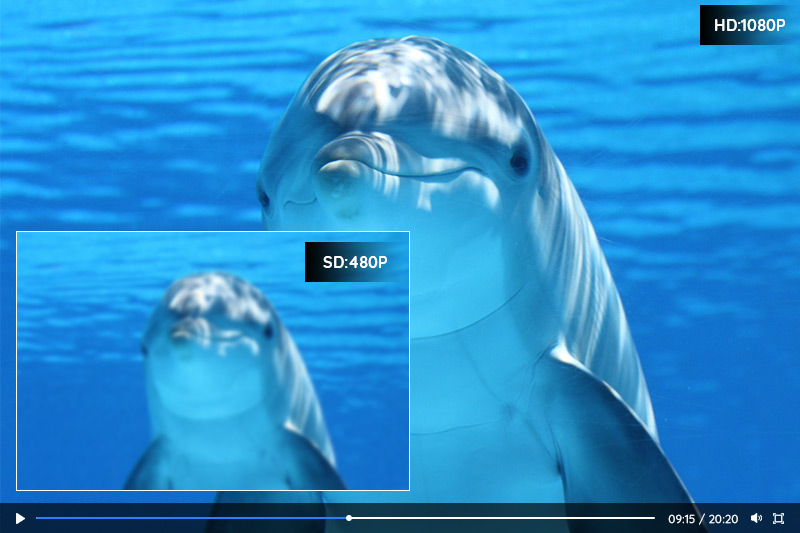 ---
Part 1: Overview of Upscaling SD to HD Video Quality
Standard definition (SD) and high definition (HD) are two categories of video formats.
SD is the most common format for television, DVD players, digital cameras, and camcorders, consisting of 480 lines of information, like 640x480, and 720x480. It uses an interlaced scanning system, which means there are alternating lines in each frame of the picture. This can cause motion blur when objects move quickly across the screen or when panning from one side to another. SD also has a 4:3 aspect ratio, which results in some portions of widescreen footage being cut off on the sides of the screen.
HD video has a much higher resolution than SD, with either 720 or 1080 lines of information, like 1280x720, or 1920x1080. It generally has twice as many horizontal lines of resolution as SD, which means images are clearer and sharper. HD also uses progressive scanning, meaning all the lines of each frame are displayed at once, which reduces motion blur. The aspect ratio is also wider in HD, usually 16:9. This allows viewers to see more content on the screen with no distortion or loss of information.
---
Part 2: What is the Best Video Upscaler for Upscaling Videos from SD to HD
Among the kinds of video upscalers, AVCLabs Video Enhancer AI stands out from the crowd as an effective tool for video upscaling and video quality enhancement.. It utilizes an innovative neural network-driven approach to upgrade and improve the quality of your videos. By tapping into AI's powerful capabilities, it can detect low-resolution videos and apply extra pixel data in order to output a super-resolution with vivid details, sharp edges, and accurate colors all without the need for any editing or photo skills.
This best video upscaler offers the easiest way to upscale videos from SD to HD, or even UHD like 4K, or 8K with a few clicks, in a range of formats like AVI, MP4, WMV, MKV, MOV, and more.
Key Features of AVCLabs Video Enhancer AI
AI Upscale video to HD, 4K and even 8K
Enhance video quality with multi-frame
Remove noise to make the video clearer
Recover and enhance facial details with AI
Colorize B&W videos to bring them to life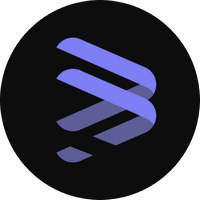 ---
Part 3: How to Upscale from SD to HD with the Best Video Upscaler
Following the steps to upscale your videos from SD to HD or UHD with AVCLabs Video Enhancer AI.
Note: Before upscaling your video from SD to HD, you'd better click here to check the system and hardware requirements to use Video Enhancer AI
Step 1: Upload SD Videos
Install AVCLabs Video Enhancer AI from the provided link and launch it.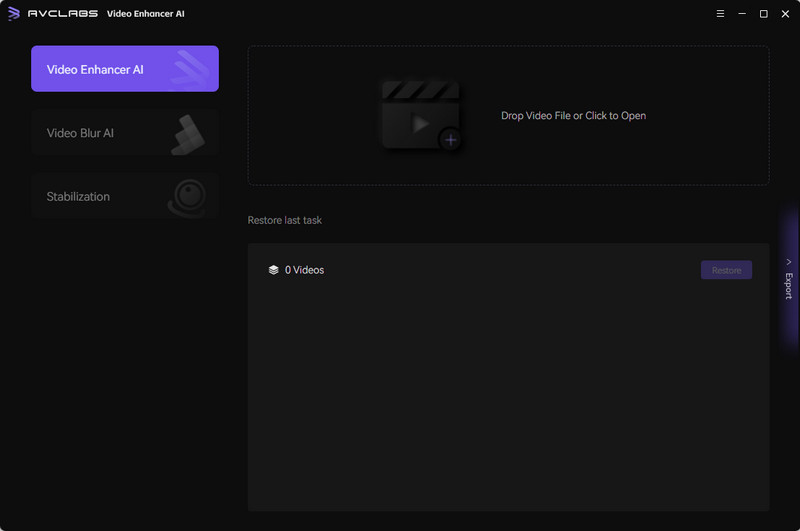 Then click the Browse button or directly drag and drop your SD videos to the AVCLabs Video Enhancer AI. You are allowed to process 3 videos for free under the trial version.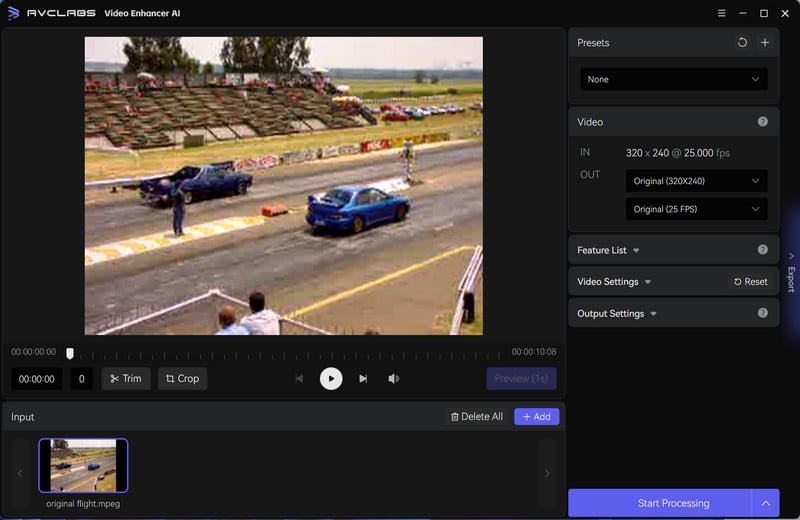 Step 2: Select AI Upscaler Model
To upscale SD videos to HD, you should select AI Upscaler from the feature list.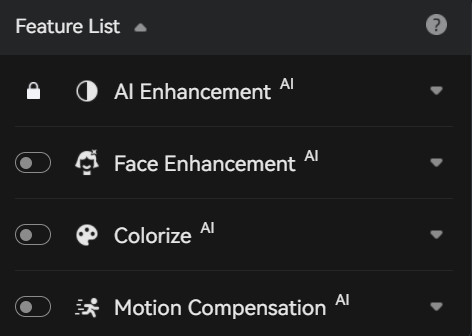 Step 3: Set HD as Output Resolution
Here comes to configure model settings, video settings and output settings.
1. Models settings: Click on the

button to select the upscale model (standard is the default model, you can alter it based on your device configuration), and choose whether you need to enhance facial details in the videos by checking Face Refinement.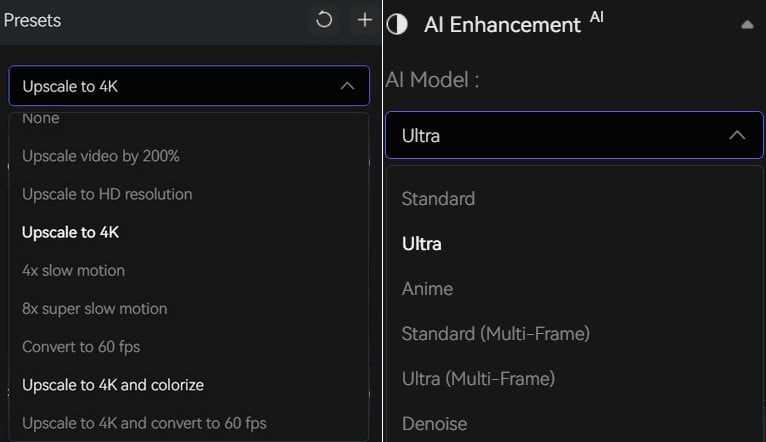 2.Video settings: Adjust the brightness, saturation, and contrast of your video or crop the video to fill the frame and deinterlace to reduce horizontal lines in the video.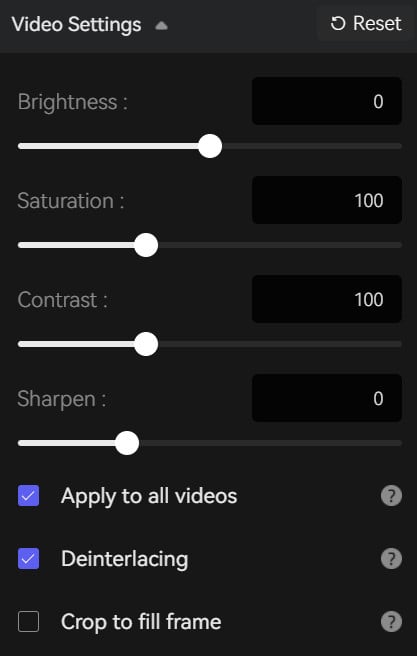 3. Output settings: Under this section, you can set the output video size, video format, and output path. Choose any output size in HD resolution.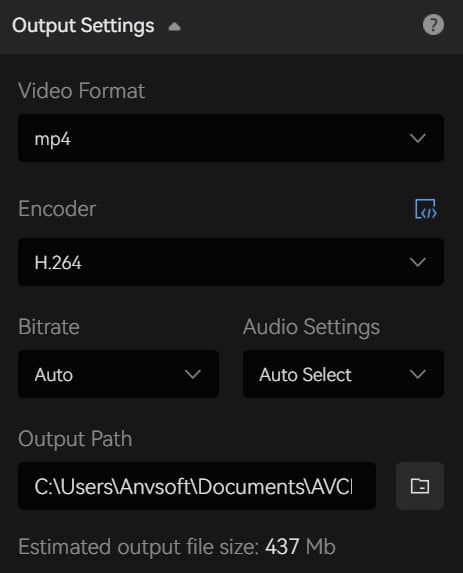 Step 4: Start Upscaling SD Videos to HD
Once the settings are complete, click the Play button to review 30 frames to make sure the processed video is what you want. Finally, click the Start Processing button to upscale your SD videos to HD.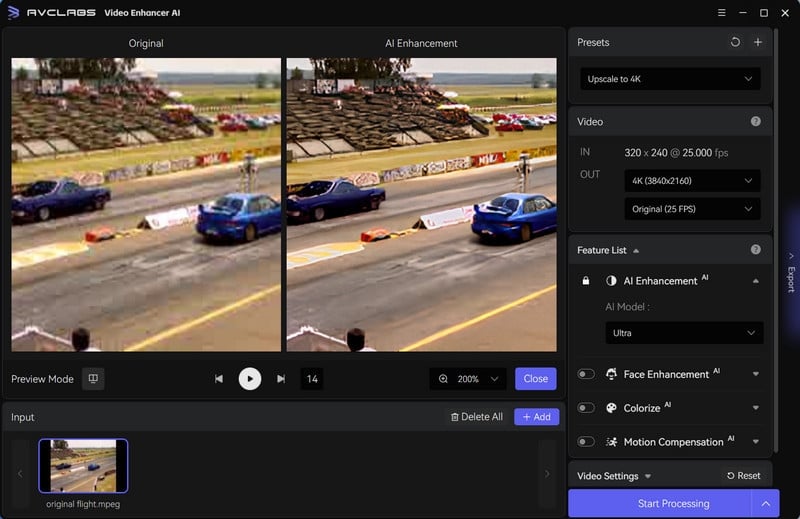 ---
Part 4: FAQs
Can I upscale SD to HD?
Yes, you can upscale SD to HD. It is very common, and the process is sometimes referred to as upconverting or upscaling. It can be done using a variety of tools, but the quality varies. AVCLabs Video Enhancer AI is one of the best video upscalers that performs well in upscaling SD to HD.
Is there a program to enhance video quality?
Yes, there are so many programs to enhance video quality. These include AVCLabs Video Enhancer AI, Adobe Premiere Pro, CapCut, etc. If you are a novice at editing videos, then AVCLabs Video Enhancer AI is your best choice. It provides a simple and intuitive way to automatically enhance low-resolution videos to HD/4K resolution with no technical knowledge required.
How can I make a low quality video look better?
There are several ways to make a low-quality video look better. One way is to apply color correction with some video editors, which requires some editing knowledge. This includes adjusting the brightness, contrast, and saturation levels or applying filters to adjust sharpness. Another way is to enhance your videos with professional video upscalers like AVCLabs Video Enhancer AI to solve kinds of video issues like blur, noise, and low quality in one-stop without requiring editing experience.
---
Conclusion
Upscaling SD to HD video quality is an important step for anyone looking to create professional-looking and high-quality videos. AVCLabs Video Enhancer AI is the perfect tool for this job - it makes it easy to improve the resolution and clarity of your work while preserving the original sound and quality. With AVCLabs Video Enhancer AI, you can create videos that look better than ever before without breaking the bank!
---
Related Articles