How to Remove Face Blur from Photos Online with AI
"How do you remove a blurry face from a picture online?"
In today's digital age, photographs play a crucial role in capturing moments, preserving memories, and conveying information. However, there are instances where the clarity and accuracy of a photo may be compromised due to face blur. Whether it's due to privacy concerns, unintentional blurring, or the need to identify individuals, removing face blur from photos has become increasingly important. Thanks to advancements in artificial intelligence (AI), online tools now offer efficient and effective solutions to address this issue. In this article, we will explore the benefits of AI-powered face blur removal and provide a step-by-step guide on how to remove face blur from photos online using AVC.AI, a popular online platform, to achieve clear and precise images.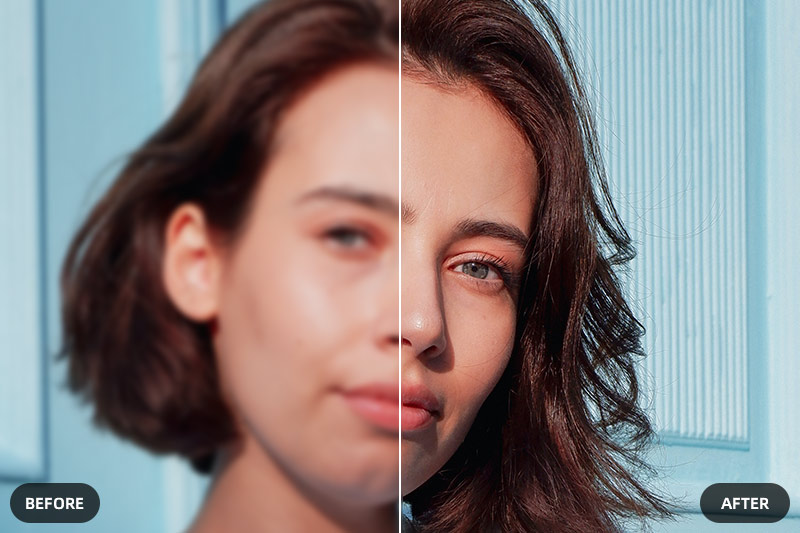 ---
Part 1: Importance of Removing Face Blur for Various Reasons
Removing face blur from photos can enhance their visual appeal and aesthetics, improving photo quality and boosting online presence and engagement. Preserving memories by restoring old or damaged photos ensures clarity for future generations. In professional contexts, presenting a polished image can lead to better career opportunities while enhancing credibility and trustworthiness. For legal purposes, providing accurate and clear evidence and aiding in identification and verification processes is essential.
---
Part 2: How to Remove Face Blur from Photos Online with AVC.AI
AVC.AI is an online AI-powered tool that harnesses the power of artificial intelligence to enhance and edit photos, including a remarkable face blur removal feature. This AI-powered tool offers users an efficient and accessible way to improve the clarity and quality of their images with just a few clicks. Its features and capabilities offer advantages over traditional methods.
AVC.AI offers several key features for online face blur removal. Here are some notable features of AVC.AI's face blur removal tool:
AI-Powered Face Blur Removal: AVC.AI utilizes advanced artificial intelligence algorithms specifically trained to detect and restore blurred faces in photos. The AI technology analyzes the image and intelligently removes the blur, resulting in clear and recognizable faces.
User-Friendly Interface: AVC.AI offers a user-friendly interface that is easy to navigate and understand. The platform is designed to provide a seamless user experience, making it accessible to both beginners and experienced users.
Multiple File Format Support: AVC.AI supports various common image file formats, including JPEG and PNG. This flexibility allows users to upload photos in their preferred format without the need for conversion.
Preview Before Download: After the face blur removal process is complete, AVC.AI provides a preview of the restored photo. This feature allows users to review the results and ensure they are satisfied before downloading the final image.
Online Accessibility: AVC.AI is an online photo editor platform, meaning users can access and utilize the face blur removal tool directly through a web browser without the need to download or install any additional software. This convenience allows for easy and instant access to the service from any device with a stable internet connection.
Steps to Remove Face Blur from Photos Online with AVC.AI
Step 1: Visit AVC.AI and Upload Photos with Blurry Faces
Visit the AVC.AI website on your preferred web browser and click on the Login/Sign Up option to access your account. Then click on the Upload Image button to add blurry photos to AVC.AI or simply drag and drop one or multiple blurry photos into the site.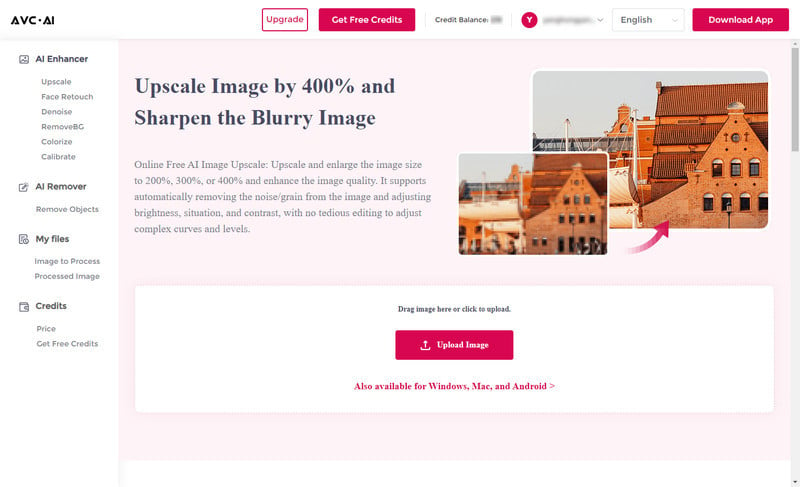 Currently, supported input formats are *.png, *.jpg, *.jpeg, *.bmp, *.jfif, and *.webp.
Step 2: Select the AI Model and Start Removing Face Blur from Photos Online
To remove face blur from photos online, just switch on the Upscale option and tick off the Face Refinement feature. Then click on the Start Processing button to start unblurring face from photos automatically.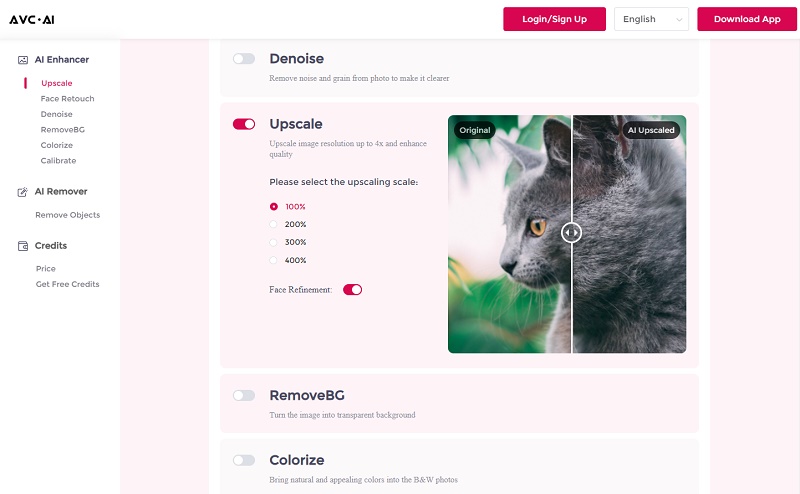 Step 3: Preview and Download Photos with Clear Facial Details
Once the face blur removal process is completed, you can click on the Eye icon to preview the unblurred photos with crystal facial details. Finally, just hit on the Download Image to save the clear photos.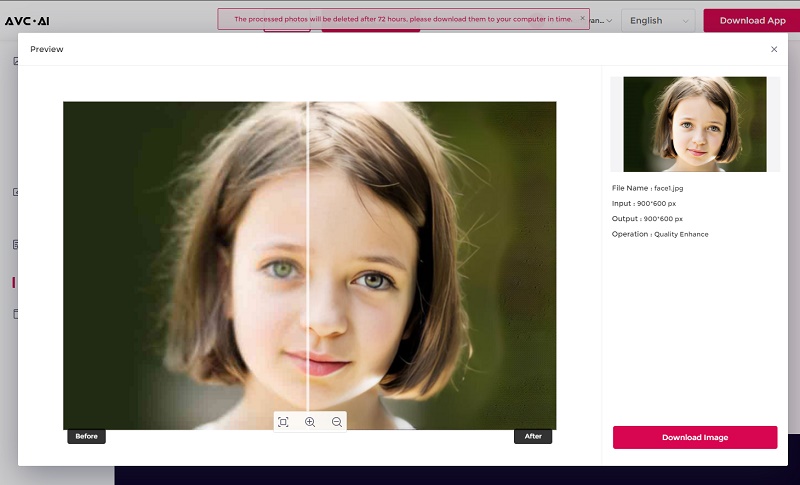 ---
Useful Tips: How to Remove Face Blur from Photos with AVCLabs PhotoPro AI
AVCLabs PhotoPro AI is another excellent option for removing face blur from photos on your computer. This powerful tool automatically detects and corrects blurriness in facial regions, restoring lost details and providing a sharper, more defined image. It is an innovative photo editing software that leverages the power of artificial intelligence to enhance and transform your images. With its advanced AI algorithms and user-friendly interface, AVCLabs PhotoPro AI makes it easier than ever for users to achieve professional-quality results with minimal effort. By utilizing deep learning algorithms, AVCLabs PhotoPro AI can analyze the photo, identify the blurred areas, and effectively restore them to their original clarity.
Key Features of AVCLabs PhotoPro AI
Clear up blurry photos with advanced technology
Cutout image to make the background transparent
Remove unwanted objects, people, watermarks
Change the style of image to create unique look
Colorize B&W photos to make it come to life again
Upscale photos up to 3x, 4x without losing quality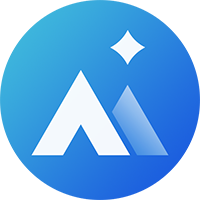 Steps to Remove Face Blur from Photos with AVCLabs PhotoPro AI
Step 1: Download and Install AVCLabs PhotoPro AI
Download and install AVCLabs PhotoPro AI on your computer, then open it.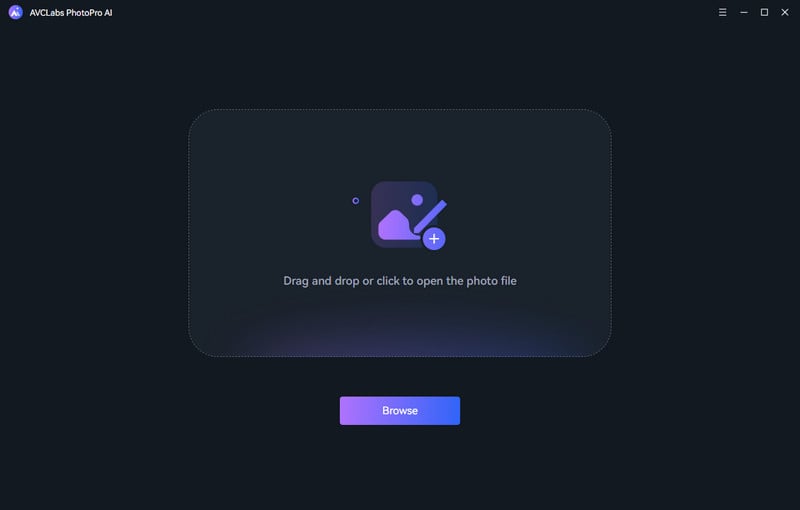 Step 2: Upload the Blurry Photo
Click on the Browse button to upload a blurry photo to the program or drag and drop the blurry photo to it.
Currently supported formats: PNG, JPG, JPEG, BMP, RAW, etc.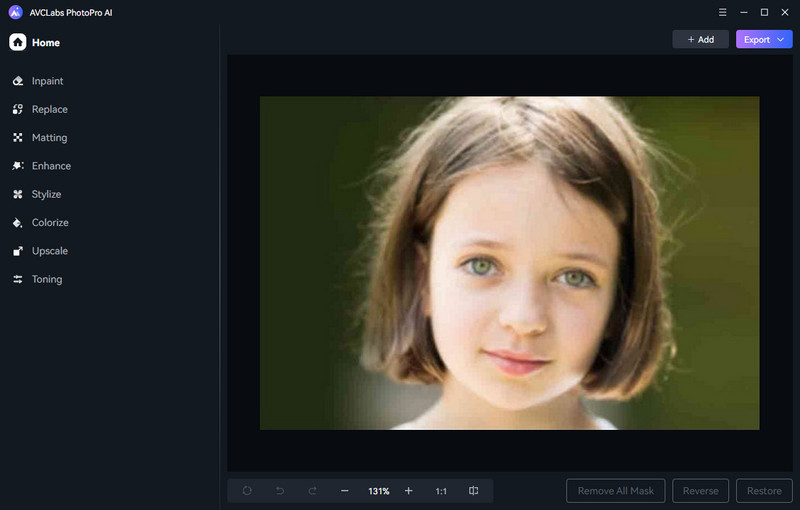 Step 3: Select the Enhance AI Model
To remove face blur from the photo, simply choose the Enhance AI model on the top menu bar of the main interface. Then select the enhance model according to your need. The default Standard model provides balanced improvements, while the High Definition model offers more pronounced enhancements but takes longer to process. Additionally, for those blurry portrait photos, the Face Enhancement feature can detect and recover details, delivering crisper and sharper results.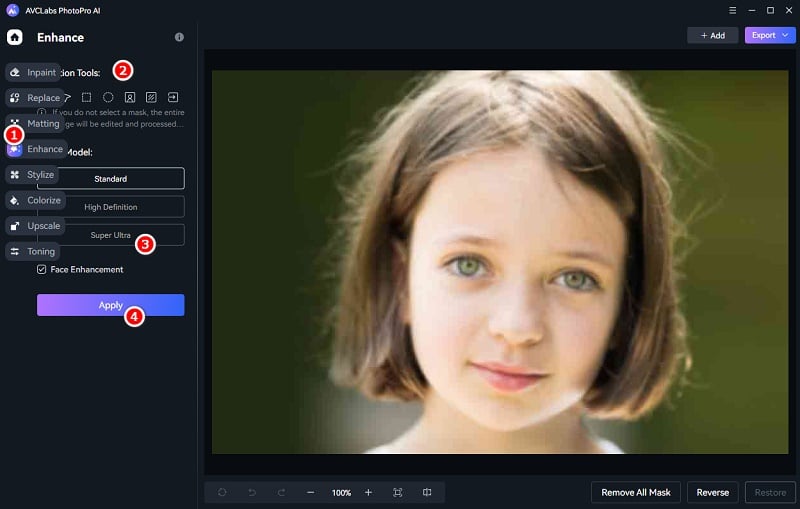 If you're looking to enhance a specific part of an image, start by making a selection. Pick a section tool that works best for the area you want to improve, then click on the apply button for quality results.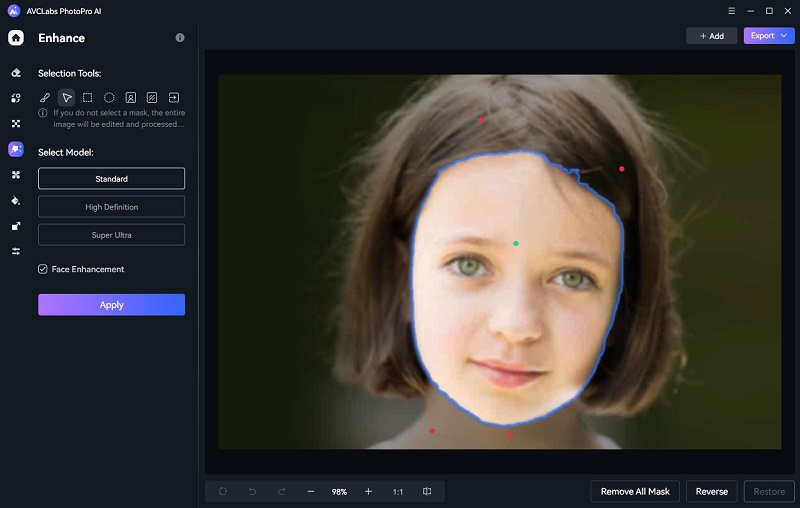 Step 4: Save the Unblurred Photo
Once the face blur removal process is done, just click on the Contrast button to preview the original and sharpened photo side by side. If the unblurred photo can meet your need, you can click on the Save button to save the sharpened photo on your computer.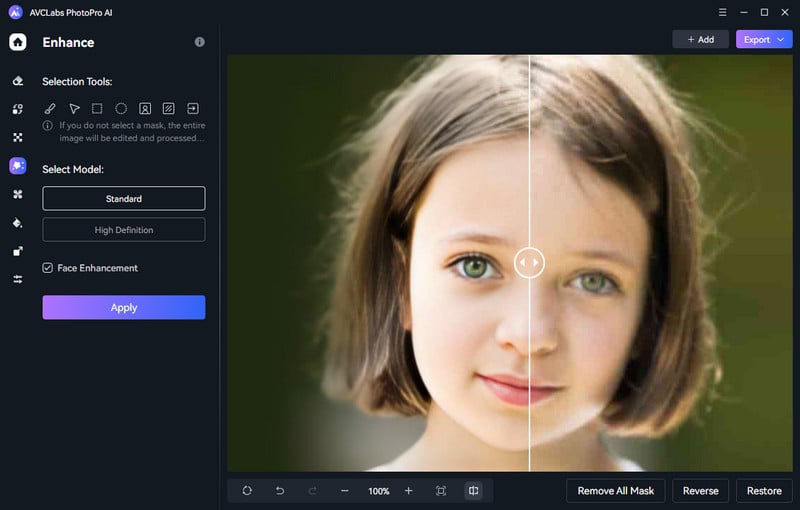 ---
Conclusion
Although removing face blur from photos is often a time-consuming and tedious task, it is important for many reasons. Removing face blur can help bring out the details in a photograph, make it easier to identify who or what is in the photo, and add clarity overall. Thankfully, with AI technology like AVC.AI and AVCLabs PhotoPro AI, it's quick and easy to remove face blur from any image with just a few clicks. These powerful and accurate AI tools not only enable you to retain the original quality of your photographs but also eliminate the need for additional manual editing. So if you're looking for an easy and effective way to remove face blur from your photos online, try out AVC.AI or AVCLabs PhotoPro AI today and experience hassle-free photo editing like never before!
---
Related Articles