6 Best Photoshop Watermark Removal Tools to Remove Photoshop Watermark from Photos
"How do I get rid of the Photoshop watermark in photos?"
Photoshop watermarks have become a common feature for photographers and content creators to protect their images from unauthorized use. However, there are instances where you may need to remove these watermarks for legitimate reasons. In this article, we will explore the 6 best Photoshop watermark removal tools available in the market to help you remove Photoshop watermarks from photos with ease.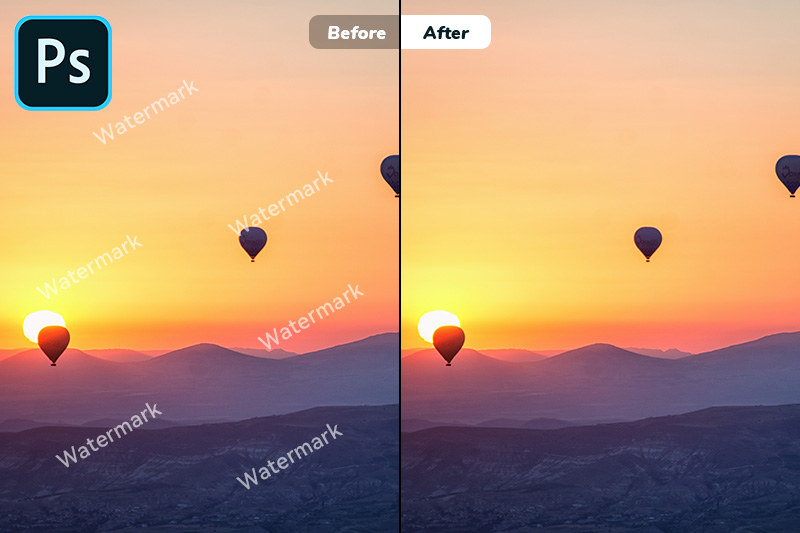 ---
Part 1: What Is A Watermark and Why Is It Used in Photoshop
Definition of a watermark
A watermark is a visible overlay, typically a logo, text, or pattern, added to an image to identify the owner or protect the image's copyright. It can be translucent or semi-transparent, allowing the underlying image to be viewed but not used without permission.
Common reasons for using watermarks in Photoshop
1. Copyright Protection: Watermarks deter image theft and copyright infringement.
2. Branding: They promote brands, making images easily recognizable.
3. Ownership: They assert the authorship of an image.
4. Professionalism: Watermarked images may look more professional.
---
Part 2: The Need for Watermark Removal Tools
While watermarks serve their purpose, there are situations where removing them becomes necessary. Manual removal can be time-consuming and challenging, especially for complex watermarks. This is where watermark removal tools come into play, offering efficient and automated solutions.
Challenges faced when removing watermarks manually
Manually removing watermarks can be a time-consuming and challenging process, especially when they are complex or intricately placed on an image. It may require advanced Photoshop skills, and the final result may not be as flawless as desired.
Advantages of using watermark removal tools
Watermark removal tools are efficient, quick, and user-friendly. They can remove watermarks without affecting the image's quality and are ideal for those without extensive Photoshop experience.
---
Part 3: 6 Best Photoshop Watermark Removal Tools
Let's explore the 6 best Photoshop watermark removal tools:
3.1 AVC.AI
AVC.AI is a cutting-edge AI-powered watermark removal tool that offers seamless removal of watermarks from Photoshop images online for free. It utilizes advanced algorithms to intelligently analyze and remove watermarks while preserving the image's quality. Users rave about its accuracy and ease of use.
This software provides a comprehensive range of photo editing tools. Its features include removing face blur from photos, converting images' resolution from low to high, correcting color, converting black and white photos to color, removing scratches and imperfections from photos, advanced retouching options, as well as text, object, and background removal.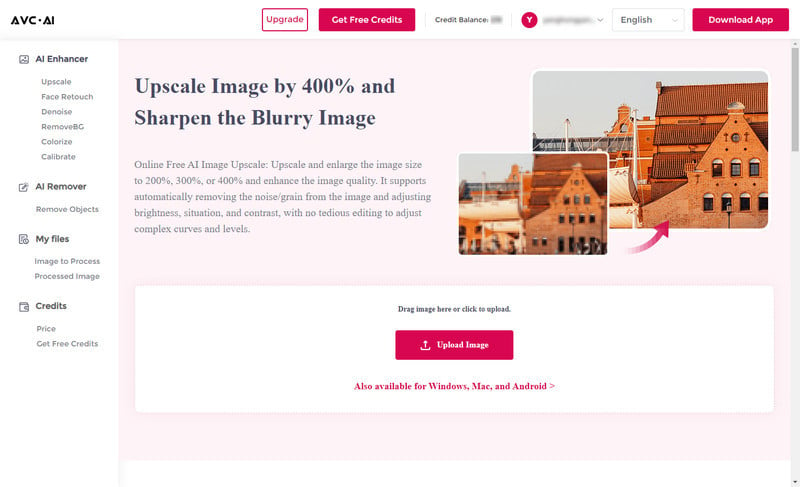 How to Remove Watermark from Photoshop Photos Online for Free with AVC.AI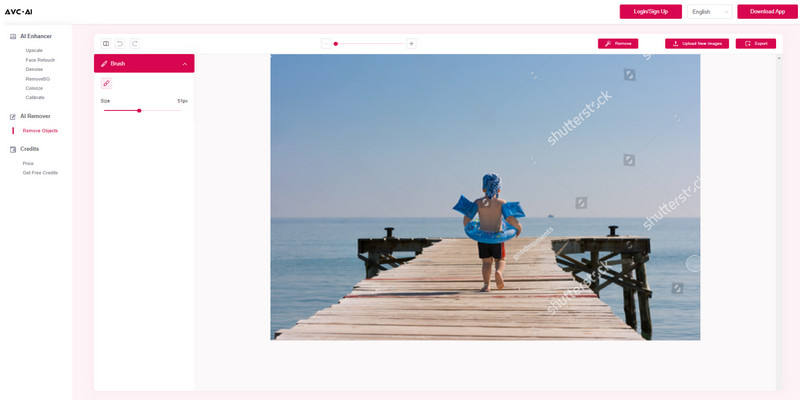 Just follow steps below to remove watermark from the Photoshop photo using AVC.AI:
Step 1: Simply visit AVC.AI and navigate to the Remove Objects option.
Step 2: Upload your photo by clicking on the Upload Image button or directly drag and drop the photo to this Photoshop watermark removal online tool.
Step 3: Use the Brush tool to manually select the watermark area.
Step 4: Now, you are able to click on the Remove option to remove the selected watermark.
Step 5: After the watermark removal process is completed, you are allowed to preview the photo watermark removal effect by clicking on the Contrast button. If the result can meet your need, just click on the Export button to save the image with the Photoshop watermark removal.
---
Pros:
User-friendly interface for ease of use
The watermark removal function in AVC.AI is free to use
Accurate watermark removal without compromising image quality
Before-and-after previews to assess results
Web-based watermark removal tool, compatible with different platforms
Cons:
Some features may require a subscription for full access
---
3.2 AVCLabs PhotoPro AI
AVCLabs PhotoPro AI is a comprehensive software that provides advanced features for removing watermarks from Photoshop photos. It utilizes AI technology to deliver precise results. Apart from removing watermark from photos, it also comes with advanced photo editing features, allowing users to increase photos' resolution, enhance and sharpen blurry photos, colorize black and white photos, remove photos' backgrounds, adjust photos' color, and repair old photos.
Key Features of AVCLabs PhotoPro AI
Clear up blurry photos with advanced technology
Cutout image to make the background transparent
Remove unwanted objects, people, watermarks
Change the style of image to create unique look
Colorize B&W photos to make it come to life again
Upscale photos up to 3x, 4x without losing quality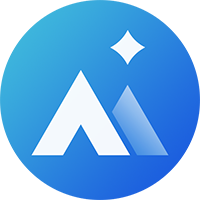 Steps to Remove Photoshop Watermark from Photos with AVCLabs PhotoPro AI
Step 1: Install & Launch AVCLabs PhotoPro AI
Firstly, download and install AVCLabs PhotoPro AI on your Windows PC or Mac, and then run it to start exploring this powerful Photoshop watermark removal tool.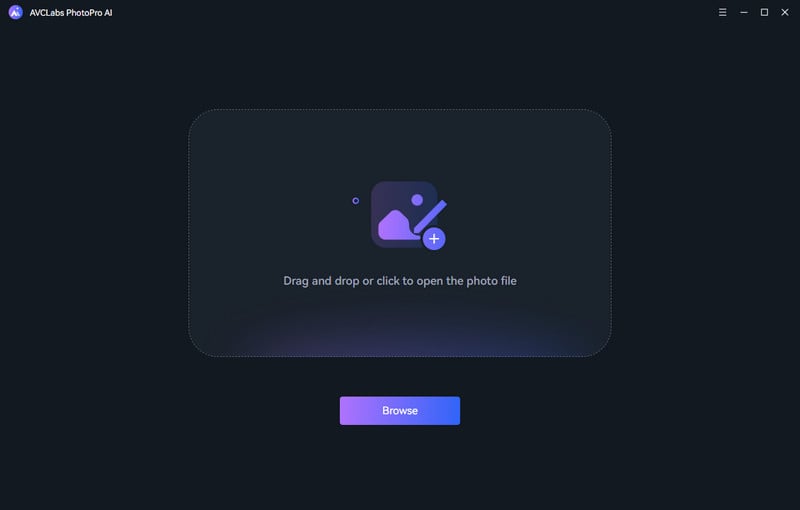 Step 2: Add Your Photo to the Program
Simply import your photo to this program by clicking on the Browse button or dragging and dropping it directly onto this tool.
Note: Currently supported formats: PNG, JPG, JPEG, BMP, RAW, etc.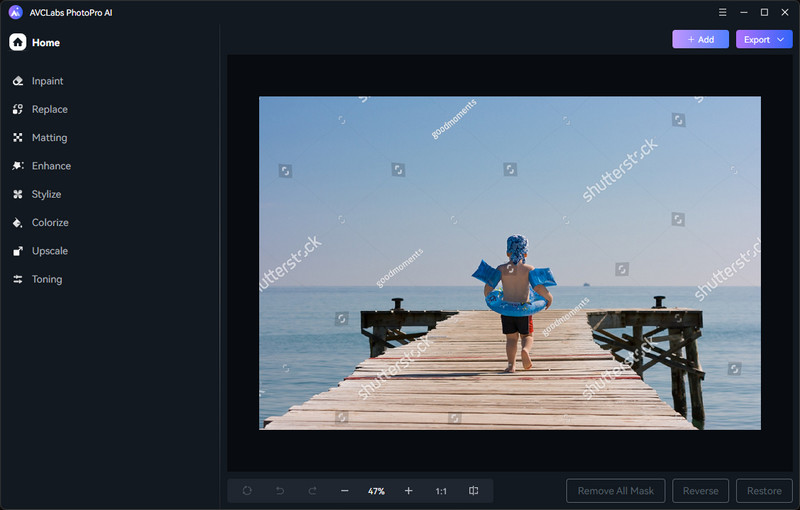 Step 3: Select the Watermark in the Photo to Remove
Select the watermark area from your photo using the Brush tool.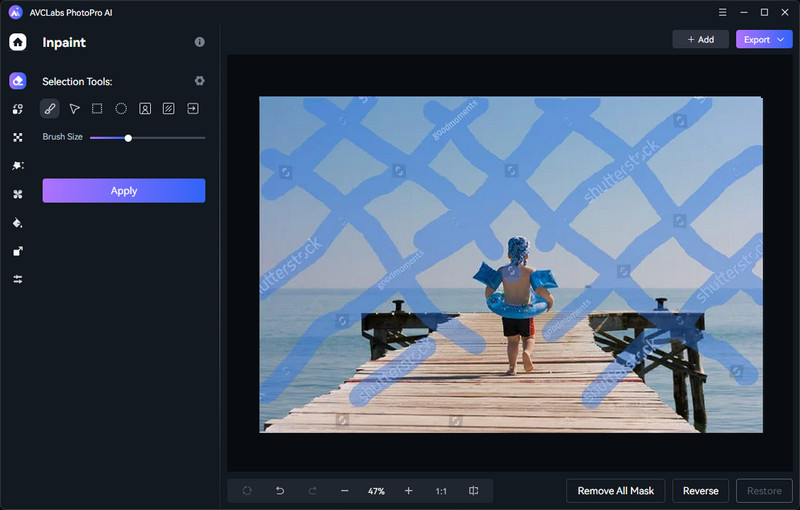 Step 4: Apply the Inpaint AI Model to Remove Watermark and Save Your Photo
After the watermark is selected, simply click on the Inpaint AI model to let AI automatically remove the watermark from your photo.
Once the watermark removal process is done, you can hit on the Contrast button to preview the effect. If you are happy with the result, simply save the edited photo to your computer by clicking on the Save button.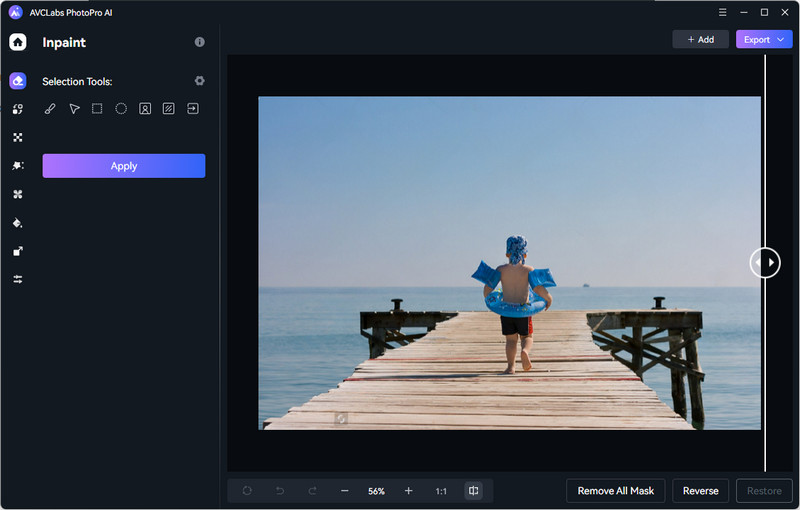 ---
Pros:
Powerful AI-based watermark removal
Excellent results in removing watermarks
User-friendly, making it accessible to all users
Suitable for both beginners and experienced users
Versatile format support
Cons:
Compatible with Windows PC and Mac only
---
3.3 Inpaint
Inpaint is a popular choice among Photoshop users for watermark removal. It offers a range of smart tools to seamlessly erase watermarks from images. Its user-friendly interface and quick processing make it an ideal option for both beginners and professionals.
Steps to Remove Watermark from the Photoshop Photo Using Inpaint
Step 1: Go to Inpaint using your favorite web browser and click on the Upload Image button in the middle of the webpage. Choose the photo with a watermark and click on the Open option to upload it.
Step 2: After you uploaded the photo to Inpaint, you'll see the intuitive interface. Just choose the Mask tool to select and highlight the watermark.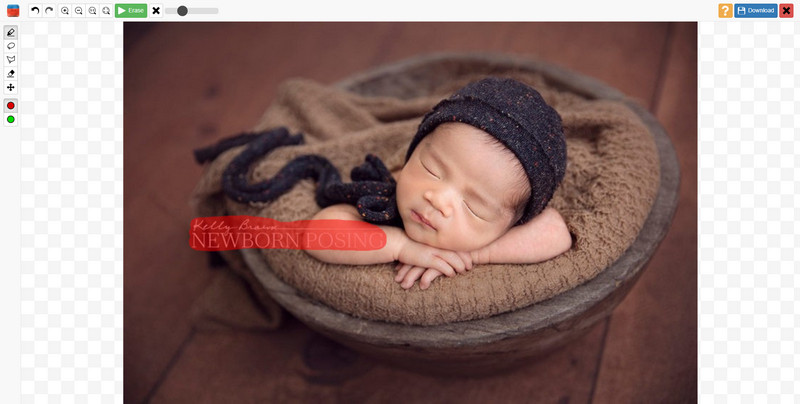 Step 3: Finally, hit on the Erase button at the top of the interface. Then Inpaint will remove the watermark automatically and intelligently.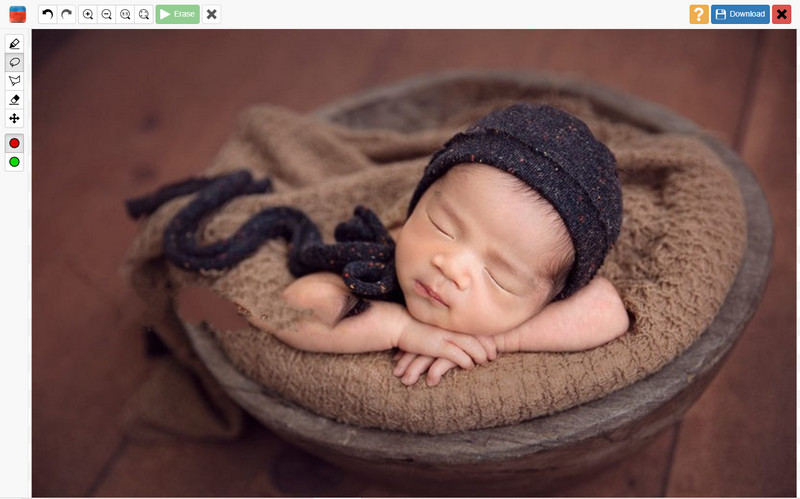 ---
Pros:
Simple and user-friendly interface
Simplicity and efficiency in removing watermarks
Offer additional retouching options for image enhancement
Batch processing capabilities, save time and patience
Cons:
Limited advanced features compared to other tools
---
3.4 GIMP
GIMP, an open-source image editing software, also provides effective watermark removal capabilities. With its vast array of tools and plugins, GIMP offers flexibility and versatility in removing watermarks. Though it may require a learning curve, GIMP is highly regarded for its advanced features.
Steps to Remove Photoshop Watermark from the Photo with GIMP
Step 1: Download and install Gimp on your computer.
Step 2: Click on the File tab in the top left corner of the interface and select the Open option. Then just select the picture and open it.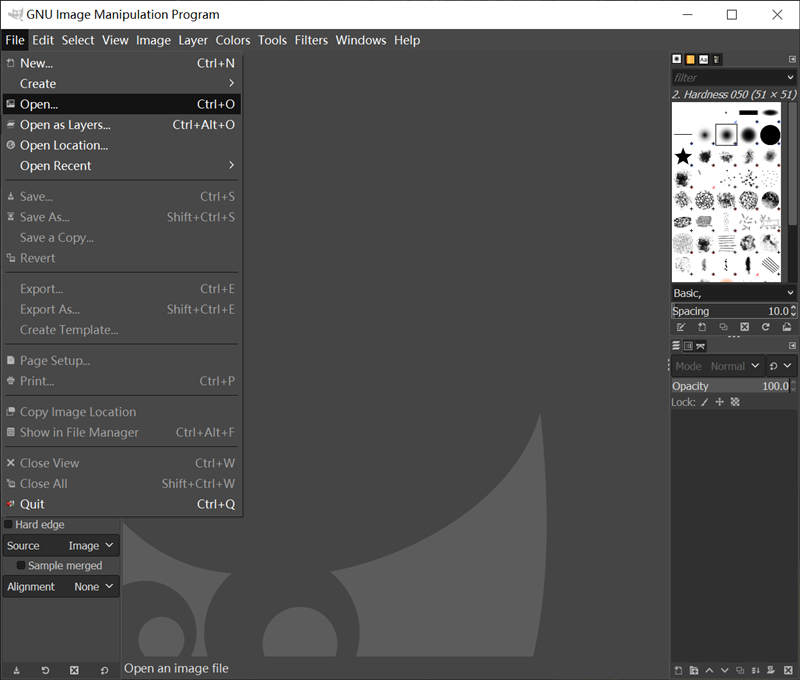 Step 3: Select the Clone Stamp Tool from the tools located on the upper left part of the software.
Step 4: Select an image as the Source under the Clone section.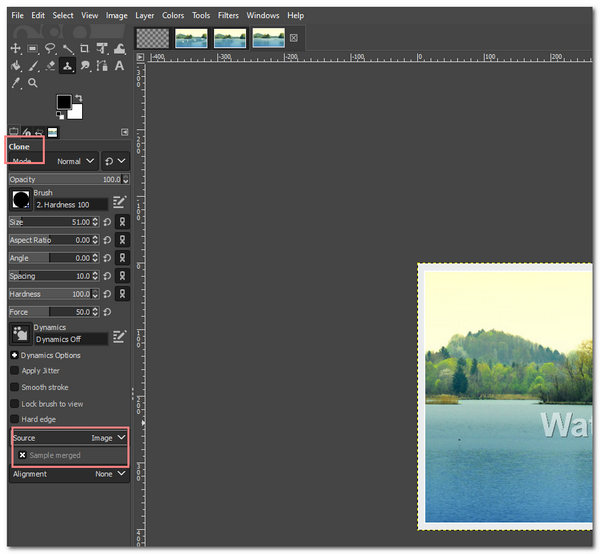 Step 5: Select a region on the photo to cover the watermark on the photo. Press and hold the CTRL tab while dragging the Clone Stamp Tool across the watermark.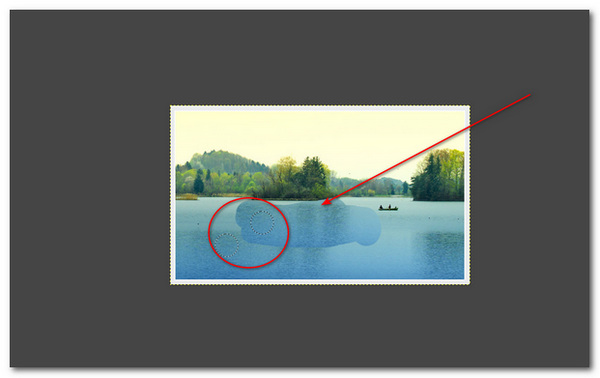 Step 6: At last, you can save your finished and edited image by clicking File, then select Save.
---
Pros:
A free, open-source image editing software
Versatile tool supports a wide range of image editing tasks
Excellent for users with advanced skills in image editing
Cons:
Removing watermarks can be labor-intensive and may require some extensive Photoshop skills
Steeper learning curve, interface may be less intuitive for beginners
---
3.5 Pixlr
Pixlr is a widely-used online photo editor that comes with powerful watermark removal features. Its arsenal of tools resembles those found in Adobe Photoshop, making it a popular choice among users. Pixlr's user-friendly interface and seamless watermark removal capabilities make it a top contender.
Steps to Remove Photoshop Watermark from the Photo via Pixlr
Step 1: Open Pixlr using your preferred web browser.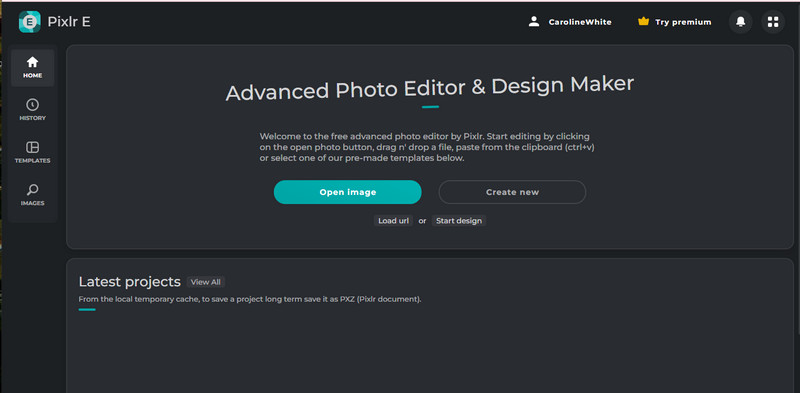 Step 2: Click on the Open Image to upload a photo to it.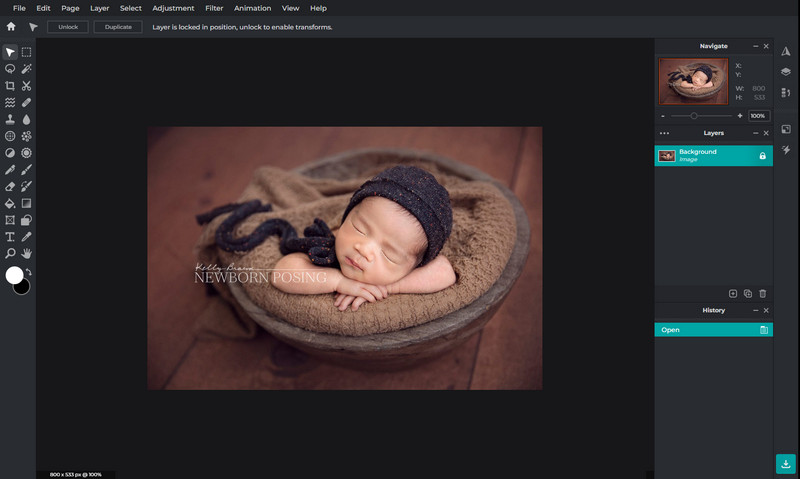 Step 3: Select the Clone Stamp tool from left panel of Pixlr.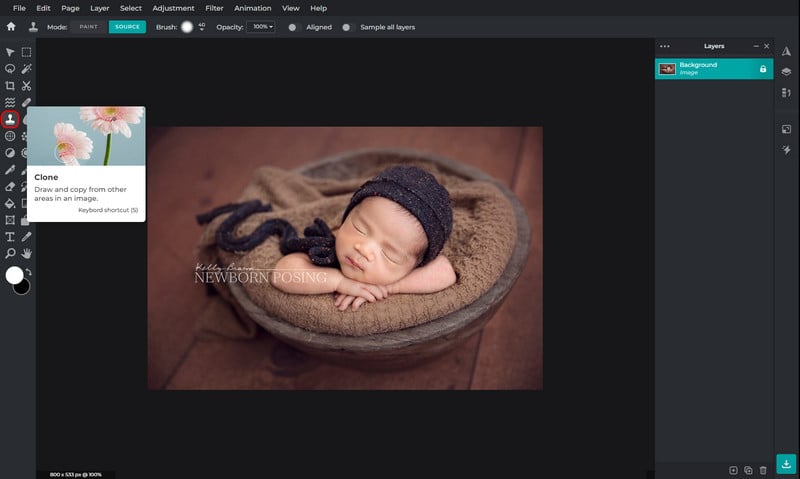 Step 4: Now hover the mouse over the watermark to erase it from the image. Once you are done erasing the watermark with pixlr, click on the Save button displayed on the bottom panel on the editing screen.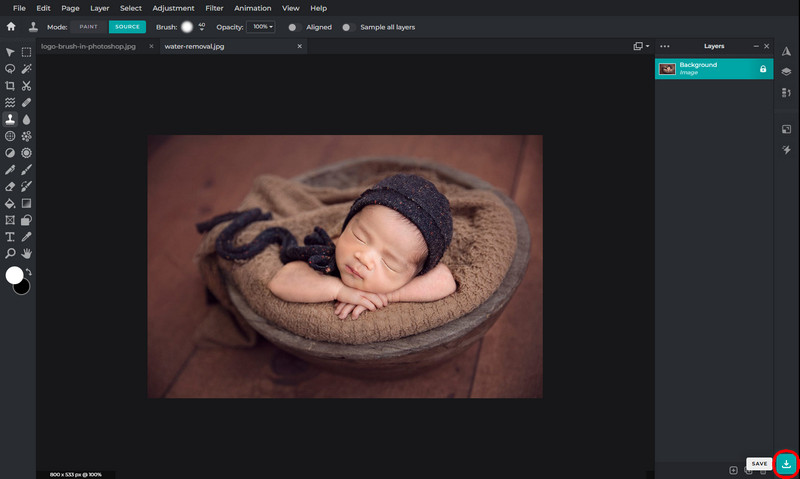 ---
Pros:
It's free and accessible online
User-friendly for quick, basic watermark removal
Suitable for simple watermark removal tasks
Cons:
Limited capabilities for complex watermark removal
Lack the advanced features of dedicated watermark removal tools
---
3.6 PhotoDirector
PhotoDirector is a comprehensive photo editing software that includes watermark removal functionality. With its intuitive interface and extensive editing tools, PhotoDirector provides a seamless experience for removing watermarks from Photoshop images. Users appreciate its speed and accuracy.
Steps to Remove Photoshop Watermark from the Photo by PhotoDirector
Step 1: Open PhotoDirector on your mobile phone.
Step 2: Hit the Tools option and then tap the Removal icon to remove the watermarks from your photo.
Step 3: Adjust the "Removal Area" and then download the image to your mobile device.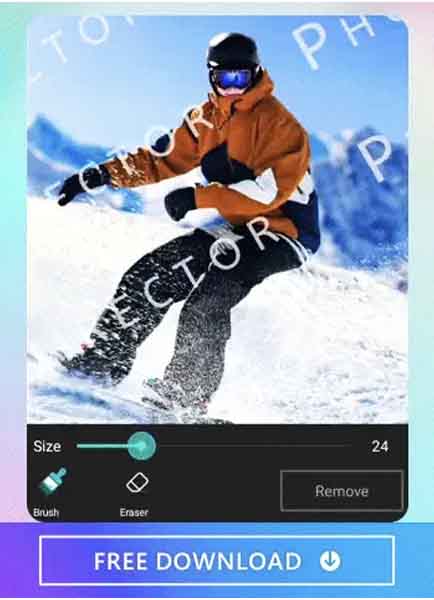 ---
Pros:
Comprehensive photo editing software
Versatile photo editing capabilities, including watermark removal
User-friendly interface for a variety of image editing tasks
Suitable for users seeking an all-in-one editing solution
Cons:
Some users may find it more complex than dedicated watermark removal tools
Paid software, may have a learning curve for beginners
---
Part 4: How to Choose the Photoshop Watermark Removal Tool
Choosing the right watermark removal tool depends on various factors. Consider the tool's features, ease of use, accuracy, processing speed, and compatibility with your system. It is also helpful to read user reviews and compare different options to find the tool that best suits your requirements.
A. Factors to consider
1. Complexity of watermark: Choose a tool based on the complexity of the watermarks you need to remove.
2. User-friendliness: Consider your skill level with Photoshop and image editing.
3. Budget: Some tools are free, while others may require a subscription or one-time purchase.
B. Comparison of the top tools
1. Each tool has its unique features and capabilities, making it suitable for different users' needs.
C. Recommendations based on user requirements
1. For simplicity and effectiveness, AVC.AI and AVCLabs PhotoPro AI are excellent choices.
2. Inpaint is best for those looking for an easy-to-use tool with basic retouching features.
3. GIMP is an ideal choice for users who are familiar with advanced Photoshop techniques and prefer open-source solutions.
4. Pixlr is suitable for quick, basic watermark removal tasks.
5. PhotoDirector is a comprehensive choice for users who want a multifaceted editing solution.
---
Conclusion
In conclusion, using a watermark in Photoshop is a great way to protect your photos and valuable content. Removing watermarks from photos can be a necessity in various situations. The availability of advanced watermark removal tools simplifies the process and ensures high-quality results. With the right watermark removal tool, you'll be able to necessitate the same level of protection with no need for constant vigilance.
We have discussed what a watermark is and why it is used in Photoshop. We also identified the need for watermark removal tools and presented 6 of the best tools one could use to easily remove any watermarks from their image files. Finally, we explored how to choose the right tool for removing a particular watermark in Photoshop.
Whether you choose AVC.AI, AVCLabs PhotoPro AI, Inpaint, GIMP, Pixlr, or PhotoDirector, you can confidently remove watermarks and unlock the true potential of your photos.
---
Related Articles