How to Remove Text from An Image without Removing Background Online and Offline
"How do I remove text from a picture without deleting the background? How to remove text from image without removing background online free?"
When working with images, there may be instances where you want to remove text overlays without altering the background. This could be to eliminate distractions, repurpose an image, or enhance its visual appeal. In this article, we will explore 2 easy methods to remove text from an image while preserving the background online and offline using AI tools: AVCLabs PhotoPro AI and AVC.AI.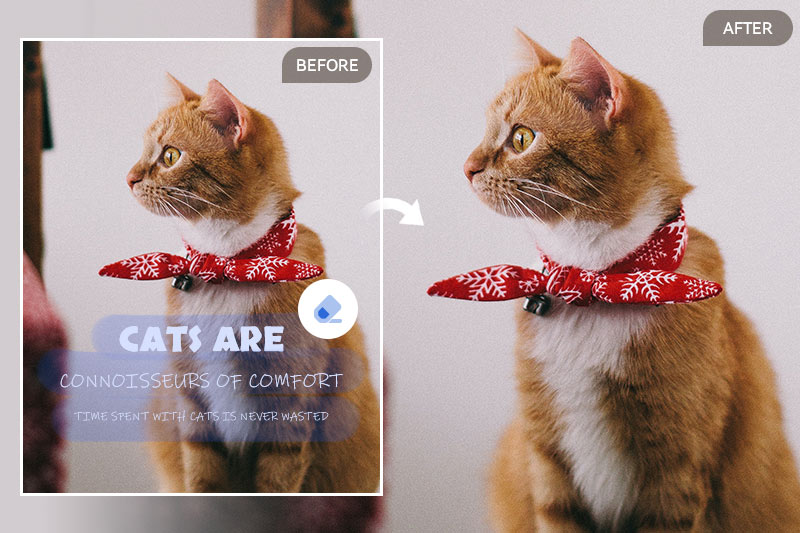 ---
Part 1: Why Should You Remove Text From Images
Images are powerful tools for conveying emotions, messages, and stories. There are various reasons why you might want to remove text from an image without removing the background. Perhaps you have a photo with text overlays that are distracting or no longer relevant. Or maybe you want to repurpose an image for a different context where the text is not necessary. Whatever your motive, the ability to remove text while preserving the background can be incredibly useful.
---
Part 2: Remove Text from An Image without Removing Background with AVCLabs PhotoPro AI
For more advanced and precise control over the text removal process, AVCLabs PhotoPro AI is an excellent choice. AVCLabs PhotoPro AI provides a comprehensive suite of tools for meticulous text removal while retaining the background's integrity.
Additionally, it also give users the ability to increase images' resolution, enhance and sharpen blurry images, colorize black and white images, remove backgrounds and watermark from images, adjust images' color, and repair old images.
Key Features of AVCLabs PhotoPro AI
Clear up blurry photos with advanced technology
Cutout image to make the background transparent
Remove unwanted objects, people, watermarks
Change the style of image to create unique look
Colorize B&W photos to make it come to life again
Upscale photos up to 3x, 4x without losing quality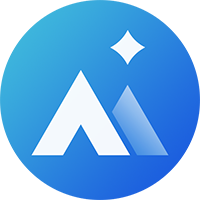 Steps to remove text from your images while preserving the background:
Step 1: Download and Install AVCLabs PhotoPro AI
Download and install AVCLabs PhotoPro AI on your computer, then launch it.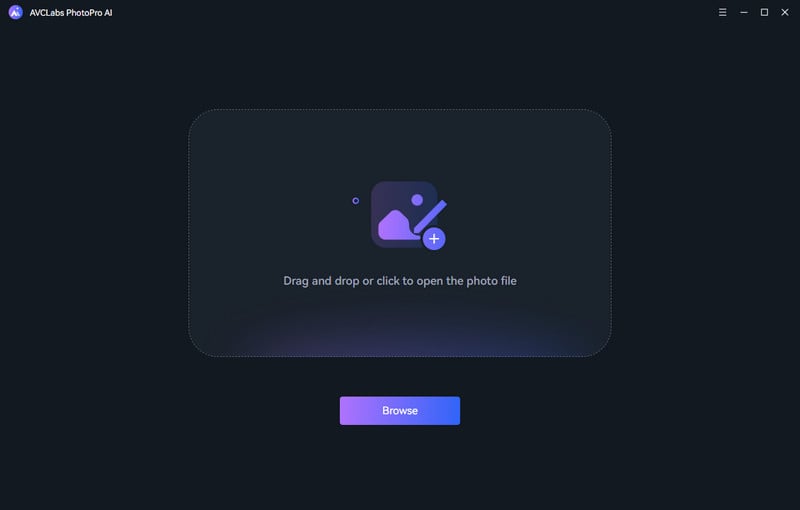 Step 2: Upload the Image
Click on the Browse button to upload an image to the program or directly drag and drop the image to it.
Currently supported formats: PNG, JPG, JPEG, BMP, RAW, etc.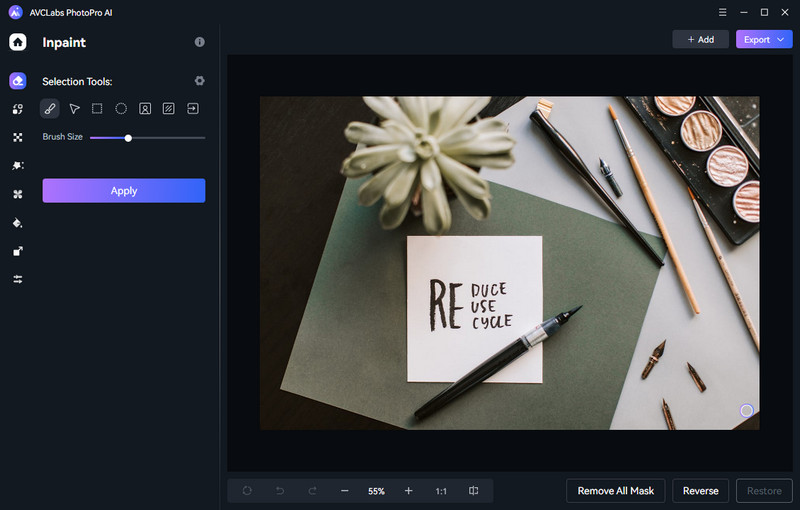 Step 3: Select the Text to Remove
After importing the image to the program, just select the text from the image you want to remove using the Brush tool.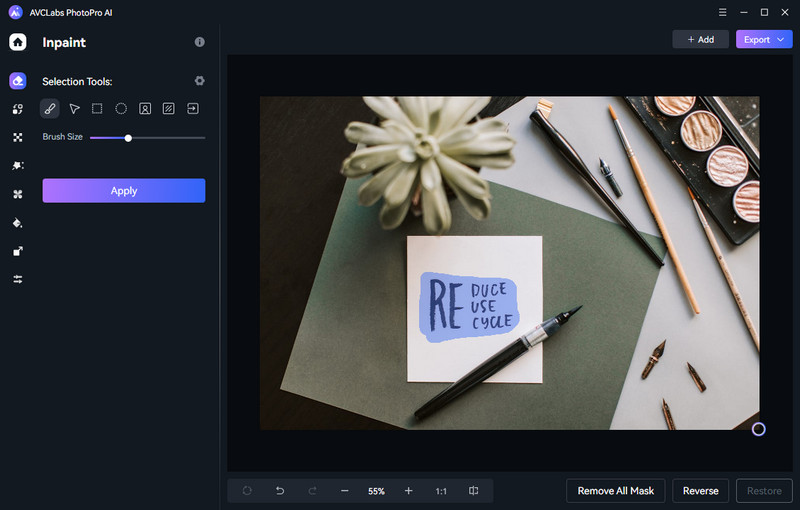 Step 4: Apply the Inpaint AI Model to Remove Text from An Image
Now, choose the Inpaint AI model to let the AI automatically and seamlessly remove the selected text from the photo.
After the text removal process is completed, you can save the edited image to your computer by clicking on the Save button.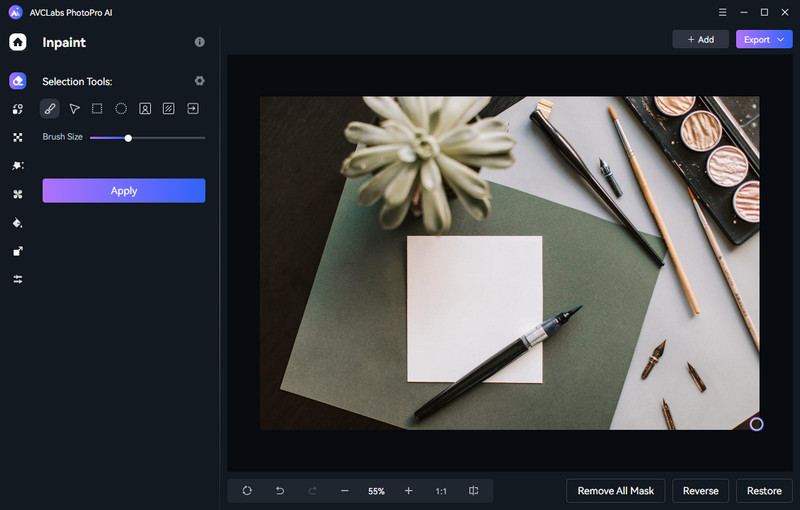 ---
Part 3: Remove Text from An Image without Removing Background Online for Free with AVC.AI
In the digital age, online tools have revolutionized the way we approach image editing. One such versatile solution is AVC.AI, an online platform that allows you to remove text from images without compromising the background. It's perfect for those seeking a quick solution without the need for advanced software.
Here are some key features of AVC.AI's free object removal tool:
Remove unwanted objects: This tool allows you to remove any unwanted objects online for free, including text, from your photos.
AI-powered deep learning algorithms: AVC.AI utilizes advanced deep learning inpainting algorithms to automatically remove people, text, logos, wires, date stamps, and other unwanted objects from your images.
Professional photo editing tools: In addition to text removal, AVC.AI offers professional-grade photo editing tools for enhancing and retouching your images.
Steps to Remove Text from Images without Disturbing the Background Online for Free with AVC.AI
Step 1: Visit AVC.AI and Upload An Image
Visit this online free text removal tool using your favorite web browser. Simply navigate to the Remove Objects model and click on the Upload Image button to import an image from your computer.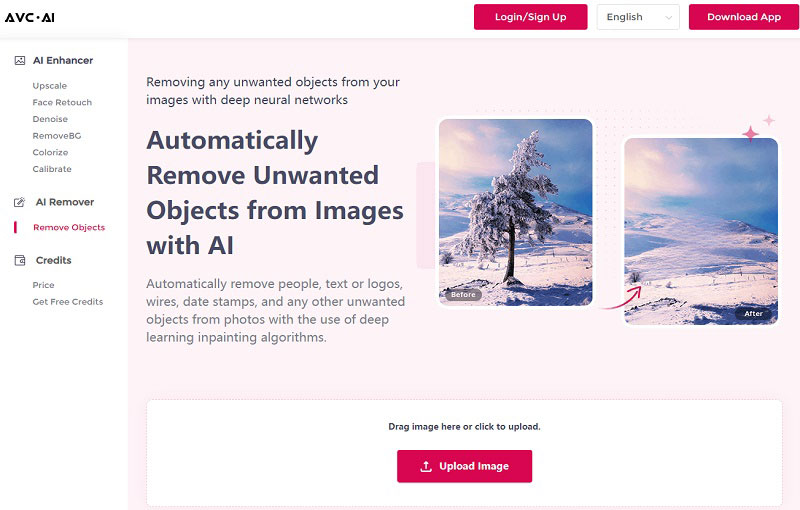 Currently supported input formats are *.png, *.jpg, *.jpeg, *.bmp, *.jfif, and *.webp.
Step 2: Select Unwanted Text and Start Removing Text from An Image Online for Free
Simply select unwanted text on a photo using the brush tool and then click on the Remove button to let the tool work its magic by applying intelligent algorithms to seamlessly remove the text while preserving the image's background.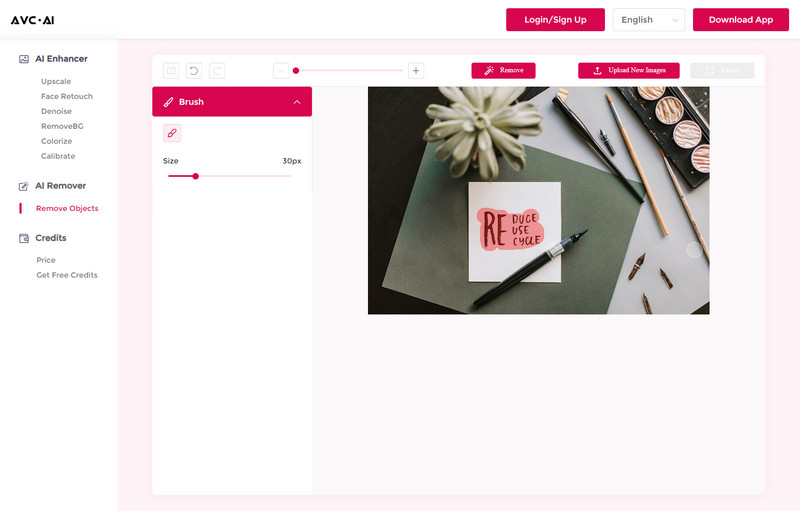 Step 3: Preview and Download Photos
Once the text removal process is done, click on the Contrast button to view the text removal effect. Then click on the Export button to download the final image with the text removed.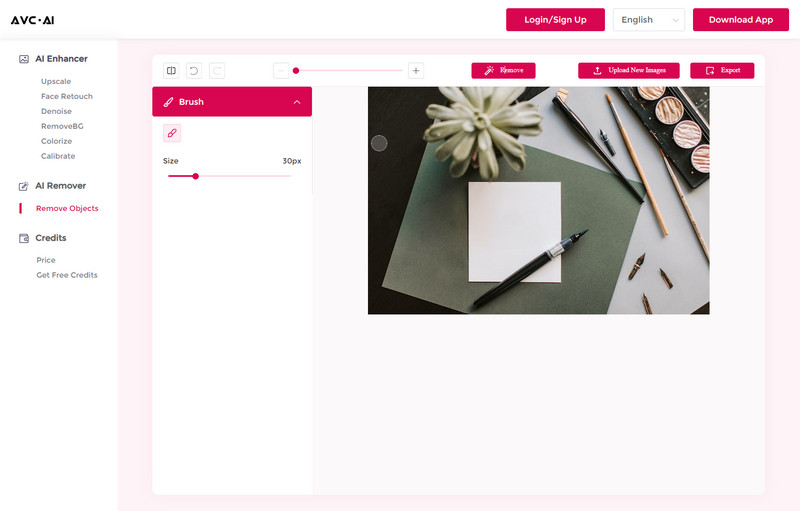 ---
Part 4: FAQs about Removing Text from Images without Removing Background
Here are some common questions and concerns regarding the removal of text from images without altering the background:
Q. Will removing text affect the image quality?
A. Removing text with precision should not compromise the image quality if done correctly. Using advanced tools can help maintain image integrity.
Q. Can I use these methods for images with complex backgrounds?
A. Yes, both AVC.AI and AVCLabs PhotoPro AI are equipped to handle images with intricate backgrounds, provided you follow the recommended techniques.
Q. What about ethical considerations when removing text?
A. While text removal can enhance an image, it's essential to consider the ethical implications. Always respect the context and intent of the original image.
Q. Will the text removal process always be perfect?
A. While AI-powered tools have made significant advancements in text removal, the success of the process can still vary depending on factors such as image quality, text complexity, and the tool's algorithms. It is recommended to use high-resolution images and experiment with different settings for optimal results.
---
Conclusion
No matter what type of image or text you are dealing with, it is now possible to safely remove text from images without removing the background. With AVCLabs PhotoPro AI and AVC.AI tools, you can complete this task quickly and easily, no need to worry about details or extra time spent. By using these tools, you'll be able to keep your photos looking sharp and professional even after editing. Plus, your project workflow will be more efficient as you won't have to re-work or adjust parts of your images separately. Be sure to review all of the questions and answers from our FAQs section for more details on how to get started and make the most out of text removal tools!
---
Related Articles