Best Free AI Photo Clarity Increaser Online & Offline
Clear and high-quality photos have become a hallmark of effective communication and artistic expression. Photo clarity, the level of sharpness and detail in an image, plays a pivotal role in delivering the intended message and evoking emotions. From personal snapshots to professional photography, medical imaging to security surveillance, photo clarity holds the key to accurate representation and interpretation.
The evolution of technology, especially in the realm of image processing and artificial intelligence, has opened up new avenues for enhancing photo clarity. In this article, we delve into the various factors that affect photo clarity, the techniques used for enhancement and software tools available for the task.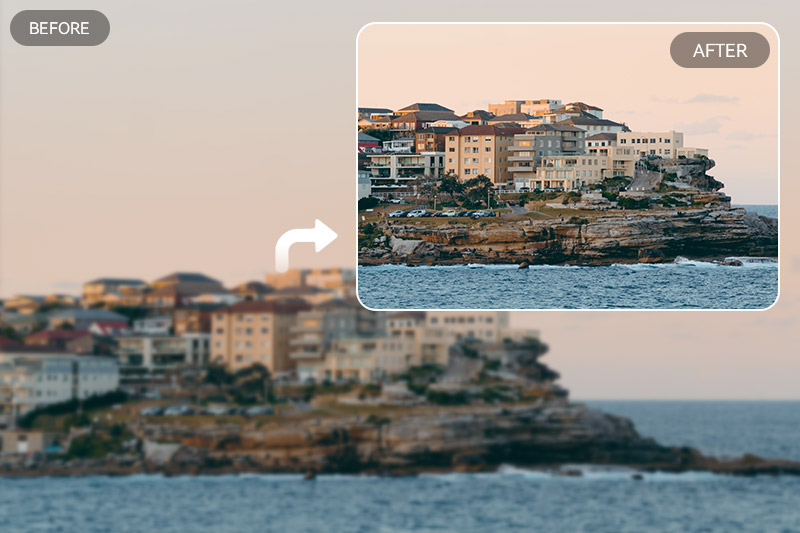 ---
Part 1: Understanding Photo Clarity Issues
The world of photography is not without its challenges. Blurriness, often caused by factors such as camera shake or motion blur, can rob an image of its crispness. Noise, the unwanted grainy texture that arises due to low light conditions or high ISO settings, can obscure details and introduce distractions. Low resolution images lack the fine details necessary to capture the essence of a scene accurately.
Imagine a once-in-a-lifetime moment captured in a blurry photograph or a critical medical diagnosis obscured by noisy imaging. Unclear photos can have a profound impact on various applications, from the emotional weight of a family album to the accuracy of life-saving medical procedures.
---
Part 2: Best Free AI Photo Clarity Increaser Online
1. AVC AI
AVC AI introduces an innovative online solution that redefines photo clarity enhancement. With its advanced AI technology, AVC AI offers users the opportunity to enhance photo clarity for free by providing credits upon registration. This unique approach makes the power of AI-driven clarity enhancement accessible to all, allowing users to effortlessly breathe new life into their images. Whether you're an amateur photographer or a seasoned professional, AVC AI's user-friendly interface and free credits create an unparalleled platform for effortlessly transforming your photos with enhanced sharpness and detail.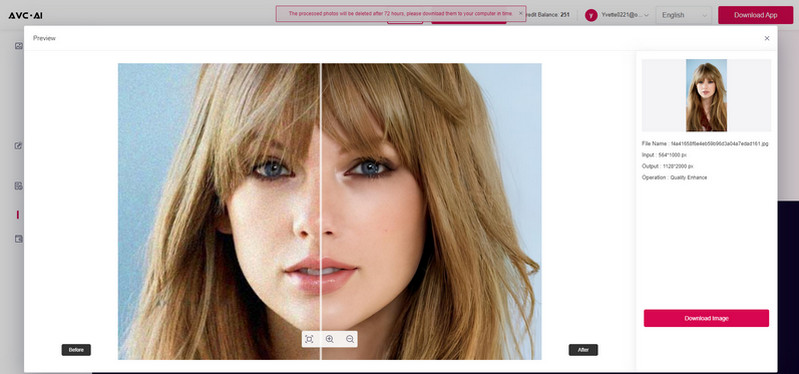 ---
2. Fotor
Fotor stands out as a versatile online solution for those seeking to enhance photo clarity through AI technology. Notably, Fotor offers the convenience of being used for free, allowing users to experience its AI-powered clarity enhancement capabilities without any upfront costs. However, it's important to note that while the service is free, there is a watermark applied to the enhanced images. This watermark, though a testament to the accessibility of Fotor's features, can be removed with a premium subscription.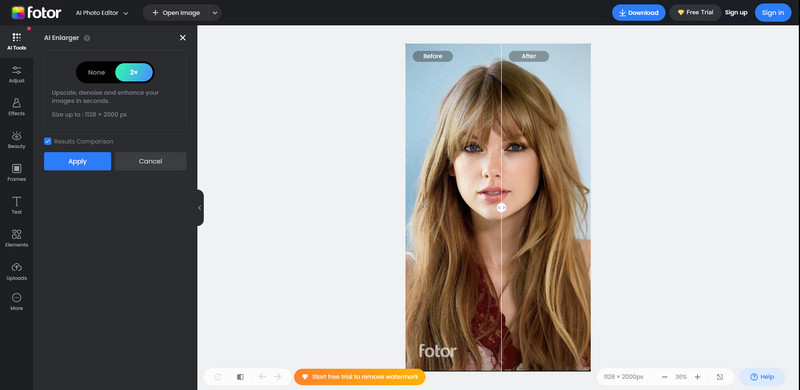 ---
3. Remini
Tailored for novices and enthusiasts alike, Remini emerges as a user-friendly online tool. Designed with simplicity in mind, Remini offers an accessible way for users to enhance the sharpness and detail of their images effortlessly. Similar to Fotor, Remini is also free to use but the enhanced images will also have a watermark, this watermark proves Remini's commitment to user accessibility and can be removed with a premium subscription. Whether you're looking to relive cherished memories or perfect snapshots for sharing, Remini offers an invaluable way to enhance image clarity while keeping novice users and watermarking considerations in mind.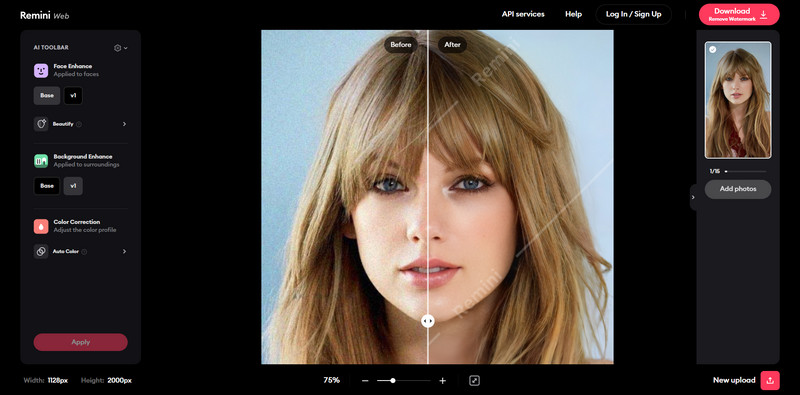 ---
Part 3: Best Free AI Photo Clarity Increaser Offline - AVCLabs PhotoPro AI [Hot*]
AVCLabs PhotoPro AI takes the concept of enhancing photo clarity to the next level through an offline solution. This software harnesses the power of AI to provide unparalleled clarity enhancement for your images directly on your local device. Furthermore, should you have the need to engage in tasks such as photo colorization, background removal, portrait enhancement, noise reduction, and similar endeavors, this exceptional AI photo editing tool stands poised to assist you in achieving prompt and proficient results.
Key Features of AVCLabs PhotoPro AI
Enhance image sharpness and improve clarity
Increase image resolution without losing quality
Change the style of image to create unique look
Colorize B&W photos to make it come to life again
Advanced AI algorithms for automatic background detection and removal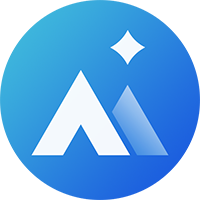 Steps to Increase Photo Clarity with AVCLabs PhotoPro AI
Step 1: Install AVCLabs PhotoPro AI
Begin by downloading and installing AVCLabs PhotoPro AI on your computer, then open it.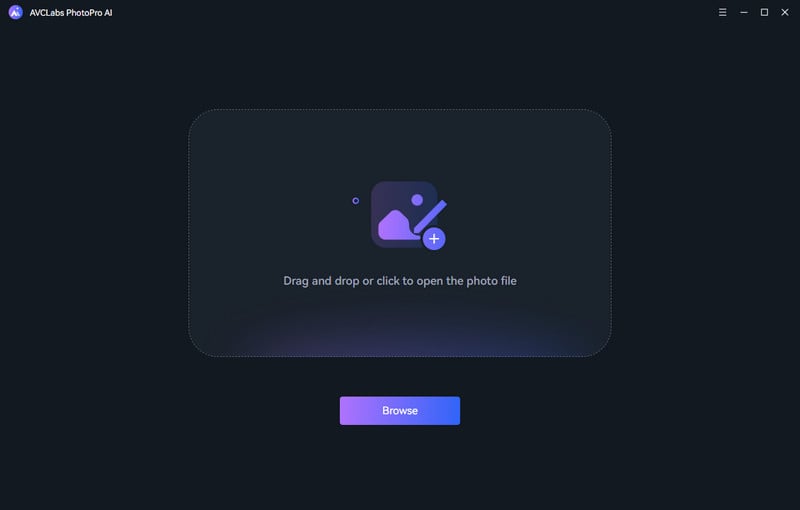 Step 2: Open the Program and Import Photo
After launching the program and then click on the Browse button to import photo or drag and drop the image to the program directly.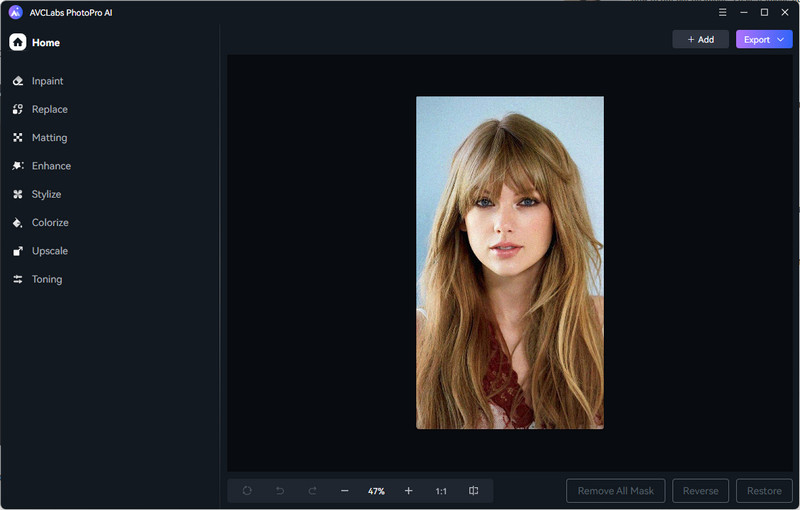 Step 3: Choose an AI Model
Just choose "Upscale" and go to the "Magnification" option. In this option, you can choose 1X, 2X, 3X and 4X to enhance image resolution and increase photo clarity.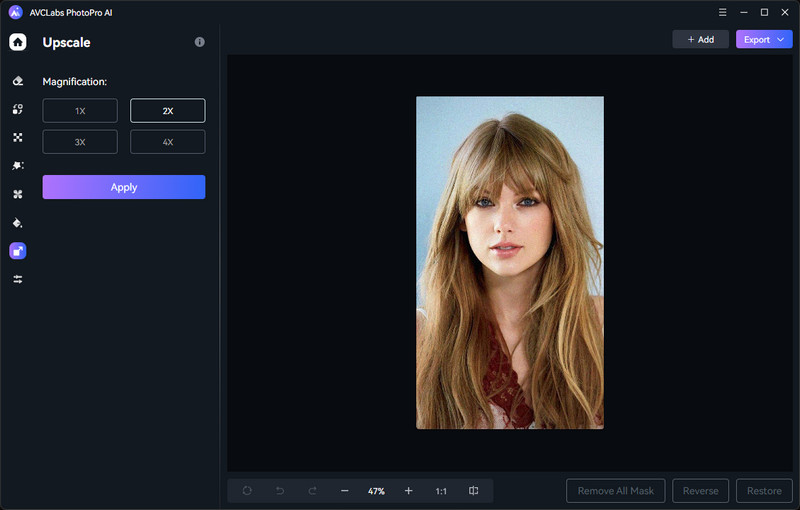 Step 4: Save the Processed Photo
After the image processing is complete, just slide the vertical bar left and right to see the contrast effect before and after upscale. If you are satisfied with the effect, just click save.
---
Part 3: Conclusion
Photo clarity reigns as a paramount element, embodying the essence of sharpness and detail to evoke emotions and convey messages effectively. This article explores the challenges faced in achieving photo clarity and the transformative role of AI technology. Transitioning from an online photo clarity enhancer to an offline counterpart, each possesses unique attributes and advantages. We extend an invitation to select the option that aligns with your preferences for exploration.
---
Related Articles