Best 6 AI-Powered Photo Editor Softwares and Apps
Artificial intelligence (AI) is revolutionizing photo editing by automating processes, enhancing efficiency, and expanding creative possibilities. With AI algorithms, tasks like exposure correction, color adjustment, noise reduction, and portrait retouching can be automatically performed, saving time for photographers and editors. AI-powered tools also enable the restoration of old or damaged photographs, removal of unwanted objects, style transfer, facial recognition, and content-aware editing. These advancements streamline the editing workflow, while still relying on human creativity and judgment to make final artistic decisions.
Are you looking for quick, easy, and professional-looking AI photo editing results right from your phone or computer? Look no further! In this guide, we will delve into the world of AI-powered photo editing and present our selection of the best AI photo editing softwares and apps available.
---
Part 1: Features and Capabilities of AI-powered Photo Editors
AI-powered photo editors are equipped with cutting-edge algorithms that enable them to analyze, understand, and manipulate images in a way that mimics human intelligence. These sophisticated tools provide a range of features and capabilities that make them stand out:
Automatic image enhancement: Gone are the days of spending hours tweaking sliders and adjusting settings to enhance an image. AI algorithms can analyze an image and automatically enhance its quality by adjusting color balance, contrast, sharpness, and other parameters. This saves time and effort while delivering impressive results with a single click.
Object recognition and segmentation: AI-powered editors can intelligently identify and isolate objects within an image, allowing for precise editing and retouching of specific elements. This feature is particularly useful for removing unwanted objects, changing backgrounds, or applying targeted adjustments to specific areas of an image.
Content-aware editing and retouching: With AI's advanced content-aware capabilities, photo editors can seamlessly fill in missing details or remove imperfections, such as blemishes or distractions, while maintaining the overall integrity of the image. This ensures a smooth and natural-looking result without tedious manual editing.
Style transfer and artistic effects: AI can analyze the style and characteristics of renowned artists or specific artistic movements and apply them to images. By leveraging this capability, photo editors allow users to effortlessly transform their photos into stunning pieces of art with a single click. From classic paintings to modern abstract styles, AI-powered tools offer a range of creative possibilities.
Intelligent image resizing and cropping: Resizing or cropping an image while preserving the essential elements and composition is a challenging task. AI-powered editors excel in this area by intelligently analyzing the image content and automatically adjusting the dimensions without sacrificing quality or losing important details. This feature is particularly valuable when optimizing images for different platforms or specific dimensions.
---
Part 2: Best 3 AI-Powered Photo Editor Software
Several software options have integrated AI capabilities to empower photographers and enthusiasts with advanced editing tools. Here are some of the best AI-powered photo editor software available.
1. AVCLabs PhotoPro AI
AVCLabs PhotoPro AI is an advanced photo editing software developed by AVCLabs that utilizes artificial intelligence to automatically enhance and improve the quality of your photos. With intelligent features such as face enhancement, color optimization, colorize, and AI-powered upscaling, it allows you to effortlessly transform your images into visually stunning masterpieces. Furthermore, the software is equipped with a diverse range of selection tools that facilitate targeted editing of specific regions within the image. Whether you're a professional photographer or an enthusiast, AVCLabs PhotoPro AI provides an intuitive interface and powerful tools that enable you to achieve impressive results with ease, bringing out the full potential of your photos with just a few clicks.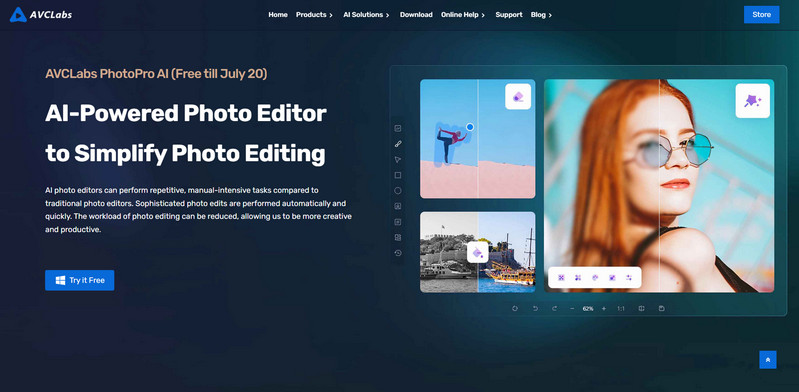 ---
Some of the AI-powered features that AVCLabs PhotoPro AI Includes
• Image Enhancement: Enhance your image quality by removing noise, grain, artifacts, and blur and sharpening to make your photos clearer and crisp

• Face Enhancement: Recognize the face details from low-resolution images and restoring extremely blurred faces

• Upscale: Increase image resolution by 2x, 3x, 4x without losing any quality

• Objects Removement: Remove unwanted objects so that all of your photos are clean and tidy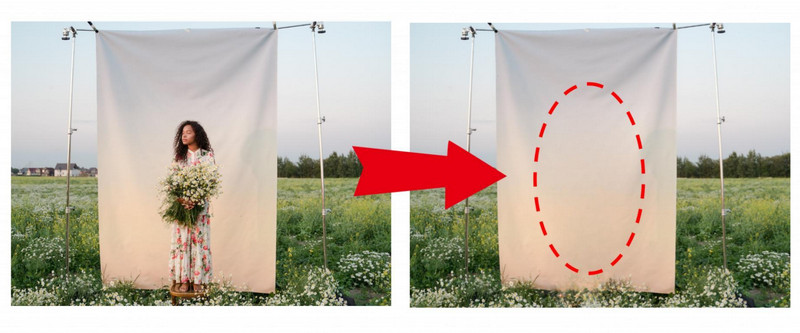 • Colorize: Colorize old black & white photo to make it come to life

• Style Transfer: Change the style of image to create stunning and unique look
---
Steps to Enhance Photo Quality With AVCLabs PhotoPro AI
Step 1: Download and Install
Download and install AVCLabs PhotoPro AI then launch it. Click the "Browse" button or drag and drop images to import them.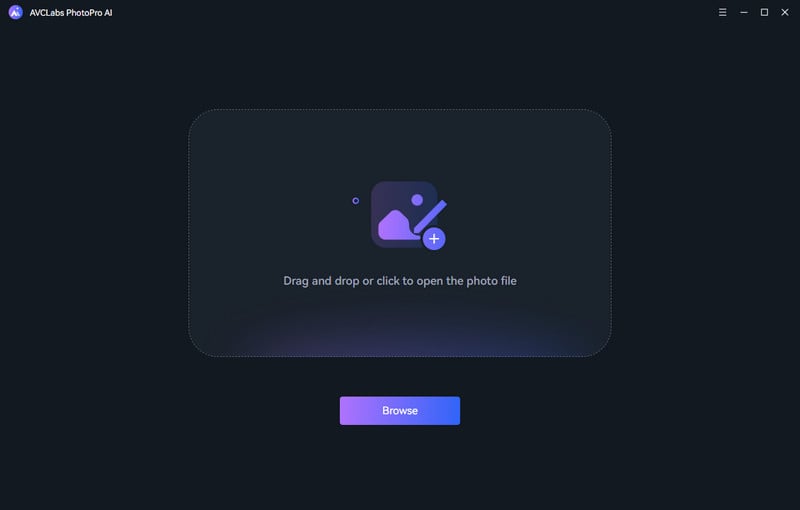 Step 2: Use Selection Tool
If you want to change only part of the image, such as remove, enhance or colorize. Then just click on the selection tool on the left and select the part you want to change. If you want to make changes to the whole picture, just skip this step.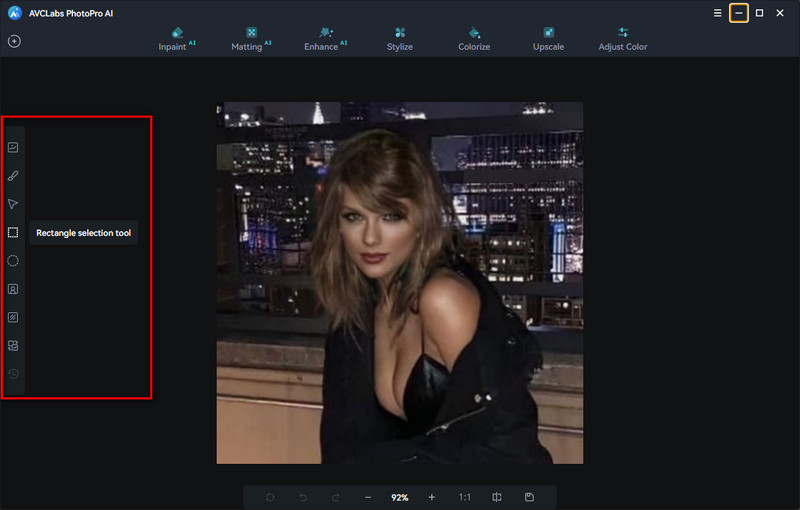 Step 3: Choose the AI Model
On the top of the main interface, you can choose various AI Models according to your needs. This time let us try Enhance. After select enhance, you can choose the level of improvement according to your specific requirements. If needed, you are able to turn on the Face Refinement option to depixelate portrait photos. After the selection is complete, just click "Apply".
Tips: "Standard" means enhance images with balanced improvements. "High Definition" means enhance images with more pronounced improvements, but it will take longer to complete.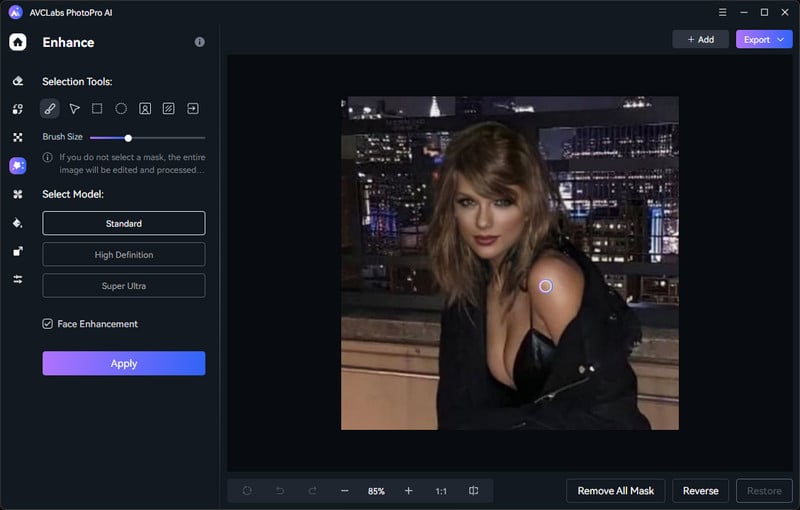 Step 4: Preview AI Enhancement Effect and Save the Image
Now you can drag the vertical bar to see the before and after effect of enhance. If you are satisfied with the result, click the "Save" button to save the photo to your corresponding folder.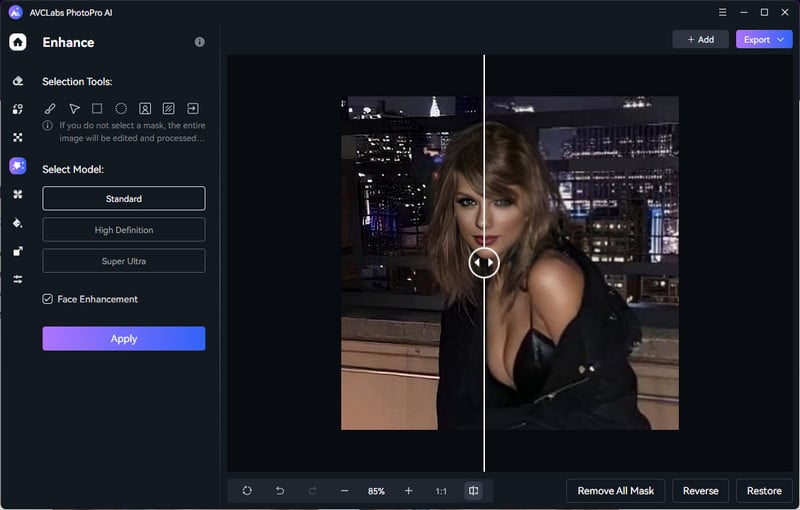 ---
2. AVC AI
AVC AI is an innovative online photo enhancement tool that harnesses the power of artificial intelligence and deep learning. With its advanced algorithms, this cutting-edge platform automatically detects key elements in your photos, such as faces and colors, and intelligently applies the necessary adjustments to enhance their overall appearance. By leveraging the capabilities of AI, AVC AI takes your photos to the next level, ensuring they look their best with minimal effort required from the user. Additionally, AVC AI garners popularity among novice and beginner users due to its user-friendly operation method and intuitive interface. The program offers a streamlined workflow where users can effortlessly complete picture upscaling with just a few simple steps, ensuring a quick and efficient enhancement process.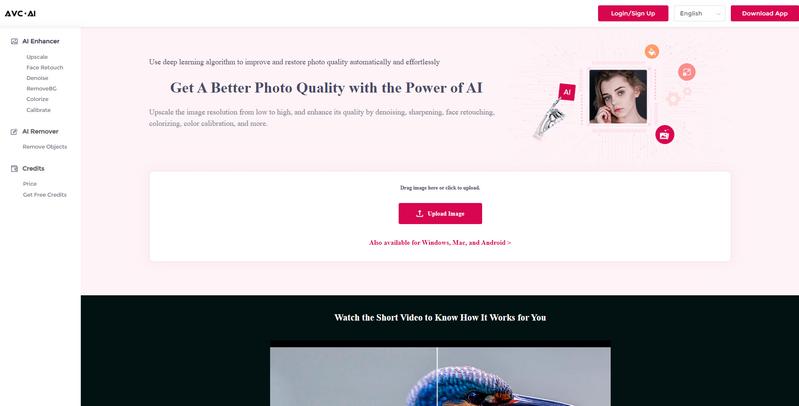 Platform:
Features:
Upscaling and enlarging photos to 1x, 2x, and 4x without losing details
Automatically detect face details and adjust photo color
Remove image noise and restore real details
Colorize old black and white photos
---
3. Skylum Luminar AI
Skylum Luminar AI is a powerful and user-friendly photo editing software that harnesses the capabilities of AI technology to simplify complex editing tasks and deliver stunning results. Its innovative features, such as AI Sky Enhancer, AI Skin Enhancer, and AI Structure, empower photographers of all levels to enhance and transform their images effortlessly. The AI Sky Enhancer intelligently detects and enhances the sky, bringing out its true colors and adding depth to the overall composition. With the AI Skin Enhancer, users can achieve natural-looking skin retouching, smoothing out imperfections. The AI Structure tool enhances fine details and textures, ensuring a captivating and balanced final image. Luminar AI's intuitive interface and intelligent editing options make it a popular choice among photographers who desire professional-quality edits without the complexity associated with advanced software.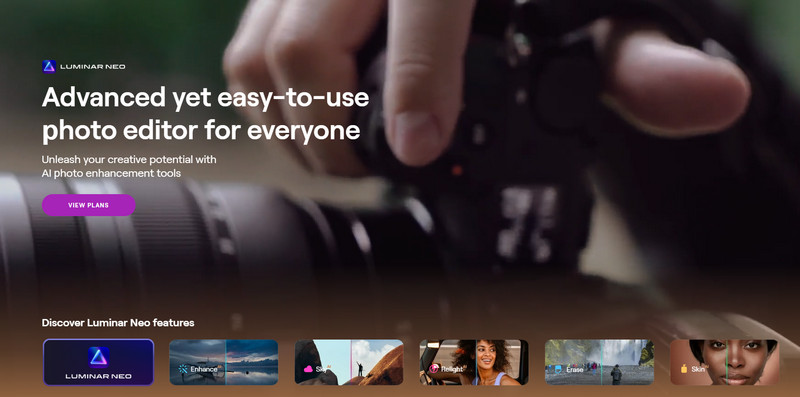 Platform:
Features:
Intelligently adjust image hue, saturation, and highlights
Detect different facial features and automatically fix portraits
Replace the sky in the picture and add vitality to the photo
Erase unwanted parts of a picture
---
Part 3: Best 3 AI-Powered Photo Editor Apps
In addition to software, there are several AI-powered photo editor apps available for mobile devices. Here are some top picks:
1. Remini
Remini photo editor has emerged as a highly popular mobile app for enhancing photos. With its remarkable ability to breathe new life into images, the app produces stunning, crystal-clear HD results. Remini excels in restoring, unblurring, and enhancing photographs, even those that are old or of low quality, all in a matter of seconds. Thanks to cutting-edge artificial intelligence technology, the once challenging task of revitalizing blurry or torn aged photos has become effortless and highly efficient in just seconds.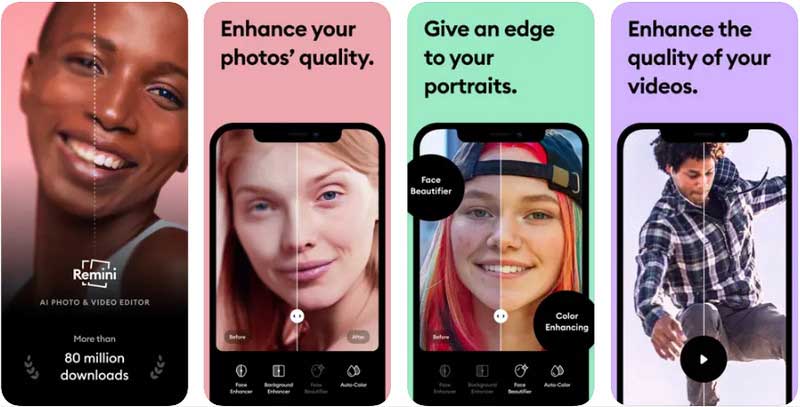 Platform:
Features:
Improve facial details and make facial details clearer
Enhance portrait photos to stunning, influencer-style output
Repair old or damaged photos
---
2. Fotor
Fotor is a cutting-edge, comprehensive photo editor that offers a multitude of features to enhance your selfies and portraits with stunning retouches. Powered by artificial intelligence technology, it can elevate the quality of your images with futuristic HD effects. With Fotor, you can effortlessly experience AI color enhancement, reduction of blurriness, improved focus and sharpness, haze reduction, correction of lighting problems, object removal, and many other powerful tools. Regardless of your previous editing experience, Fotor's AI photo editor enables you to achieve professional-grade results effortlessly.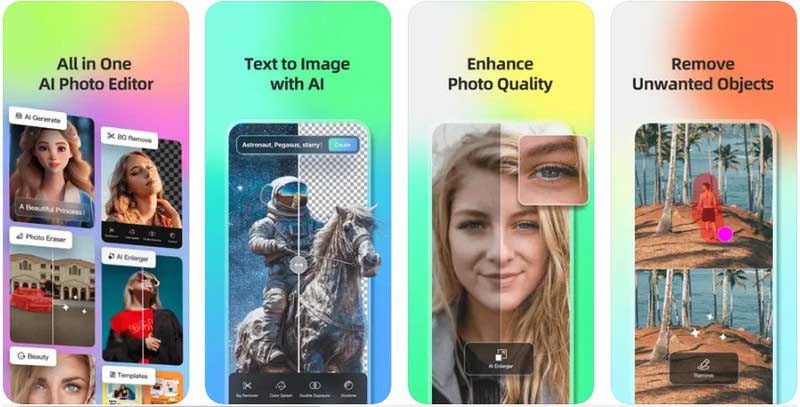 Platform:
Features:
Automatically adjust the light and color of the picture to improve picture quality
Get rid of face blemishes in one piece for flawless skin and flawless makeup with ease
Quickly remove unwanted objects and watermarks from images
Remove the background or change the background color
Convert pictures into art paintings
---
3. PicsArt
With over 1 billion downloads, PicsArt is a versatile AI-powered photo editor app that caters to both casual users and creative enthusiasts. Its robust feature set includes AI-powered filters, advanced editing tools, and a vast collection of stickers, overlays, and backgrounds to enhance your photos. PicsArt's AI capabilities enable users to apply automatic adjustments, remove unwanted objects, and even create unique double exposure effects. Beyond editing, PicsArt also serves as a social platform, allowing users to share their creations, discover inspiring content, and engage with a vibrant community of artists.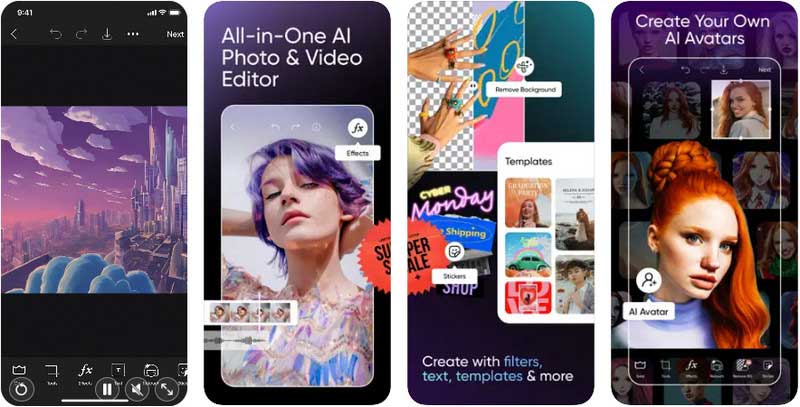 Platform:
Features:
Smart blur picture background
Turn text into pictures using AI
Enlarge and denoise low-quality images to make them clearer
Upload photos to generate unique, custom avatars with different styles
---
Part 4: Comparison and Selection Criteria
When it comes to choosing the right AI-powered photo editor, several important factors should be considered to ensure the best fit for your needs. Here, we delve into the key aspects to consider when comparing different software and app options:
Features: Evaluate the AI-powered tools and editing capabilities offered, such as automatic enhancements, object recognition, content-aware editing, style transfer, and intelligent resizing. Choose options that align with your editing needs and creative goals.
Ease of Use: Assess the software or app's interface and workflow. Look for user-friendly designs with intuitive tools and accessible functions. Consider solutions that provide tutorials or guides for a smooth learning curve.
Cost: Determine if the pricing structure is a one-time purchase or subscription-based. Evaluate the value and features provided to ensure they align with your budget and needs. Factor in any additional costs like in-app purchases or add-ons.
Platform Compatibility: Check if the software or app supports your operating system or device. Some options cater specifically to Windows or Mac, while others offer cross-platform compatibility. Ensure seamless integration into your existing workflow.
User Reviews: Research user feedback and testimonials to gain insights into performance, reliability, and customer support. Positive reputation and reviews indicate a reliable choice.
---
Conclusion:
AI-powered photo editing software and apps have significantly transformed the way we edit and enhance our photos. With their intelligent algorithms and advanced features, these tools provide users with exceptional editing capabilities and impressive results. Whether you prefer software for comprehensive editing or apps for on-the-go enhancements, the choices outlined in this article offer top-notch AI-powered solutions to cater to diverse needs and preferences. Embrace the power of AI and elevate your photo editing experience to new heights.
---
Related Articles