How to Change Photo Background in AVCLabs PhotoPro AI
The impact of a background on an image is undeniable. A busy or distracting backdrop can diminish the focus on your subject, whereas a carefully selected one can enhance your photo's appeal. If you ever want to change the background of some photos that lack visual interest, remove distracting elements from a photo, and change its environment without spending too much time in Photoshop, then AVCLabs PhotoPro AI might be a good choice for you. This article serves as a practical guide to utilizing this AI-powered photo editor to change photo backgrounds, as well as exploring additional online tools for this purpose.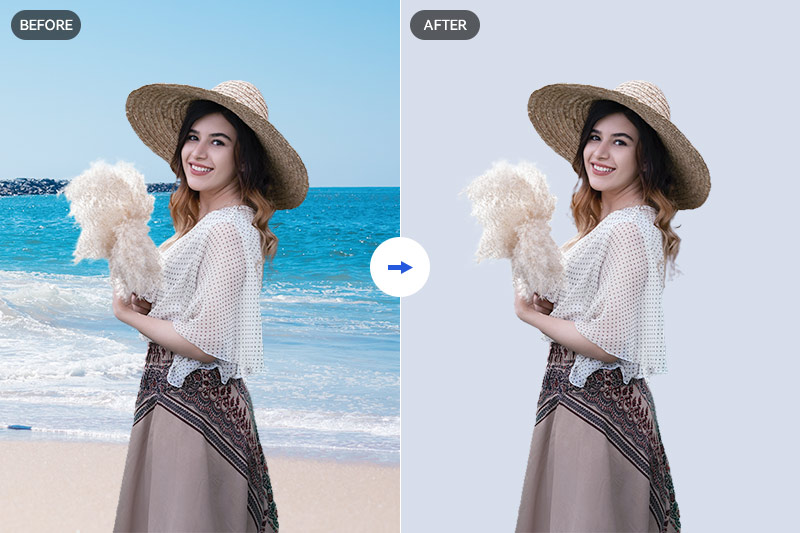 ---
Part 1: Overview of AVCLabs PhotoPro AI
General Information
AVCLabs PhotoPro AI, developed by AVCLabs Inc., is an AI-powered automatic image editor and enhancer. AVCLabs Inc. is renowned for its suite of popular products, including AVCLabs Video Enhancer AI and Photo Enhancer AI. The newly launched AVCLabs PhotoPro AI retains the user-friendly automation that characterized its predecessor while introducing a refreshed user interface and additional features, such as quick selection tools, aimed at providing users with greater control over their image editing experience.
Key Features
AVCLabs PhotoPro AI offers an array of advanced AI models designed to address various image quality issues, including the core function of changing photo backgrounds. Unlike some image background removers that instantly erase backgrounds upon image upload, AVCLabs PhotoPro AI adopts an approach where users must first select the primary subject they wish to retain. This approach provides users with a broader creative canvas, particularly when combined with other functions like removing blurriness and noise, colorizing black and white images, upscaling low-resolution images, and eliminating unwanted elements such as lines, watermarks, and blemishes.
Regarding its background-changing capabilities, AVCLabs PhotoPro AI not only removes backgrounds to make them transparent but also offers preset background colors and the flexibility to replace the background with any image of your choice.
Key Features of AVCLabs PhotoPro AI
Convert a blurred picture to HD Quality
Colorize B&W photos to make it come to life again
Cutout image to make the background transparent
Remove unwanted objects, people, watermarks
Change the style of image to create unique look
Upscale photos up to 3x, 4x without losing quality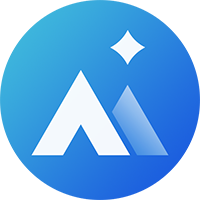 ---
Part 2: How to Change Photo Background—Detailed Guide
Step 1: Upload the Image
Install AVCLabs PhotoPro AI and launch it. Click the Browse button or drag and drop the file into the workplace directly. The software offers a free trial for new users.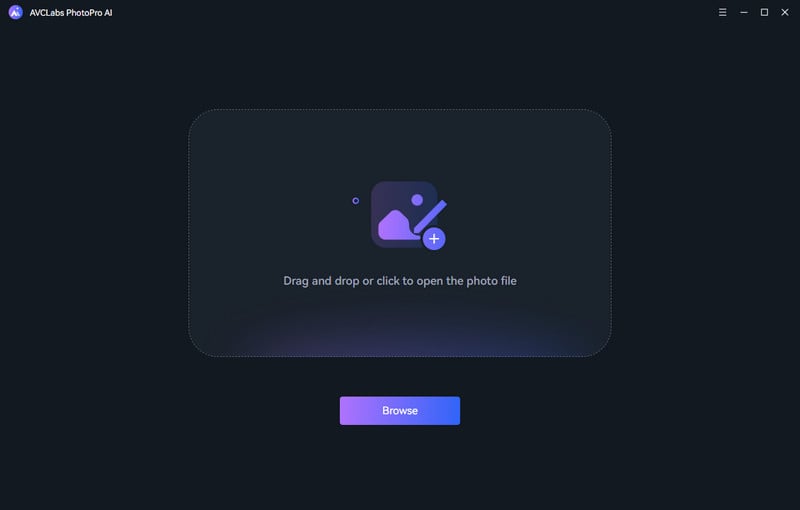 Step 2: Select the Subject in the Foreground
First, you need to highlight the subject that should be retained using the quick selections tools. If the image has a clear distinction between the foreground and background, then the Background and Foreground selection tool is the ideal choice. Click the Foreground Selection tool, and it will automatically identify and cover the foreground objects. Alternatively, you can use the Background Selection tool and click the reverse button to switch the selection to the foreground.
For more complex subjects or custom selections, the quick selection tool is your best option. You can find detailed guidance on using this tool in a video tutorial.
Video Tutorial: How to Change Photo Background with the AI Tool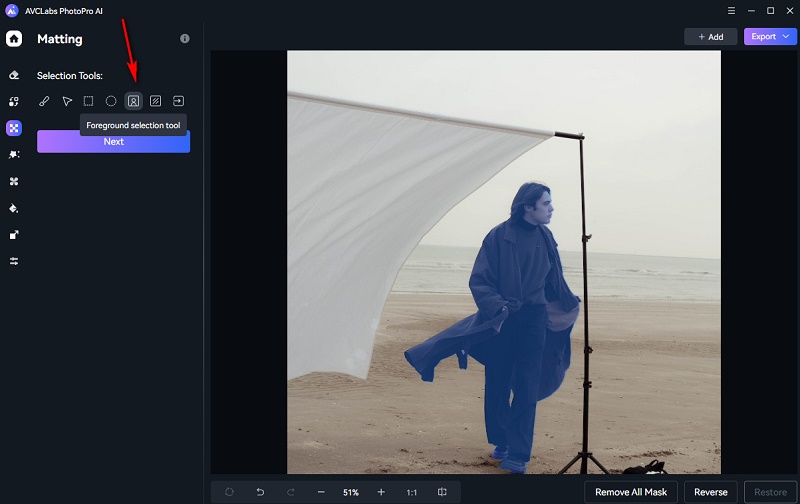 Step 3: Change Photo Background
Once you've made your selection, click on the "Matting AI" option and apply it. This action will remove the background, leaving it transparent by default.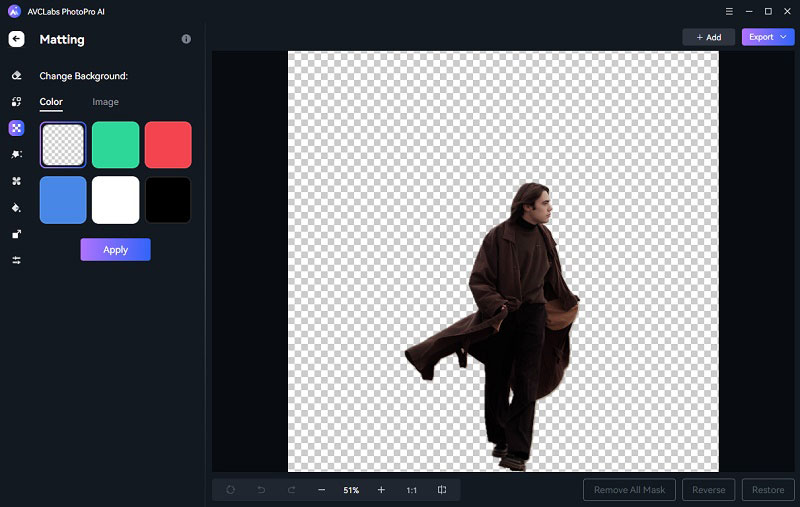 To change the photo background, access the drop-down menu and select your desired color or choose the "Custom" option to specify a new photo as the background.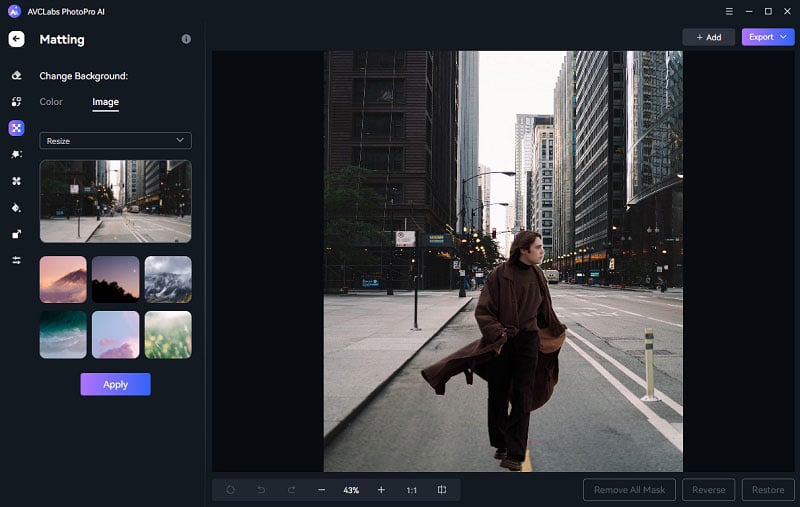 Step 3: Save the Image
After the process is finished, you can save the edited image in source format, JPEG, JPG, PNG, and BMP, or save it as a mask.
---
Bonus: How to Change Photo Background Online for Free
For people who prefer online solutions, there are also many good choices.
1. AVC.AI
AVC.AI stands out as a versatile online AI image editing platform that can significantly enhance image quality. It boasts seven distinct AI models, each addressing various image quality issues, such as upscaling, face retouching, denoising, background removal, colorization, color calibration, and object removal.
This online tool is particularly suit for people who only need to erase the background but doesn't require to change the background. Nonetheless, it's a feature-rich tool that's entirely free to use. Unlike some other online tools that provide limited output quality or add watermarks to processed images, AVC.AI offers new users free credits to explore all its features without any restrictions.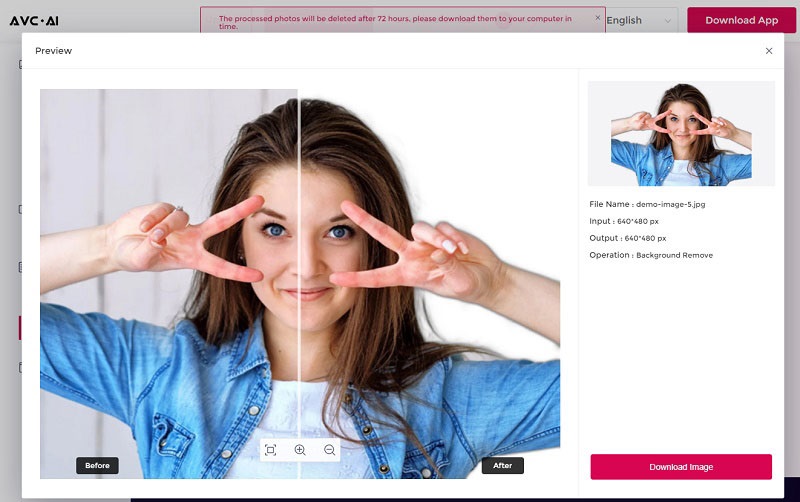 2. Remove BG
Designed explicitly for background removal, Remove BG is a dedicated online tool that instantly erases backgrounds upon image upload. Users can further customize their images by blurring the background, altering its color, selecting from preset scenes, or even creating entirely new backgrounds.
While the results are impressively natural, it's worth noting that the free version may not provide high-definition downloads. If that's not a concern for your needs, it's definitely worth a try.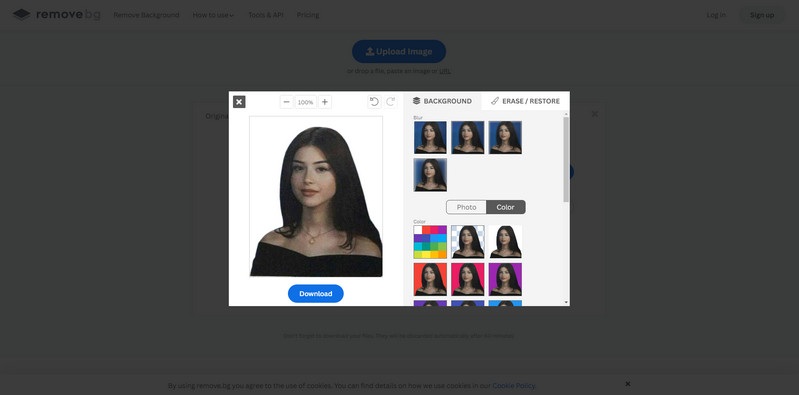 3. Pixlr Background Remover
Pixlr Background Remover is another popular choice for those seeking to change photo backgrounds online. Similar to Remove BG, this tool processes images instantly upon upload and offers the option to change photo colors (limited to black and white). While the free version does not have significant limitations, the processed results may not always be flawless. For more precise adjustments, a premium subscription or Pixlr E may be necessary.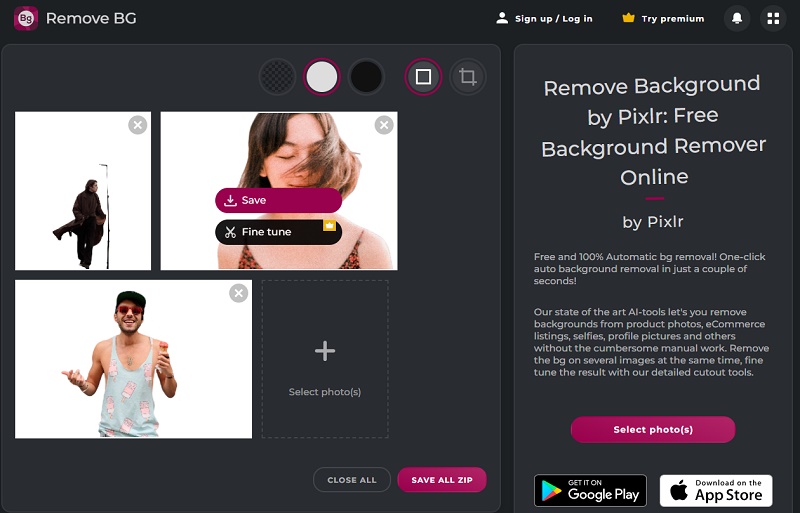 ---
Conclusion
In conclusion, mastering the art of changing photo backgrounds, whether through AVCLabs PhotoPro AI or online tools, empowers you to enhance your photos creatively. So, take these skills, experiment, and transform your images into captivating visual stories that grab attention and convey your message effectively in the digital world.
---
Related Articles