Best 5 Anime Character Creators to Bring Your Imagination to Life
Anime is a popular form of animation that originated in Japan and has gained global popularity for its unique storytelling and vivid character designs. Many anime fans enjoy creating their own original characters or customizing their favorite ones using various tools and websites. In this article, we will introduce some of the best anime character creator that you can use for free or for a reasonable price.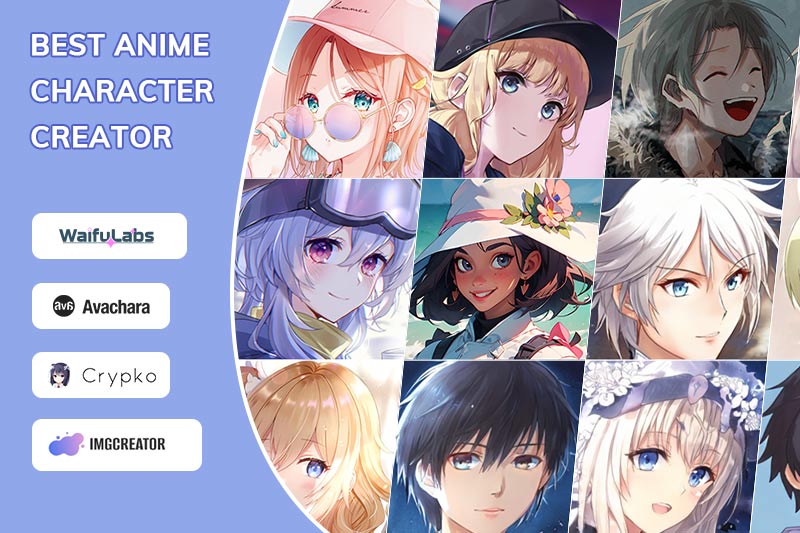 ---
Part 1: Best 5 Anime Character Creators
If you are one of anime fans enjoy creating your own original characters, you might be interested in using an anime character creator tool that can help you design and generate your own anime avatars. There are many online and offline tools available, but not all of them are easy to use, offer a variety of options, or produce high-quality results.
To help you find the best anime character creator for your needs, we have compiled a list of the top 5 anime character creator tools. These tools are:
Crypko Free Avatar Maker - Beyond Design, Into Gameplay
Crypko Free Avatar Maker is a web-based platform that harnesses the power of deep learning technology and generative adversarial networks (GANs) to deliver impressive anime character design and generation. This user-friendly tool allows individuals to create anime-style character faces or upper bodies with a level of quality that rivals professionally crafted artworks. Users have the flexibility to fuse characters, customize attributes like hair color and facial expressions, and tailor their creations to suit their preferences.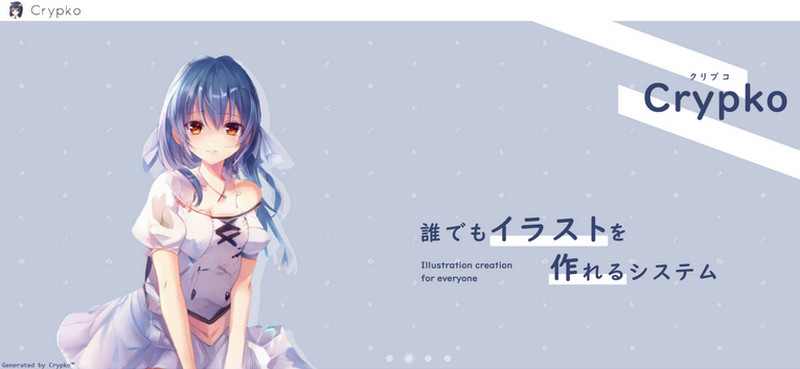 ---
Waifu Labs - Your Personal Anime Companion
Waifu Labs is an AI-powered online platform where users can craft and personalize anime-style characters, especially female characters. Utilizing artificial intelligence and deep learning, the platform generates distinctive and original anime characters according to user preferences. Users have the flexibility to tweak multiple aspects like hairdos, facial traits, attire, and accessories to craft their unique waifu characters. Waifu Labs has garnered widespread acclaim for its capacity to swiftly and effortlessly produce a diverse array of anime-style characters, meeting the desires of anime enthusiasts and artists alike.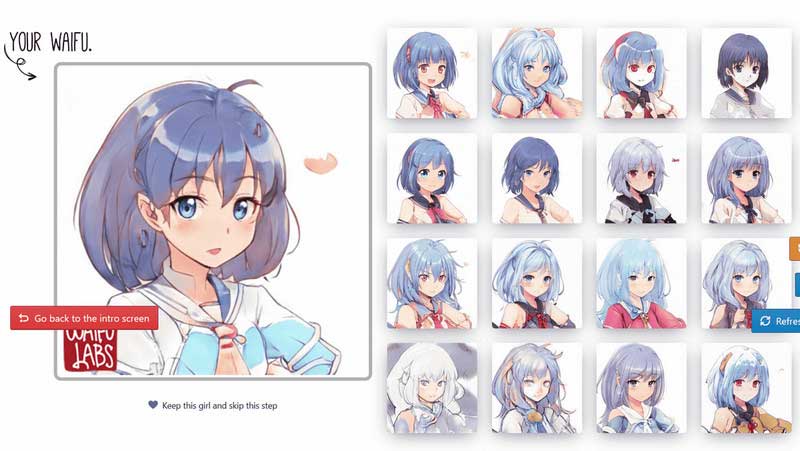 ---
Avachara - Simple and User-Friendly
Avachara is a user-friendly online character creator that caters to those looking to design avatars for social media, gaming profiles, or any online presence. The platform simplifies the customization process, offering a plethora of options for hairstyles, accessories, and clothing. Avachara's versatility ensures that you can design avatars ranging from cute and cartoonish to more intricate and detailed characters.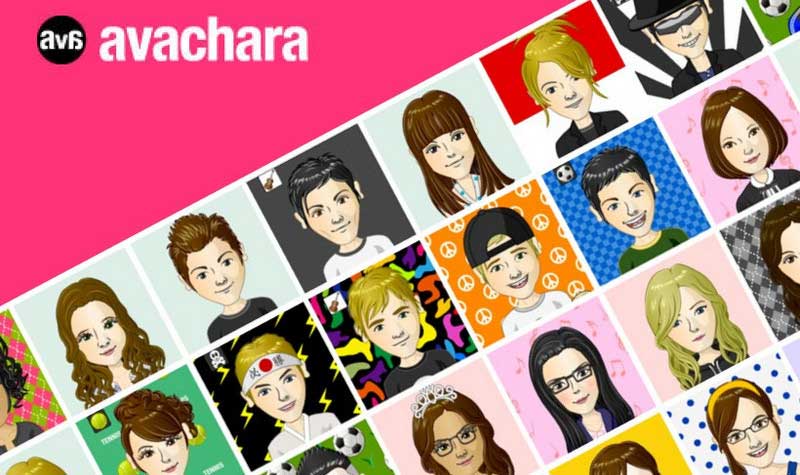 ---
ImgCreator.AI - Fueling Artistic Expression
ImgCreator.AI is a versatile tool that serves as both an anime character creator and an AI image generation platform. It empowers users with a wide range of customization options for character features, expressions, and attire, making it a top choice for artists and designers looking to bring their unique ideas to life. What sets ImgCreator.AI apart is its artistic flexibility and vast library of over 100 text-to-image models and styles, enabling users to craft their own artwork. Additionally, it can transform text descriptions into images, making it ideal for generating illustrations, anime, and concept design images.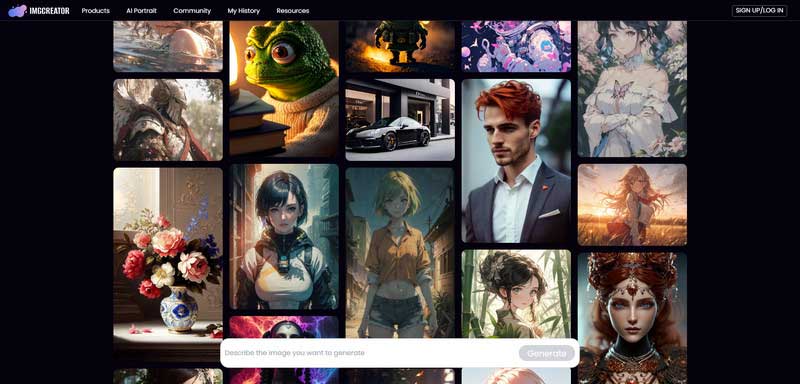 ---
Make Girls Moe - Embrace the Essence of 'Moe'
The name says it all—Make Girls Moe is a unique character creator that focuses on capturing the essence of "moe," a term from Japanese pop culture denoting deep affection or attraction towards fictional characters. This tool allows users to design female characters with a cute, endearing, and charming aesthetic. It's perfect for those who wish to create characters that embody the qualities of innocence, charm, and vulnerability that define "moe."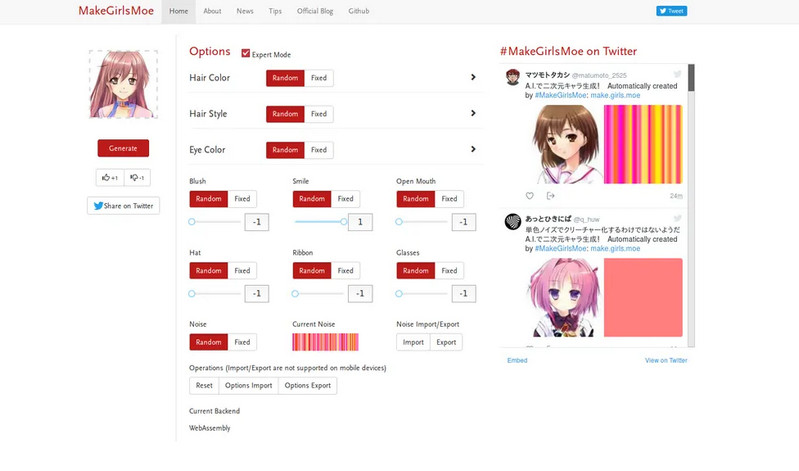 ---
AVCLabs PhotoPro AI - Boost Your Anime Photos and Characters
While creating anime characters from scratch is a thrilling endeavor, sometimes you may want to enhance existing anime photos or characters. That's where AVCLabs PhotoPro AI comes into play. This powerful tool employs cutting-edge AI technology to elevate your anime photos and characters. Whether you've captured a stunning screenshot from your favorite anime series or you want to refine your custom-made characters further, this tool offers a wide range of features to help you achieve your desired results.
Key Features of AVCLabs PhotoPro AI
Increase image resolution without quality
Automatically enhance photo color and quality
Change the style of image to create unique look
Make the old photos to high-definition and clarity
Refine images with precision using a wide range of retouching tools and selection tools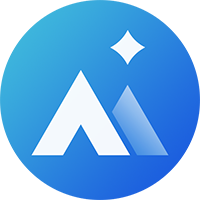 Steps to Increase Anime Image Resolution with AVCLabs PhotoPro AI
Step 1: Download and Install AVCLabs PhotoPro AI
Downloading and install AVCLabs PhotoPro AI on your computer, then open it.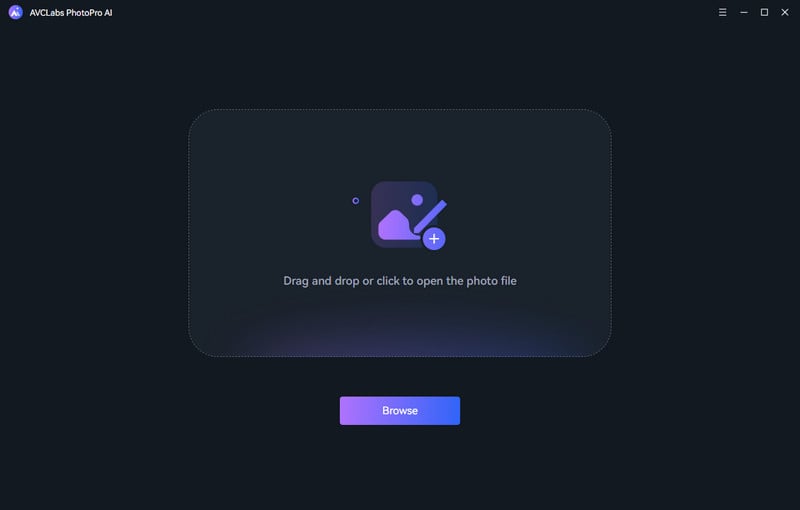 Step 2: Import Anime Image
Launching the program and click the "Browse" button to import the anime photo or drag and drop the anime photo to the program window directly.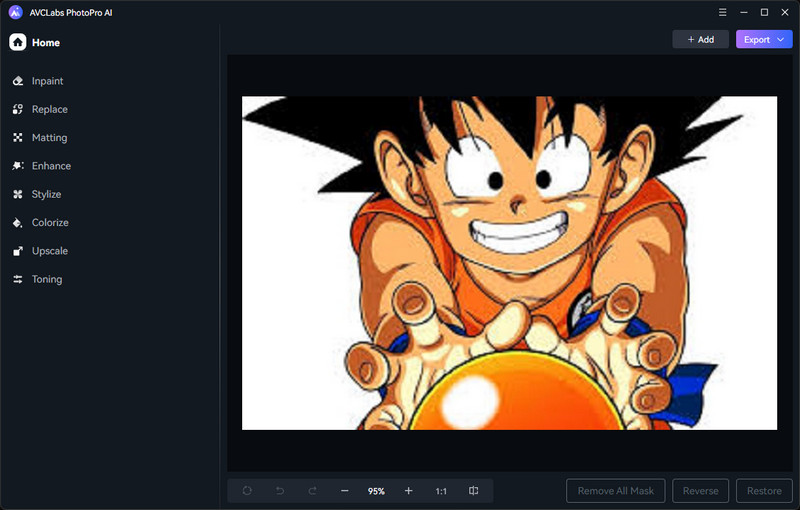 Step 3: Choose an AI Model
If you want to increase the resolution of an anime image while enlarging it, just choose "Upscale" Model. Then go to the "Magnification" option. Here you can choose 1X, 2X, 3X and 4X to upscale the anime image according to your needs.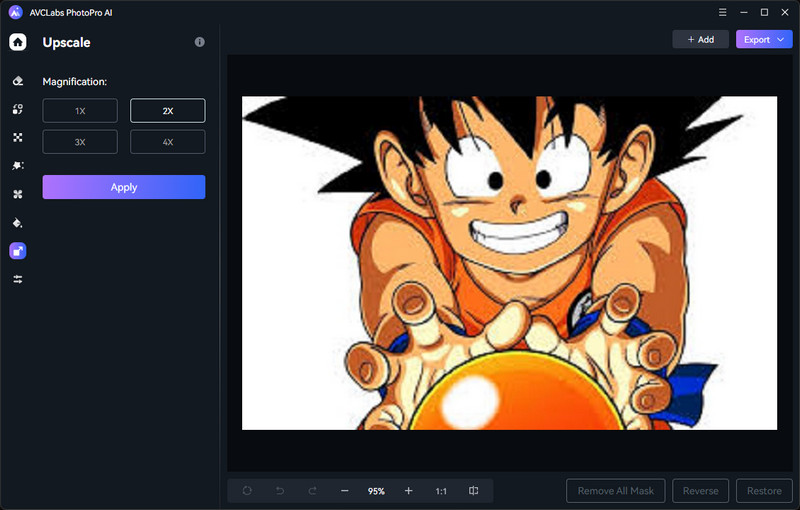 Step 4: Preview and Export the Upscaled Anime Image
When it finishes, you will get the desired effect you want. Just slide the vertical bar left and right to see the comparison before and after Upscale. After checking the effects, just click on the Save button to to get the upscaled anime photo on your computer.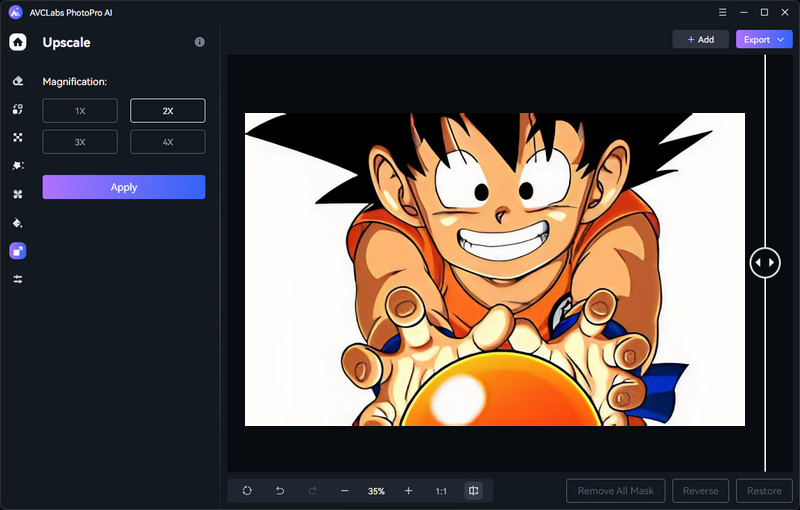 ---
Part 3: Conclusion
Anime character creation and image enhancement have never been more accessible and exciting, thanks to the innovative tools available today. Whether you're designing characters from scratch or looking to elevate existing anime images, it's possible in today's world. These tools empower artists and anime enthusiasts to explore their imagination and share their unique characters and stories with the world. So, embrace your creativity and start crafting your anime characters and enhancing your anime photos today!
---
Related Articles