Top 7 Anime Image Converters Online Free: How to Convert, Enhance, and Upscale Anime Images with AI
How to convert a normal image into an anime? Is there a free AI that turns photos into anime?
Anime, or Japanese animation, has a large fanbase where images from popular shows or movies have been shared and admired worldwide. Converting photos into an anime-style look can be a great way to make unique digital art pieces or create an interesting profile photo. With the advent of ChatGPT, AI programs have attracted a lot of attention. There are many kinds of AI image-generation tools among them. As long as a picture or a description is needed, AI can convert it into pictures of various anime styles.
This blog post will discuss the top 7 anime image converters available online for free and how to use them effectively, so you can transform regular photos into stunning works of art, as well as show you how to enhance and upscale anime images you generate yourself or download online.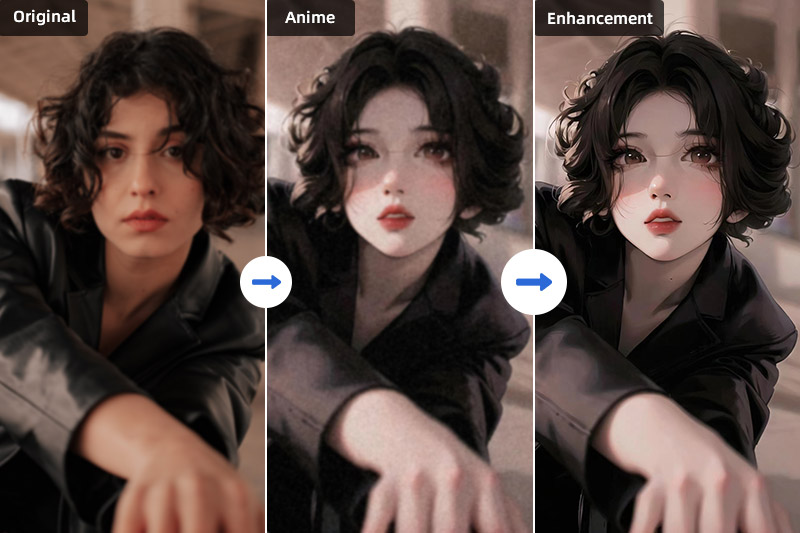 ---
Part 1: Top 4 Anime Image Converters Online for Free
1. Fotor
Fotor AI Image Generator offers a versatile solution for converting various types of images into captivating anime-style artwork. Whether it's a portrait, an animal, a landscape, or a bouquet of flowers, this online anime image converter has got you covered. With seven preset anime filters to choose from, including fairytale, Disney, game art style, cartoon self, illustration art, AnimeⅠ, and AnimeⅡ, you can easily find the perfect style to suit your preferences. As a new user, you'll receive 5 credits upon logging in for the first time. 1 credit generates 1 anime image, which means you can only generate 5 images at most for free.
To convert your image to anime, simply click the "Anime Your Picture Now" button, switch to Fotor's AI image generator, select "From Image" on the left, and upload your desired image. Select a filter style and how many images you want to generate (e.g., if you choose two images, then it will generate two different anime images based on that filter). Then click "Generate" to start the process. Once the conversion is complete, preview and download your stunning anime picture with ease.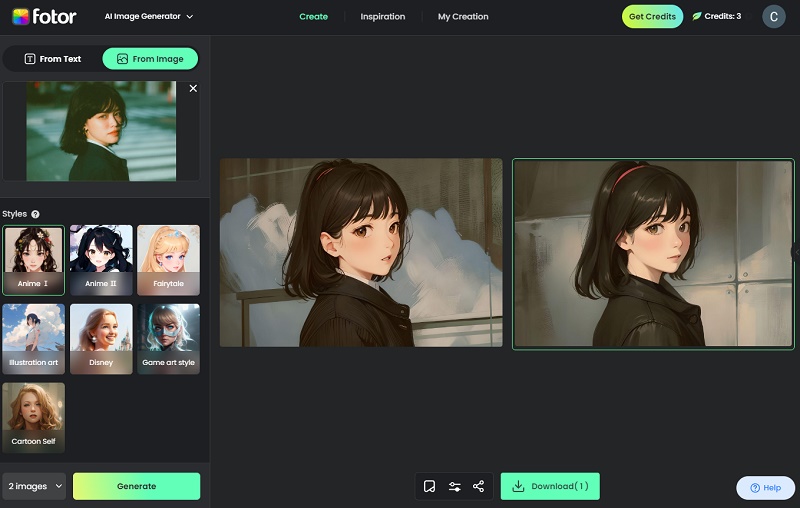 Pros:
It supports the conversion of various types of images
The preset anime filters can meet most of your demands.
Cons:
While the initial 5 credits are provided for free, users will need to purchase additional credits if they wish to convert more than 5 images.
The tool does not offer extensive customization options, limiting users' ability to fine-tune the output to their specific preferences.
---
2. Anime Filter
Anime Filter is a free and user-friendly online anime image converter that stands out for its simplicity. This filter excels at producing a painterly and realistic style, setting it apart from other options. Its interface is clean and straightforward, making it easy for users to navigate.
To convert an image, visit the official website, and choose whether to automatically crop the image and the image type (face, landscape, or auto-detect). Then, upload the image by clicking or dragging and dropping it onto the platform. Once the upload is complete, the program immediately starts processing. To save the converted image, simply right-click or long-press on it.
After comparing the effects of different types of images, it is worth noting that this tool is particularly recommended for converting portrait images, and enabling the "Auto Crop" option is advised to ensure satisfactory results.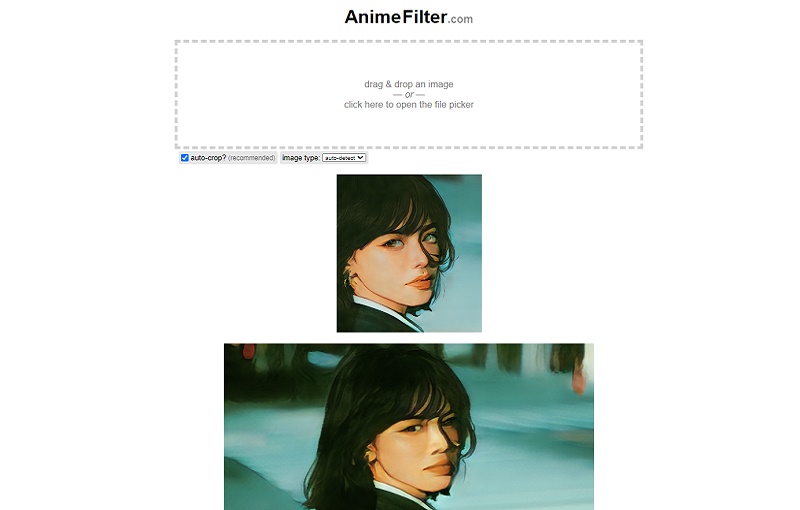 Pros:
Completely free to use without any limitations.
Ad-free and user-friendly interface.
Cons:
Processing Variability: Processing results vary considerably for different types of images.
No Filter Option: Users do not have the choice to select different filters, limiting their customization options.
---
3. Drawever
Drawever is another online anime image converter. Similar to Anime Filter, once an image is uploaded, it automatically begins the conversion process and defaults to cropping portraits. The official website claims that it can convert any type of image, but our testing revealed that it primarily works well with portrait images. Uploading a landscape image triggers a prompt indicating that the face cannot be detected, requiring an alternate image. Despite this limitation, the tool performs admirably when converting portrait images.
Users can use the tool for free, but the resulting images contain a watermark. To remove the watermark, credits are required. Upon creating an account for the first time, users receive 10 free credits, and it costs 5 credits to convert a single image. Therefore, it is possible to download two watermark-free anime images for free.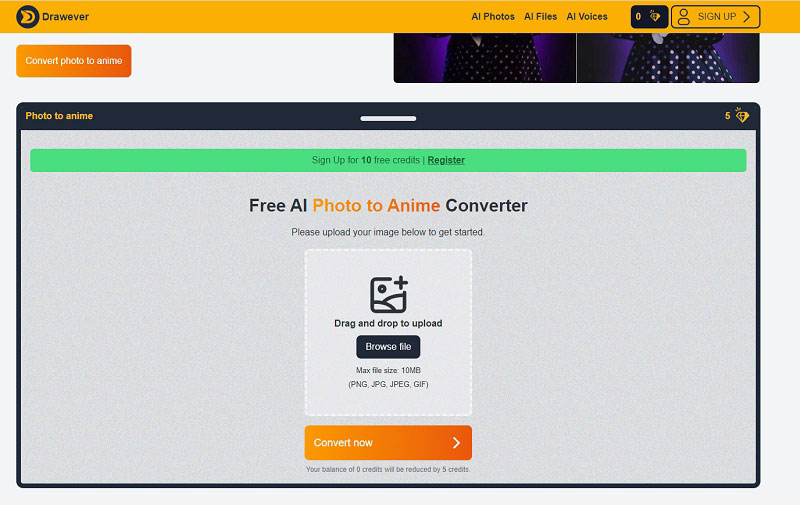 Pros:
It supports PNG, JPG, JEPG, and GIF formats.
It allows to convert images as many times as desired.
It performs well in converting portrait images into anime style.
Cons:
Doesn't work well with other types of images, such as landscapes.
The resulting images contain a watermark, which can be removed by using credits.
---
4. Media.io
Media.io is a portrait-only anime image converter that offers unique anime filters not found in other converters, including 3D, barbie, retro comic, sketch, and more. It provides a free trial that includes 3 free AI tools and 12 AI tools with limitations. Fortunately, this anime image converter falls under the category of the 3 free AI tools, allowing you to use it without any restrictions.
To convert your photo into an anime-style image, simply select the desired photo from your device or drag and drop it into the designated area. Choose from a range of anime filters and select a facial expression. Benefit from the real-time preview feature, which allows you to instantly see how the changes affect your photo. Finally, download the high-quality anime-style version of your photo.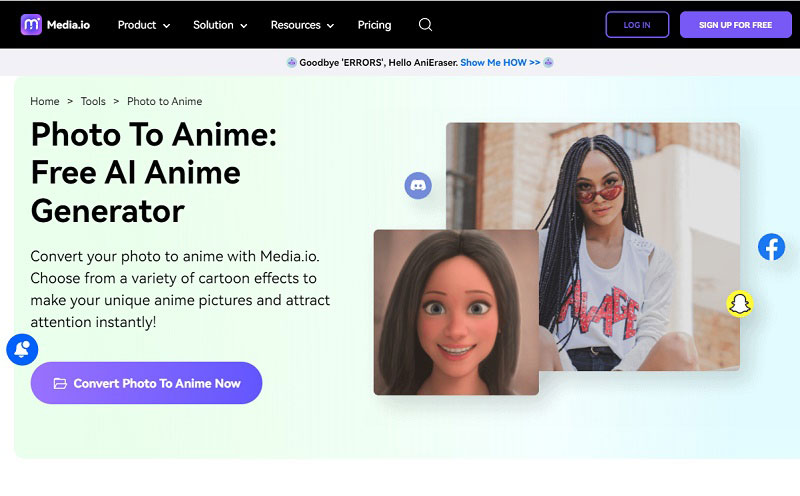 Pros:
It has unique anime filters that set it apart from other converters.
Users can enjoy a free trial that includes 3 AI tools, including the anime image converter, without any limitations.
The platform offers a real-time preview feature, enabling users to see immediate visual feedback of the applied changes.
Cons:
Limited to converting portrait images.
---
Part 2: Best 3 App to Turn Photos to Anime
1. Anime AI
Anime AI app enables anyone to become a skilled artist and create their personalized anime images. Users can select their preferred anime style and utilize corresponding filters to turn their photos into anime or cute group pictures. Furthermore, the app offers the option to choose from various themes like ninjas, pirates, and mermaids, providing users with entertaining AI-generated avatars.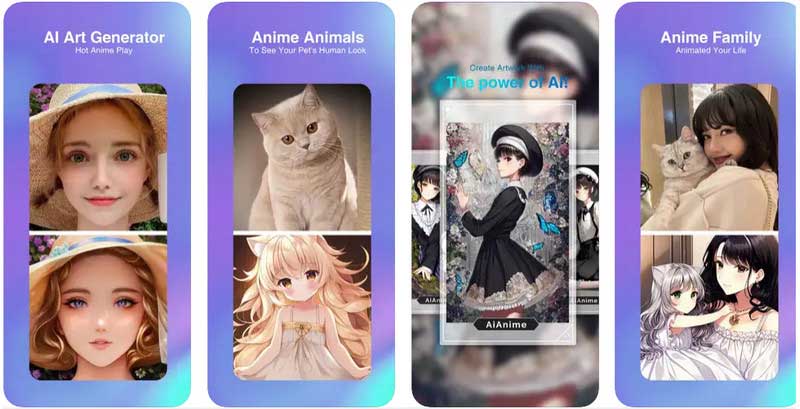 Pros:
Offer a variety of anime styles to choose from, including shoujo, seinen, and mecha.
Reduce the time and cost required to create anime.
Learn from a large database of anime images and create new ones based on different styles and preferences.
Cons:
The free version is inundated with advertisements.
---
2. ToonApp
ToonApp is a user-friendly and imaginative application crafted to turn regular photos into lively and delightful cartoon-style visuals. Providing a diverse selection of cartoon filters and artistic effects, the app can also animate photo backgrounds to seamlessly complement your anime-inspired selfies.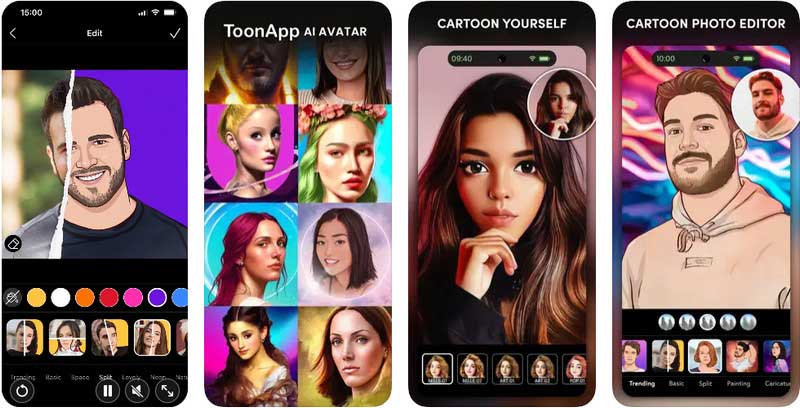 Pros:
Stand out by providing the ability to animate photo backgrounds, enhancing the overall visual appeal of anime-style selfies.
All-in-one picture editing app to avatarify and cartoonify selfies.
Create a magical brush effect to enhance the portrait mode for a flawless result.
Cons:
Subscription prompts appear following each click.
---
3. Anime Camera
Anime Camera App is a cutting-edge tool that puts the dynamic and captivating realm of anime at your disposal. It empowers users to create live anime artwork for selfies, turning ordinary photos into anime masterpieces. Immerse yourself in the excitement of becoming an anime character in real-time with this innovative app.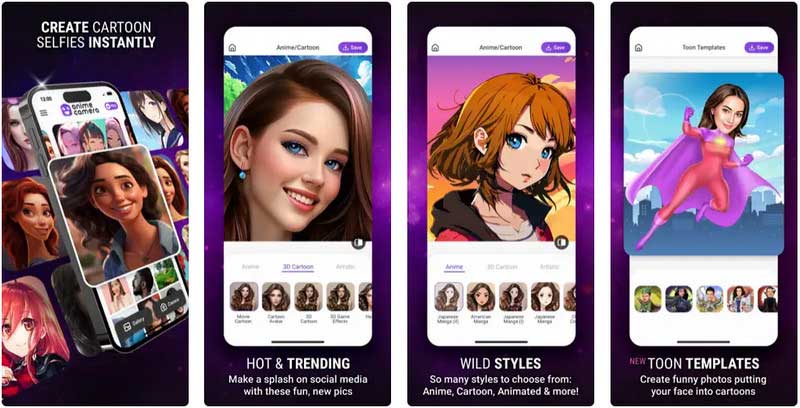 Pros:
Utilize cutting-edge technology to bring the vibrant world of anime to your photos.
Enable the creation of live anime-style artwork for selfies, adding a dynamic element to photo editing.
Experience the thrill of transforming yourself into an anime character in real-time, enhancing the interactive aspect of the app.
Cons:
Certain premium features or functionalities may require a subscription, which could be a drawback for users seeking a free experience.
---
Part 3: How to Convert, Enhance, and Upscale Anime Images? - AVCLabs PhotoPro AI
Discovering that some of the animated pictures generated may not meet your envisioned quality, showing issues like blurring or pixelation, is not uncommon. Fortunately, a range of tools and techniques has emerged to elevate anime character quality, each presenting distinctive capabilities and approaches to refine character design. Among these, the most noteworthy is the application of AI tools.
AVCLabs PhotoPro AI is an advanced solution designed to enhance the quality of images. This innovative tool employs artificial intelligence to upscale and refine the details of your images, providing a significant boost in clarity and sharpness. Whether you're working with AI-generated content or other images, PhotoPro AI offers a powerful suite of features to improve resolution and elevate visual aesthetics.
Key Features of AVCLabs PhotoPro AI
Enhance photo quality with advanced technology
Change the style of image to create unique look
Upscale photos up to 3x, 4x without losing quality
Remove unwanted objects, people, watermarks
Colorize B&W photos to make it come to life again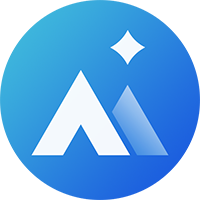 This part will show you the detailed steps to convert a photo to anime, enhance its quality, and upscale it without losing quality.
Step 1: Install Anime Image Converter and Upload an Image
Download and install AVCLabs PhotoPro AI and launch it. Click on the "Browse" button to add an image, or simply drag and drop the image directly onto the workspace for a quick upload.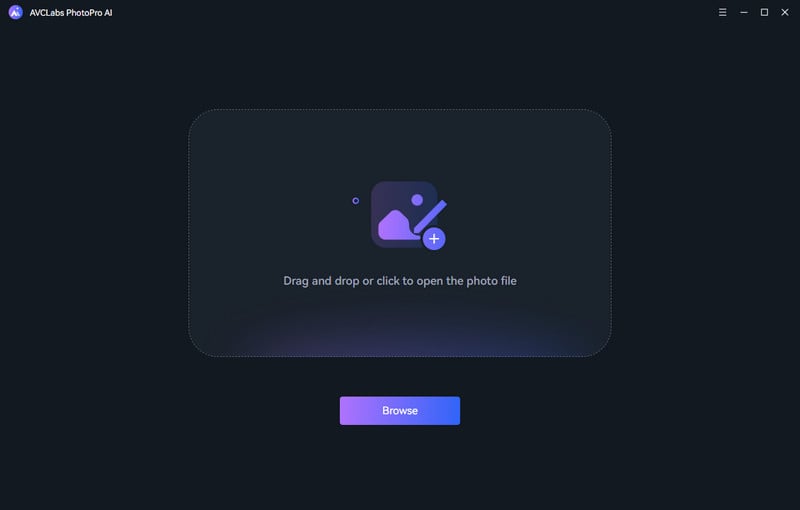 Step 2: Apply an AI Model
There are seven AI models shown on the top menu bar. Each of them is designed to solve different image quality issues.
1). Enhance Anime Images
Click AI Enhance and select a model according to your needs. For portrait images, it is recommended to check Face Enhancement, for it will recover facial details from blurry images. Then click the Apply button to stat enhancement.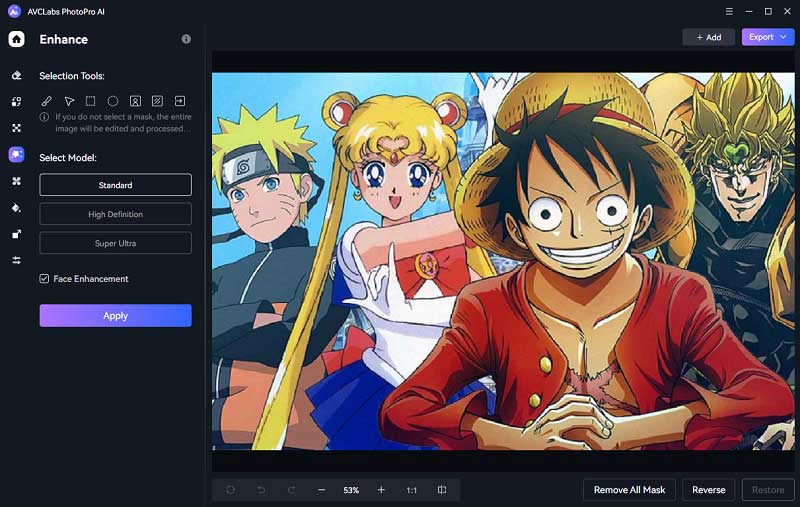 If you only want to enhance a partial image, we recommend using the object selection tool to cover that part. Click it and allow it a moment to extract the object, left-click to select an area, and right-click to deselect it.
2.) Upscale Anime Image
Select the Upscale model. Click on it and choose the magnification levels, including 1X, 2X, 3X, and 4X. Then apply it.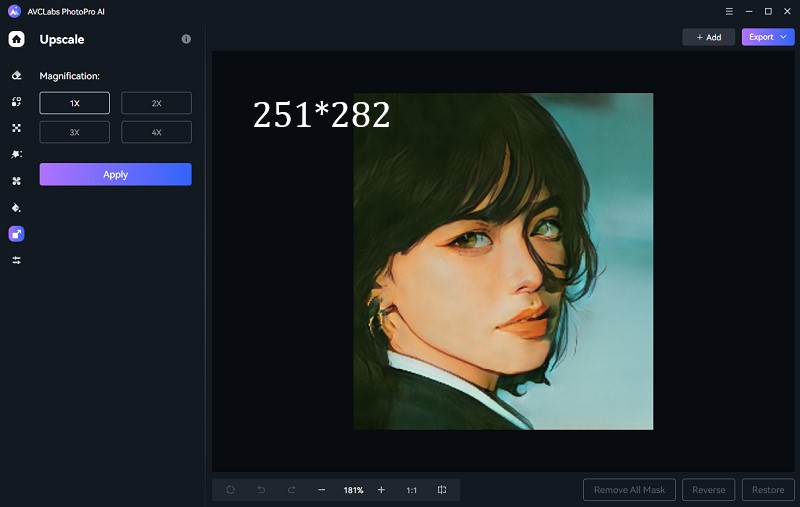 Step 3: Preview and Save the Processed Photo
Once the conversion process is complete, you can preview the original and converted images side-by-side by clicking on the "Contrast" button. If you're satisfied with the results, click on the save button to download them to your local disk.
1). Enhanced Image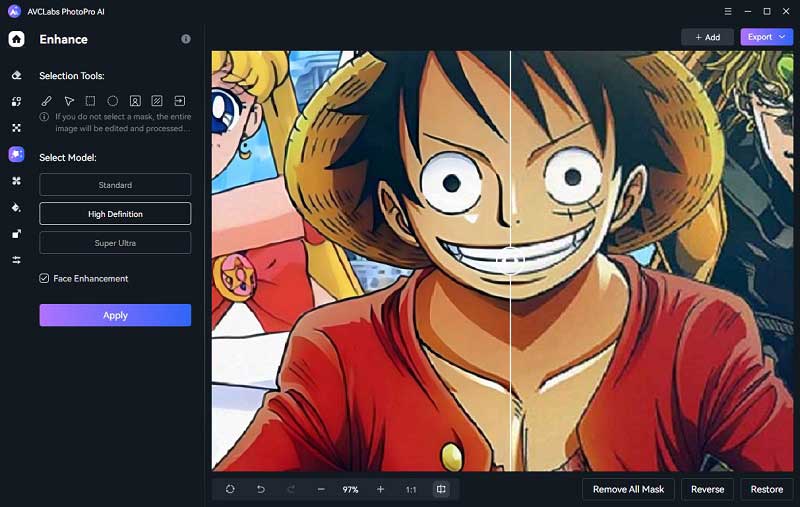 2). Upscaled Image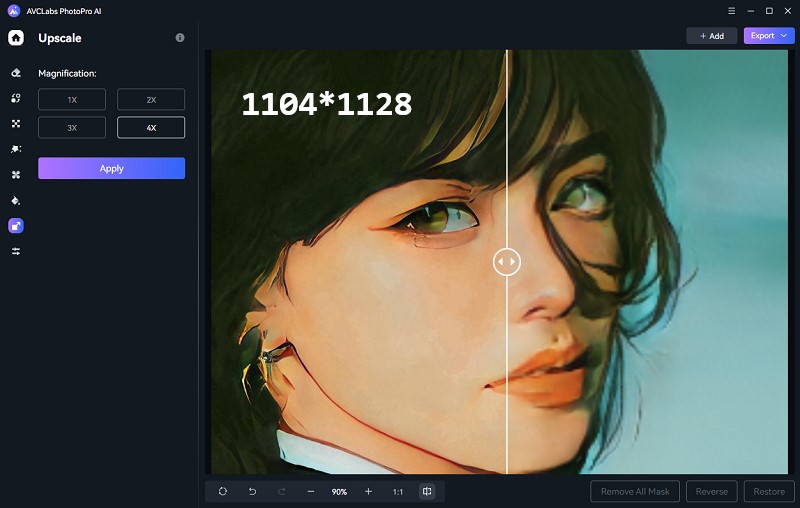 ---
Video Tutorial: How to Convert and Upscale Anime Images with AI
---
Conclusion:
This article covers 7 free anime image converters, including both online tools and apps. In addition, AVCLabs PhotoPro AI is a comprehensive desktop tool for enhancing and upscaling anime images. It integrates impressive features like AI Quality Enhancer, and AI Image Upscale to help you achieve stunning results for any project. The software comes with a detailed video tutorial and is user-friendly even for advanced users.
---
Related Articles