Review of the Generative AI for Everyone - Adobe Firefly AI
"What is Adobe Firefly AI? Is Firefly good? How to use Adobe Firefly?"
As artificial intelligence continues to redefine the boundaries of creativity and innovation, Adobe has stepped into the spotlight with its cutting-edge tool. Adobe Firefly AI is a new generative AI tool that aims to make AI-powered creativity accessible to everyone, from professional artists and designers to hobbyists and beginners. With Firefly, users can generate unique images, apply text effects, and manipulate vector artwork using simple text prompts.
This review will take a closer look at Firefly's features and capabilities, and explore how it can be used to create a wide range of creative content. It will also discuss Firefly's strengths and weaknesses, and provide an overall assessment of its value as a generative AI tool for everyone.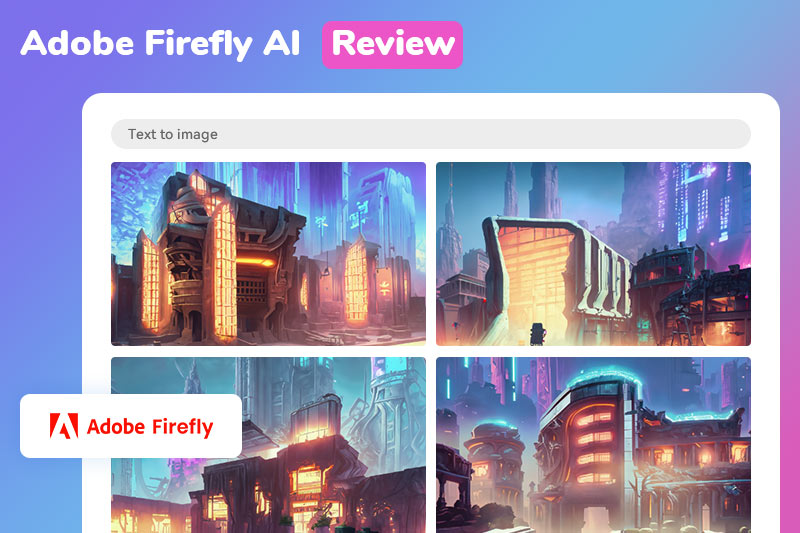 ---
Part 1: What is Adobe Firefly AI? - The Main Features
Adobe Firefly AI is a cloud-based generative AI platform that was initially released as a public beta in March 2023 and is still under development. Firefly AI boasts several key features that set it apart from the competition, including:
Text to Image: Generate unique images from text descriptions
Generative Fill: Remove background and objects from images using a bush or paint in new ones with a simple text prompt.
Text Effects: Apply a variety of text effects to words and phrases, such as drop shadows, glows, and outlines.
Generative Recolor: Generate color variations of your vector artwork
These four features are now available to users. As stated before, it is still under development and according to its official website, other features such as Sketch to Image (turn simple drawings into full-color images), SD to Image (create an SD scene and use a text prompt to generate an image) Extend Image (change the aspect ratio of your image with s single click) and more are in exploration.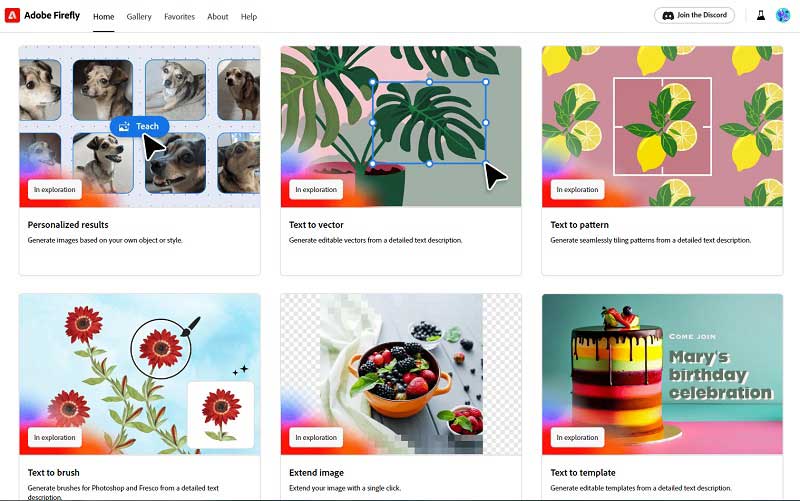 ---
Part 2: Is Adobe Firefly Free or Paid?
Adobe Firefly offers both free and paid plans. The free plan provides users with 25 generative credits each month, which can be utilized for tasks like image generation, applying text effects, and manipulating vector artwork. When users exhaust their free credits, they have the option to purchase additional credits or subscribe to a paid plan.
The paid plan, known as Firefly Premium, grants users 100 generative credits monthly. It also includes access to Adobe Fonts and the capability to remove watermarks from generated images. Firefly Premium offers exclusive features and content. Moreover, it is integrated into specific Adobe Creative Cloud plans, including the All Apps plan and the Photography plan.
---
Part 3: How to Use Adobe Firefly?
There are two ways to access to Adobe Firefly: via a web browser on the Firefly website or within the latest version of Photoshop. Given that there are four distinct features, each with its own unique operation, this review will focus on using Firefly through the website, taking the Text to Image feature as an illustrative example to guide you on how to use it.
Steps to Generate AI Images Use Adobe Firefly
Step 1: Access the Firefly Website and Select Text to Image
Search Adobe Firefly in your browser and visit its official website. Click "Create with Firefly" or "Get Firefly free" to sign in.
Scroll down to the feature list section and click the Generate button under Text to Image.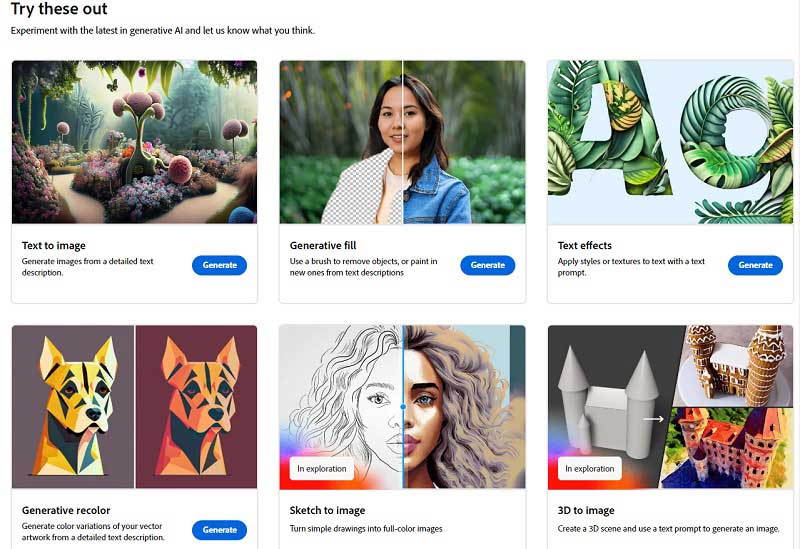 Step 2: Input Text Prompt and Adjust Styles
Within the "Text to image" feature, you'll find a collection of AI-generated artworks created by other users that can serve as inspiration. In the text box at the bottom, input a description of what you wish to create, and then click "Generate."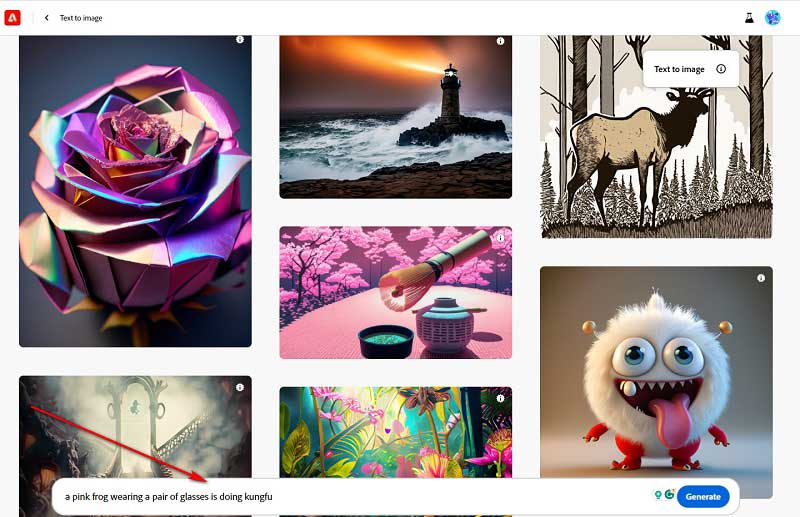 This action will produce four distinct images. On the left-hand side, you'll find settings that include aspect ratio, content type, styles, color and tone, lighting, and composition. By default, Firefly generates AI art, but you can customize all these settings according to your preferences.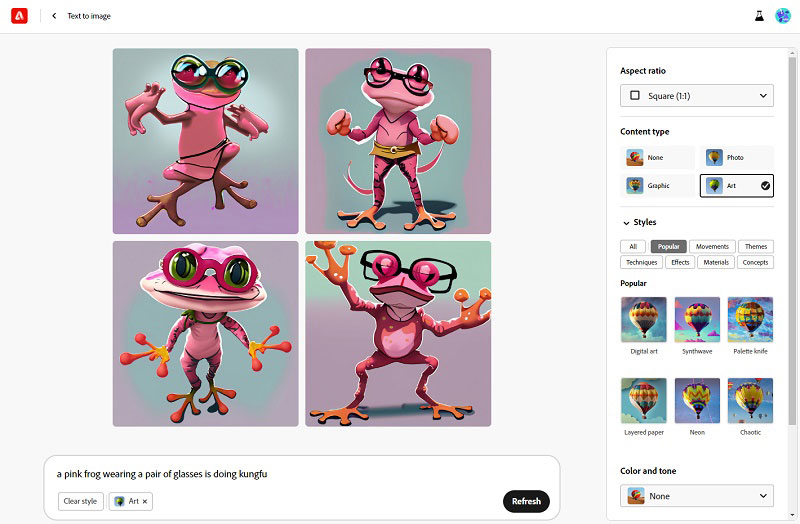 For example, switching the content type to "Photo" will result in more lifelike images.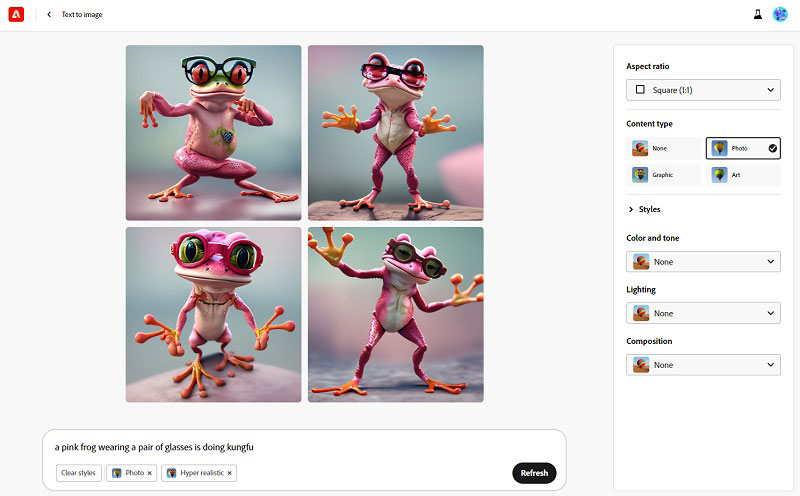 Step 3: Edit the Image and Save it
Hover the mouse on the image you want to save. You can click the Edit button for further creation or click the More Option button to save it. It's important to note that users under the free trial will download the image with a watermark.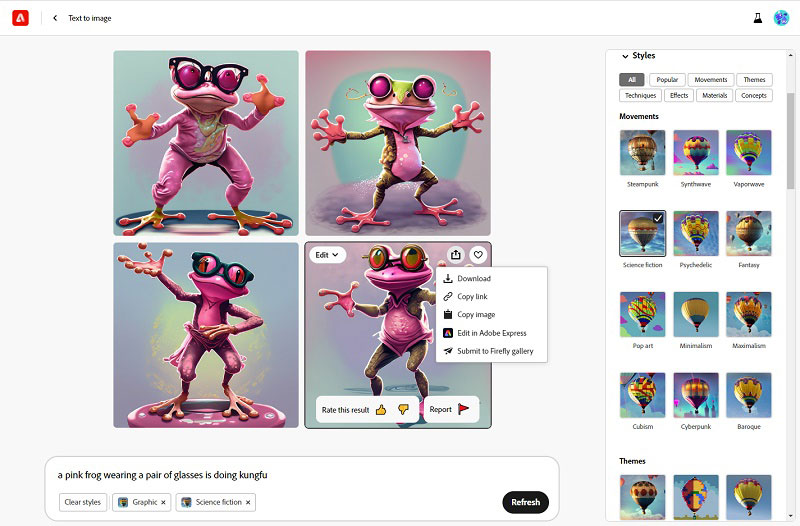 ---
Part 4: Is Adobe Firefly Good?- Pros and Cons
Yes, Adobe Firefly is good both for beginners and professionals. Here are some of its pros and cons.
Pros:
Customization options: Users can create dramatic images by adjusting kinds of styles.
Affordable: It has a free plan that makes it accessible to everyone.
Easy to use: It is much easier to access than Midjourney and easy to use, regardless of their skill level or experience with AI.
Versatile: Firefly can be used to create a wide range of creative content, from text-to-image generation to text effects and vector artwork manipulation. The best part is there are more features on the way.
Cons:
Watermark on Free Plan: Users opting for the free plan will find a watermark on the generated images, which may not be suitable for professional or commercial use.
Model Training: Unlike some other AI tools like Stable Diffusion, Firefly doesn't provide the option to train the model with your own data or footage, limiting its adaptability for highly specialized tasks.
---
Additional Reading: AI Photo Editor- AVCLabs PhotoPro AI
In recent years, various AI tools have emerged, covering a wide spectrum of applications. For instance, AI image generators like Adobe Firefly and AI chatbots exemplified by ChatGPT have gained prominence. Similarly, within the realm of image processing, some AI tools have made their mark.
One such tool is AVCLabs PhotoPro AI, a versatile AI photo editor compatible with Windows and Mac. What sets it apart from other AI photo enhancers that just do one-click processing is its ability to selectively process parts of an image using quick selection tools. It offers a range of features, including blurring faces and backgrounds, changing backgrounds, converting black and white images to color, reducing noise, removing unwanted elements like watermarks and imperfections, etc.
Key Features of AVCLabs PhotoPro AI
Convert a blurred picture to HD Quality
Colorize B&W photos to make it come to life again
Cutout image to make the background transparent
Remove unwanted objects, people, watermarks
Change the style of image to create unique look
Upscale photos up to 3x, 4x without losing quality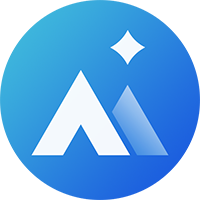 Here are some examples processed by AVCLabs PhotoPro AI:
Upscale low-resolution images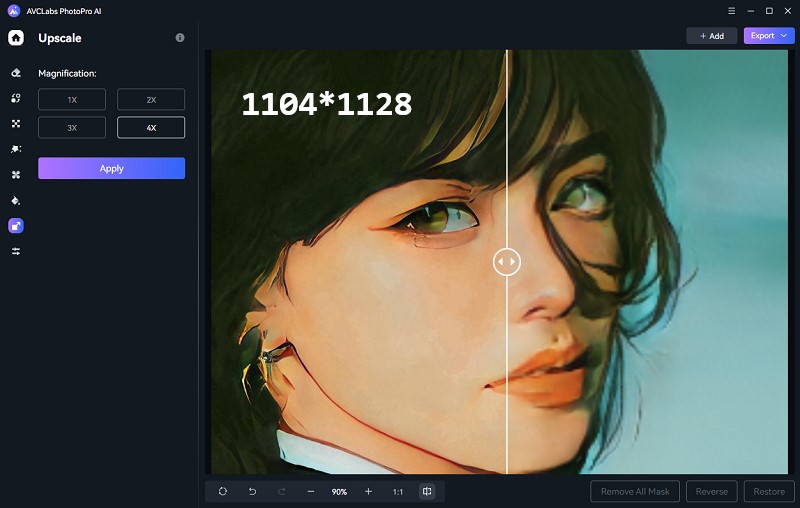 Enhance blurry images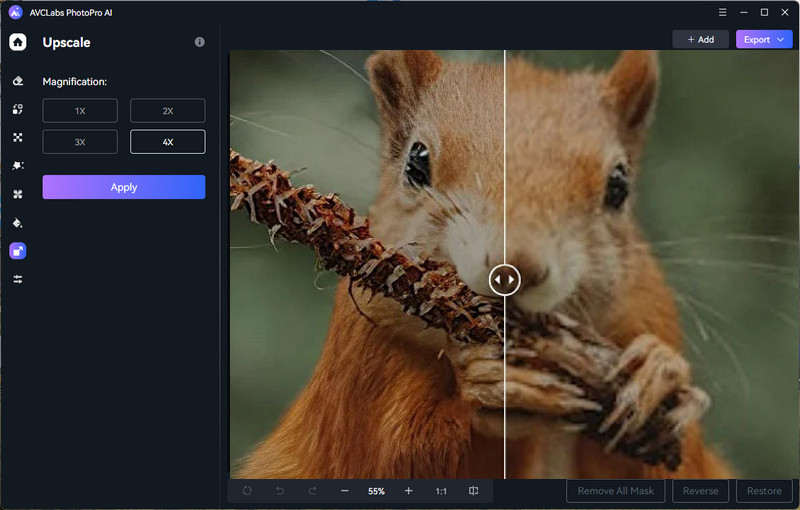 Colorize black and white images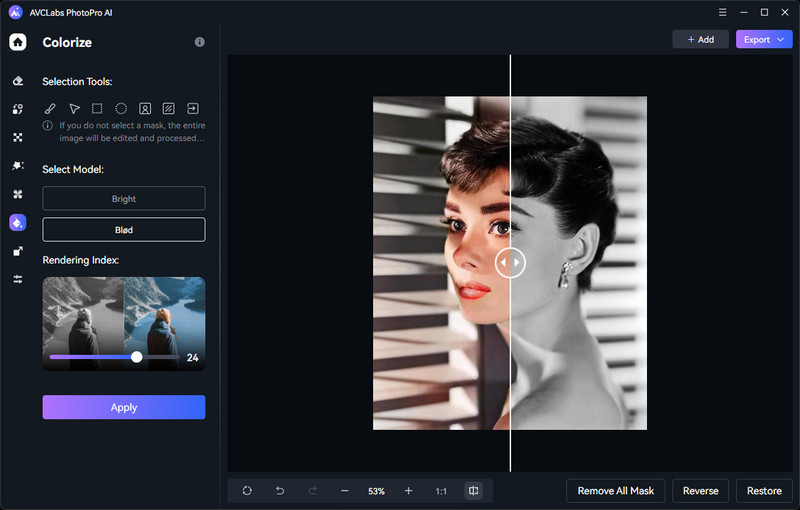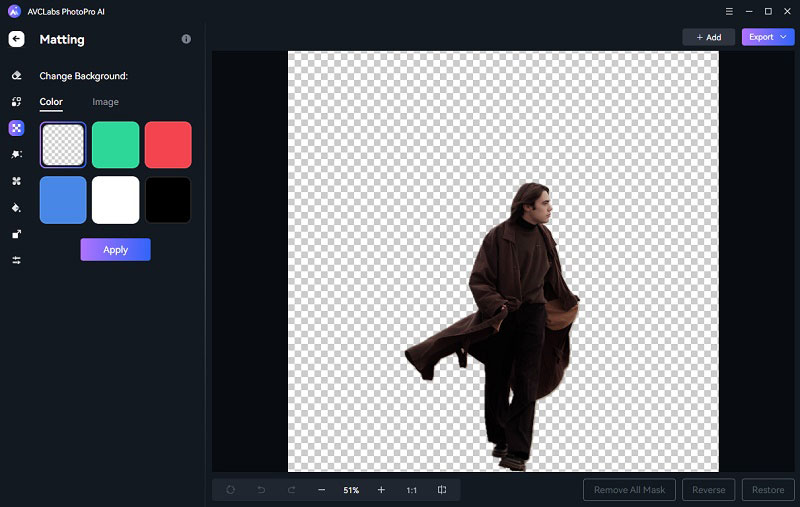 ---
Conclusion
In conclusion, Adobe Firefly AI represents a significant step forward in AI-powered content creation. Its user-friendly interface, customization options, and integration with Adobe's creative suite make it a compelling tool for many users. As generative AI continues to evolve, Firefly AI is a testament to Adobe's commitment to innovation and accessibility.
---
Related Articles