Increase Image Resolution Online for Free
How can I increase the resolution of a picture online?
How to increase image resolution online without losing its quality become a tricky problem for us. We all encounter the situation that shooting photos at low resolution, especially those old photos which are shot years ago. Or there are some low-resolution images you download from websites and can't get the original ones. But simply upscaling the image cannot always improve its quality, on the contrary, the image loses more details. Fortunately, AVC.AI, one of the best AI image upscaler, can let you increase image resolution online for free without any editing skills! With the powerful AI image upscaling algorithms, it can increase image resolution and at the same time add similar details to avoid losing image quality.
Read on to learn more about how to get high-resolution and high-quality images.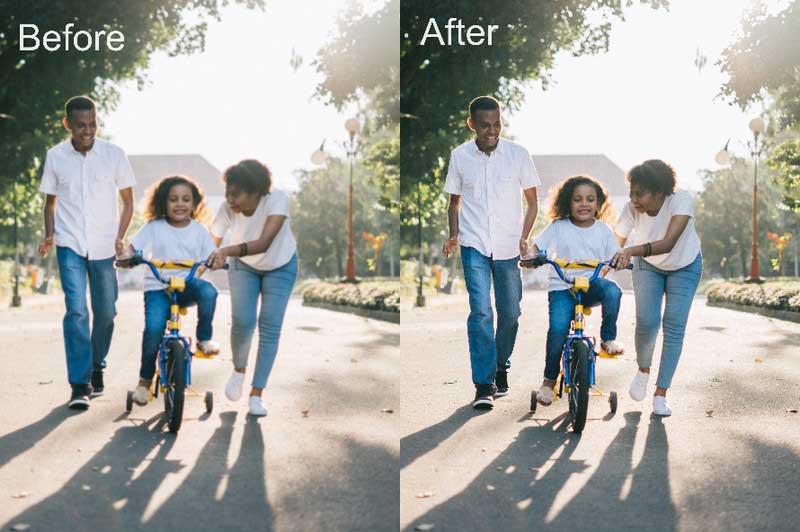 ---
Part 1: Understanding Image Resolution
Image resolution refers to the amount of detail captured in an image, typically measured in pixels. The higher the resolution, the more pixels are used to represent the image, resulting in greater clarity and sharpness. The resolution can also be measured in terms of DPI (dots per inch) or PPI (pixels per inch), commonly used in print media. Higher resolution images are vital for preserving details, avoiding pixelation, and providing exceptional visual experiences.
---
Part 2: Top 3 Free Tools to Increase the Resolution of Iamges Online
2.1 Best Free Online Image Resolution Increaser -AVC.AI
AVC.AI can upscale or increase the resolution of any kind of image like landscape, wildlife, portrait, anime, wedding, night, macro, still life, or product, to 2x, 3x, or 4x without losing any quality and even enhance them quickly and automatically. In addition to increasing the image resolution, it is also equipped with other AI models to solve different image quality issues, like denoising, colorizing, removing unwanted objects, colorizing, etc. Let's follow the steps below to get started.
Steps to Increase Image resolution Online for free
Step 1: Upload Low-Resolution Images to AVC.AI
Go to the site of AVC.AI and click on the "Upload Image" button to upload the low-resolution images.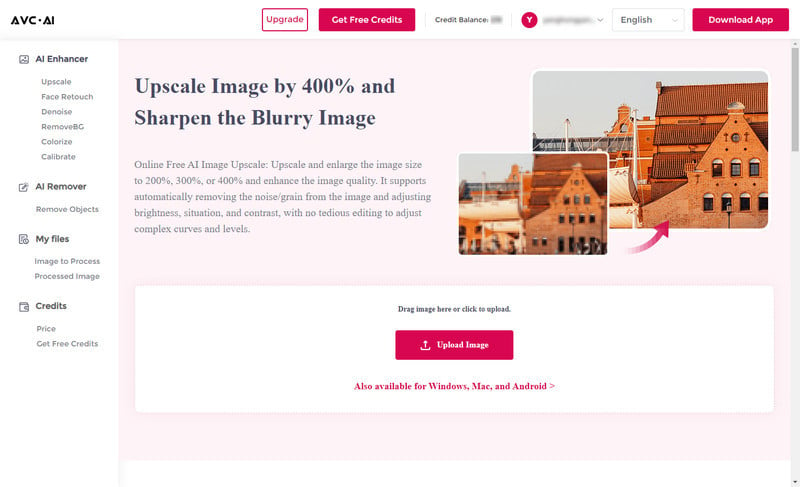 Currently supported input formats are *.png, *.jpg, *.jpeg, *.bmp, *.jfif, and *.webp.
Step 2: Choose an AI Feature to Start the Image Resolution-Enhancing Process.
To increase the resolution and improve the image quality, just choose the "Upscale" model. You can check the "Face Refinement" function if you are processing the portrait. Then comes with the part of scaling up the resolution. Here it offers four options of 100%, 200%, 300%, and 400%. We recommend selecting 200% or 300%. Because 100% will keep the original resolution and only improves the image quality, while 400% will add more extra information to the image which may lead to larger size.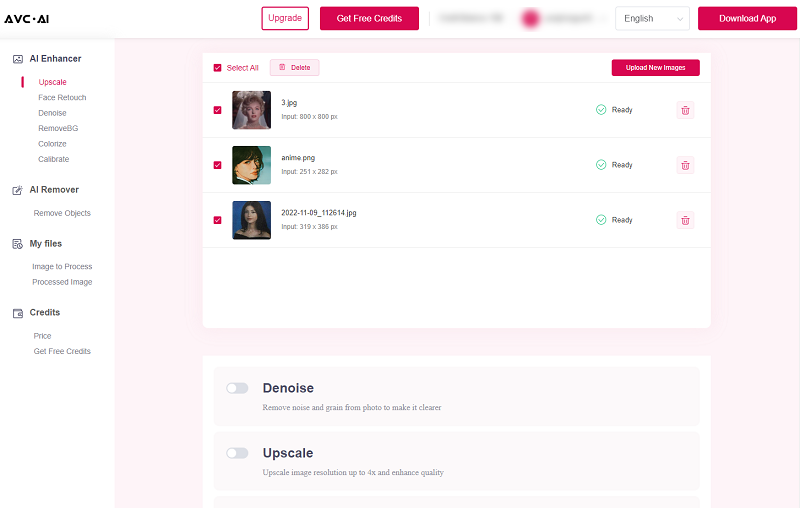 Then click on the "Start Processing" button in the bottom right corner to start the enhancement process. The whole process will take 10 seconds, just wait for it to do its job automatically.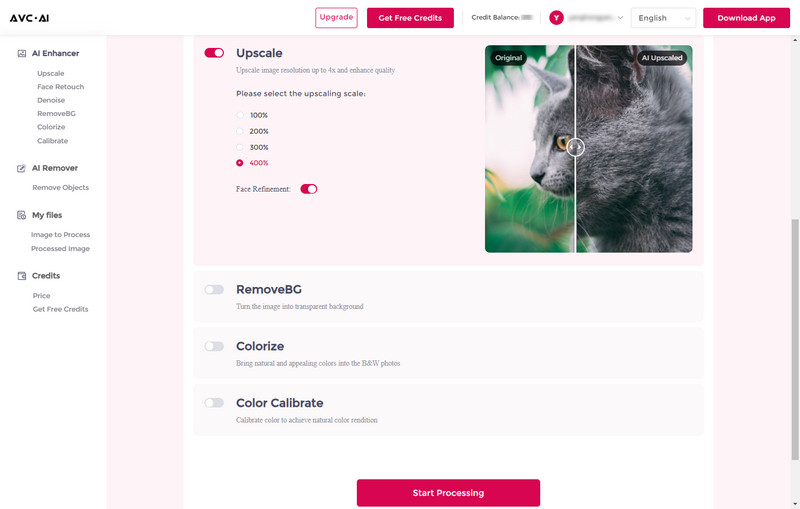 Step 3: Preview and Download the Upscaled High-res Image to the Computer
Once the process finishes, the upscaled images will be shown under the "Processed Image" tab. You can click the eye icon in the right place to preview the processed image. Put the cursor on the image and move it side to side, then the dividing line will move accordingly to let you see the final effect on the right side. Please note that the processed images will be deleted after 72 hours, so we suggest downloading them to your computer in time.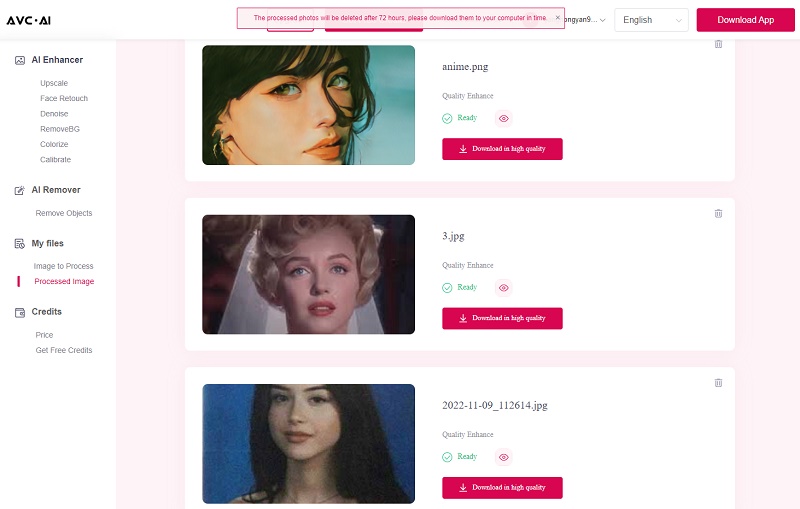 If you are satisfied with the result, you can click on "Download Image" to save the image to your computer. And the image resolution has been doubled successfully.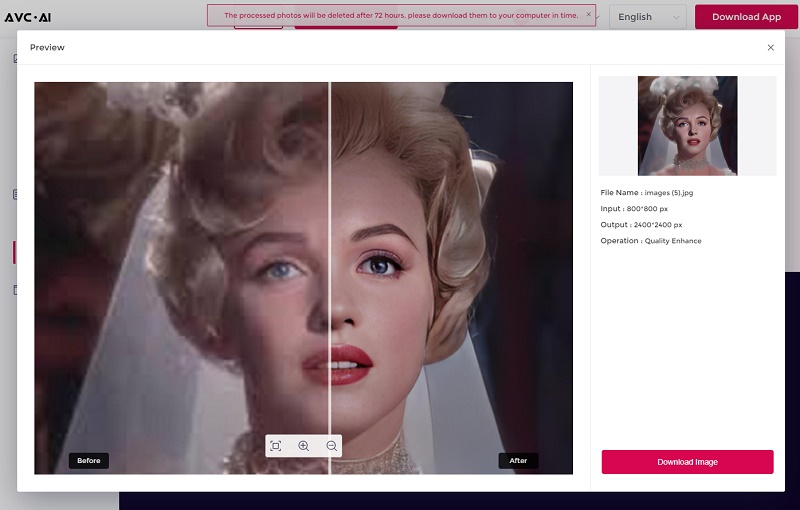 Video Tutorial: Increase Image Resolution Online for Free
---
2.2 Cutout.pro
Cutout.pro is a popular online tool for enhancing and upscaling images. Once you upload an image, it processes it immediately, transforming low-resolution pictures into high-definition ones by adding more details. As a result, the image size may increase. The platform supports two output formats: JPG and JEPG. With the free version, you can download lower-resolution images, while Full HD images require 2 credits each. The free trial version grants you 5 credits to use. After testing, it's evident that this tool works best for enhancing portraits. However, when it comes to enlarging other types of pictures like Anime, the effects are not as noticeable. Additionally, it lacks the option to choose the magnification level.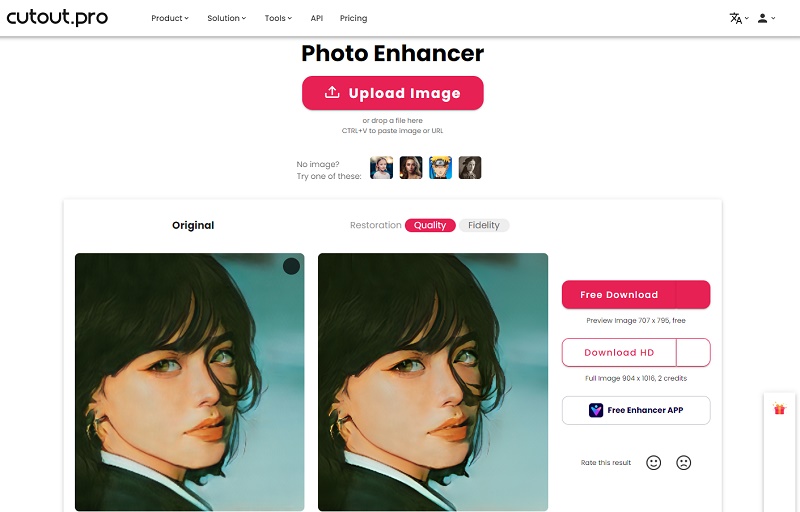 ---
2.3 Fotor
Fotor provides a variety of AI models, among which AI Enlarger can increase the image resolution by 2 times. It supports batch processing. But its processed photos are watermarked. To download the processed images there is an option to start a free trial. However, unlike other online tools that offer free credits, it allows users to try it for free for three days, but then automatically subscribes after three days unless you remember to cancel it within the free-trial period.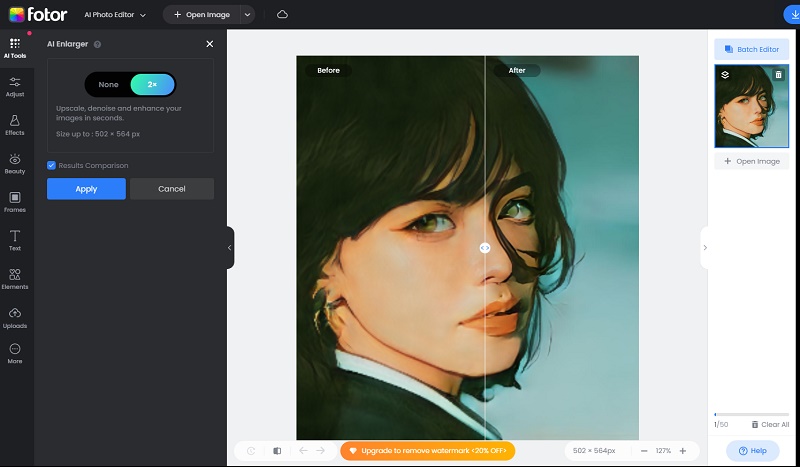 ---
2.4 Comparison of Three Online Image Resolution Increasers
| Name | Batch Processing | Upscaling Scale | Feature Rich | Best For | Free Trial |
| --- | --- | --- | --- | --- | --- |
| AVC.AI | Yes | 1x, 2x,3x,4x | Yes | All Types | 13 Free Credits |
| Cutout.Pro | Yes | No information | No | Portrait | 5 Free Credits |
| Fotor | Yes | 2x | Yes | Portrait &Landscape | 3-Day Free Trial |
---
Part 3: What is the Best Free Quality Video Enhancer?
If you want to get rid of the limits of online tools, then there is a good option for you to increase the resolution of images with desktop software.
AVCLabs PhotoPro AI is an AI auto photo editor that is available on both Windows and Mac. It can upscale low-res images up to 4K and 8k with losing quality or make it blurry. With multiple quick selection tools and diverse AI models, it can automate repetitive and time-consuming tasks that were traditionally performed manually. For example, cut out an image to remove or change the background, colorize B&W images, clear up blurry images, etc.
Key Features of AVCLabs PhotoPro AI
Upscale photos up to 3x, 4x without losing quality
Clear up blurry photos with advanced technology
Increase the resolution of images with one-click
Cutout image to make the background transparent
Colorize B&W photos to make it come to life again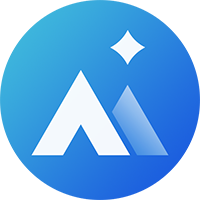 How to Increase Image Resolution with AVCLabs PhotoPro AI
Step 1: Import a Low-res Image
Download and install the program on your computer with the provided link. You can increase the resolution for free under the trial version. Click the "Browse" button to upload the low-res image.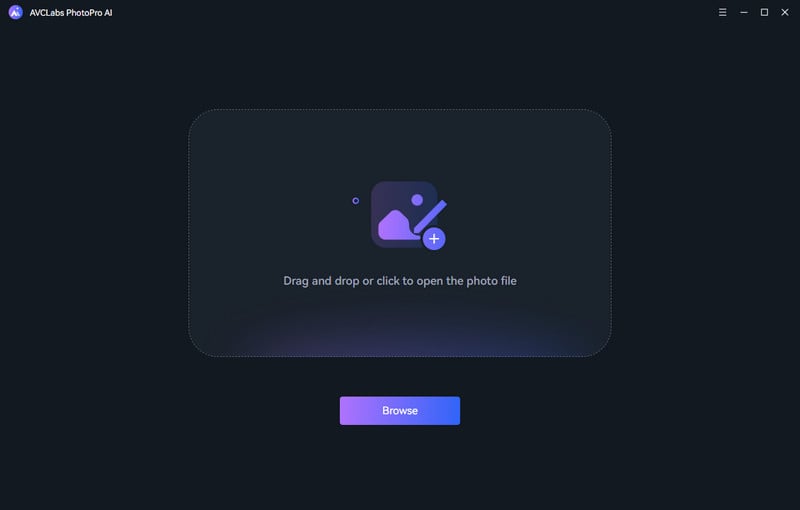 Step 2: Apply AI Upscale Model
Select the "Upscale" model. Click on it and choose the magnification levels, including 1X, 2X, 3X, and 4X. Then click the "Apply" button.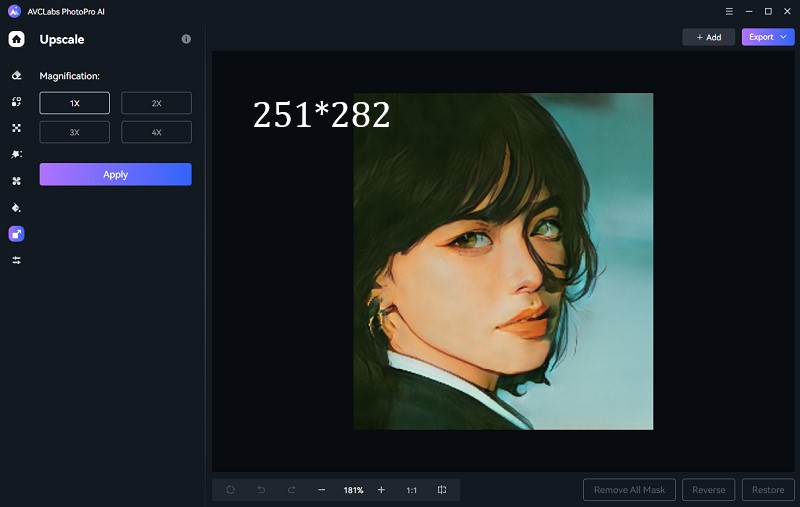 Step 3: Save the Upscaled Image
Once the conversion process is complete, you can preview the original and processed images side by side by clicking on the "Contrast" button. Then, save it to your local disk for further use or sharing.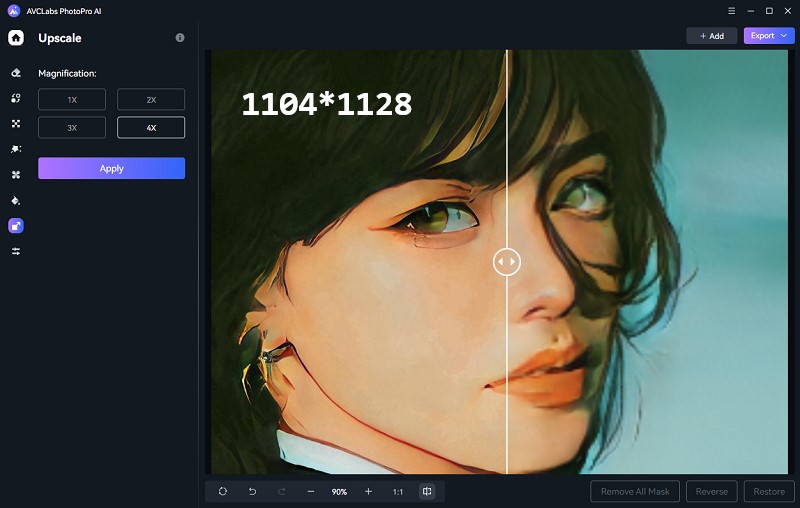 ---
Extra Tips: How to Get High-Resolution and High-Quality Images
1. Shoot the image with a good device
It's very easy to understand that an image that is shot by a professional camera will have better quality than one which is shot by an old phone. So take a good camera to take photos.
2. Shoot the image with high resolution
If you set a high resolution before shooting an image, then you will get a high-quality image.
3. Avoid compressing the image
Although compressing the image can free some storage, it takes the price of losing some quality. So don't compress images if not necessary.
4. Shoot the image in good light
Make sure that there is enough light when you shoot an image.
---
Conclusion
In most cases, image resolution and quality are set down once it has been captured. The device and the light are the main reasons affecting image resolution and quality when shooting it. If you have shot some low-resolution images and want to increase the resolution, why not try AVC.AI for free? It can improve image resolution and quality at the same time taking advantage of powerful AI technology. What's more, it doesn't require any editing skills. All you need to do is to click a few buttons and the whole procedure takes less than five minutes. Now just find the low-resolution image on your computer and upload it to AVC.AI, and let it help you to solve the low-resolution image problem!
To learn how to increase video resolution, please read How to Increase Video Resolution without Losing Quality (with Super Resolution)
---
Related Articles