5 Best Apps to Enhance Video Quality on Android & iOS
"Is there an app to enhance video quality?"
If you are looking to take your videos from amateur footage to professional-level quality, the latest advancements in technology make it easier than ever. Thanks to mobile apps that work across both Android and iOS smartphones, you can now dramatically improve the quality of your videos no matter what platform you are using. In this blog post, we will discuss 5 best apps to enhance video quality on your Android or iOS smartphone. From sharpening small details and providing crisper colors to helping fix motion blur and more, these apps have got everything covered! Read on for our top 5 picks.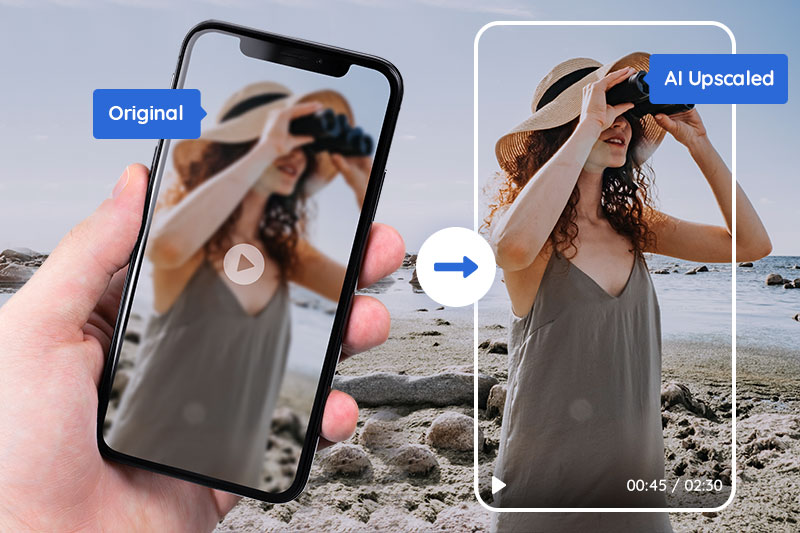 ---
Part 1: Why You Need to Enhance Your Video Quality
The quality of your video content can make or break your audience's experience. Whether you're producing videos for marketing, training, or entertainment purposes, enhancing video quality can greatly impact its effectiveness. Poor video quality can lead to a lack of engagement, decreased credibility, and even deter viewers from coming back for more. Enhancing your video quality can ensure that your message is conveyed clearly, maintain viewer attention, and build a strong reputation for your brand. With advancements in technology, it's easier than ever to improve the quality of your videos, making it a worthwhile investment for any individual or organization looking to create impactful content.
---
Part 2: Top 3 Apps to Enhance Video Quality on Android
Are you tired of watching grainy, low-quality, and blurry videos on your Android device? Fortunately, there are several apps available that can help enhance your video quality. Here are the top three apps that you should consider downloading to enhance video quality on Android.
1. Videoshop
Videoshop is a powerful, user-friendly video editing app for both amateur and professional videographers. With just a few clicks, you can make stunning edits to your videos and breathe new life into your content. Whether you're adding slow-motion or fast-forward effects, making color corrections, or adding text and music to your videos, Videoshop has everything you need to create professional-looking videos that are sure to impress your audience. And with its intuitive interface and easy-to-use features, you'll spend less time editing and more time creating. So why wait? Try Videoshop today and take your videos to the next level.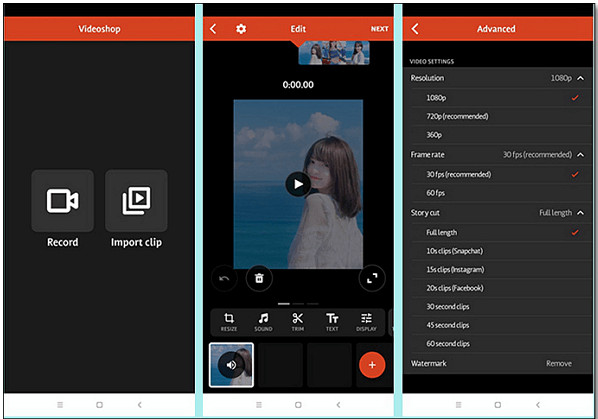 Pros:
Instagram-like filters
Intuitive design for ease of use
Function for synchronizing lips
Cons:
---
2. VivaVideo
VivaVideo is a popular video editing app that offers a wide variety of features and tools to help users create stunning video content. With its intuitive user interface and powerful editing capabilities, VivaVideo has become a go-to platform for content creators and social media influencers. The app allows users to import their videos from various sources, including their phone's camera roll, and offers a plethora of editing options, such as trimming, merging, and adding effects and transitions. Whether you're an amateur or professional video editor, VivaVideo provides the necessary tools to bring your creative vision to life. Start exploring its features and unleash your inner editor today!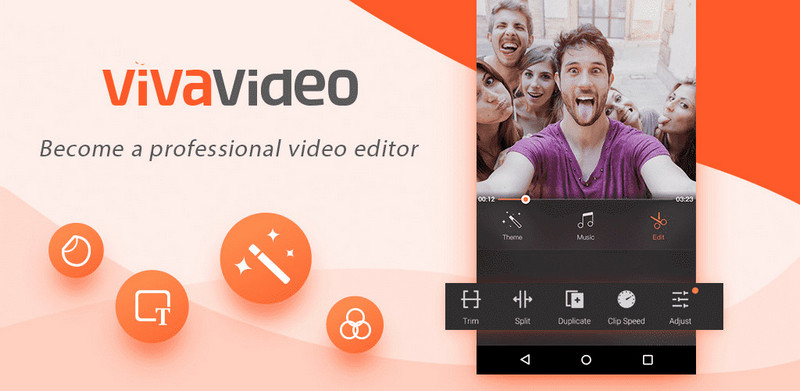 Pros:
Straightforward, clean, and easy-to-use interface
Adds effects, filters, and stickers quickly
Offers many pre-built templates
Comes with different fonts and text styles
Cons:
Only 5 minutes video can be edited and exported in the free version
Adds watermark and displays ads unless you avail of the VIP version
---
3. KineMaster
In today's digital world, video has become an integral part of our daily lives, whether it's for personal or professional purposes. KineMaster is an app that has been gaining popularity among video editors, and for a good reason. With its user-friendly interface and advanced features, KineMaster is revolutionizing the video editing game. From adding text to applying special effects, the possibilities are endless. Whether you're a content creator, a small business owner, or simply looking to enhance your personal videos, KineMaster has something to offer for everyone. It's no wonder why it's become a go-to app for many, and why it continues to be one of the most popular video editing tools available.
Pros:
Unbeatable speed of handling, really intuitive, and easy to use.
It enables users to add multiple layers and special effects to their videos, giving them greater control over the content.
Cons:
No templates to create social content.
It has limitations on the number of features available, such as exporting videos in higher resolutions and removing the KineMaster watermark.
It can be resource-intensive, which may cause issues on some older or low-end mobile devices, leading to lag and performance issues.
---
Part 3: Top 2 Apps to Enhance Video Quality on iOS Devices
When it comes to capturing and editing videos on iOS devices, having the right tools can make all the difference. Luckily, there are a variety of apps available that can help enhance video quality and turn an ordinary clip into a work of art. Two apps that stand out from the crowd are iMovie and Splice.
1. iMovie
iMovie is a powerful video editing software developed by Apple for macOS and iOS devices. With its intuitive interface and advanced features, iMovie is a favorite among professionals and beginners alike. Whether you're creating a short film or a social media clip, iMovie offers everything you need to bring your video vision to life. From adding special effects to creating custom soundtracks, iMovie makes it easy to create and edit stunning videos. With iMovie, you'll have the tools to create professional-quality videos that showcase your creative skills and captivate your audience. Whether you're a filmmaker or a video hobbyist, iMovie is the perfect software for all your video editing needs.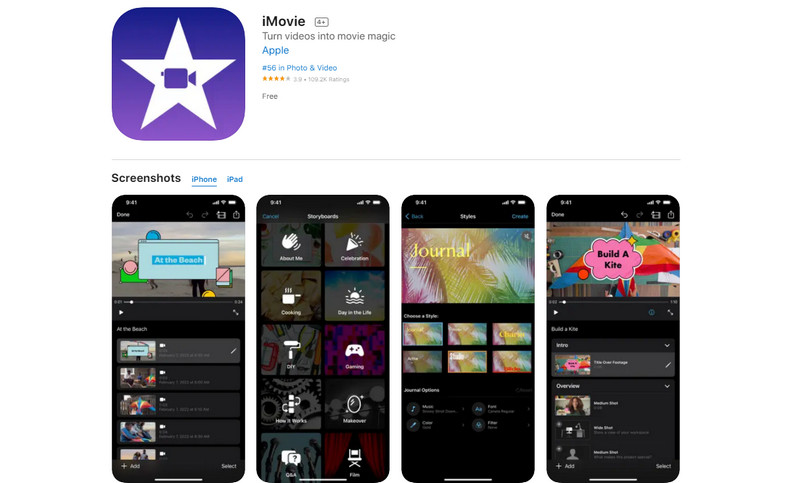 Pros:
Integrates with Facebook and YouTube
User-friendly interface
Easy sharing of videos
Add narration to videos
Cons:
Lack features for professional video editing
No video compression feature
---
2. Splice
Splice has a bunch of AI adjustments with exposure, contrast, saturation, and other tools. It lets you choose the part of your video you want to edit, and its advanced tools mean you can make minor and specific adjustments.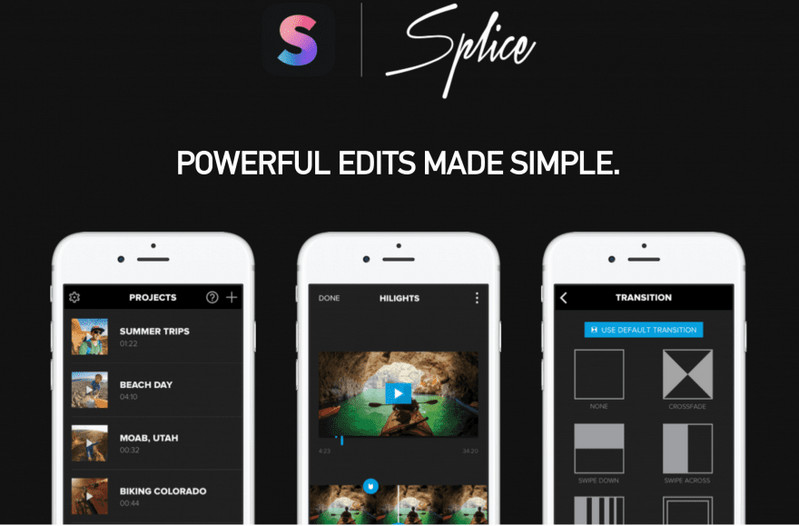 Pros:
6,000 royalty-free songs in the library
There are no watermarks
Connectivity with iTunes
Cons:
---
Bonus: Enhance Video Quality on Mac or PC via AVCLabs Video Enhancer AI
In a world where video content is king, having the highest quality video possible is essential. Whether it's for professional purposes or simply capturing memories, video quality matters. Fortunately, enhancing your video quality is easier than ever thanks to AVCLabs Video Enhancer AI. This powerful software is compatible with both Mac and PC and allows users to improve the clarity, color, and overall quality of their video footage. By utilizing advanced algorithms and state-of-the-art technology, AVCLabs Video Enhancer AI automatically corrects common issues like pixelation, noise, and blurriness. Whether you're a seasoned videographer or simply looking to improve your home videos, AVCLabs Video Enhancer AI is a must-have tool for anyone looking to enhance their video quality.
Key Features of AVCLabs Video Enhancer AI
AI Upscale video to HD, 4K and even 8K
Enhance video quality with multi-frame
Remove noise to make the video clearer
Recover and enhance facial details with AI
Colorize B&W videos to bring them to life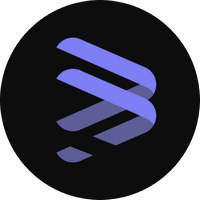 Note: Before enhancing video quality with AVCLabs Video Enhancer AI, it is important to make sure that your computer configuration meets all system and hardware requirements for an optimal viewing and processing experience.
Step 1: Run AVCLabs Video Enhancer AI And Import Low-quality Videos
Download and install AVCLabs Video Enhancer AI. Launch it and click the Browse button or drag and drop to import your low-quality videos.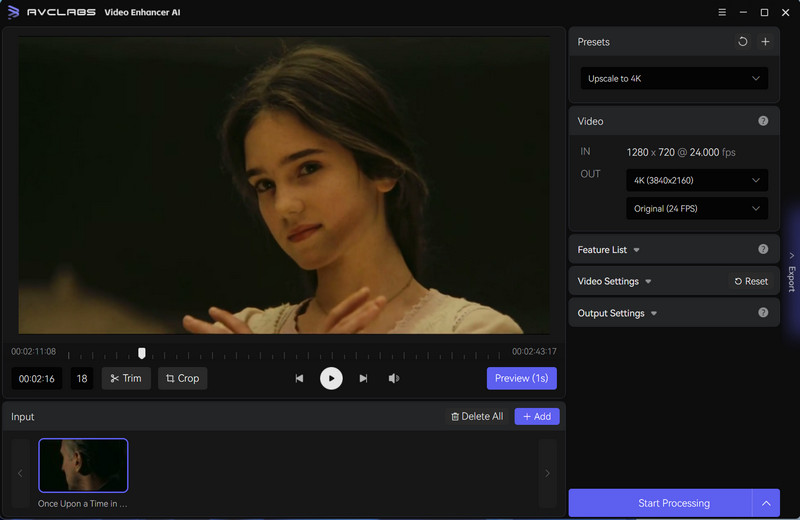 Step 2: Select the AI Model and Set the Output Resolution
The most direct way to enhance video quality is to go to Presets section and select the Upscale Video to HD resolution OR Upscale Video to 4K.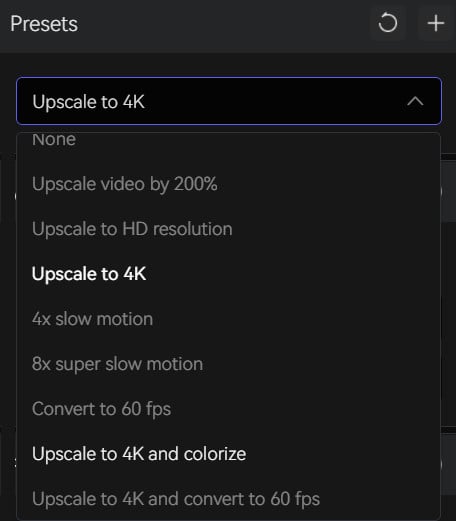 1. Video Settings: you are allowed to adjust the brightness, saturation, and contrast of the video and preview the effect in real time.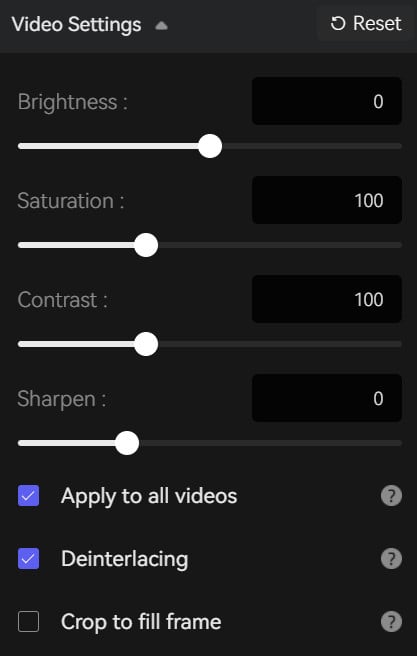 2. Output Settings: You can set the output size with a total of 14 options, from SD to HD, 4K, and 8K. Then is the output video format, including MP4, MKV, AVI, MOV and Webm, and finally set the output path, which is convenient to quickly locate the processed video afterward.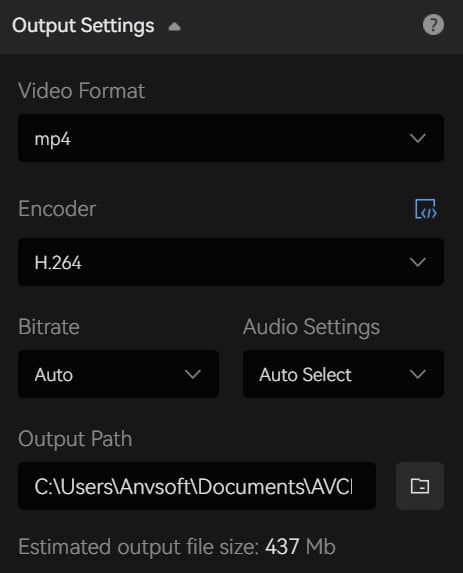 Step 3: Start Enhancing Video Quality
After all the preparation works are completed, simply click on the Eye icon to review 30 frames to make sure the processed video is what you want, otherwise please reconfigure settings. Finally, click the Start Processing button to start enhancing the video quality.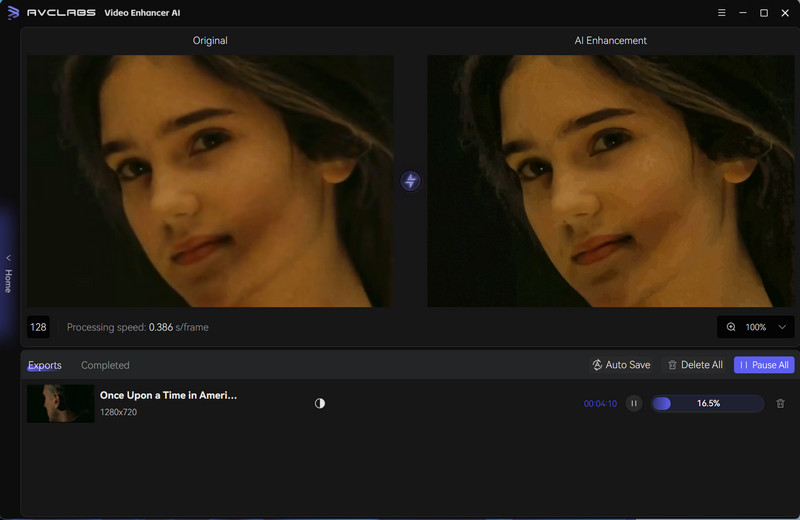 ---
Part 5: FAQs about Enhancing Video Quality on Android and iOS Devices
Let's check out some frequently asked questions about enhancing video quality on Android and iOS devices:
Q. How can I enhance the video quality on my Android device?
A. There are several ways to improve the video quality on your Android device. First, make sure you have a good internet connection as a slow or unstable connection can affect the video streaming quality. Additionally, if you are using an app to stream video content, make sure to update it to the latest version as this can also improve your video quality. Finally, some devices may have a setting that allows you to manually select a higher resolution if available.
Q. What are some tips for improving video quality on an iOS device?
A. Similar to Android devices, having a strong internet connection is key to achieving better video quality on an iOS device. Additionally, you can try clearing the history and cache of your browser or streaming app as this can help with overall performance. Lastly, make sure that the software on your device is up-to-date as newer versions often include improved support for higher resolutions.
Q. Are there any settings I can adjust to improve video quality?
A. Depending on your device, there may be certain settings or options that you can adjust to enhance the video quality. For example, some devices allow you to manually select a higher resolution for streaming content if available. Additionally, many streaming apps will have specific settings that let you customize how the video is displayed, such as adjusting the bitrate or frame rate.
Q. Is there a way to check the quality of the video I'm streaming?
A. Yes, some streaming apps will display information about the video you are currently watching including the resolution and bitrate. Additionally, most devices also have settings that show network and connection information, which can be useful for identifying any issues that may be affecting the video quality.
Q. What should I do if the video I'm streaming is of poor quality?
A. First, you should check your internet connection to make sure it is stable and running at a good speed. If the issue persists, try updating the streaming app to the latest version as this can often help with performance. Lastly, you may also want to adjust any settings or options that are available in order to improve the video quality.
Q. Are there any other tips for improving video quality?
A. Yes, in addition to the tips mentioned above, you can also try closing any unnecessary applications running on your device as this can free up resources and improve performance. Additionally, keeping your device clean can help with the overall performance and make sure that any settings you have adjusted are not being overridden. Finally, some video streaming services offer premium plans that provide access to higher resolutions or special features such as 4K playback.
---
Conclusion
In conclusion, enhancing video quality is a must for those looking to give their content an upgrade. Android users have a great selection of intuitive apps available at the Play Store like Videoshop, VivaVideo, and KineMaster which provide users with amazing features and plenty of ways to level up their videos. iOS users on the other hand have iMovie and Splice which gives them similarly powerful abilities. Finally, other platforms such as Mac or PC can use highly sophisticated AI-driven software like AVCLabs Video Enhancer AI to bring about stunning results. No matter what platform you're working with, there are options available that can help everyone enhance video quality affordably and effectively!
---
Related Articles