How to Fix Out-of-Focus Video with AVCLabs Video Enhancer AI
For most people, the camera on their phone is just a way to capture moments quickly and easily. But for others -- like professional documentarians, filmmakers, and content creators -- it's a tool that needs to be able to consistently produce high-quality images. Unfortunately, many smartphone cameras don't offer advanced features or settings that would help you take awesome pictures every time. There are many different reasons why your videos might be out of focus. It could be because you were too far away from the subject or because there was an element of motion in the video (for example: if you were recording while moving). Whatever the reason may be, with AVCLabs Video Enhancer AI you can fix these out-of-focus videos in seconds!
What Can Cause An Video to Be out of Focus and How to Solve This Problem?
There can be a few different reasons why a video may appear to be out of focus. It could be that the camera was not properly focused before filming, or that the subject of the video moved too much during filming. It's also possible that the video was edited poorly, causing the focus to be off. Whatever the reason, it can be frustrating to watch a video that is fuzzy and difficult to see. Luckily, there are a few ways to fix this problem.
One way to try and resolve an out-of-focus video is to adjust the sharpness settings. This can usually be done in the editing software that was used to create the video. By increasing the sharpness, the edges of objects will appear more defined and the overall image will be easier to see. It's important to not go too overboard with the sharpness, as this can cause the video to look artificial and fake. A little bit of sharpening can go a long way in making a video more watchable.
Another way to fix an out-of-focus video is by blurring it slightly. This may sound counterintuitive, but by blurring the video ever so slightly, the overall image will appear sharper. This is because our eyes are naturally drawn to objects that stand out from their surroundings. By blurring the background of a video, the subject will automatically appear sharper and more in focus. This trick works best when combined with a small amount of sharpening, as too much blurring can make a video look fuzzy and difficult to watch.
Also you can convert the video to black and white. This can help to make the overall image appear sharper and more defined. Another option is to increase the contrast of the video. This will make the dark parts of the video darker and the light parts lighter, which can also help to improve the overall sharpness of the image.
If you're still having trouble fixing an out-of-focus video, you can try AVCLabs Video Enhancer AI.
How to Fix Out-of-Focus Video with AVCLabs Video Enhancer AI?
There are many reasons why someone might want to use AVCLabs Video Enhancer AI to fix an out-of-focus video. First and foremost, the software is designed specifically for this purpose. It uses artificial intelligence to automatically identify and correct errors in videos, meaning that it can effectively fix out-of-focus videos with little effort on the part of the user.
Another reason to use this software is that it offers a number of features that can be very useful in fixing out-of-focus videos. For example, it has the ability to improve the resolution of videos, as well as the ability to stabilize them. This can be extremely helpful in ensuring that an out-of-focus video looks its best once it has been corrected.
Finally, AVCLabs Video Enhancer AI is simply a very user-friendly piece of software. It has a very straightforward interface that makes it easy to use, even for those who are not particularly tech-savvy. This makes it an ideal choice for anyone who wants to easily fix an out-of-focus video.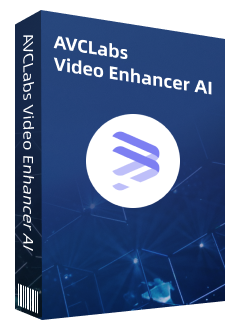 Video Enhancer AI
Improve your video quality with the power of AI
Upscale video from SD to HD, HD to 4K, or 8K
Trim your footage frame by frame to delete unwanted part
100% automatically process the video without fine-tuning
Let's see more detailed guide to fix out-of-focus video in several clicks:
Step 1:
Download and install AVCLabs Video Enhancer AI
Firstly, you need to get the tool on your computer. Before downloading, please read the system requirements of AVCLabs Video Enhancer AI carefully. You can click here to get more detailed information about the requirements.
Step 2:
Import the out-of-focus video
After the installation, you will see the main interface of the program. Now you need to import the source file which is out-of-focus. You can click on Browse to add the video or simply drag and drop the video file to the middle of the interface to import it.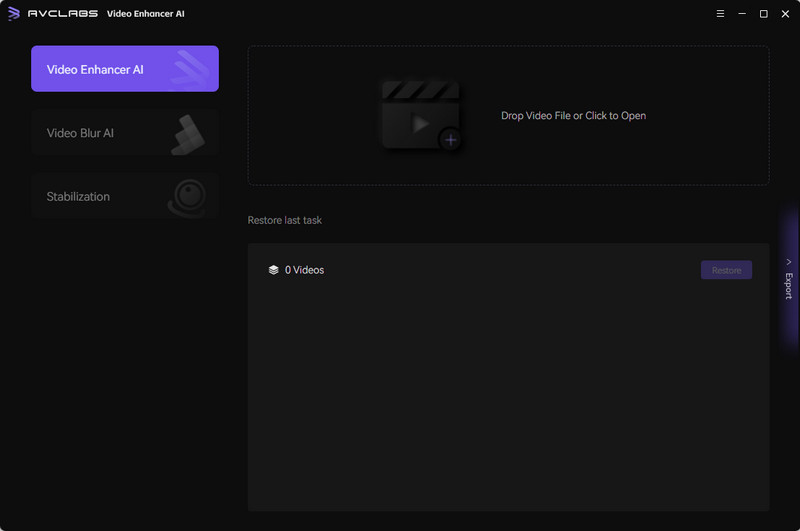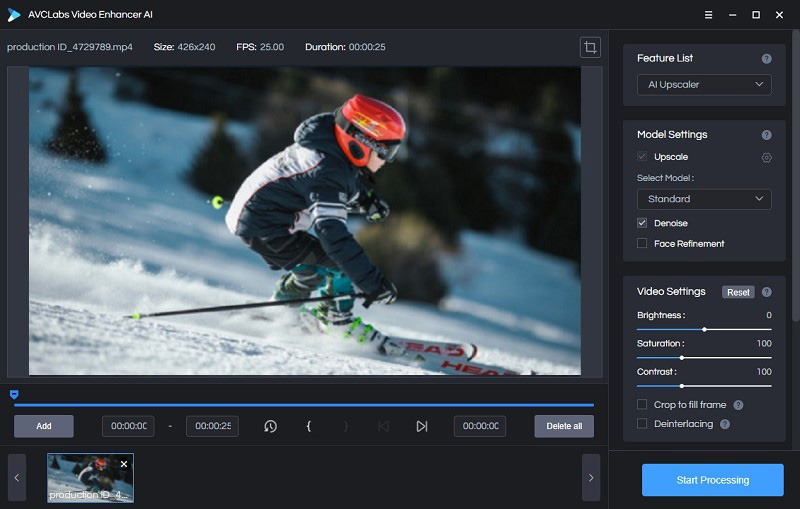 Step 3:
Set the AI Model and Resolution
When the source file is added, you will see some settings in the right panel. The upper one is the AI Model. Choose AI Upscaler.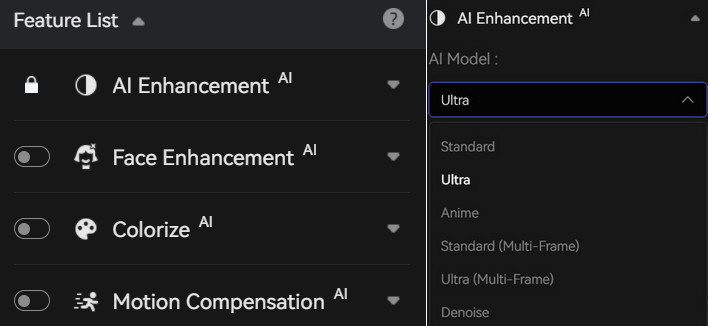 After choosing the AI Model, you can go to set a Resolution now. There are several options like 720p, 1080p, 2K, QXGA, Quad HD, WQXGA, UHD, 4K, and 8K for you to choose from. And the output format is MP4 or AVI.
Please note that the higher resolution indeed will generate with better quality but the concomitant is the huge size which will take up much space on your computer. Meanwhile, it will consume more time. So an overall consideration is needed when you choose the resolution.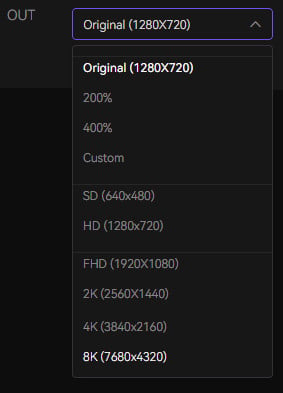 Step 4:
Start upscaling the video
After all the settings are done, you can click on Start Processing to begin enhancing your video. Now all you need to do is wait patiently for AVCLabs Video Enhancer AI to do the enhancing work automatically and efficiently. If you use the GPU acceleration (NVIDIA RTX series is recommended), the processing will be much faster. During the processing, you can view the original out-of-focus video and the enhanced one at the same time, and the effect is visible enough.
When it finishes processing, you can click to open the output folder to check the enhanced video.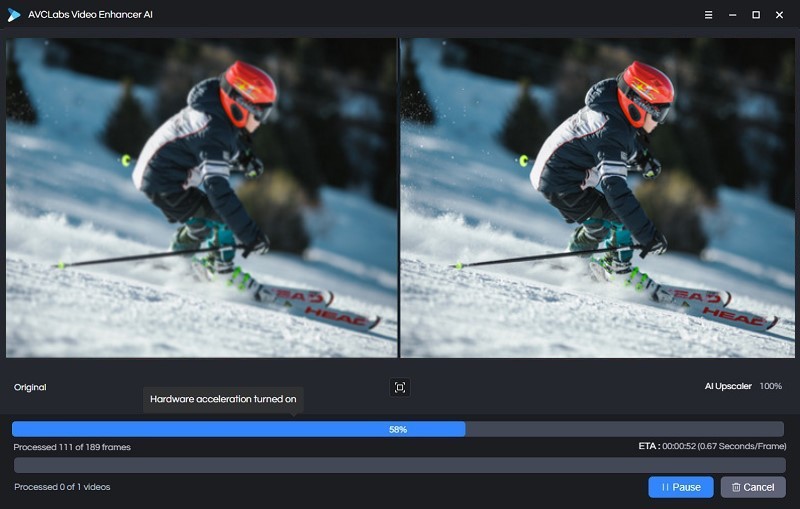 Now you have finished all the procedures. Is it easy to use AVCLabs Video Enhancer AI to enhance an out-of-focus video? The trial version offers you to enhance three videos for free. You can download and try it first to check whether AVCLabs Video Enhancer AI can improve your bad quality videos to the quality as you wish before you make your mind to buy it.
Conclusion
If you are like most people, you have probably taken a video that's out-of-focus at some point. It is frustrating, but luckily there is a solution: AVCLabs Video Enhancer AI. This powerful software can fix out-of-focus videos with ease, giving you the perfect footage every time. All you need is a computer and an internet connection - no special equipment required! Just upload your video and let AVCLabs do the rest. In just a few minutes, your video will be fixed and ready to share with the world. So don't let out-of-focus footage ruin your next video project - use AVCLabs Video Enhancer AI to get the perfect shot every time.
Enhance and restore video quality
with the power of AI