6 Best AI-powered Free Object Removal Apps for iPhone and Android
"What app can remove objects for free? How can I remove an object from a picture for free?"
Object removal in photos has become increasingly popular for enhancing the visual appeal of images. With the advancements in artificial intelligence technology, object removal apps have revolutionized the field of photo editing. In this article, we will explore the top 6 AI-powered free object removal apps for both iPhone and Android platforms, highlighting their features, functionalities, and pros and cons. Additionally, we will also discover some valuable information about free online tools and desktop software that offer excellent object removal capabilities.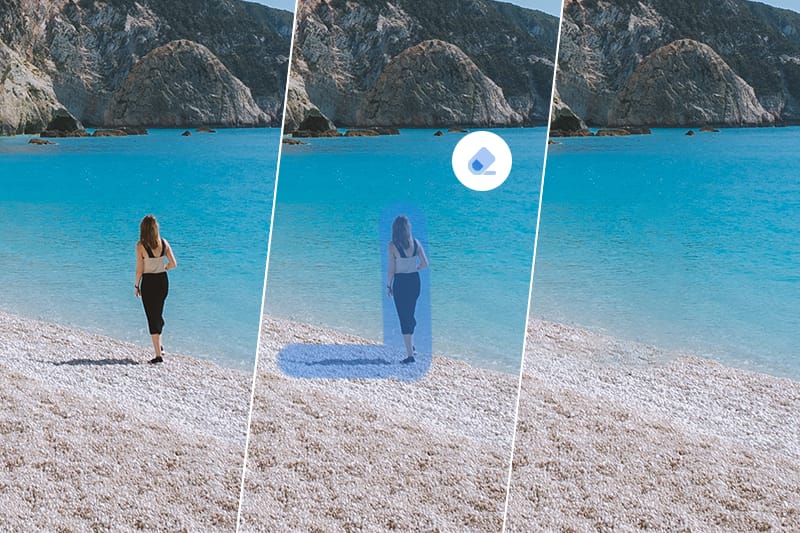 ---
Part 1: Understanding AI Object Removal
AI technology has transformed the way we edit photos, offering highly accurate and efficient object removal algorithms. These algorithms are trained on vast datasets, enabling them to identify and remove unwanted objects seamlessly. The use of AI ensures precise results, saving time and effort compared to traditional manual editing methods.
---
Part 2: 6 Best AI-powered Free Object Removal Apps for iPhone and Android
Here are the 6 best AI-powered free apps to remove unwanted objects from the photo on iPhone and Android. Let's check them out.
2.1 Fotor
Fotor is a great free object removal app for iPhone and Android, which provides powerful object removal capabilities, along with a comprehensive suite of editing tools. The app offers a user-friendly interface with intuitive controls.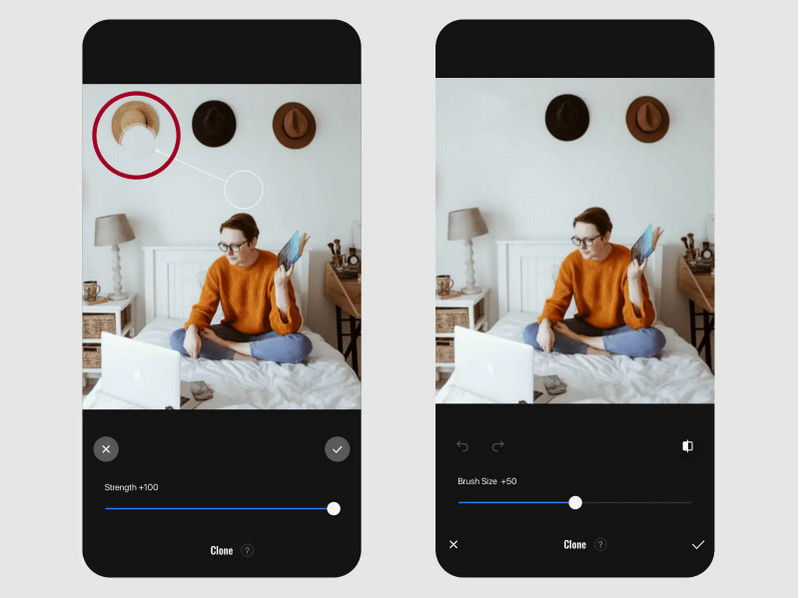 Pros:
Available for iOS and Android
Easy of use
Easy interface
There are ready-made templates and options available
Possibility of image editing on the desktop, mobile, and web versions
Intelligent effects and filters
A practical collage creator
Cons:
Lack many advanced features
It is not capable of accurately eliminating the background of an image
---
2.2 TouchRetouch
TouchRetouch is also an expert in removing objects from photos on iPhone and Android, which known for its advanced object removal algorithms, allowing users to remove unwanted elements seamlessly. With multiple object removal tools, TouchRetouch is made specifically for that purpose. It has one-touch removal for many edits, plus lots of adjustable features. With it, you can remove photobombers, blemishes, and background objects like trash cans, power lines, and streetlights.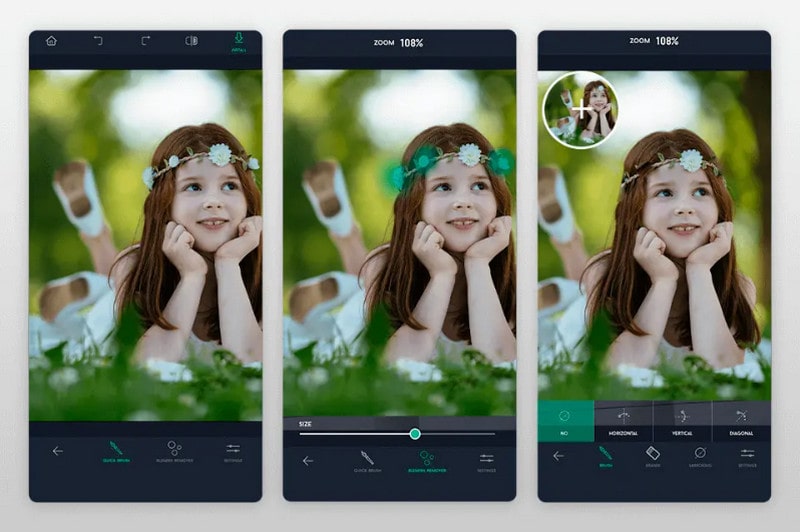 Pros:
Available for iOS and Android
Offer easy-to-follow tutorials
Perfect for retouching
One-touch fix tool
Innovative line removal tool
Cons:
Learning curve
Require some in-app purchases for some basic tools
---
2.3 Adobe Photoshop Fix
Adobe Photoshop Fix provides powerful object removal tools along with a wide range of editing capabilities. This app is widely used by Android users to remove unwanted objects from images. Users simply need to choose healing option from the bottom portion of the screen and then choose Spot Heal option. Adjust the hardness and size of the brush and then manually highlight the object to be removed. Soon, the object will disappear and the area will be covered by surrounding details of the image.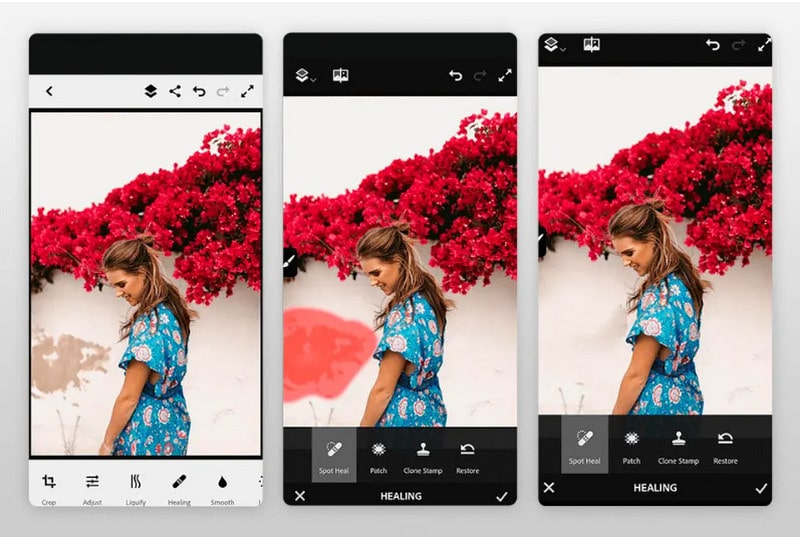 Pros:
It is easier to restore and retouch images to get the desired
Cloud backup availability
Attractive Interface
Free to Use
Cons:
Available for Android Only
Bug issues
---
2.4 Snapseed
Snapseed is free and has lots of photo editing tools that help you adjust your photo quality and remove objects on iOS and Android devices. Snapseed's integration of AI and machine learning algorithms brings a touch of sophistication to its object removal capabilities. It offers a variety of editing tools, including a precise object removal feature. Its user-friendly interface and how it simplifies the object removal process.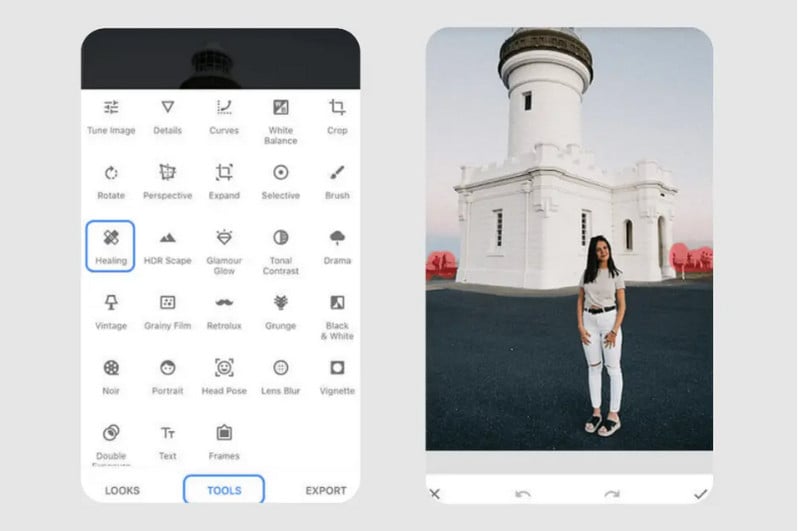 Pros:
Available for iOS and Android
Free to use
Advanced selective tool & brush tool
Perfect for retouching
No annoying ads
Cons:
Has a learning curve
It is difficult to remove large objects from photos
---
2.5 Youcam Perfect
Youcam Perfect combines AI-powered object removal with various other editing features, including filters and effects. As with many other apps on this list, you can select objects for removal with your finger and YouCam does the rest. Alternatively, you can use the cutout tool to separate your subject from the background. Bear in mind that, once again, this tool is optimized for selfies.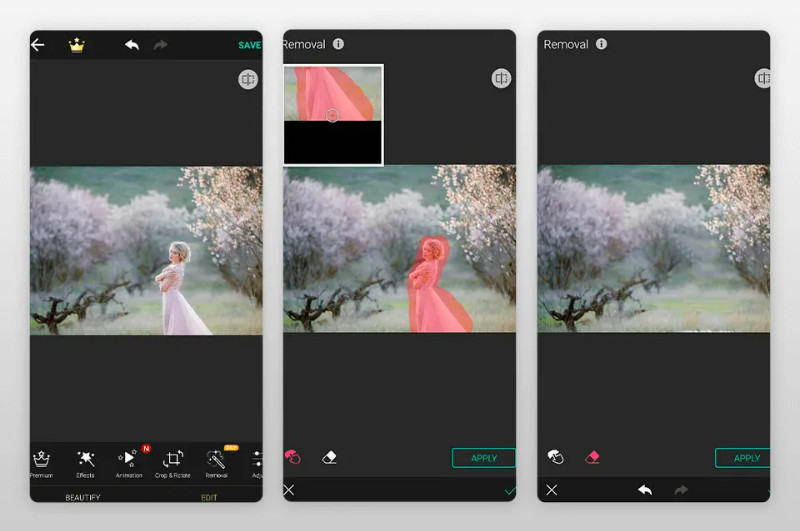 Pros:
Available for iOS and Android
Easy to use, remove objects naturally with AI technology
Full-featured, one-stop photo editor
With intelligent face detection technology, one click to beautify the selfie
Cons:
The free version has limited functionality
Not recommended for professionals, it does not have pro editing tools
---
2.6 PhotoDirector
PhotoDirector allows you to easily draw smudges on objects and remove them with ease. PhotoDirector offers advanced object removal tools, along with a range of editing options for enhancing photos. AI Photo Eraser, within the PhotoDirector app, showcases advanced features and tools for object removal.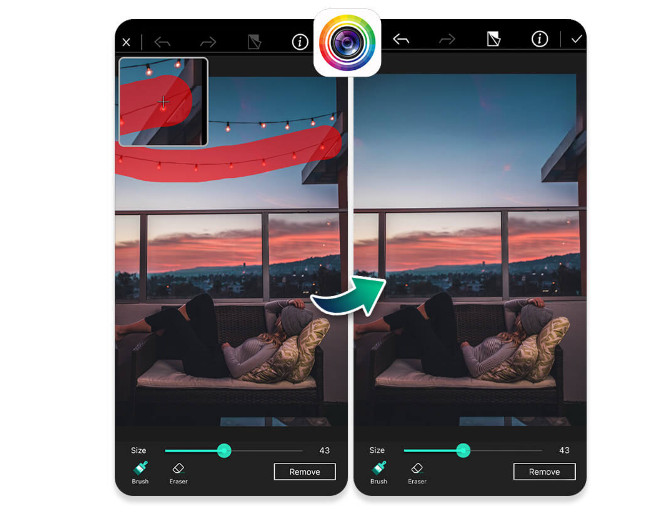 Pros:
Available for iOS and Android
User-friendly interface (great for beginners)
Powerful & fun special effects & AI tools
Layer editing for advanced users
Cons:
Lack of extensive presets
Slower layer editing
---
Part 3: Best AI Free Object Removal Tool to Remove Objects from Photos Online
Selecting the best AI-powered free object removal tool for online use depends on various factors, including ease of use, accuracy, and the quality of the final results. Here are a couple of online tools that were well-regarded for object removal.
3.1 AVC AI
AVC AI stands out as a user-friendly and cost-free online tool harnessing the power of artificial intelligence for swift and automated removal of undesired elements from images. This tool efficiently eliminates distractions such as people, text, logos, wires, and date stamps, seamlessly restoring the original background. Employing sophisticated deep learning inpainting algorithms, AVC AI analyzes images and intelligently fills in missing areas with authentic content. Furthermore, AVC AI offers additional photo enhancements, including enlargement, restoration, facial refinement, colorization, and color calibration.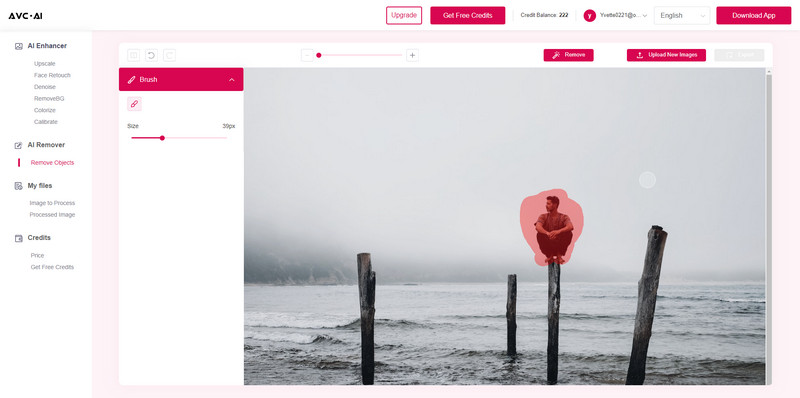 Pros:
Support batch processing
User-friendly interface (great for beginners)
High-Quality Results with AI algorithms
Preview the changes in real-time
Cons:
Registration is necessary to access some certain features
---
3.2 PicWish
PicWish employs advanced AI image erasure technology, making it a top-notch option for seamlessly eliminating objects from photos on the web. Its user-friendly interface ensures ease of use while delivering impressive results. Whether it's removing unwanted pedestrians, background clutter, watermarks, logos, or any other undesired elements, PicWish excels. Additionally, its batch processing mode enables the simultaneous handling of multiple images for efficient and time-saving operations.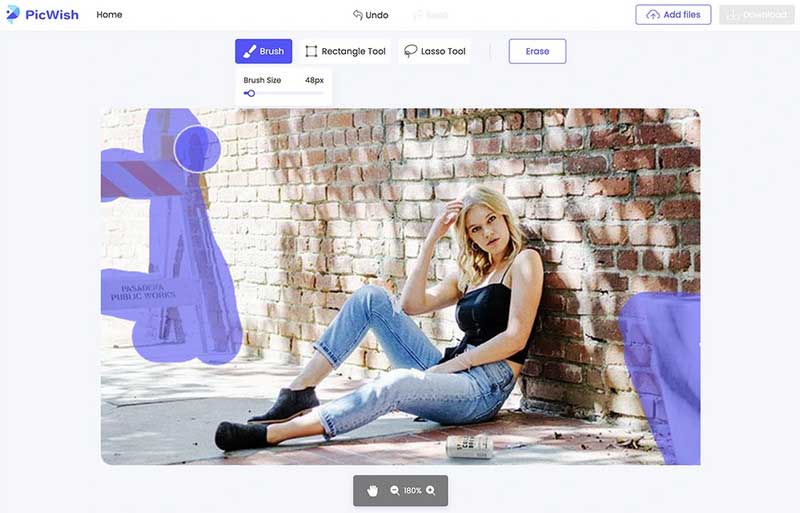 Pros:
Quick to learn and user-friendly
All-encompassing photo editing tool
Offer various effects and features
Cons:
May decrease in photo quality or resolution post-editing
---
3.3 PhotoRoom
PhotoRoom stands as a sophisticated remedy employing artificial intelligence to swiftly and automatically eliminate undesired objects from photos while seamlessly restoring the original background. Leveraging advanced deep learning inpainting algorithms, PhotoRoom analyzes images to intelligently fill in missing areas with authentic content, resulting in an enhanced visual aesthetic for your pictures.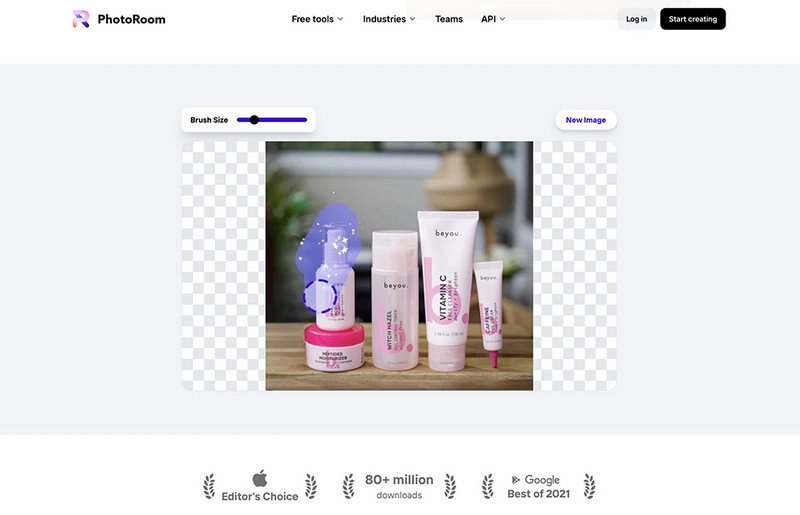 Pros:
Easy to use and intuitive interface
Available as a mobile app and web app
Free plan available with basic features
Cons:
Can occasionally have difficulty removing objects from complex backgrounds
---
Part 4: Best AI Object Removal Software to Remove Objects on Windows and Mac
While this article primarily focuses on AI object removal apps for mobile devices, it's worth mentioning that there are still many recommended desktop software for removing objects from photos.
4.1 Inpaint
Inpaint is specialized software meticulously crafted for image restoration purposes, available for both online use and computer download. Opting for the download version ensures superior image quality, without constraints on image count, size, or file size. Beyond its restoration capabilities, Inpaint can analyze images to fill in missing areas or remove undesirable objects. The software provides users with both automatic and manual options, offering complete control over the entire process.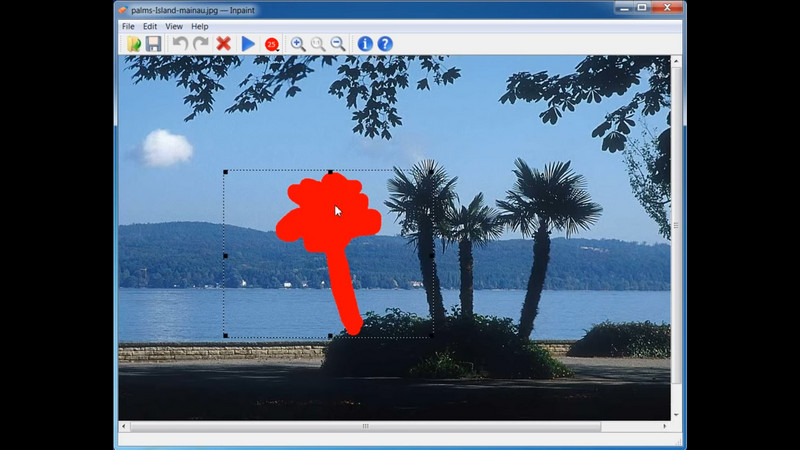 Pros:
Provide both automatic and manual inpainting options
AI algorithms provide advanced results
User-friendly interface and quick results for basic tasks
Cons:
Lack some advanced editing features
---
4.2 Photoworks
PhotoWorks is a comprehensive image editing software equipped with a range of features. It empowers users to eliminate undesired objects, make color and lighting adjustments, apply various effects and filters, add text, frames, and more. With advanced editing options, PhotoWorks facilitates the creation of professional-looking results, particularly in tasks related to enhancing and refining images.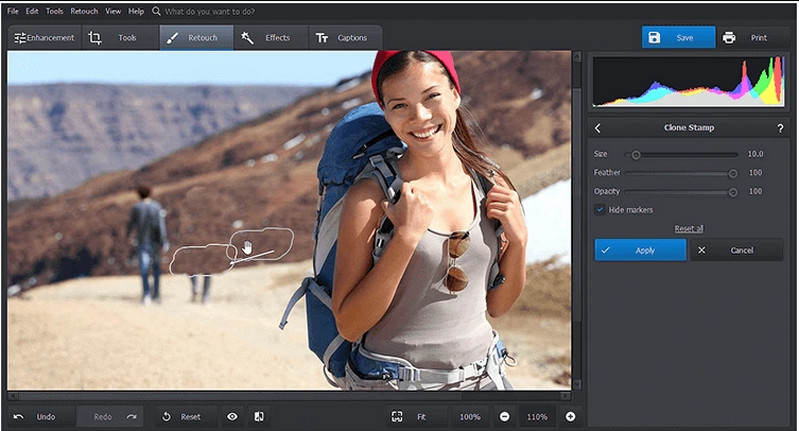 Pros:
Comprehensive image editing software with a multitude of features
Utilize advanced AI algorithms for enhanced outcomes
Provide a variety of professional editing choices for intricate image manipulation
Cons:
Require payment for access or usage
---
4.3 AVCLabs PhotoPro AI
AVCLabs PhotoPro AI utilizes advanced AI algorithms to seamlessly remove unwanted objects, spots, and more from photos, offering precise and high-quality results. Apart from removing objects from photos, it also enables users to increase photos' resolution, sharpen blurry photos, colorize black and white photos, remove photos' backgrounds, adjust photos' color, and repair old photos, etc.
Key Features of AVCLabs PhotoPro AI
Clear up blurry photos with advanced technology
Cutout image to make the background transparent
Remove unwanted objects, people, watermarks
Change the style of image to create unique look
Colorize B&W photos to make it come to life again
Upscale photos up to 3x, 4x without losing quality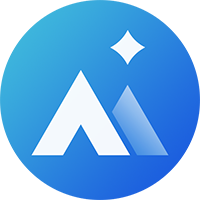 Remove Unwanted Objects from the Photo On Your Computer
Step 1: Download and Install AVCLabs PhotoPro AI
Download and install AVCLabs PhotoPro AI on your computer, then run it.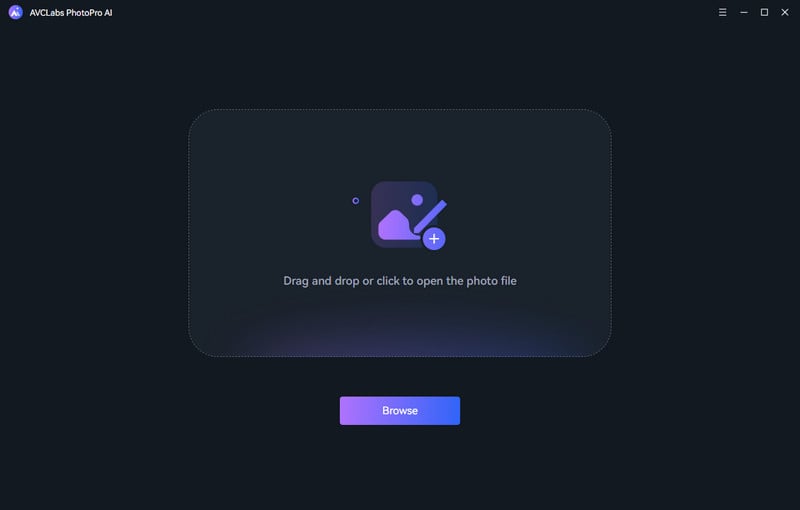 Step 2: Upload the Photo
Click on the Browse button to upload a photo to the program or drag and drop the photo to it.
Currently supported formats: PNG, JPG, JPEG, BMP, RAW, etc.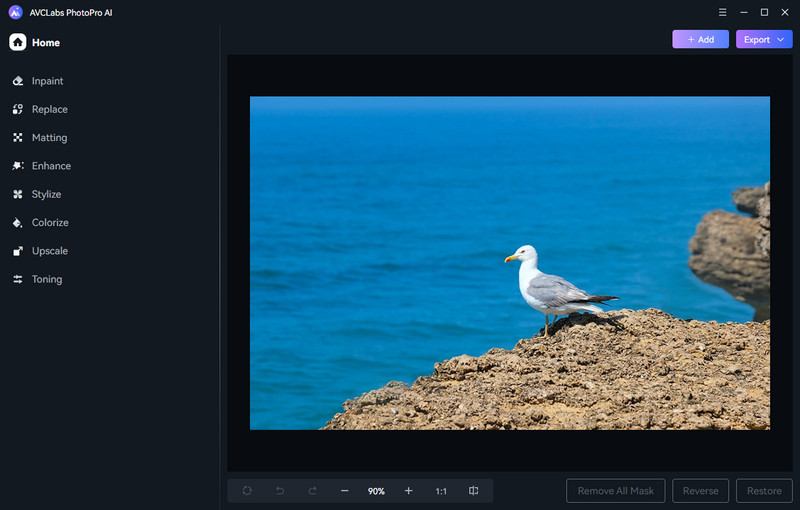 Step 3: Select the AI Model to Remove Objects from A Photo
There are 7 models available including: Inpaint AI, Matting AI, Enhance AI, Stylize, Colorize, Upscale, and Adjust Color.
After adding the photo to the program, select the area of the photo from which you want to remove an unwanted element using the Brush tool.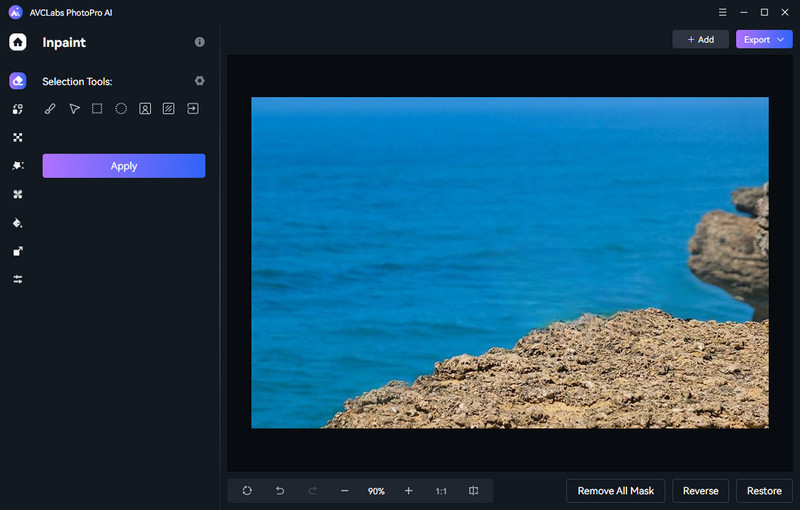 Choose the Inpaint AI model, the program will automatically and seamlessly remove the selected object from the photo.
After the object removal process is done, you can save the edited image to your computer.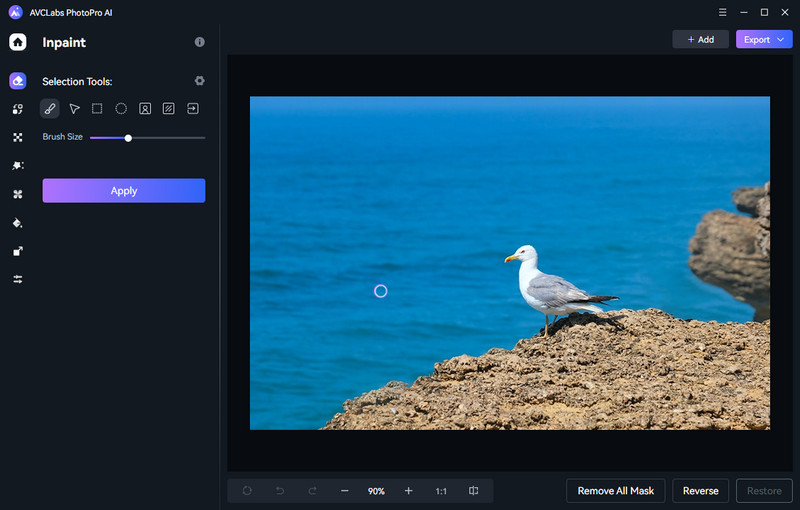 ---
Part 5: FAQs about AI-powered Free Object Removal App
Here are some FAQs about AI-powered free object removal apps.
Q. Can an AI-powered Free Object Removal App remove any object from a photo?
A. While AI-powered object removal apps are highly advanced, their effectiveness may vary depending on factors such as the complexity of the object, the quality of the photo, and the app's capabilities. Simple and well-defined objects can usually be removed more effectively compared to complex or intricate ones.
Q. Are there any limitations to using AI-powered object removal apps?
A.Yes, there are some limitations. These apps work best when removing small or moderately-sized objects from photos. Removing large or central objects may result in visible artifacts or distortions. Additionally, if the background of the photo is similar to the object being removed, it may be more challenging for the AI to accurately replace the object.
So it is essential to understand the app's capabilities and adjust expectations accordingly.
Q. Are AI-powered Free Object Removal Apps safe to use?
A. Generally, AI-powered Free Object Removal Apps are safe to use. However, it's essential to ensure that you download and use reputable apps from trusted sources to avoid potential security risks. Always be cautious when granting app permissions and consider reading user reviews or checking the app's privacy policy before usage.
Q. Do AI-powered object removal apps offer additional features?
A. Yes, some AI-powered object removal apps may come with additional photo editing features, such as filters, adjustments, and enhancements. These features allow users to further polish their images and create stunning visuals.
Q. Are AI-powered object removal apps suitable for professional photographers?
A. AI-powered object removal apps can be beneficial for both amateur and professional photographers. While they may not replace specialized photo editing software entirely, these apps offer quick and efficient object removal, saving time and effort in certain editing scenarios. Professional photographers often use AI-powered apps for initial edits before fine-tuning in more advanced editing software.
---
Conclusion
AI-powered object removal apps are a great way to quickly and easily remove unwanted objects from your photos. Many of these apps are free or offer free versions, allowing you to get started on the task without spending any money. Fotor, TouchRetouch, Adobe Photoshop Fix, Snapseed and YouCam Perfect are all great options for anyone in search of an AI-powered free object removal app for their iPhone or Android device. For those who want to use a free AI-powered object removal tool on their computer or online, this article lists several tools such as AVCLabs PhotoPro AI. With these powerful tools at your disposal, no longer do you need to spend hours manually erasing undesired elements in your photos; it's now a simple process which can be completed in minutes!
---
Related Articles