How to Convert Blurred Image to HD Quality Mac/Windows/Online?
"How do I convert an image to a high resolution?" --- Question from Quora
The quality of images is a crucial factor in effective communication, blurred images can hinder the conveyance of information, but the good news is that there are solutions to enhance them into high-definition (HD) quality. This article will delve into the concept of image resolution, and provide comprehensive guides on converting blurry images to HD quality using desktop software and online tools. We'll explore the usage of AVCLabs PhotoPro AI for desktop enhancement and AVC AI for online enhancement, equipping you with the knowledge to uplift the quality of your images.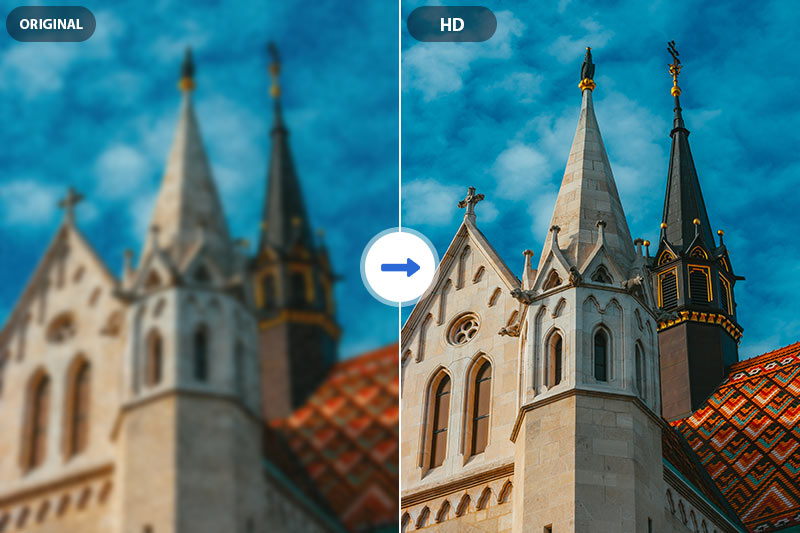 ---
Part 1: What is Image Resolution?
Image resolution refers to the amount of detail an image holds and is typically measured in pixels per inch (PPI) or dots per inch (DPI). A higher resolution results in a clearer and sharper image, while a lower resolution leads to pixelation and blurriness. When an image is blurry, it means that the individual pixels are not well-defined, resulting in a loss of detail and clarity.
Here's an overview of common image resolutions and their differences:
Low Resolution (640x480 or 800x600):
Commonly used for small images on websites or early digital cameras.
Limited detail and sharpness.
Suitable for web graphics and small prints.
Standard Definition (SD) - 720p (1280x720):
Used in older televisions, DVDs, and some online videos.
Offers better clarity compared to low resolution.
Acceptable for small to medium-sized screens.
High Definition (HD) - 1080p (1920x1080):
Standard for modern HDTVs, streaming services, and Blu-ray discs.
Crisp and detailed images suitable for larger screens.
Ideal for most digital content, including videos, images, and presentations.
Full HD (FHD) - 1080p+ (1920x1080 or higher):
Represents the top tier of 1080p resolutions.
Often used in gaming, professional video editing, and high-quality web graphics.
Offers improved detail and clarity for larger displays.
---
Part 2: How to Convert Blurred Image to HD Quality? [Desktop]
When working on a desktop, you have access to powerful software that provides extensive control over image enhancement.
Harnessing the power of your desktop, AVCLabs PhotoPro AI offer AI-driven image enhancement. Through advanced algorithms, these tools analyze your blurred images and intelligently upscale them to HD quality. With features tailored for desktop use, you gain precise control over parameters and adjustments, ensuring your images undergo a seamless transformation from blur to brilliance.
Key Features of AVCLabs PhotoPro AI
Increase image resolution without losing quality
Remove unwanted objects, people, watermarks
Enhance image sharpness and improve overall clarity
Change the style of image to create unique look
Colorize B&W photos to make it come to life again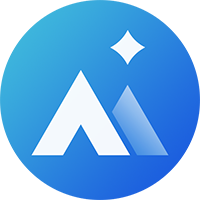 Steps to Convert Blurred Image to HD Quality with AVCLabs PhotoPro AI
Step 1: Install AVCLabs PhotoPro AI
Begin by downloading and installing AVCLabs PhotoPro AI on your computer.Once installed, launch the software and familiarize yourself with its user-friendly interface.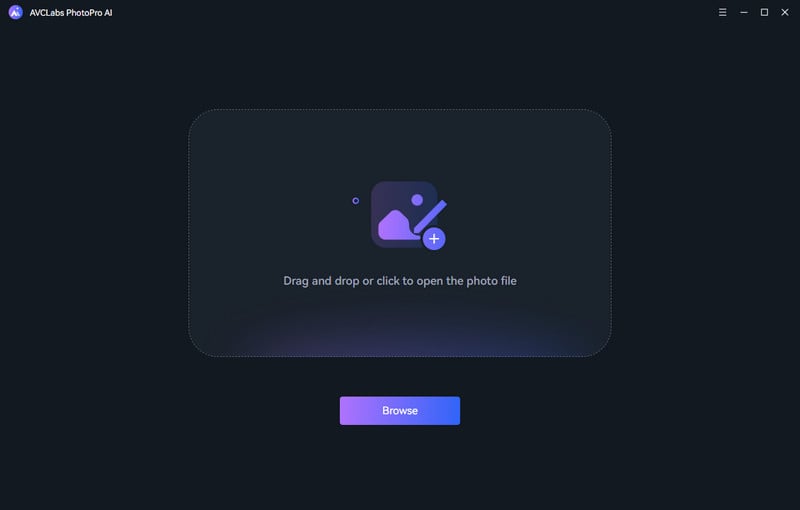 Step 2: Open the Program and Import Low-Resolution Blurred Image
After launching the program and then click on the Browse button to import low-res blurred image or drag and drop the image to the program directly.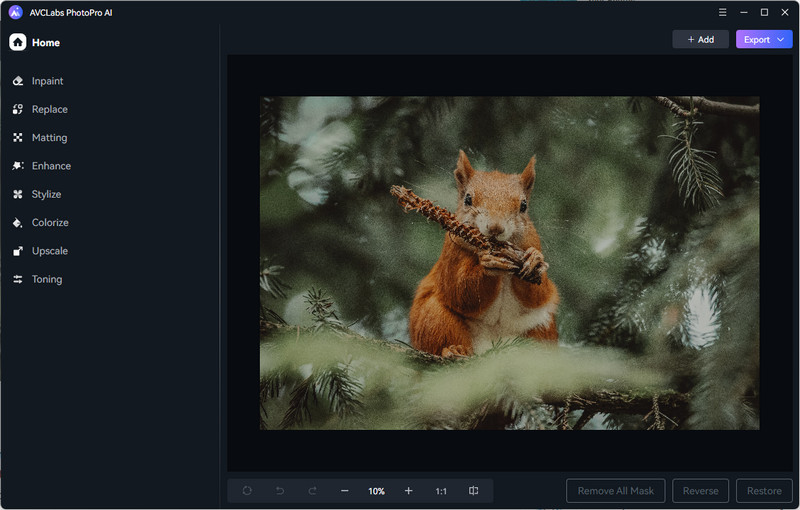 Step 3: Apply the AI Upscale Model
Within the top menu bar of the AVCLabs PhotoPro AI interface, you will find seven different AI models to choose from. To convert your images to HD resolution, select the "Upscale" model. Click on it and explore the available magnification levels, including 1X, 2X, 3X, and 4X.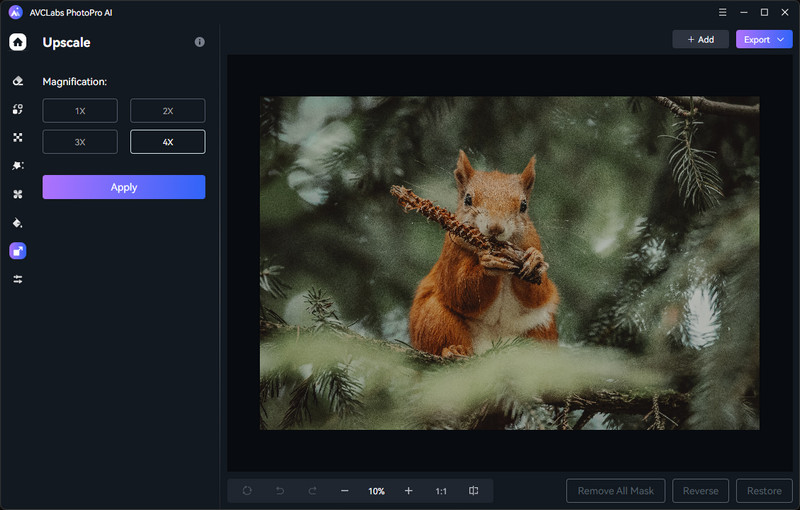 Step 4: Save the Processed Photo
Once the conversion process is complete, you can preview the original and upscaled images side by side by clicking on the "Contrast" button. If you're satisfied with the results, save the converted image to your local disk for further use or sharing.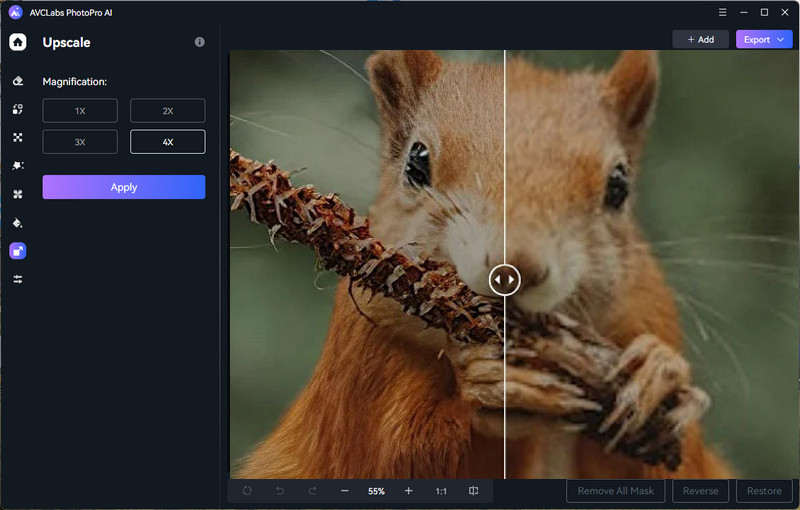 ---
Part 3: Online Method to Convert Blurred Image to HD Quality
For quick and accessible solutions, online tools come to the rescue. AVC AI offers a user-friendly platform for enhancing image quality. With its AI-powered algorithms, it can significantly reduce blurriness and enhance details, resulting in a sharper and clearer image. The tool's simplicity makes it accessible for all levels of users, making it an ideal choice for quick and effective image enhancement.
Follow these detailed steps to use it:
Step 1: Visit AVC AI and Upload Blurred Image
Open the Online AI Image Upscaler in your default browser. A good network condition will make the whole process fluently.
Note: The supported input formats are: *.png, *.jpg, *.jpeg, *.bmp, *.jfif and *.webp.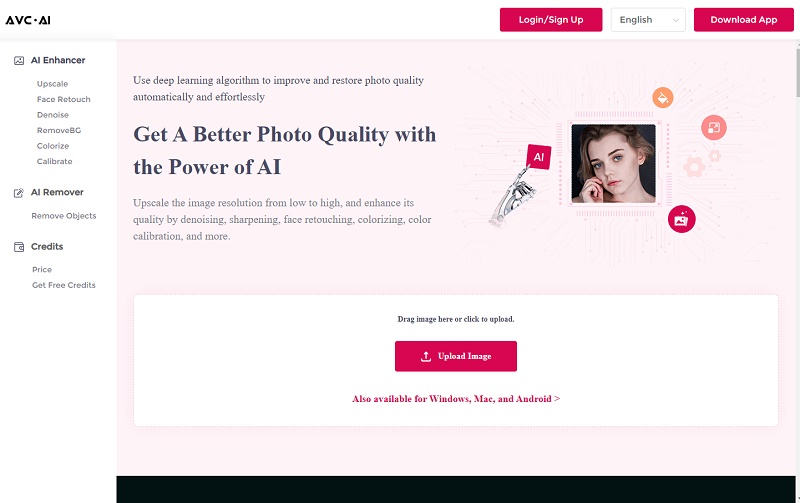 Step 2: Choose the AI Model and Start the Process
It provides many AI Models. Just choose the "Upscale" that offers four options of 100%, 200%, 300% and 400%. Choose one option according to your need to convert your image to HD. Please note the larger size you choose, the more time it will cost.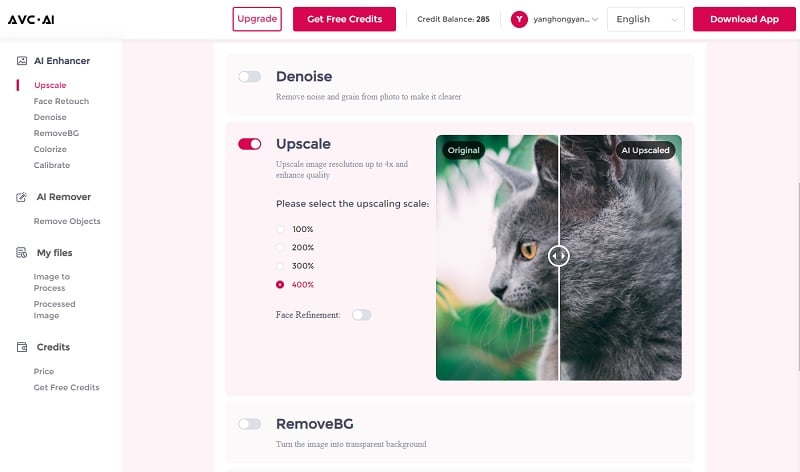 Then click on the "Start Processing" button at the bottom to start the enhancing process.
Step 3: Preview and Download Images
After processing is complete, you can compare the original and enhanced photos on the web. If you are satisfied with the final effect, just click the "Download Image" button to save it to your computer.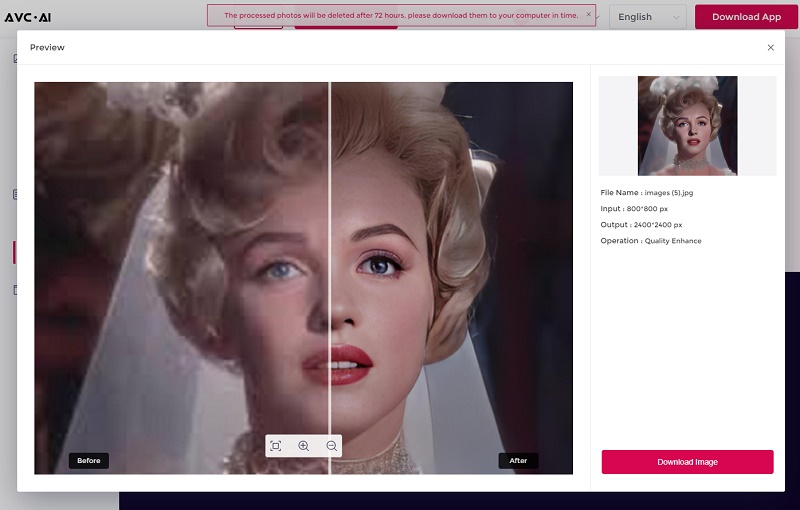 ---
Conclusion
Image resolution plays a pivotal role in the quality of visual content, and blurriness can significantly impact the message you intend to convey. Fortunately, there are effective solutions to convert blurred images into HD quality, catering to various preferences. Whether you opt for the precision of desktop software like AVCLabs PhotoPro AI or the convenience of online tools like AVC AI, this article has provided step-by-step guidance to empower you in enhancing image quality and effectively sharing your message through crystal-clear visuals, regardless of the platform you choose.
---
Related Articles