Best AI Video Upscalers Online Free to Upscale Videos to 4K, 8K Online for Free
"Is it possible to upscale videos from 480p, 720p to 1080p, 4K, 8K with super resolution while keeping the video quality? Is there a free video upscaler online recommended?"
Are you looking for the best AI video upscalers online for free? Do you want to upscale videos from SD or HD to 4K and 8K online without compromising on quality? If so, then this blog post is the perfect place to start. Here we will be discussing which are the top AI video upscalers available online that offer excellent services at no cost. With these tools, you can quickly upscale your existing videos while retaining their original sharpness and clarity, so they look better than ever before when rendered in higher resolution. Keep reading as we discuss various free-to-use online solutions as well as how each one works!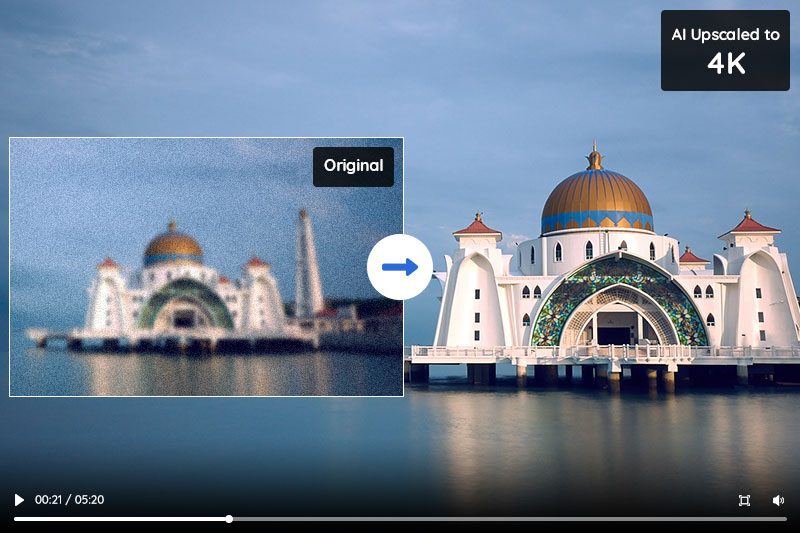 ---
Part 1: What Is AI Video Upscaler
AI Video Upscaler is a tool that uses advanced algorithms to enhance and upgrade digital video quality. It utilizes Artificial Intelligence (AI) to analyze the resolution of videos and then upscales it while preserving their content, color accuracy, contrast, detail, and other visual qualities. This means that those with lower resolution can now have high-quality playback without the loss of sharpness or clarity associated with inadequate resolutions. AI Video Upscaler is helpful for those who want to view or stream HD content without sacrificing any of the crispness or details usually lost at lower resolution levels.
---
Part 2: Top 3 Free AI Video Upscalers Online to Upscale Videos to 4K, Even 8k Online
AI Video Upscalers Online are becoming increasingly popular for their ability to quickly and effectively upscale videos. Nowadays, you can find some of the top AI Video Upscalers available online for free. These AI Video Upscalers can help upgrade your video resolution up to 4K and even 8K with minimal effort and time, making them an ideal choice for those who want to take the quality of their videos a step further. Plus, most AI Video Upscalers come with easy-to-use interfaces and additional features that make it simple to achieve the desired results.
2.1 Pixop
Pixop is an innovative online video upscaling platform utilizing advanced AI and ML technology to deliver exceptional features such as super-resolution, restoration, and deep denoising. Experience breathtaking results and unmatched efficiency as you swiftly unleash your videos' true potential. For an enriching 8K upscaling adventure, explore their premium service and upscale videos in formats beyond the scope of standard upscaling services.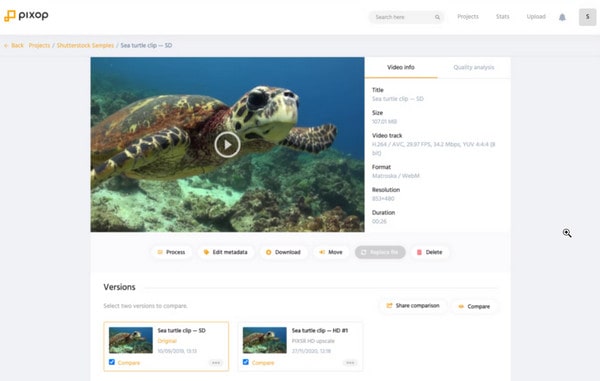 Key Features of Pixop
Use artificial intelligence to upscale your videos, making them look sharper and more detailed
Integrate with major video editing software so that you can use it in your workflow without any hassle
Intuitive interface is designed to make the upscaling process seamless and easy for users of any skill level
Loaded with advanced features such as batch processing and support for various file formats that allow you to take your video projects to the next level
Pros:
Easy to use
Online AI video upscaler with rich options
Customize output bitrate and FPS
Cloud-based, you can access Pixop from any internet-connected device
Cons:
Expensive if you have a long video or more options selected or many videos to upscale
---
2.2 Neural.love
Neural.love is an AI-driven video upscaling platform that breathes new life into your digital content. Transform your videos with dazzling 400% resolution boosts, up to 4k quality, and smoother playback at 60 FPS. Experience the magic of restored facial details, dynamic colorization on monochrome footage, and thrilling slow motion effects at 10% speed rates. Compatible with Instagram and YouTube videos, Neural.love is your ticket to big-screen brilliance, taking your visual storytelling to unparalleled heights.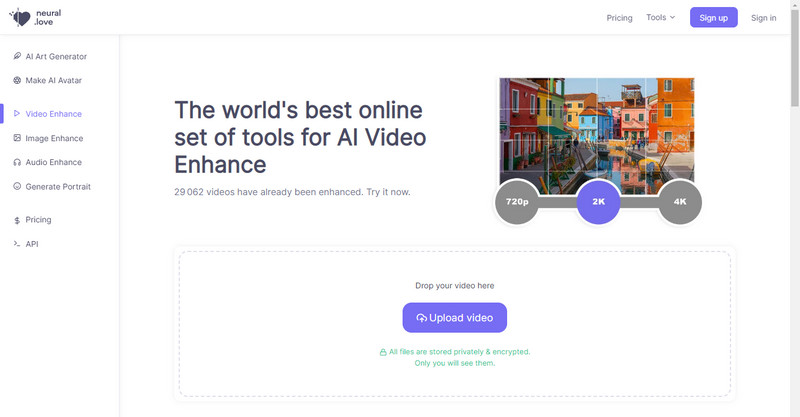 Key Features of Neural.love
Improve video resolution to 4k with perfect detailing
Increase the realism of your video by creating additional frames that goes up yo 60 FPS
Efficiently fine-tune facial details
Convert black and white videos to color
Pros:
Easy to use
It comes with a facial detail refinement feature
Colorizing old b&w videos is supported
Online video quality enhancer compatible with any devices and browsers
Cons:
It can be expensive if you have a long video to process
---
2.3 Aimages.ai
Aimages.ai is a remarkable online video upscaling solution that elevates your videos to 4K or 8K resolutions, entirely free of charge! Powered by the tech giant, Google, you can confidently expect top-notch quality enhancements. Experience the future with AI-backed video upscaling, accessible from your web browsers, without any installations required.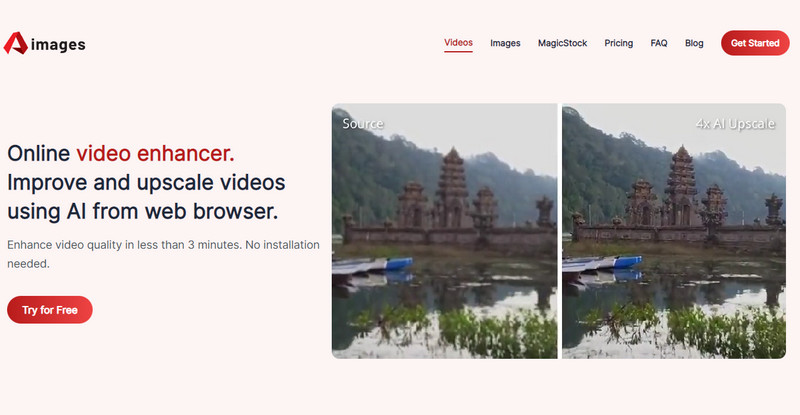 Key Features of Aimages.ai
Run 100% online with GPU-accelerated cloud servers
Process a lot of videos at once and 100 times faster than a normal computer at work
Use the most up-to-date AI algorithms and trains with machine learning to improve video quality with no artifacts
Support to colorize, deblur, clean, sharpen and upscale videos
Pros:
Online AI video upscaling
Easy to use
Process a lot of videos at once and 100 times faster than a normal computer at work
Cons:
Limited upscaling option, only 200% upscaling
---
Part 3: Bonus: Upscale Videos to 4K, 8k on Mac/PC via AVCLabs Video Enhancer AI
AVCLabs Video Enhancer AI offers the ultimate in video enhancement, allowing you to convert videos from standard resolution up to 4K, 8K UHD resolution with a single request. The process is fully automated and extremely detailed, thanks to its advanced AI technology. It uses information from both frames to sharpen and improve the quality of every frame of your video. No matter the original file size or format, you can trust that you're getting superior quality UHD images as your output when you use this service. With a simple upload of your videos, you'll have impressive UHD results in no time.
Additionally, it enables users to enhance the low-res video quality by fixing shaky footage, removing noise from videos, removing blur from videos, adjusting settings like brightness and contrast and much more. Plus, it allows users to crop or resize a video, change its aspect ratio.
Key Features of AVCLabs Video Enhancer AI
AI Upscale video to HD, 4K and even 8K
Enhance video quality with multi-frame
Remove noise to make the video clearer
Recover and enhance facial details with AI
Colorize B&W videos to bring them to life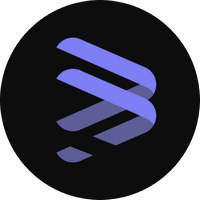 Here are simple steps to upscale low-resolution videos from 480p, 720p to 1080p, 4K, 8K:
Step 1: Run AVCLabs Video Enhancer AI
Get started with the extraordinary AVCLabs Video Enhancer AI by downloading it from the link provided and effortlessly launch it post-installation.
Friendly notice: Don't forget to verify your system and hardware compatibility with AVCLabs Video Enhancer AI by clicking here.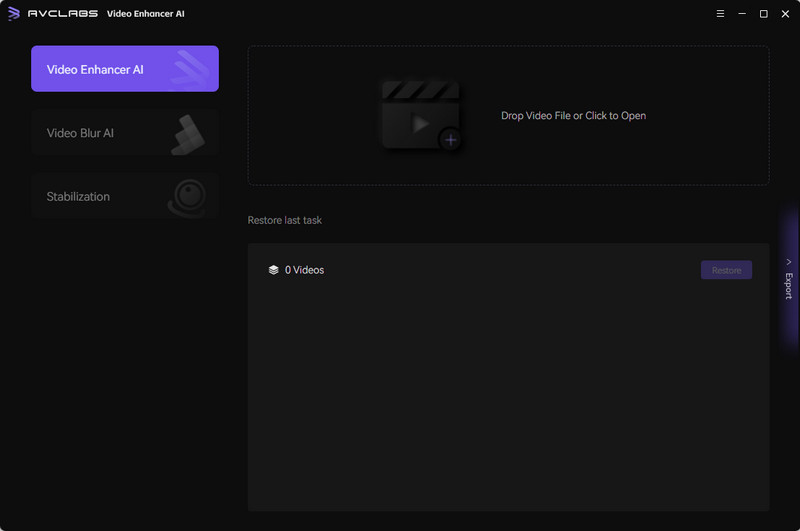 Step 2: Add One Or Multiple Low-res Videos to This Program and Configure the Model Settings
Simply click on the Browse button to import one or multiple videos of low-res videos in 480P, 720P resolution. You can also drag and drop the video file into the program. Elevate your experience by effortlessly gliding to the right panel, where a realm of AI models with intriguing, adjustable settings await your one-click command.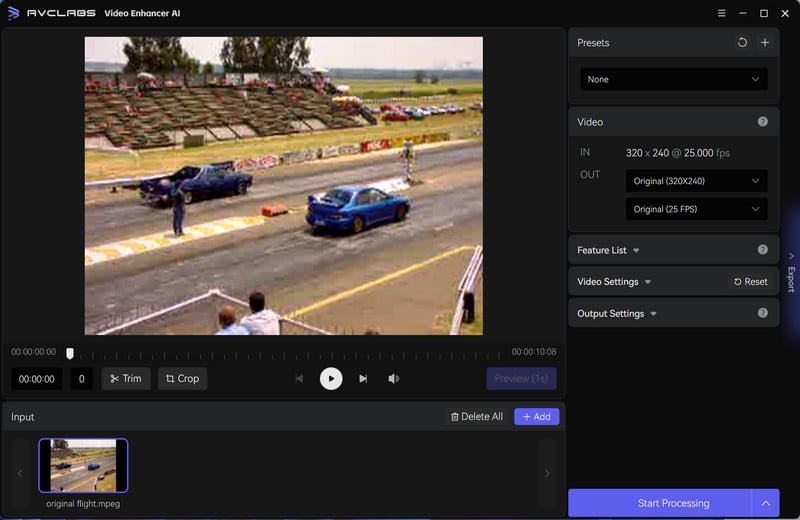 01. Model List
There are three AI models available: AI Upscaler, Denoise, and AI Colorizer.
To upscale the video resolution, the AI Upscaler model is highly recommended. This powerful AI video upscaling tool helps users upscale any low-resolution videos from 480p, 720p to 1080p or 4K, even up to 8K without sacrificing any quality in the process.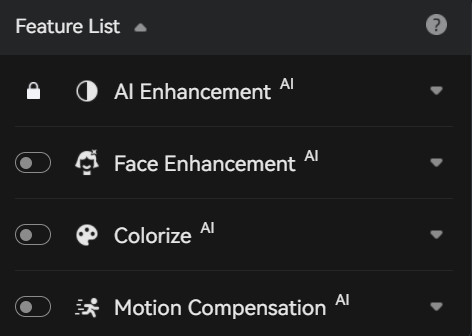 02. Model Settings
Now, you can configure your AI Upscaler model. Choose from Standard, Ultra, Standard(Multi-Frame), and Ultra(Multi-Frame) options to achieve an ideal upscaling result. Choose the Face Refinement option for a complete facial detail recovery and enhancement.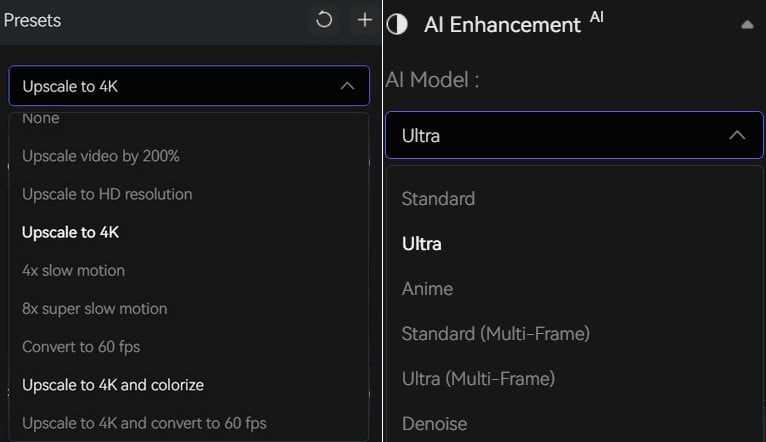 Step 3: Configure the Video and Output Settings
01. Video Settings: Dive into the Video Settings to tweak your visual experience by fine-tuning color aspects (Brightness, Saturation, and Contrast), optimizing screen coverage, and ensuring smooth video playback with deinterlacing options.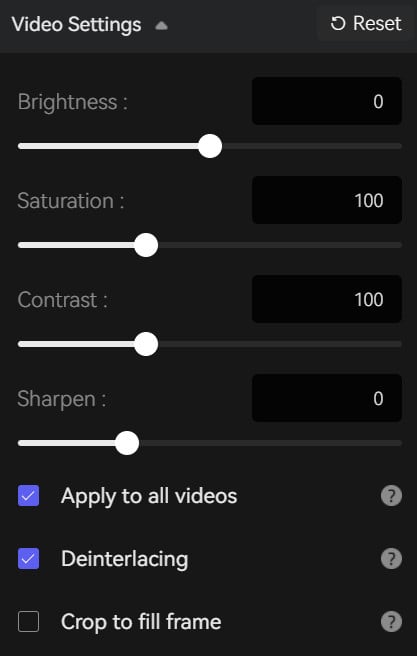 02. Output Settings: Select your desired output format for an optimized video experience. Feel free to pick from our extensive list of high-quality formats, featuring MP4 (H.264), MP4 (H.265), MKV (H.264), MKV (H.265), AVI (UnCompressed), and MOV (ProRes 422HQ).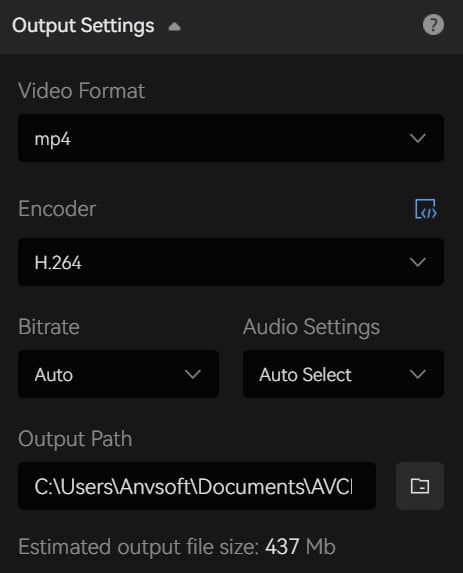 Step 4: Start Upscaling Video Resolution from 480P, 720P to HD 1080P, 4k, 8K
Congratulations on finishing the groundwork! Ready to elevate your low-res videos to new heights? Simply hit the Start Processing button without hesitation. Witness the magical transformation unfold! Do keep in mind that your system's capabilities and the video size may influence the duration of this marvelous upscaling journey.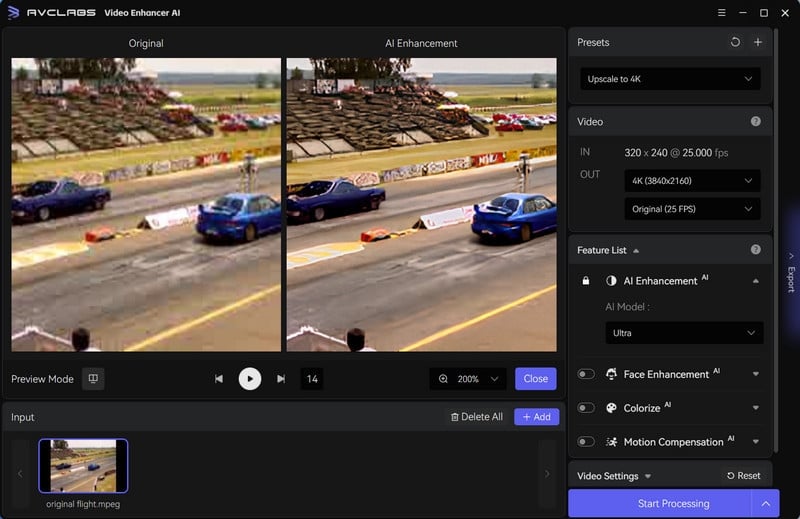 ---
Part 4: Common FAQs about Upscaling Videos to 4K Online
Upscaling video to 4K online is becoming more popular as streaming services integrate higher quality resolutions. While the process is relatively straightforward, there are some FAQs that people should be aware of before they attempt to upscaling their videos.
Q. What does it mean to upscale a video to 4K?
A. Upscaling a video to 4K means increasing the resolution of a lower-quality video to a resolution of 3840x2160 pixels, which is the resolution of 4K video. The process involves adding more pixels to the original video to make it larger and sharper, but it does not add any additional detail or quality that wasn't already in the original video.
Q. What are the benefits of upscaling a video to 4K?
A. The main benefit of upscaling a video to 4K is that it can make the video appear sharper and more detailed on 4K displays. Additionally, upscaling can help improve the overall visual quality of the video by reducing pixelation and other visual artifacts that can occur when displaying lower-resolution videos on high-resolution displays.
Q. Can any video be upscaled to 4K?
A. Yes, any video can be upscaled to 4K, but the quality of the upscaled video will depend on the quality of the original video. If the original video has a low resolution or poor quality, upscaling it to 4K may not significantly improve its appearance.
Q. What tools or software can I use to upscale a video to 4K?
A. There are several tools and software available for upscaling videos to 4K, both online and offline. Some popular options include AVCLabs Video Enhance AI, Topaz Video Enhance AI, and Adobe Premiere Pro. Online services such as AI Image Enlarger, Let's Enhance, and Video Upscaler are also available.
Q. Are there any downsides to upscaling a video to 4K?
A. Yes, upscaling a video to 4K can result in some loss of quality and introduce artifacts, especially if the original video was low resolution or highly compressed.
Q. Is upscaling a video to 4K the same as shooting a video in 4K?
A. The answer is no, upscaling a video to 4K is not the same as shooting a video in 4K. Shooting a video in 4K captures more detail and provides a higher-quality source for display on 4K screens. Upscaling a lower-resolution video to 4K can improve the viewing experience, but it cannot capture the same level of detail as a true 4K video.
---
Conclusion
In conclusion, AI Video Upscaler is a useful and cost-effective tool for anyone wanting to upscale video from low resolution such as 360p or 480p to high quality resolutions such as 4K, 8k. As shown in this article, there are multiple free sources available including Pixop, Neural.love and Aimages.ai which can be used to quickly and easily upscale your videos online. For higher quality results or to upscale videos on your own computer or laptop, AVCLabs Video Enhancer AI is a good choice as it uses the latest AI technology to produce incredible results with minimal effort. Finally, if you have any additional questions about upscaling videos online then make sure to check out our FAQ section at the end of the article for more information.
---
Related Articles