5 Online Video Quality Enhancers That Worth a Try: How to Improve MP4 Video Quality Online
Are you tired of dealing with poor video quality when you're watching MP4 videos? Low-quality videos can make it difficult to enjoy the content. If you want to improve the quality of your MP4 videos, there are a few simple steps you can take. In this blog post, we'll explore different strategies for improving MP4 video quality online with minimal effort and cost. Like how to use online tools to improve the video quality of your MP4 files so that better viewing experiences can be had by all. Read on to find out more about this helpful method for transforming low-grade videos into works of art!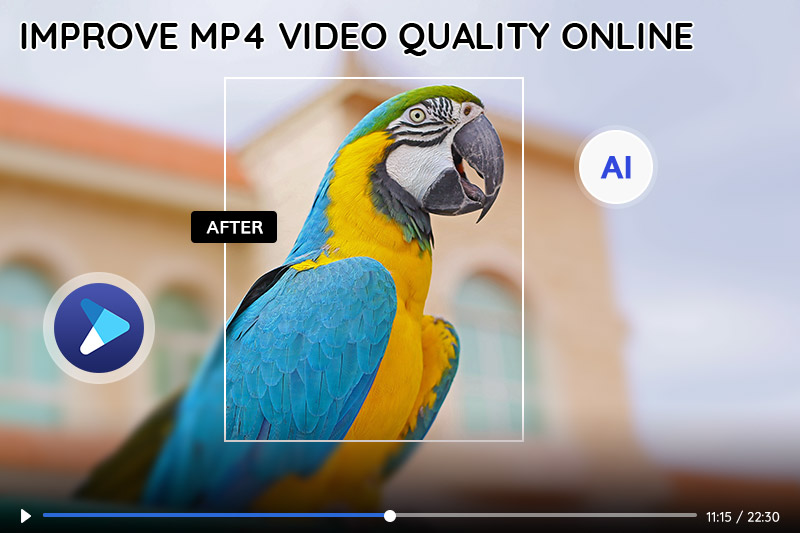 ---
Part 1: Video Quality Enhancers -Tools You Need to Improve MP4 Video Quality
A Video Quality Enhancer is a software program that helps you improve the quality of your MP4 videos. It can help to enhance the clarity, sharpness, contrast, and color of videos taken with any camera or device. By using a video quality enhancer, you can create high-quality videos right from home.
The software has many features such as autocorrection and manual adjustment tools that allow you to tweak settings according to the type of footage you are trying to enhance. Additionally, some video quality enhancers come with noise reduction features, so you can reduce digital artifacts and make your footage look cleaner. With a video quality enhancer, you can take your videos up a notch and get professional results without having to go through tedious post-production work. Whether you're a beginner or an experienced filmmaker, these programs can help make your videos look better and allow you to share them on various platforms with ease.
---
Part 2: Online Video Enhancers to Improve MP4 Video Quality
1. Canva
Canva is an online platform that enables users to create, design and edit visuals. It allows you to create professional-looking graphics with a few clicks of a button. With Canvas's easy-to-use tools and features, you can easily improve the quality of your MP4 videos online. It offers a variety of tools for editing video content in various formats. You can crop, rotate, add text, and apply filters to your videos. You can also adjust brightness and contrast levels, as well as colors and saturation levels. After making these changes, you can export your finished video in a high-quality MP4 format.
In addition to its powerful video editing capabilities, Canva also offers other services that can be used to improve the quality of your MP4 videos. For example, you can create professional-looking thumbnails for your videos that will help draw viewers' attention. You can also add animations and other visual elements to make your videos look more exciting.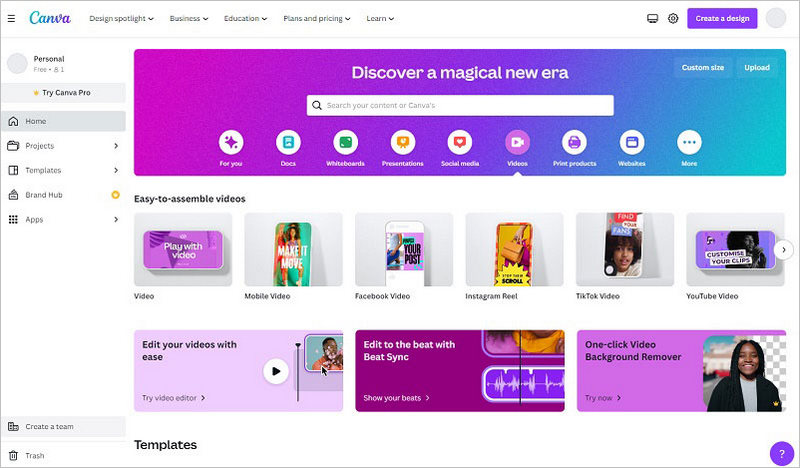 2. Flixier
Flixier is an online video quality enhancer that offers a wide range of features for improving the quality of mp4 videos. This tool doesn't provide the option to alter the video's color but rather concentrates on enhancing its overall appearance. Its primary features include trimming, incorporating diverse transition and motion effects, inserting text and captions, adding subtitles and kinds of preset shapes, as well as applying audio effects. In addition, it is equipped with a rich library of videos, images, and GIFs. Flixier can be accessed for no cost, but the finished video will bear a watermark.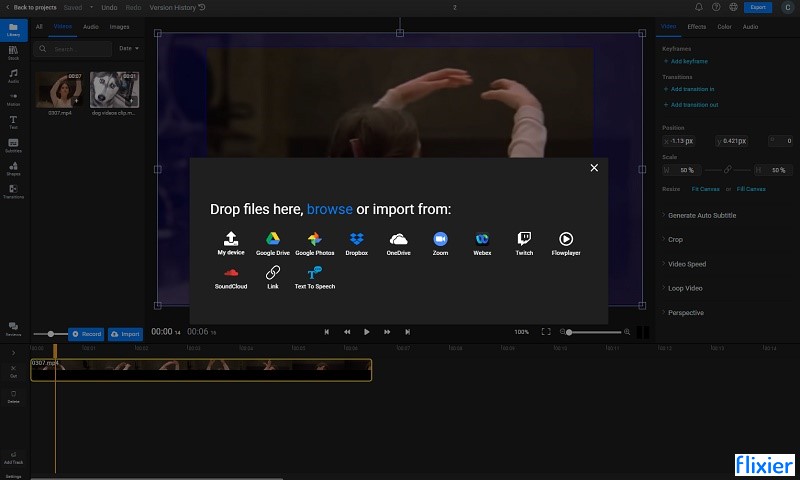 3. VEED.IO
VEED.IO is an intuitive, user-friendly video editing platform that helps content creators improve MP4 videos online. It has robust features like drag and drop editor, beautiful templates, an audio library, and stock footage which enable users to craft professional-looking videos easily and quickly. VEED.IO provides a convenient way to make attractive video clips for social media, marketing campaigns, and more. With its one-stop approach, users can quickly add text, transitions, filters, subtitles, and other elements to their videos. VEED.IO also offers an array of customization options such as font size and color selection to refine the look and feel of your video projects. The platform is packed with powerful resources like royalty-free music and stock footage, so users can create videos without worrying about copyright issues.
You can use VEED.IO to improve the quality of MP4 videos online for free, but there are some limitations, like downloading improved videos with watermarks and not being able to download HD videos.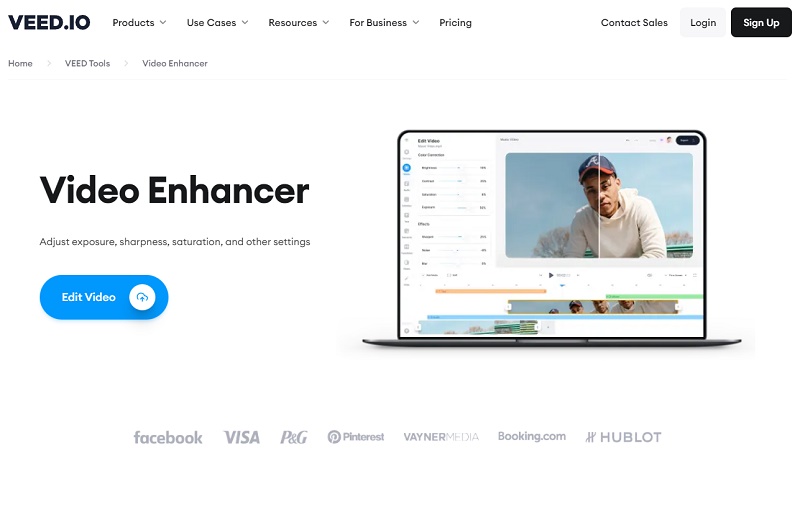 4. CapCut
CapCut is an advanced video editing application designed for creators to improve MP4 video quality. It is not only available for mobile devices, desktops, and also a free online video editor. When you access to the online CapCut, a pop-up window will automatically appear, which is preset with various social media video sizes, such as TikTok, YouTube ads, Instagram stories, LinkedIn ads, Facebook videos, etc. You can choose according to your needs or select a blank canvas. It has a suite of features including multiple editing options, creative transitions, various soundtracks, and color grading capabilities.
With its intuitive user interface and powerful editing tools, it's the perfect tool for improving MP4 video online. With its support for popular formats such as MP4, MOV, AVI, WMV, and H.264/AVC, you can be sure that your video will look great and play smoothly on any device. So if you are looking for an easy-to-use video editing app, CapCut is the perfect choice for you.
Check the detailed tutorial on how to increase video quality with CapCut.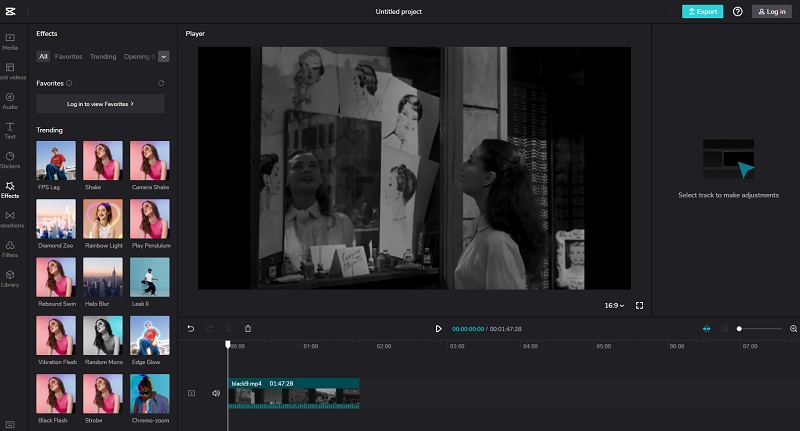 5. Media.io
Media.io is another online video editor with useful features that can help you improve the MP4 video quality. The main functions of this online editor include adjusting the brightness, contrast, and saturation to enhance your video effects online and for free, trimming videos online easily by setting the start and end time, rotating videos clockwise or counterclockwise in 90 degrees, which helps to change portrait scene in a landscape mode, cropping videos with removing black edges or changing aspect ratio to fit for Instagram, Facebook, and other platforms and supporting multiple output video resolutions from the same as source 240p, 360p, 480p, 720p, to 1080p and the output formats including MP4, AVI, MKV, WMV, 3GP, and FLV.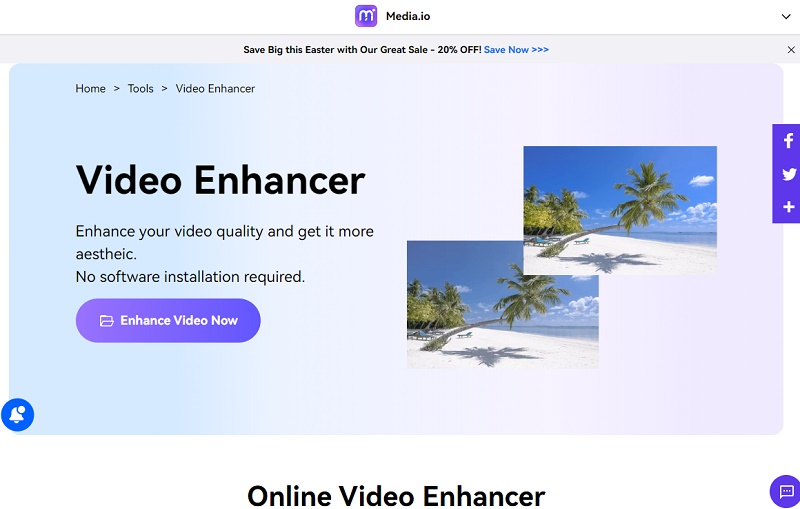 ---
Part 3: How to Improve MP4 Video Quality with Desktop Software
In addition to the above online video enhancers, there are also some desktop software that can help you easily and quickly improve the MP4 video quality, especially useful for those who want to improve MP4 videos with low resolution and blurring, or if you want to upscale the video resolution but don't want to lose picture quality. General video editors do can improve the visual effect by adjusting some parameters, but can not actually upscale the resolution without losing quality, removing noise, or fixing details.
3.1 Best Desktop Software to Improve MP4 Video Quality
AVCLabs Video Enhancer AI is the top video quality enhancer app designed to improve video quality in any format. It is available on both Windows and Mac. Powered by Artificial Intelligence, this video enhancer has some advanced features such as noise reduction, color correction, motion compensation, stabilization, resolution upscaling, and automatic de-interlacing that allow you to further optimize your video clips without requiring any manual intervention.
Additionally, it can be used to create time-lapse videos and can even be used in post-production workflows. AVCLabs Video Enhancer AI is an invaluable tool for any video enthusiast looking to get the most out of their recordings. With its powerful capabilities, it enables them to create stunning results with minimal effort. Furthermore, the application is designed to be extremely user-friendly and accessible to all levels of experience. Whether you're a beginner or a professional video editor, AVCLabs Video Enhancer AI has got you covered. With its combination of advanced features and intuitive user interface, it's the perfect choice for anyone looking to improve MP4 video quality quickly and easily.
Key Features of AVCLabs Video Enhancer AI
AI Upscale video to HD, 4K and even 8K
Enhance video quality with multi-frame
Remove noise to make the video clearer
Recover and enhance facial details with AI
Colorize B&W videos to bring them to life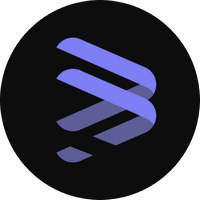 ---
3.2 How to Improve MP4 Video Quality with AVCLabs Video Enhancer AI
To make sure an optimal viewing and processing experience, please check whether your computer configuration meets all system and hardware requirements before improving MP4 video quality with AVCLabs Video Enhancer AI.
Step 1: Install AVCLabs Video Enhancer AI and Import MP4 Videos
Download and install AVCLabs Video Enhancer AI following the instruction, then launch it. Click the Browse button or drag and drop MP4 videos to import them.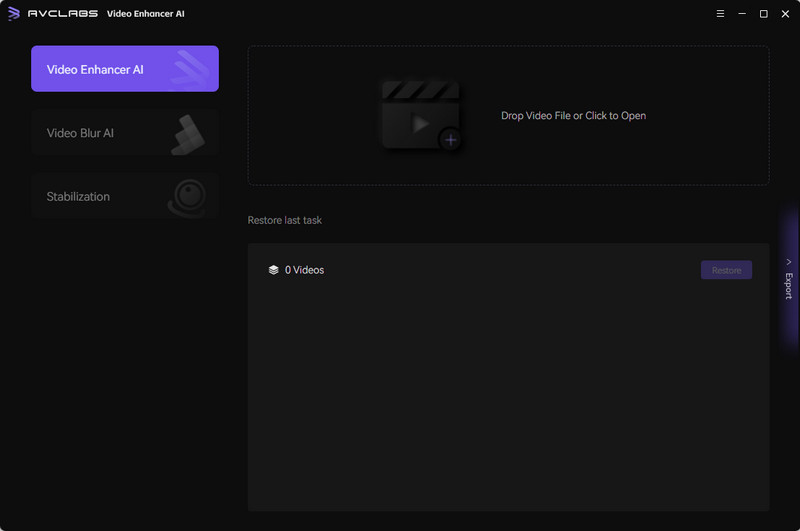 Step 2: Select Targeted AI Features
Analyze the video quality problems and verify which aspect you want to improve, then select the corresponding AI features in a targeted manner. There are four different AI features that can meet most of your demands. You can improve video quality with more than one feature at the same time, for example, upscale videos to 4k and colorize them.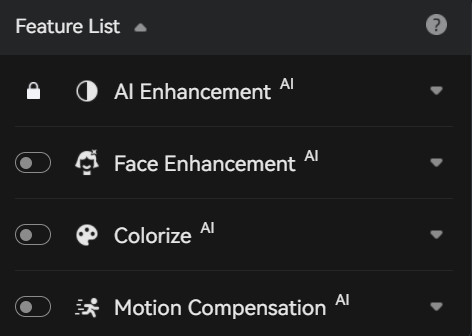 Alternatively, you can also select from the Presets section. It offers seven pre-configured options that you can use directly.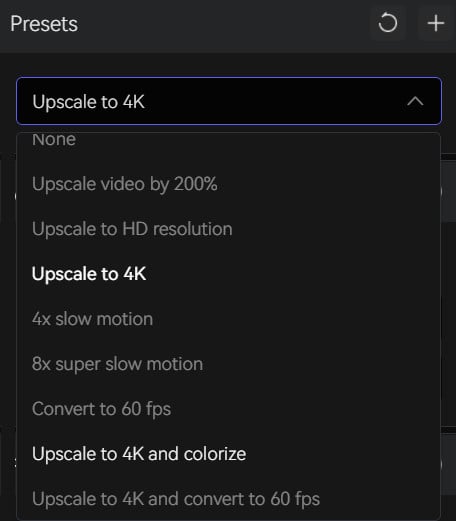 Step 3: Configure Settings
Output Settings: you can set the output video format(MKV, MP4, AVI, MOV, WEBM), the encoder (H.264, H.265, VP9 Good, VP9 Best, AV1), the bitrate, audio settings, as well as the output path as you wish.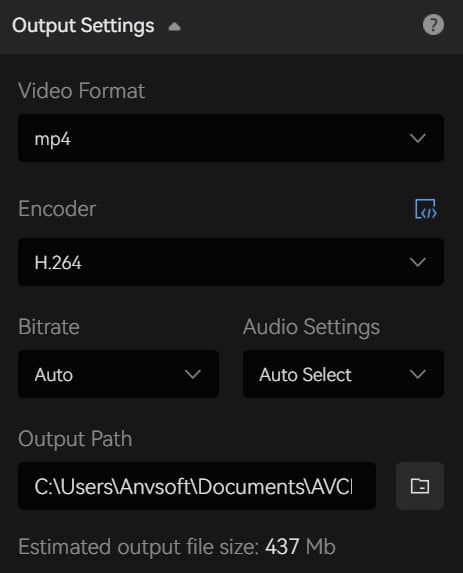 Video Settings: If you need more hands-on control, you can manually adjust the brightness, saturation, and contrast of your videos to enhance the visual quality under Video Settings. Or you can also check the box of cropping to fill the frame and deinterlacing.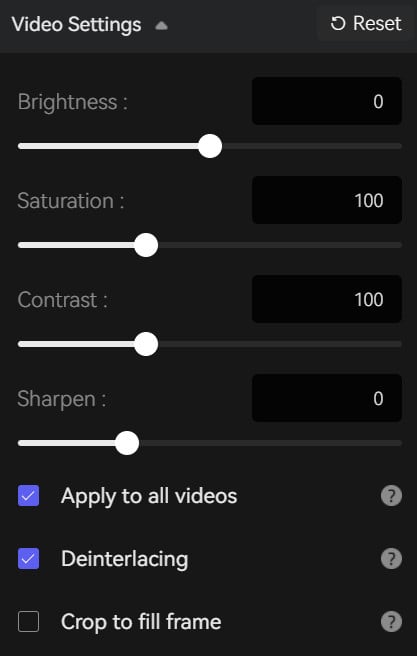 Step 4: Start Improving MP4 Video Quality
Once all the settings are complete, click the Eye button to preview 30 frames to make sure the final result is what you want, or you can go back to make some adjustments. Finally, click the Start Processing button to ready to improve MP4 video quality.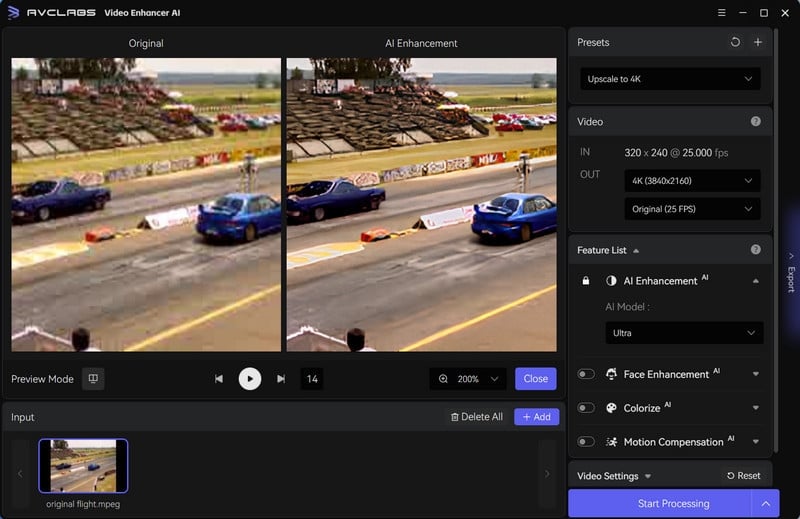 ---
Bottom Line
With so many options out there, it's important to find the right tool that fits your needs. After exploring five potential methods to improve MP4 video quality, it is easy to see that the best option for enhancing your videos quickly and easily is AVCLabs Video Enhancer AI . This software offers a wide range of features and functions to adjust basic settings like brightness, contrast, and saturation as well as improve more advanced parameters such as illumination, sharpening, color balance, chroma adjustments, and video stabilization. Best of all, you can see the results quickly and dramatically with the preview mode feature. Download AVCLabs Video Enhancer AI today for free and see how much better your videos will look. With this powerful tool at your disposal, you are guaranteed to notice a significant improvement in the overall quality of your video files.
---
Related Articles