The Best Alternatives to Neat Video Noise Reduction Software
Neat Video is the gold standard when it comes to noise reduction software. It is one of the few solutions that can intelligently reduce noise while keeping footage looking natural and not like a cheap horror movie. However it is not the only noise reduction software on the market. If you're working on a shoestring budget or don't shoot enough video to make the investment worthwhile, you don't need to panic just yet. There are plenty of excellent alternatives out there that won't cost you an arm and a leg but still do an exceptional job of removing unwanted noise from your footage. In this blog post, we'll take you through some of the best alternatives to Neat Video Noise Reduction software.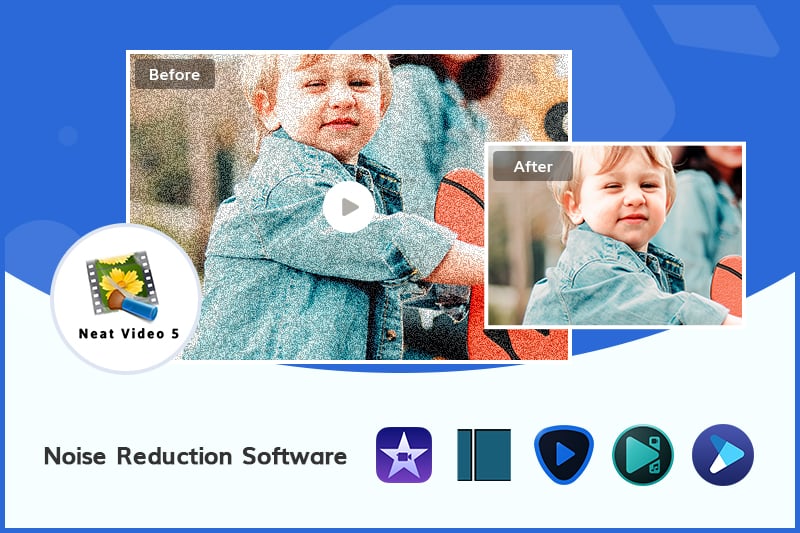 Part 1: What Is Noise Reduction Software
Noise reduction software is designed to remove noise from your footage in order to improve the quality. Noise is a natural occurrence that can happen with any type of sensors. When the signal is too weak, it produces a visual interference known as noise that can be in the form of static, grain, or color blotches.
The most common types of noise that can appear on your video are:
Dark noise - This type of noise is a black or dark blue color that is visible in low-light conditions. It is also known as thermal noise or Johnson noise.
Color noise - This is the most common type of noise. It appears in the form of blue, cyan, or magenta blotches. To reduce color noise, you will need to use a color filter.
Pixelation - This type of noise appears as square blocks of color or dots. It's caused by low-resolution video recording.
Part 2: How Noise Reduction Software Works
Noise reduction software works by analyzing the footage and comparing it to a clean version of the same footage. This allows the software to identify the noise and come up with a solution to reduce it in your footage. Some noise reduction software also comes with tools that let you manually adjust the amount of noise reduction. These tools are helpful if you are trying to reduce certain types of noise without affecting other parts of the video.
Part 3: Introduction of Neat Video
Neat Video is a powerful noise reduction software for video editing in post-production. It is designed to analyze and reduce noise including film grain and digital noise originating from both external and internal sources. The software's algorithms will analyze your footage and then remove unwanted noise, like: Sensor dust - Dust particles or flecks on the camera sensor. Thermal noise - Hot pixels in an image caused by electronic or thermal noise. Black level - Black level is noise in the darkest parts of the image. CCD noise - CCD noise can be caused by poor camera sensor placement. Sensor banding - Sensor banding occurs when pixels are incorrectly read by the sensor.
Neat Video will preserve the quality and integrity of your footage while doing this, while also giving you a ton of control over the noise reduction process. It is a very powerful tool, and it requires a good amount of skill and knowledge to get good results. That is why many people prefer using an easier to use and less expensive alternative.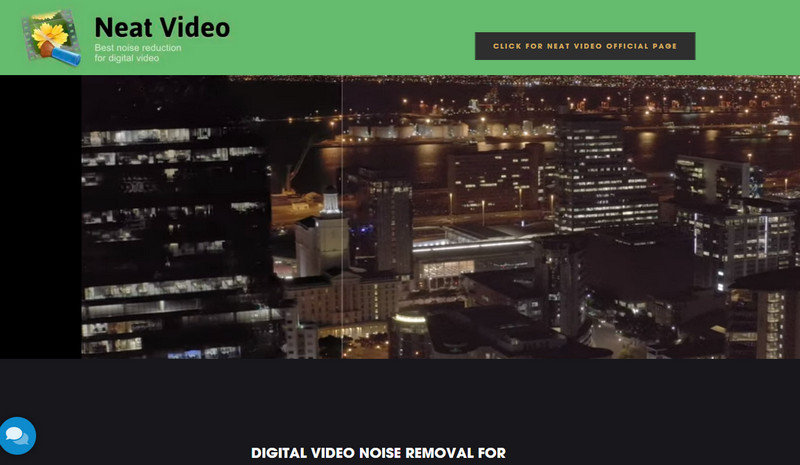 Part 4: Introduction of 5 Alternatives to Neat Video Noise Reduction
If you're looking for alternatives to Neat Video noise reduction software, there are a few things to consider. First, what are your specific needs? Do you need something that's affordable, or are you willing to spend more for a top-of-the-line product? Second, what features are most important to you? Some software programs offer more advanced features than others. Finally, what level of customer support do you need? Some companies offer better customer support than others.
With those factors in mind, here are some of the best alternatives to Neat Video noise reduction software:
AVCLabs Video Enhancer AI: One of the Best Advanced denoise software in the market, thanks to its AI algorithm
iMovie: Mac users getting started with video editing
VSDC Free Video Editor: Powerful free video noise reduction software for Windows OS
Shotcut: One of the best free video editing software programs
Topaz Video Enhance AI: One of the favorite post-production video editing tools for professional photographers
☛ AVCLabs Video Enhancer AI
Compatibility: Windows 11/10/7 (64bit) & Mac OS 10.15 and above using Apple M1 Chip
Price: $39.95/Month, $119.95/Year, $299.90/Lifetime (Free to Update and Upgrade)
AVCLabs Video Enhancer AI is a great option for those looking for an AI video denoise solution. The dedicated Video Noise Removal model enables you to denoise in video, and ensure the preservation of texture quality and details as much as possible, leading to better visual experiences. AVCLabs utilizes deep-learning-based compression artifacts removal to comprehensively remove compression artifacts, without a serious loss of existing detail. Thanks to AVCLabs Video Enhancer AI, you can easily improve the quality of your videos with just a few clicks!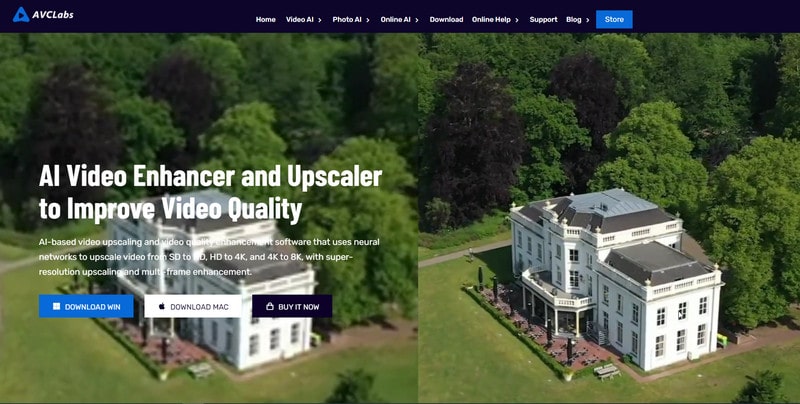 PROS
Does an excellent job of removing noise and adding detail
Diverse subscription methods and user-friendly
CONS
Requirements for computer system configuration
Sometimes the processing speed is a bit slow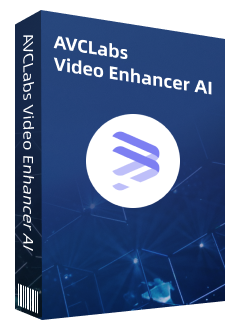 AVCLabs Video Enhancer AI
Remove noise and grain from the your noisy footage
Upscale video from SD to HD, HD to 4K, or 8K
Use Multi-frame enhancement to improve the visual quality
Sharpen blurry faces and enhance facial details
Support lossless MP4, MOV, MKV, AVI as the output format
Step 1:
Install and Launch AVCLabs Video Enhancer AI
Download AVCLabs Video Enhancer AI from AVCLabs Website, then click to launch it.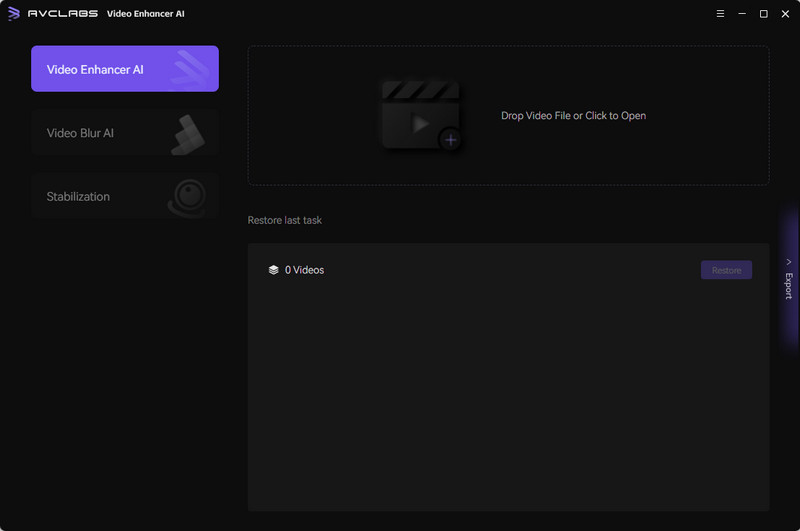 Step 2:
Add the Noisy Video to AVCLabs Video Enhancer AI
Just click the "Browse" button to import your noisy video to the program or you can also drag your video to upload.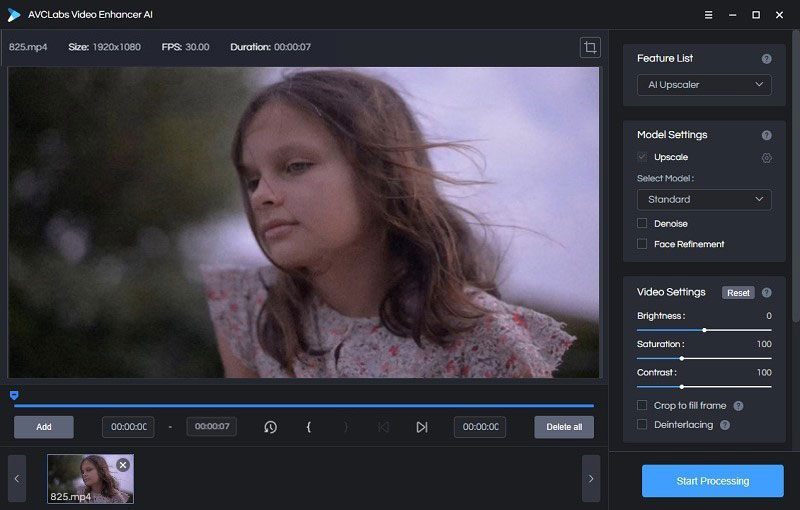 Step 3:
Choose the AI Model and Resolution
On the right panel of AVCLabs Video Enhancer AI, you can choose the AI Upscaler and turn on Denoise.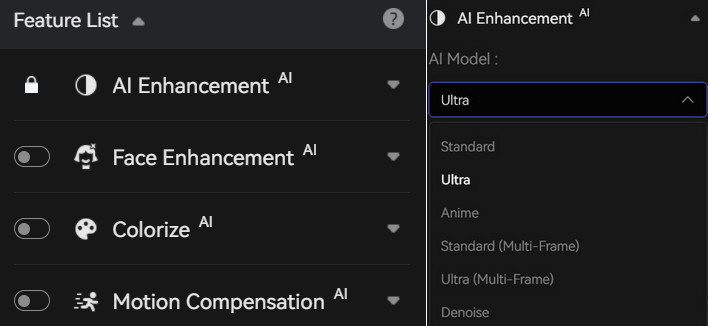 Then you can choose the output video resolution to 720p, 1080p, 2K, QXGA, Quad HD, WQXGA, UHD, 4K, or 8K.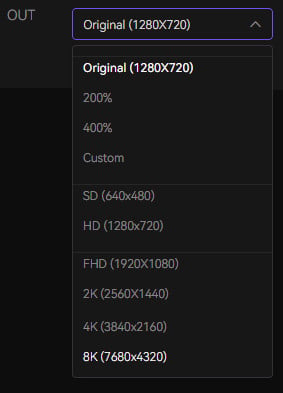 Step 4:
Adjust Your Video
If you find that the original video has problems such as video brightness in addition to noise, you can adjust the brightness, contrast and saturation of the video on the right side of the program.
Step 5:
Start Denoising Video
After everything is ready, just click the "Start Processing" button to start denoising your video.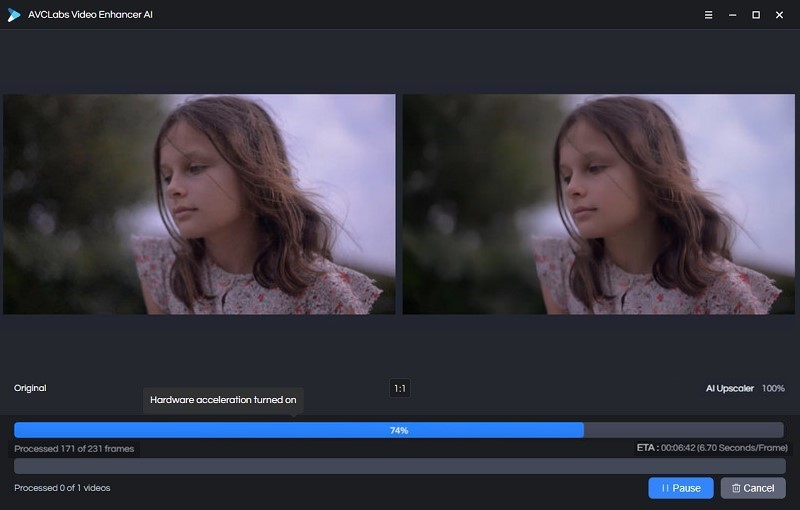 ☛ iMovie
Compatibility: Mac and Mobile APP Version
Price: Free
iMovie is a basic video editing software application developed by Apple Inc. for the Mac and iOS platforms. iMovie allows users to create and edit videos, including adding titles, transitions, and music. The noise reduction feature in iMovie can help you get rid of unwanted background noise in your videos. This can be helpful if you're trying to improve the audio quality of a video that you recorded in a noisy environment.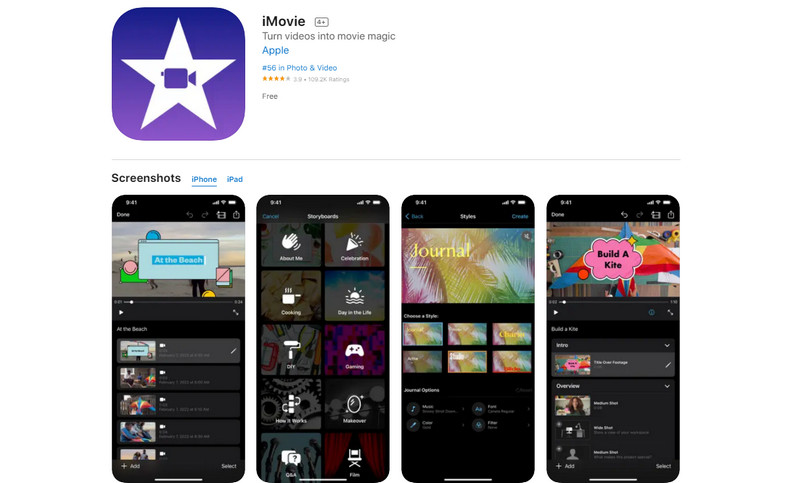 PROS
Free with every Mac
The interface is intuitive and incredibly user-friendly
Easy to operate
CONS
Advanced users may find functionality a bit limited
Import and render times can be a bit slow
For Apple products only
Noise Reduction:
1. Open the video in iMovie.
2. Select the portion of the video that you want to remove noise from.
3. Click on the "Effects" button.
4. Scroll down to the "Audio" section and select the "Remove Background Noise" option.
5. Click on the "Apply" button. iMovie will then begin removing noise from the selected portion of the video.
☛ VSDC Free Video Editor
Compatibility: Windows
Price: Free
VSDC Free Video Editor has a simple and intuitive interface that makes it easy to get started with video editing. You can import videos from your computer or from popular online services such as YouTube and Facebook. Once your videos are imported, you can use the various editing tools to trim, crop, rotate, denoise, add effects and more.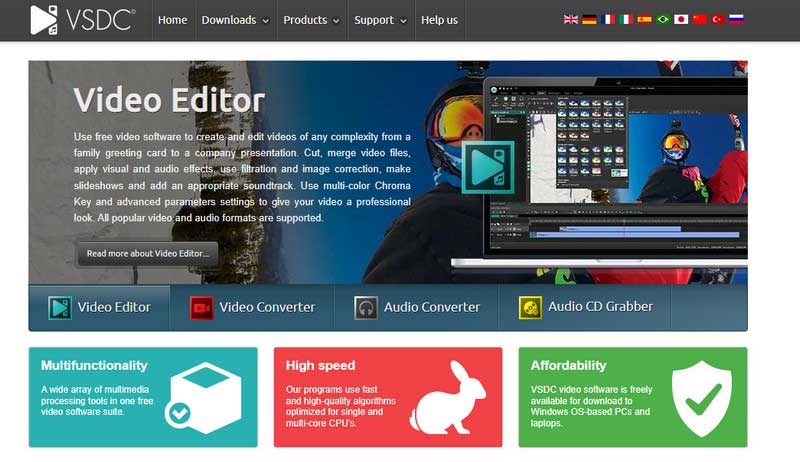 PROS
The free version has a powerful set of features
Relatively straightforward to learn
CONS
Windows only
Technical support is charged
Noise Reduction:
1. Start by downloading and installing VSDC Free Video Editor.
2. Once it's installed, launch the program and open your video file.
3. Click on the "Effects" tab and then scroll down to the "Noise removal" effect.
4. Drag and drop the effect onto your video track.
5. Adjust the settings to taste and then click "OK".
6. Export your video and enjoy the improved quality!
☛ Shotcut
Compatibility: Windows, Mac, and Linux
Price: Free
If you are a PC user, you can use the free and open-source video editing application called Shotcut. This video editing application comes packed with different audio and video effects, filters, and more. One of the most useful features that comes with Shotcut is the video noise reduction effect. This video noise reduction effect can be applied to both audio and video recordings. You can select the video noise reduction effect from the video effects tab in the video editing interface. There are different sliders available for you to use. These sliders will allow you to adjust the amount of noise reduction, brightness, and contrast in the video. Shotcut is a very robust video editing application, and it can be used to create a wide variety of video projects. You can use the video noise reduction effect in Shotcut to reduce the amount of noise in audio or video recordings.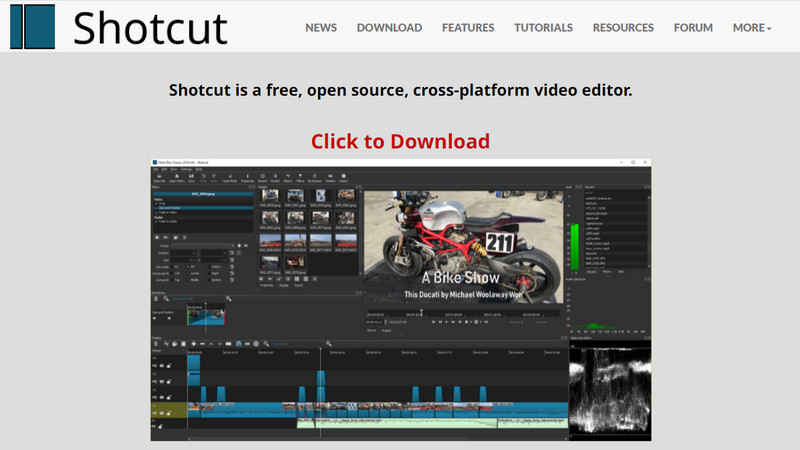 PROS
Support a wide range of video formats and codecs, including 4K Ultra HD
Scrubbing and transport control
CONS
The interface can be a bit intimidating for beginners
There are no inbuilt profiles are available
Noise Reduction:
1. Load the video into Shotcut.
2. Click on the "Effects" tab.
3. Expand the "Noise & Grain" section.
4. Drag the "Noise Reduction" effect onto the video clip in the timeline.
5. Adjust the settings of the noise reduction effect to taste.
6. Export the edited video file.
☛ Topaz Video Enhance AI
Compatibility: Windows 10, 11 (64 bit only) & Mac 10.14 Mojave and above
Price: $199.9 (includes an update of one year) and $99 for an upgrade license
Topaz Video Enhance AI is a powerful video enhancement tool that can improve the quality of your videos. It uses artificial intelligence to enhance the resolution, color, and sharpness of your videos. Topaz Video Enhance AI also supports up to 4K resolution and can help you improve the quality of your videos without compromising on quality.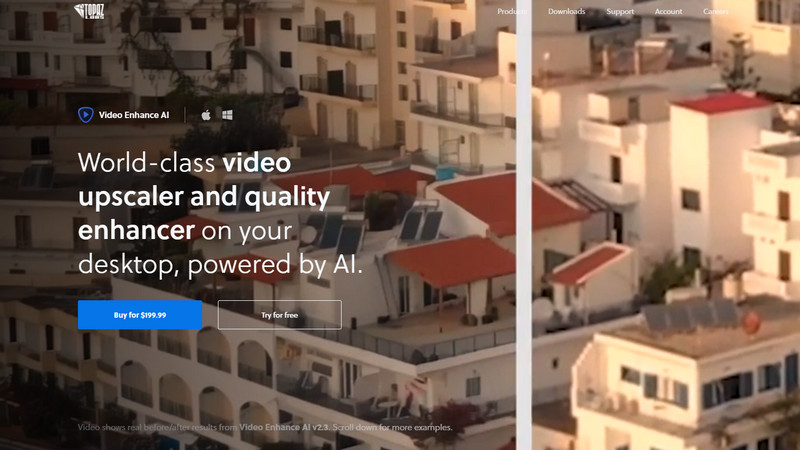 PROS
Remove ISO noise
Effective deinterlacing working for your video to give it a natural finish
CONS
Sometimes introduce artifacts into the video
Expensive to use
Needs high system requirements for a smooth performance
Noise Reduction:
1. Download and install Topaz Studio from Topaz Labs.
2. Launch Topaz Studio and open your video file.
3. Adjust the settings as desired and click Apply.
4. Export the video for viewing or further editing.
Part 5: Conclusion
Noise reduction is an essential part of post-production, and it is something that you will have to do in every video project that you work on. So it's important to choose the right software for the job. If you want to look at some of the best alternatives to Neat Video. We hope that this article has helped you learn more about noise reduction and the best alternatives to Neat Video noise reduction software.
Upscale video and enhance its quality
with the power of AI