Free to Upscale And Enhance Images, Photos, Cartoons Online and Offline
"Does AI Image Upscaling increase the quality and size of the images? Does it just stretch the image to make the image fit a larger screen like normal upscaling?"
Yes, AI image upscaling can smartly enlarge images' size and quality online and make real detail and color pop based on AI technology and powerful algorithm. But normal image upscaling stretches the image to fit the resolution you're displaying at. For example, a 720p being upscaled to fit a 1080p screen. But the quality of the image is lost. This is the opposite of downscaling which renders an image at a higher resolution before downscaling to your resolution. Downscaling makes the image a higher quality.
Luckily, AVCLabs provides two solutions including online photo editing tool - AVC AI and AVCLabs PhotoPro AI desktop to enhance images, cartoons online and offline without losing image quality and details. Let's check them out.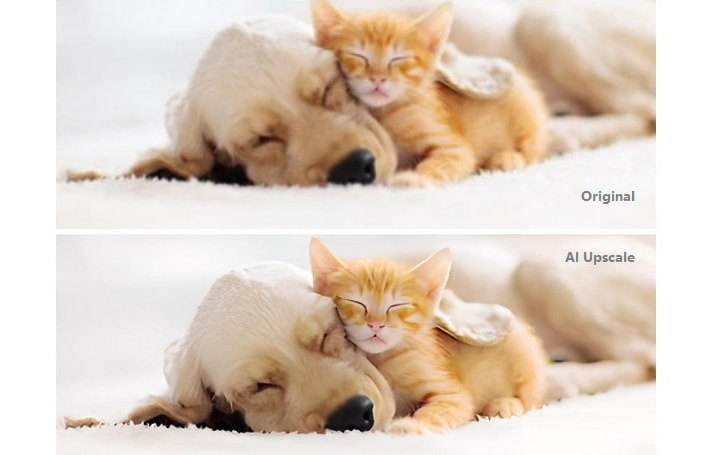 ---
Part 1: How AI Upscaling Upscales Images up to 400% without Losing Quality
The traditional images upscaling process cannot add detail to an image but it can make it appear sharper / more defined, which is why some people say it improves the image quality. But Google researchers have discussed breakthroughs they've made in increasing image resolution.
The scientists used a machine learning model to turn a low-res photo into a detailed high-res picture. It's part of a growing trend of using AI image upscaling technology to improve images. AI image upscaling is used to create pixels in between existing ones and the content of the new pixels makes the resulting image looks perfect.
"We're seeing a rise in AI-powered upscaling, especially in games, where technologies like NVIDIA DLSS use machine learning to recreate a much higher resolution image, which rivals, and sometimes exceeds the quality of the native images,"
-- Ionut-Alexandru Popa, imaging expert.
---
Part 2: How to Use AI Image Upscaler to Enlarge Images
There are plenty of situations when you need a higher resolution image, so how to use an AI Image Upscaler to improve your image? Here are two solutions: free online (AVC AI) or offline (AVCLabs PhotoPro AI desktop).
Solution 1: Use Free Online AI Image Upscaler
AVC AI is a notable online image upscaler tool that is great for improving image resolution and quality. It uses the power of AI technology to enhance the quality and upscale the resolution of your photos, as well as restore the details 100%. Sharpen, denoise, correct color, and upscale pixels through the fully automated processing, without needing editing skills to fine-tune.
Follow these steps to free upscale images with AI Upscaler online.
Step 1: Visit this Free Online AI Photo Upscaler and Upload Low-res Images
Open the Online AI Image Upscaler in your default browser. A good network condition will make the whole process fluently.
Click on the "Upload Image" button, browse your computer, choose the image from your computer. The supported formats include: *.jpg, *.png, *.bmp and *.jpeg.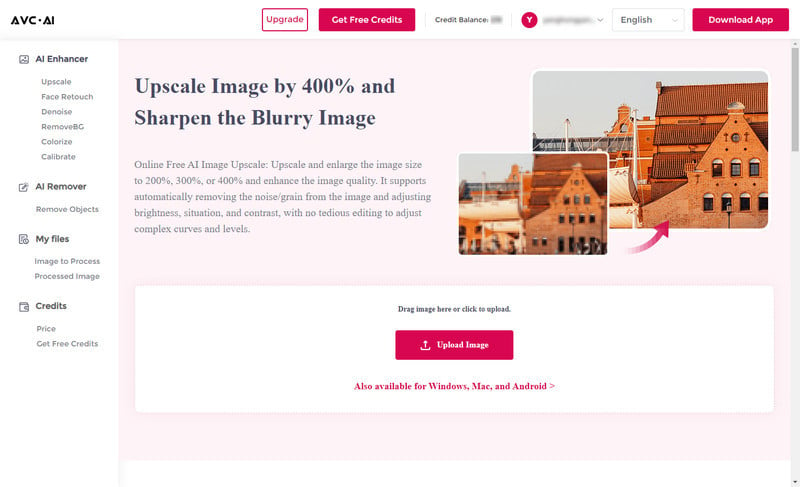 Step 2: Choose the AI Model and Start the Process
It provides many AI Models. Just choose the "Upscale" that offers four options of 100%, 200%, 300% and 400%. Choose one option according to your needs. Please note the larger size you choose, the more time it will cost.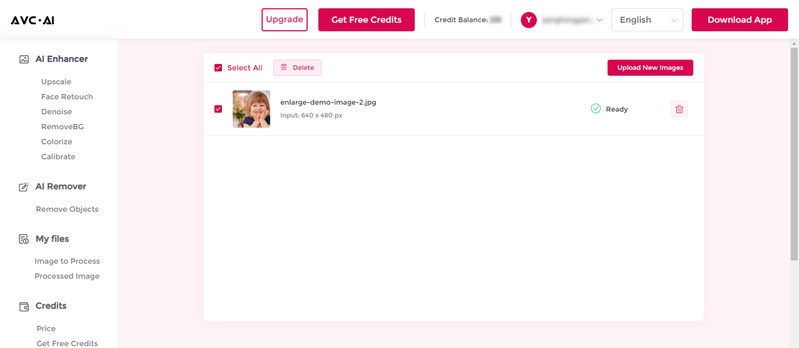 Then click on the "Start Processing" button at the bottom to start the enhancing process.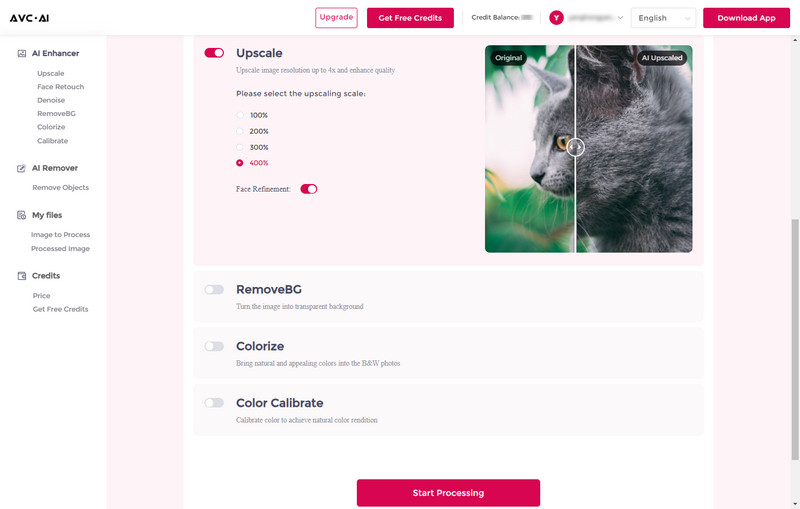 Step 3: Preview and Download
When the enhancement is finished, you can preview the effect on the web page. Move the cursor on the image and you can have a compare view of both the original photo and the enhanced one.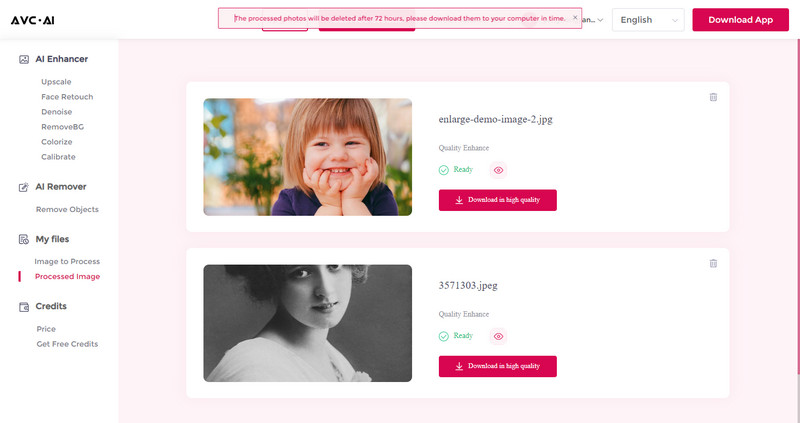 If you are satisfied with the final effect, just click the "Download Image" button to save it to your computer. The output format is *.jpg. If you want to try other settings, just switch back to "Image to Process" and try other settings.
Note: For privacy purposes, all the uploaded photos will be removed within 3 days and the link for downloading the enhanced photo is valid for 72 hours.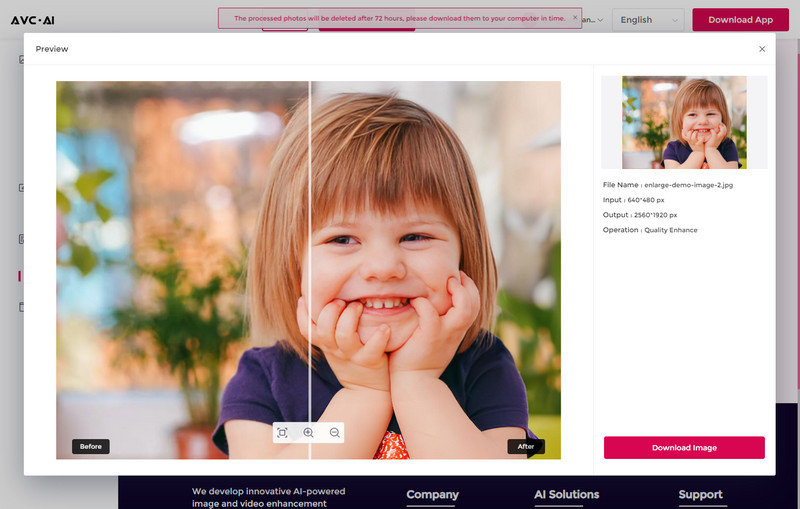 ---
Solution 2: Use Desktop AI Image Upscaler
If you care the privacy much and do not have a stable network, using AI image upscaler application desktop is a better choice. The AVCLabs PhotoPro AI desktop program supports more image formats and provides more editing functions. It is fully compatible with Windows PC and Mac computers.
Key Features of AVCLabs PhotoPro AI
Upscale the image resolution without losing quality
Immediately improve your portrait photography
Make the blurred photos to high-definition
Quickly colorize the old black&white images
Automatically remove image background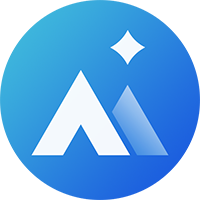 Steps to upscale images with AVCLabs PhotoPro AI:
Step 1: Download and Install AVCLabs PhotoPro AI
Download and install AVCLabs PhotoPro AI on your computer, then open it.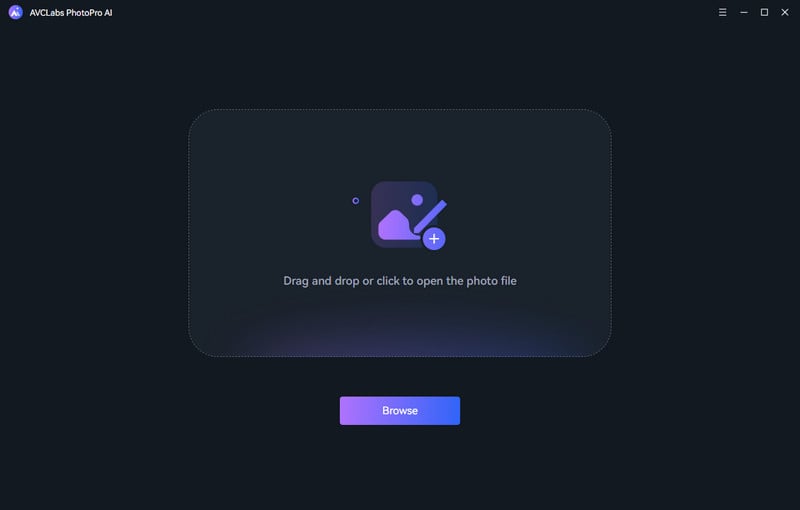 Step 2: Open the Program and Import Low-Resolution Photo
After launching the program and then click on the Browse button to import low-res image or drag and drop the image to the program directly.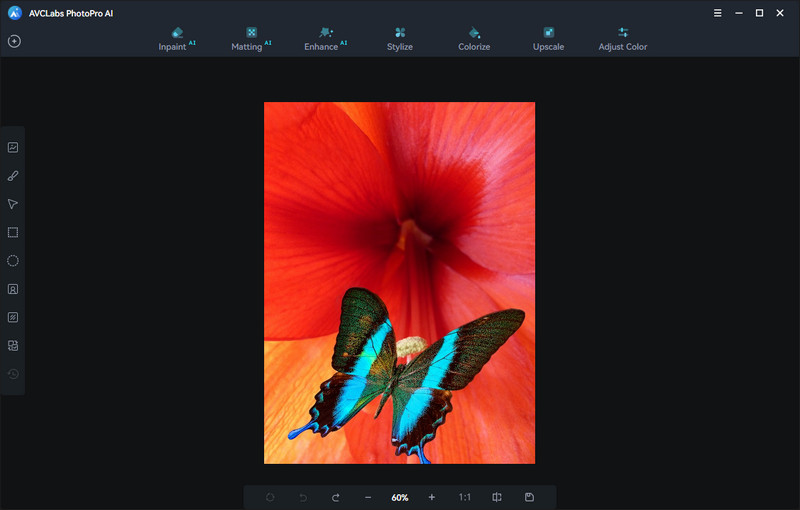 Step 3: Choose an AI Model
Just choose "Upscale" and go to the "Magnification" option. In this option, you can choose 1X, 2X, 3X and 4X.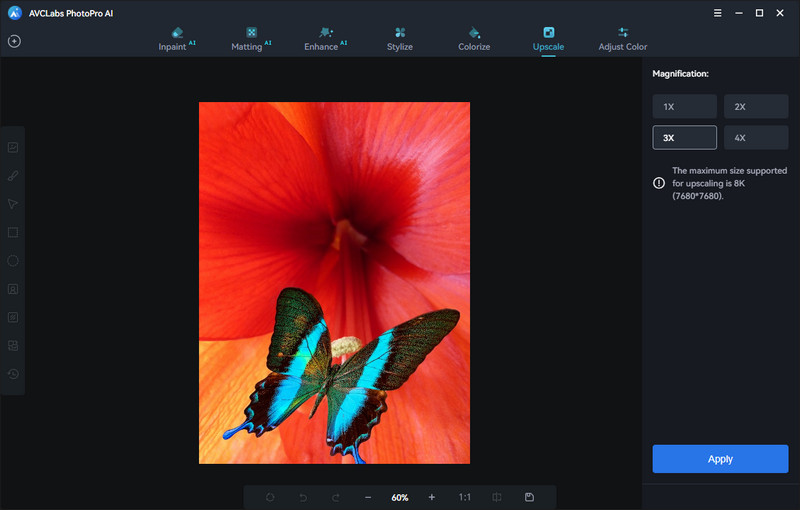 Step 4: Save Photo
After the image processing is complete, just slide the vertical bar left and right to see the contrast effect before and after upscale. If you are satisfied with the effect, just click save.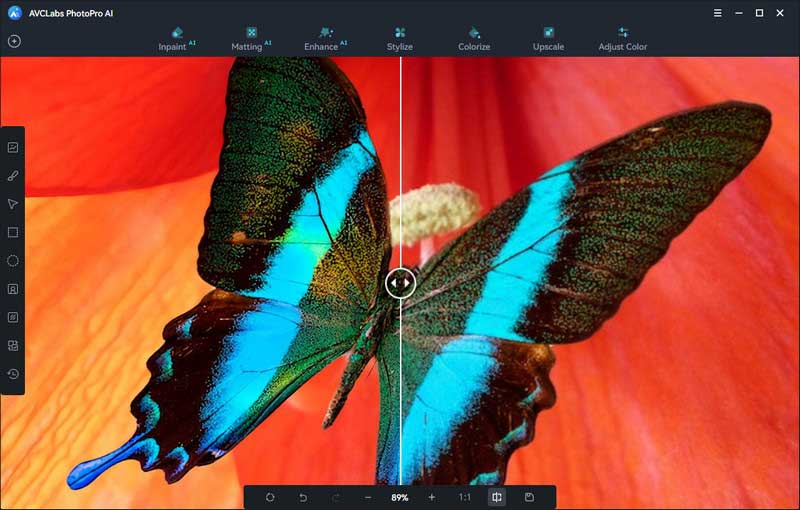 ---
Video Tutorial: How to Upscale and Enhance Images
---
Part 3: Resize Images and Photos Using PhotoShop
Photoshop is so professional and advanced photo editing software so it should be mentioned when you want to upscale a photo. Adobe Photoshop and Adobe Photoshop Lightroom have features that can help you increase resolution while upholding visual quality. There are two methods you can try. Use the first to change image size and number of pixels independently, or go with the second method to only change one at a time and have Photoshop do the rest for you.
First One: Change resolution by adjusting pixel dimensions.
If you have specific needs for the dimensions or size of your image — like a poster at a certain print size — check the Resample box. This allows you to adjust the print size and resolution independently, which changes the number of pixels in the image. Get started with these steps.
Open your image in Photoshop.
Choose Image › Image Size.
To maintain the current ratio of Width to Height, please make sure the chain icon linking these properties is activated.

Under Dimensions, enter values for Width and Height. The new file size for the image appears at the top of the Image Size dialog box, with the old file size in parentheses.
Select Resample and choose an interpolation method.
If your image has layers with styles applied to them, select Scale Styles under the gear icon to scale the effects. (This option is available only if you selected Constrain Proportions.)
When you finish selecting options, click OK to resample your resized image.
Second one: Change print dimensions without adjusting pixel dimensions.
See if you can achieve a high-quality print by adjusting only the dimension or resolution without changing pixel count. Photoshop will automatically change the other value for you, keeping the aspect ratio and number of pixels the same. Follow these steps.
Open your image in Photoshop.
Choose Image › Image Size.
Deselect Resample. This will automatically lock the current ratio of Width and Height.

To adjust Resolution, add new values. Photoshop will automatically change the Document Size in order to match it.
To adjust Document Size, add new values under Height and Width. Photoshop will automatically change the resolution to match.
---
Conclusion
If you still wonder "Does upscaling improve picture quality?", the above AI image upscaling is providing the best answer. The best way to get high-resolution images is by using the right camera for the job. But when that's not an option — or you're looking to improve older digital photos — AI image upscale can help. No matter the desktop app or an online tool, they are both professional image quality enhancer and upscaler. You can see how far you can push your image quality and you might just get frame-worthy photographs that deserve a place on your wall.
---
Related Articles