6 Best Free Online Photo Editor like Photoshop
"What is the most powerful free online image editor like Photoshop?"
In today's digital age, photo editing has become an integral part of our lives. Whether you're a professional photographer or just someone looking to enhance their Instagram feed, the ability to edit and manipulate photos is essential. Adobe Photoshop has long been the gold standard for photo editing, but its hefty price tag can be a major deterrent. Luckily, there are free alternatives that offer powerful features. In this article, we'll explore the 6 best free online photo editors like Photoshop that can help you achieve stunning results. Let's check them out.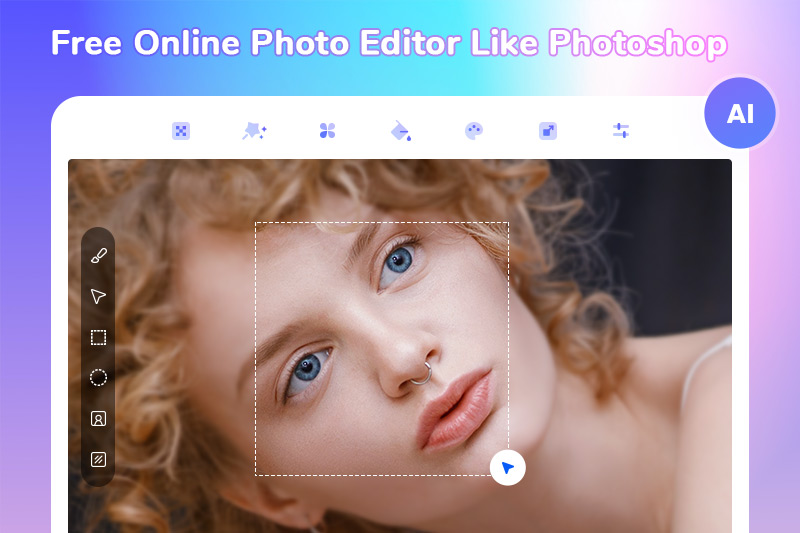 ---
Part 1: Photoshop vs. Online Photo Editors
Before diving into the top free online photo editors, let's briefly compare them to the industry-standard software, Photoshop. Photoshop is known for its extensive features and advanced capabilities, making it a favorite among professional photographers and graphic designers. However, the emergence of online photo editors has provided users with several advantages.
Online photo editors offer convenience, as they can be accessed from any device with an internet connection. They also eliminate the need for costly software installations and updates. Moreover, online photo editors are often more user-friendly, making them accessible to both beginners and experts.
---
Part 2: Criteria for Choosing the Best Free Online Photo Editor
When selecting an online photo editor, it's essential to consider certain criteria to ensure a smooth editing experience. These criteria include:
User-friendly Interface: A well-designed interface makes navigation and editing intuitive.
Range of Editing Tools and Features: Look for editors that offer a diverse set of tools such as cropping, resizing, filters, and retouching options.
Performance and Speed: Online editors should provide quick loading times and smooth operation, even with complex edits.
Compatibility with Different Devices and Platforms: Ensure the editor works seamlessly on various devices and operating systems.
---
Part 3: 6 Best Free Online Photo Editor like Photoshop
With the rise in popularity of online photo editors, individuals have gained access to powerful editing tools without the need for expensive software. Here, we will explore the 6 best free online photo editors that can rival Photoshop.
3.1 AVC.AI
AVC.AI is an AI-powered online photo editor that offers a wide range of features and capabilities, making it a strong contender for those seeking an alternative to Photoshop. The editor utilizes advanced artificial intelligence algorithms to deliver high-quality editing results.
It comes with rich photo editing tools, including sharpening blur faces from photos, increasing images' resolution, color correction, photo colorization, scratches and imperfections, text, object and background removal, even advanced retouching options.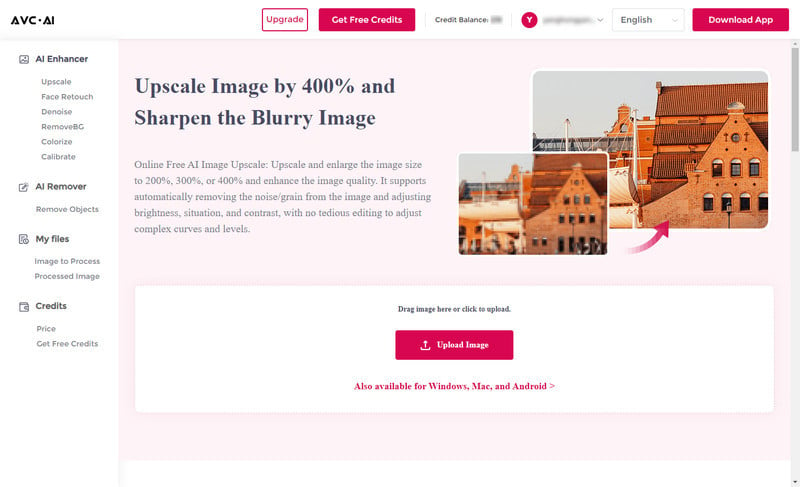 Pros:
Ease to use: AVC.AI boasts a user-friendly interface that is intuitive and easy to navigate, making it accessible for both beginners and experienced users.
AI-powered enhancements: The advanced AI algorithms employed by AVC.AI enable automatic analysis and enhancement of photos, saving users time and effort
Diverse editing options: With a wide range of editing tools and features, AVC.AI provides users with ample customization options to achieve their desired creative outcomes.
Fast performance: AVC.AI is designed to deliver quick editing results, ensuring a smooth and efficient editing experience.
Compatibility: The online nature of AVC.AI ensures compatibility with various devices and operating systems, allowing users to edit photos seamlessly on different platforms.
Cons:
Limited advanced features: While AVC.AI offers an impressive range of editing capabilities, some advanced features available in Photoshop might be missing.
Dependency on internet connection: As an online editor, AVC.AI requires a stable internet connection for access and usage, which might not be ideal in certain situations.
---
3.2 Photopea
Photopea is a powerful online photo editor that closely resembles Photoshop's interface and functionality. It includes features like layers, blending modes, and precise selection tools.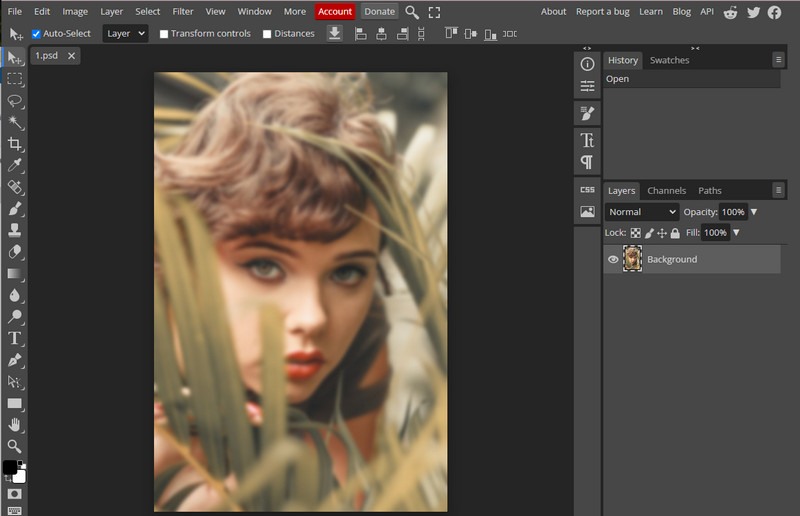 Pros:
Cost-effective: One of the most significant advantages of Photopea is that it is free to use. Users can access a wide range of editing features without incurring any expenses.
Photopea is known for its user-friendly interface, making it accessible to both beginners and experienced users. It provides a simplified editing experience, making it a great choice for those who are new to graphic design or photo editing.
Versatility: Photopea supports various file formats, including PSD, PDF, AI, XD, Sketch, and more. This versatility allows users to easily open and edit files from different sources without the need for additional software or conversions.
Cons:
Browser-based limitations: Since Photopea is an online editor, it relies on web browsers to function. While this accessibility is convenient, it also means that the program may have performance limitations compared to dedicated desktop applications.
Limited advanced features: While Photopea offers a wide range of editing tools and features, some advanced functionalities found in professional software like Photoshop may be missing. Users requiring highly specialized features might find Photopea insufficient.
Internet dependency: As an online editor, Photopea requires a stable internet connection to access and use its features. This reliance on internet connectivity may hinder usage in areas with poor or no internet access.
---
3.3 Canva
Canva is primarily known as a graphic design tool, but it also offers basic photo editing features. It provides a drag-and-drop interface and an extensive library of templates and assets.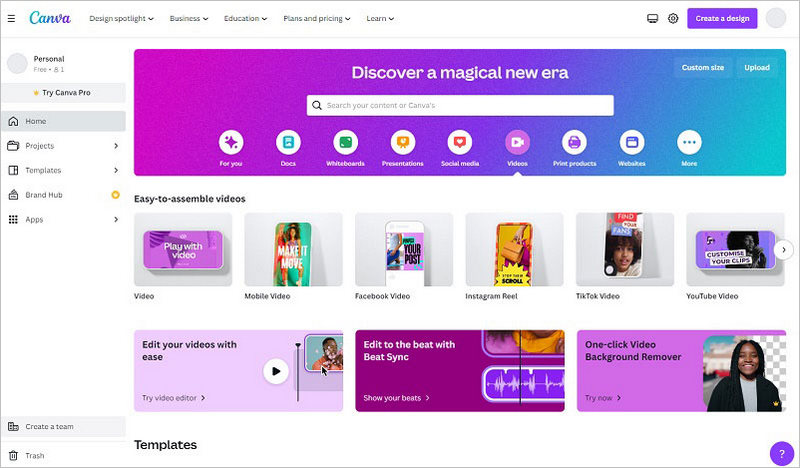 Pros:
Canva is known for its simplicity and ease of use, making it accessible to both designers and non-designers. Even those with limited design experience can create professional-looking designs.
Large variety of graphics: Canva offers a vast library of stock images, icons, and videos that users can incorporate into their designs. This eliminates the need for sourcing external graphics.
Templates for various purposes: Canva provides an extensive collection of templates for social media posts, presentations, marketing materials, and more. These templates save time and provide a starting point for design projects.
Cost-effective: Canva offers a free version with many features, making it accessible and affordable for individuals and small businesses.
Canva can be used for a range of design projects, from social media graphics to flyers and presentations. It offers flexibility and adaptability across different formats.
Cons:
Limited design capabilities: While Canva provides a wide range of design options, its capabilities are not as advanced as professional design software like Adobe Photoshop. Users may encounter limitations when trying to execute complex or custom designs.
Limited font options: Canva has a selection of fonts available, but the options may be limited compared to other design tools. Users looking for specific or unique fonts may find the selection lacking.
Dependence on internet connection: Canva is an online design tool, meaning it requires a stable internet connection to access and use its features. Lack of internet connectivity may hinder its usability.
Cost for advanced features: While Canva offers a free version, certain advanced features and elements may require a paid subscription. Users looking for more advanced functionalities may need to upgrade to a premium plan.
---
3.4 Pixlr
Pixlr is a comprehensive online photo editor that offers a wide range of tools, including layers, filters, and retouching options. It also provides a simplified version for beginners.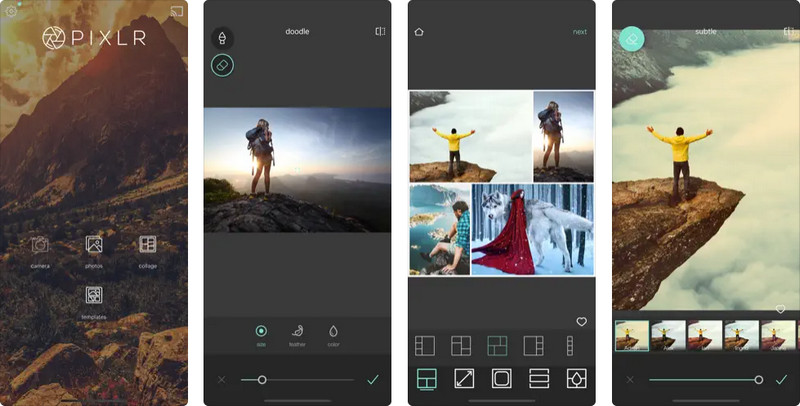 Pros:
Broad range of editing options: Pixlr offers a wide range of editing tools and features, allowing users to customize and enhance their photos.
User-friendly interface: Pixlr is known for its ease of use, making it accessible to both beginners and experienced users.
Availability on multiple devices: Pixlr can be accessed online via laptops and mobile devices, providing flexibility and convenience.
Cons:
Limited advanced features: Compared to professional software like Photoshop, Pixlr may lack some advanced functionalities and capabilities.
Lack of cloud storage space: Pixlr has limited online cloud storage space, which may pose limitations for users with large and numerous project files.
Restricted file format support: Pixlr has limitations when it comes to saving files in various formats, which may be inconvenient for specific needs.
---
3.5 Fotor
Fotor is an all-in-one online photo editing suite that offers various features, including basic editing tools, filters, and HDR enhancement.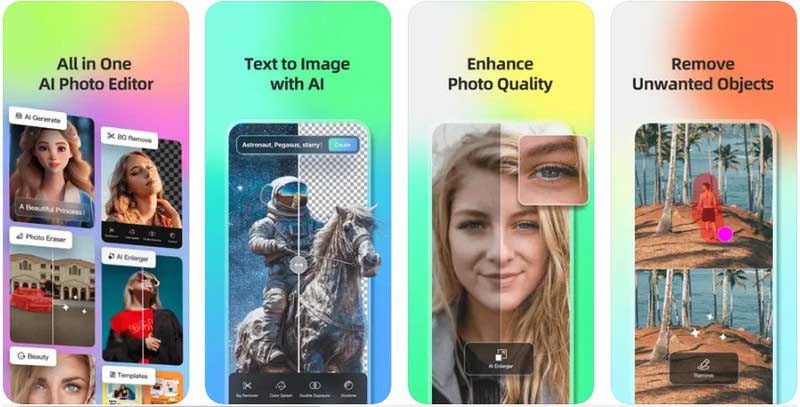 Pros:
User-friendly interface: Fotor is praised for its user-friendly and stylish interface, making it easy for beginners to navigate and use.
Editing capabilities: Fotor offers various editing tools and features, allowing users to enhance and edit their photos.
Batch editing and collage creation: Users can efficiently edit multiple photos at once and create collages using Fotor's batch editing and collage features.
Cons:
Limited advanced features: Some users have reported that Fotor lacks advanced editing capabilities and may not be suitable for more experienced photographers or designers.
Steep learning curve: It has been mentioned that Fotor may have a learning curve, making it more challenging for new users to grasp its features and functions.
Advertisements and distractions: The free version of Fotor may have bright and distracting advertising, which some users find inconvenient during the editing process.
---
3.6 GIMP
GIMP is a free and open-source software that offers advanced editing tools like layers, masks, and customizable brushes. It can be accessed online through a browser or downloaded as standalone software.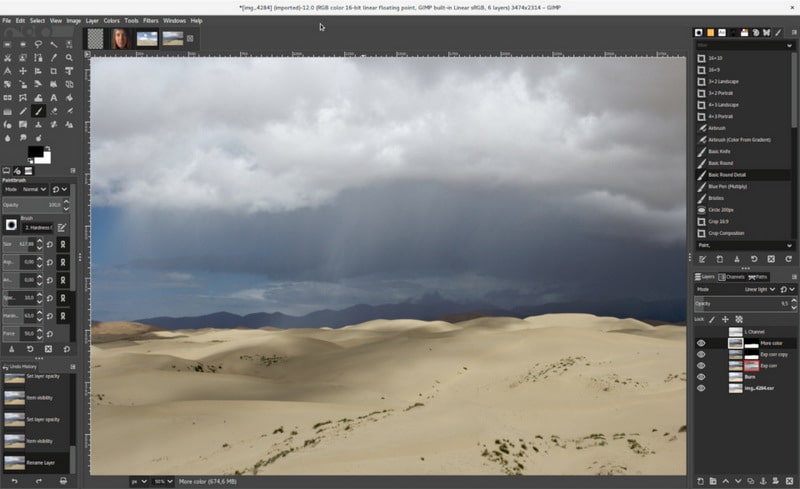 Pros:
Customizable interface: GIMP allows users to customize its interface according to their preferences, providing a personalized editing experience.
Powerful image editing tools: GIMP offers a wide range of powerful tools for image editing, allowing users to perform various adjustments and enhancements.
Free and multiplatform software: GIMP is free to use and is available on multiple platforms, making it accessible to a wide range of users.
Compatibility with editable formats: GIMP can work with many editable file formats, giving users flexibility in handling different types of images.
Cons:
Steeper learning curve: Some users may find GIMP more challenging to learn compared to simpler photo editing apps, as it offers advanced features and functionalities.
Limited support and updates: Since GIMP is open-source software, it may not receive regular updates and new features like paid software such as Photoshop.
Awkward layer handling: While GIMP is a capable image editor, some users have reported that its layer handling can be cumbersome and less intuitive.
---
Bonus: Best Desktop Photo Editor Similar to Photoshop - AVCLabs PhotoPro AI
While free online photo editors like AVC.AI and others offer fantastic options for basic to intermediate photo editing needs, some users require more advanced features and capabilities. For those who seek a desktop photo editor similar to Adobe Photoshop, AVCLabs PhotoPro AI is a compelling choice.
It is powered by advanced AI algorithms and offers features such as photo restoration, object removal, background enhancement, and more. It is suitable for both beginners and those looking to reduce their editing workload.
Key Features of AVCLabs PhotoPro AI
Clear up blurry photos with advanced technology
Cutout image to make the background transparent
Remove unwanted objects, people, watermarks
Change the style of image to create unique look
Colorize B&W photos to make it come to life again
Upscale photos up to 3x, 4x without losing quality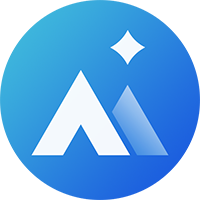 There are 7 powerful AI models available: Inpaint AI, Matting AI, Enhance AI, Stylize, Colorize, Upscale, and Adjust Color. Users can choose the appropriate model according to their different needs. Then click on the Apply button to start editing the photo.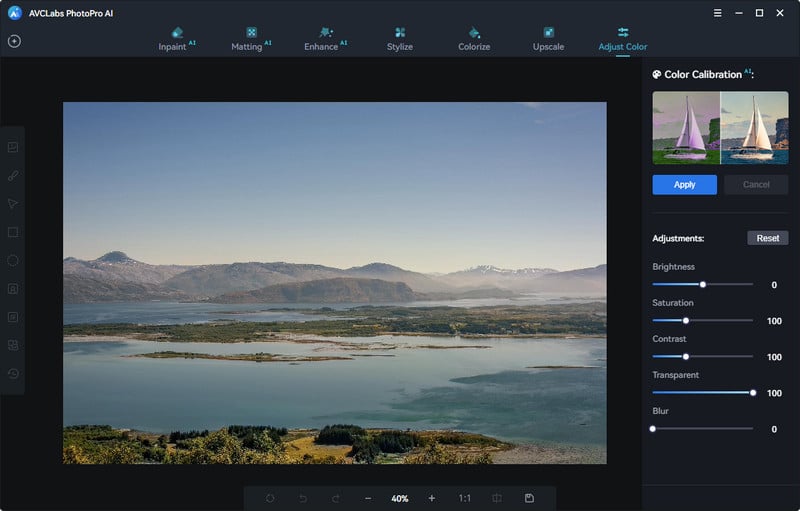 ---
Conclusion
After weighing up the different options for free online photo editors available, it's clear that all have their own unique advantages and can be a great choice depending on your particular needs. From making quick adjustments to creating intricate designs, you can find something fitting for any task. It is worth noting that if your Photoshop needs are more complex than casual use or basic touch-ups, then paying for a subscription of the Adobe suites may be the best option. But if you're looking for an alternative to Photoshop that doesn't cost anything without compromising features then AVC.AI, Photopea, Canva, Pixlr, Fotor or GIMP are all worthy contenders. We'd also like to recommend a powerful desktop photo editor called AVCLabs PhotoPro AI which is perfect if you're searching for something very close to Photoshop but don't want to pay subscription fees. Whether you're looking to edit photos professionally or just casually now you have all the resources at hand! Optimize your images with ease! Try one of these six recommended available photo editors today and unleash your inner artist!
---
Related Articles