Free Online Photo Enlarger Without Watermark
We often meet the situation of needing a larger photo than the original. Enlarging a photo would increase the dimensions of the photo. You can easily enlarge a photo by resizing it with larger dimensions. But resizing a photo with significantly larger dimensions can add pixelation to it. So one has to be a little careful with the dimensions. There are AI-based algorithms that can enlarge a photo by 2 times, 3 times, and even 4 times while maintaining the quality. And the processing can be done online. A completely free online AI photo enlarger is using AI algorithms to enlarge the photos without losing quality. You just need to upload the photo to this Photo Enlarger service online and the tool will do the rest. At last, you will get an enlarged and qualified photo for free.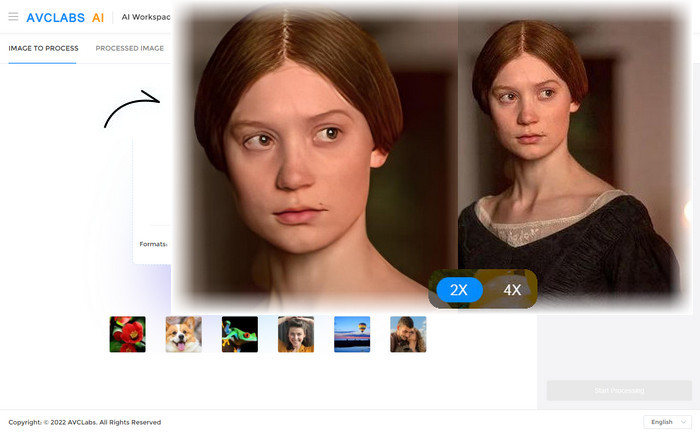 Part 1: How to get an enlarged and qualified photo online for free
AVCLabs AI Image Upscaler is an online image enlarge and upscale service that not just upscales the image but uses its AI technology to make sure that the original image quality is not of poor quality. It makes use of AI, Machine learning and SRCNN to get the best image output from a small picture. This Photo Enlarger service has no limitation for the original photo size or dimensions. And it is completely free. Let's see the steps.
Follow these steps to free improve images with AI Image Upscaler online.
Step 1:
Go to the online AI Image Upscaler site.
Open the https://enhance.avclabs.com/ in your default browser, which use AI to free enlarge photo online. A good network condition will make the whole process fluently.
Step 2:
Register an account.
This is important since all registered users can get free 8 credits.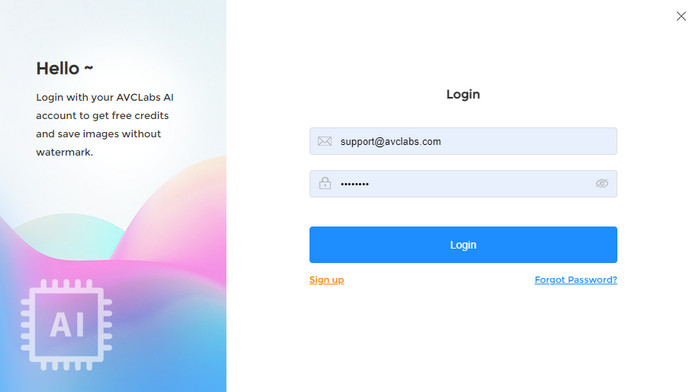 Step 3:
Upload the smaller photo.
Click on the Click to upload button to upload the images. You can also drag the image to upload it. The supported formats include: *.png, *.jpg, *.jpeg, *.bmp, *.jfif and *.webp.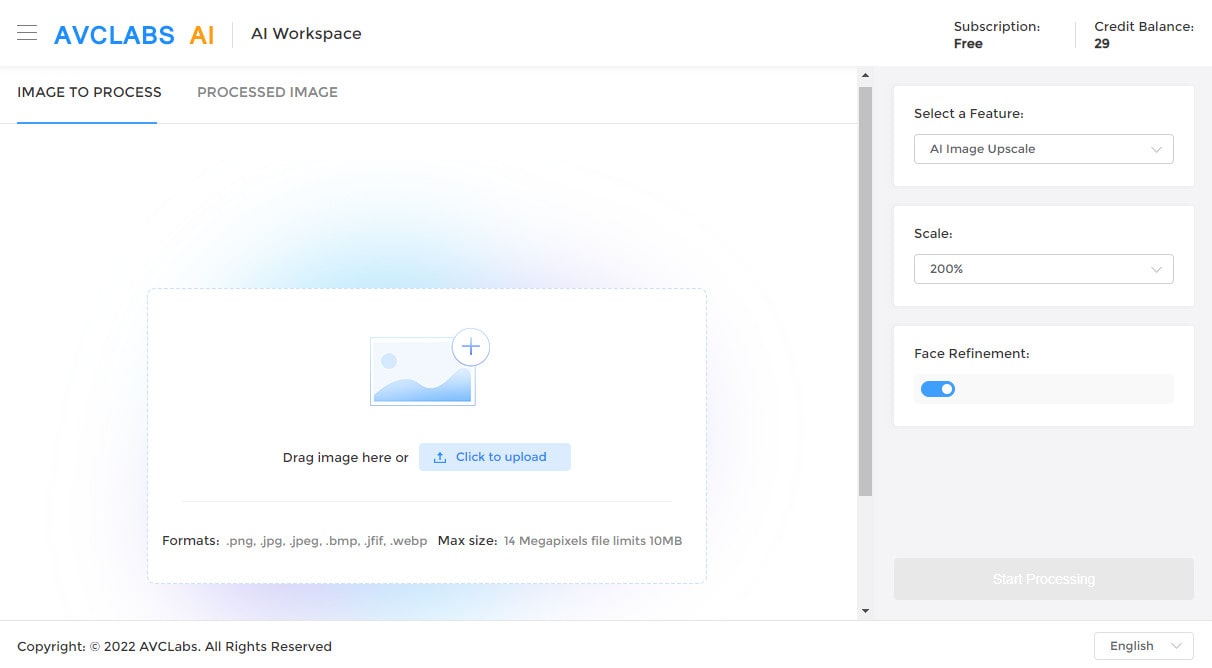 Step 4:
Choose the AI Model.
When the photo is uploaded successfully, you can see the image is ready on the panel. On the right panel, you can see: Feature and Scale. To enlarge the photo, please click on the drop-down list from the Select a Feature and choose AI Image Enlarge feature. Then go to option "Scale" and choose a resolution for the photo. You can enlarge the photo to 200%, 300%, and 400%. You can also turn on/off the "Face Refinement" function according to your photo.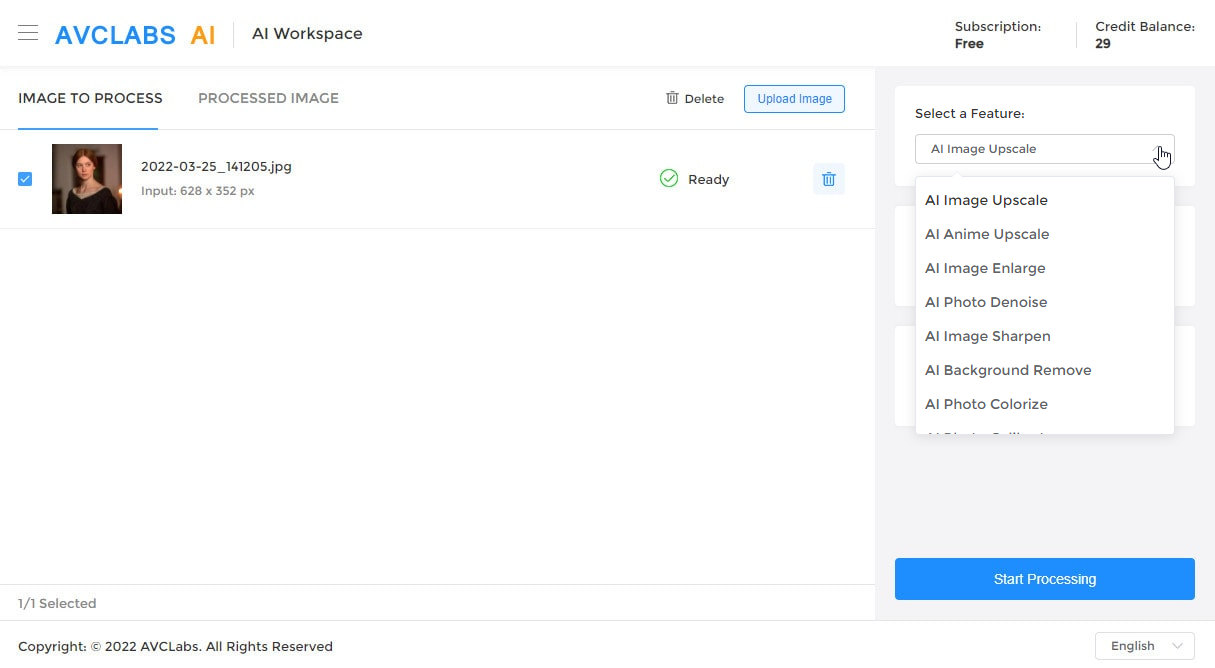 Step 5:
Enlarge the photo online.
Click the "Start Processing" button to enlarge the photo.
Note: Different AI feature requires different credits. Before you begin the processing, it will prompt you how much credits will cost.
Processing 1 image costs 1 credit.
Upscaling 1 image up to 300% costs 3 credits, and 400% costs 4 credits.
Using Face Refinement costs 2 credits.
Click Yes to continue or pick No to back to set the options again.
Step 6:
Preview the enlarged photo and download it.
When the enlarging finishes, a red hint will appear on the tab "Processed Image".
Switch to this tab and you can click the eye icon in the right place to preview the enlarged photo. If you are satisfied with the effect, you can click the download button to save the photo to your computer immediately. There is NO Watermark on the photo. Please remember to download the processed photo in time since it will be deleted after 72 hours.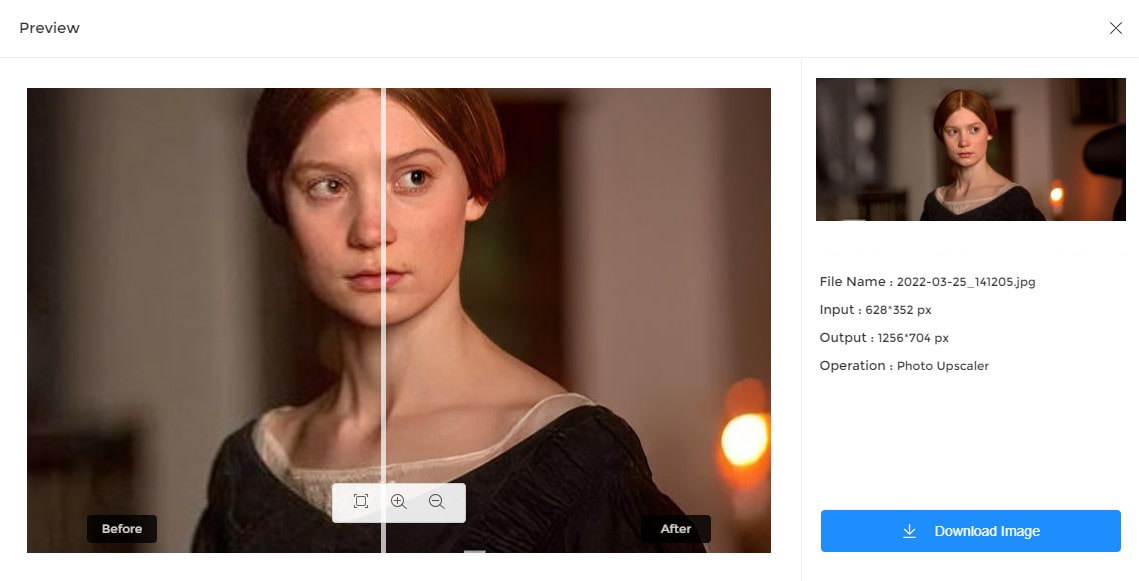 Till now you have enlarged your photo with quality online for free.
---
Part 2: Bonus tips
If you want to evaluate more AI features at one time such as AI Upscaler and AI Denoiser, or you want to enlarge many photos at one time, AVCLabs Photo Enhancer AI desktop app is recommended strongly.
AVCLabs Photo Enhancer AI lets you do the easiest operation to sharpen images. Empowered by AI technology, the whole process is 100% automatic, and no fine-tuned work is needed. Besides enhancing the images quality, it can also enlarge images without losing quality, colorize black and white photos in one click, fix/calibrate bad or wrong colors in the photo; accurately remove the image background automatically. You can get to know it by the following video guide.
---
And know the features of AVCLabs Photo Enhancer AI APP: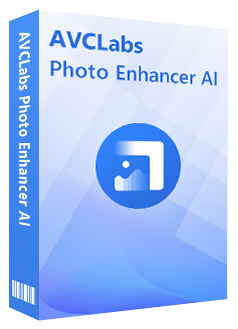 AVCLabs Photo Enhancer AI
It is easy to use and no skill required
Automatically remove noise/grain from images
Upscale the image resolution without losing quality
Make the blurred, low-quality photos to high-definition
Immediately improve your portrait photography
Quickly colorize the old black&white images
---
Conclusion
If you are looking for a free online image enlarger, the service mentioned in this article can help you a lot. You can really get a free photo enlarge service, and get better quality photos without a watermark. If you want a stable desktop app, the AVCLabs Photo Enhancer AI program just meets your need. Just download and try it now.
---
Enhance and restore photo quality
with the power of AI